17 People in Crypto – Do You Recognize Yourself?
Disclosure: Crypto is a high-risk asset class. This article is provided for informational purposes and does not constitute investment advice. By using this website, you agree to our terms and conditions. We may utilise affiliate links within our content, and receive commission.
The UK Financial Conduct Authority (FCA) just shed some light not only on some cold crypto-related statistics, but also showed personal stories of 17 UK consumers that got into crypto.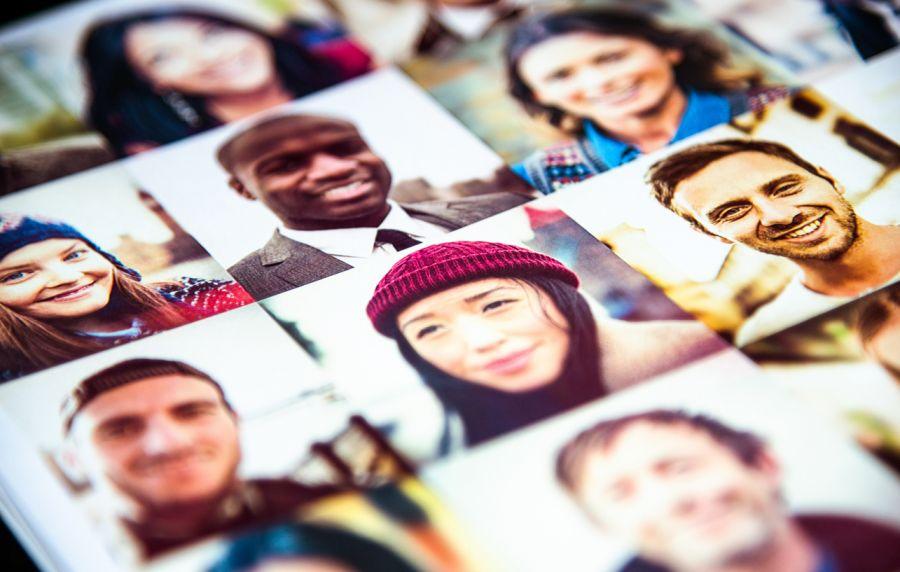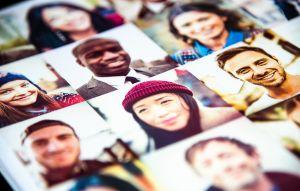 Source: iStock/franckreporter
On Thursday, the FCA published two pieces of research: qualitative interviews with UK consumers and a national survey of 2,132 respondents last December.
The survey showed that 7% of the respondents who haven't bought any cryptocurrencies so far would consider it in the future. "We estimate that only 3% of the overall sample [have acquired cryptocurrencies]," the FCA said.
Among other things, the survey also found out that over 70% of those surveyed haven't heard of cryptocurrencies or didn't know how to define one. Also, only 8% of all cryptocurrency owners completed 'deep research' before purchasing, with 16% doing no prior research. Around 40% of cryptocurrency owners expect to hold it for 3 or more years, while half of them report selling some or all of it already, the Authority said.
However, when it comes to the qualitative interviews, it revealed some interesting personal stories that many in the cryptoverse could possibly identify with.
"Consumers' cynicism about mainstream news, their wider attitudes to life, and the sources of influence they were exposed to all played a significant role in shaping their decisions to purchase crypto assets and determining what they did with them once they had made purchases," researchers concluded.
Also, they claim that the majority of respondents purchased cryptoassets believing they were getting involved with what many of them described as 'next big thing' and trusted in the inevitable rise in value of their cryptoasset holdings due to the potential for future large-scale uptake of the technology.
"These consumers had purchased cryptoassets without a strategy for divestment, and despite most of them purchasing cryptoassets that had lost value, they had not sold them," researchers said.
However, there is also a minority of respondents, which differed significantly in their attitudes to the trading and longer-term reliability of cryptoassets.
Let's take a closer look at each of the 17 stories:
Abdul, 21, small business owner, Manchester
Abdul heard about cryptoassets while he was a student at secondary school in Northern Ireland. During his A-levels, he watched Bitcoin's price rise. At that time, he decided he was "more interested in writing a business plan" than further study, so he chose not to attend university. At the time of the interview Abdul worked in Manchester running a business organising music events, and as a freelance graphic designer. Abdul first purchased and traded Bitcoin, Ethereum and Litecoin in November 2017" to get an understanding of things". He relied on one "expert" friend for all his cryptoasset purchases and trading decisions. For example, after a tip from this friend, he purchased "a pre-market buy-in coin" Pareto PXT at £250, which he said had increased to £2,250. He sold some of this and used the rest to purchase the initial coin offering (ICO) indaHash. Abdul hopes to build his own understanding and ability to read price graphs, so he does not have to rely on his friend and can continue to supplement his income making profits on cryptoassets.
___
Kyle, 22, student, Manchester
Kyle lives in Manchester where he is studying modern history with economics at university. Kyle "partied hard for a few years" but now runs the volleyball team and has stopped smoking cannabis, which has allowed him to have enough money to purchase cryptoassets. Before studying, Kyle worked as a broker in binary options. After graduating he hopes to work in either recruitment or sales.
Kyle dealt with cryptoassets when he was 16 to purchase illegal drugs online, but it was "only when I was 20 or 21 when I saw it as an investment".
Kyle bought £1,100 worth of Bitcoin, Ripple, Tron, Excelen, Appcoin and Elastos with his student loan in January 2018. His purchase was made "at the worst possible time" by his own admission, as the value of Bitcoin plummeted just a few weeks later.
___
Neil, 24, part-time personal trainer, Leeds
Neil is a personal trainer who works part time. After dropping out of university due to concerns about his student debt, he now lives at home with his mum and sister. He works as an Uber Eats driver to supplement his income and is hoping to grow his personal training clientele in the next six months. In his spare time, he likes to take up new hobbies such as cooking or different fitness classes.
Neil first heard about cryptoassets and Bitcoin when he read an article about the dark web. In March 2017 he bought £2,000 worth of Bitcoin with all his savings. In 2018 he took some money out of Bitcoin and spread it into a bundle of eight ICOs. When he was interviewed he was waiting for his holdings to grow–at the time they reportedly stood at £500.
___
Luke, 26, partner in a group of independent stores, Birmingham
Luke lives in Birmingham with his girlfriend and young children and is a partner in an independent tattoo studios business. He also runs an online clothes company. Luke had previously invested in Forex, losing £200, which he said he was comfortable with because he was learning to trade and anticipated the risk.
Luke is aware that he does not know much about cryptoassets but wanted to be involved "before it gets mainstream".
He says he is always trying out new things and new investments and received much of his advice from two online influencers, one of which he considers a "mentor". Luke purchased £1,200 in cryptoassets, which at the time of the interview he valued at £1,620. He is currently holding Bitcoin and Litecoin and previously also purchased Ethereum.
___
Angela, 26, HR in luxury fashion, London
Angela lives with her boyfriend in a house they own together in London. She works in HR for a luxury fashion company and hopes to be promoted to a senior HR role. Angela had read about the rapid rise in value of cryptoassets in newspapers and magazines such as Business Insider, the New York Times and the Independent. She has several friends who work in 'financial services', who would talk about investments in cryptoassets and stories of others making gains–something that "made it seem much more legitimate".
For her, the catalyst for investing was when her company hired a new temporary director who had purchased cryptoassets, who shared his view that Litecoin was the next cryptoasset to increase in price. Angela purchased two Litecoins at £650, deciding not to consult her boyfriend or peers who knew more about the market:
"I wanted to feel like I did it on my own." She felt that Bitcoin was a "safer investment" but couldn't afford to buy a "whole one", so instead preferred to buy two whole Litecoins.
Her purchase fell quickly, and at the time of the interview was worth £86 in total. Angela regrets her decision to buy cryptoassets: "I only did my research after I had already bought them, which is when I started reading about how a lot of people created 'hype' around particular cryptocurrencies."
___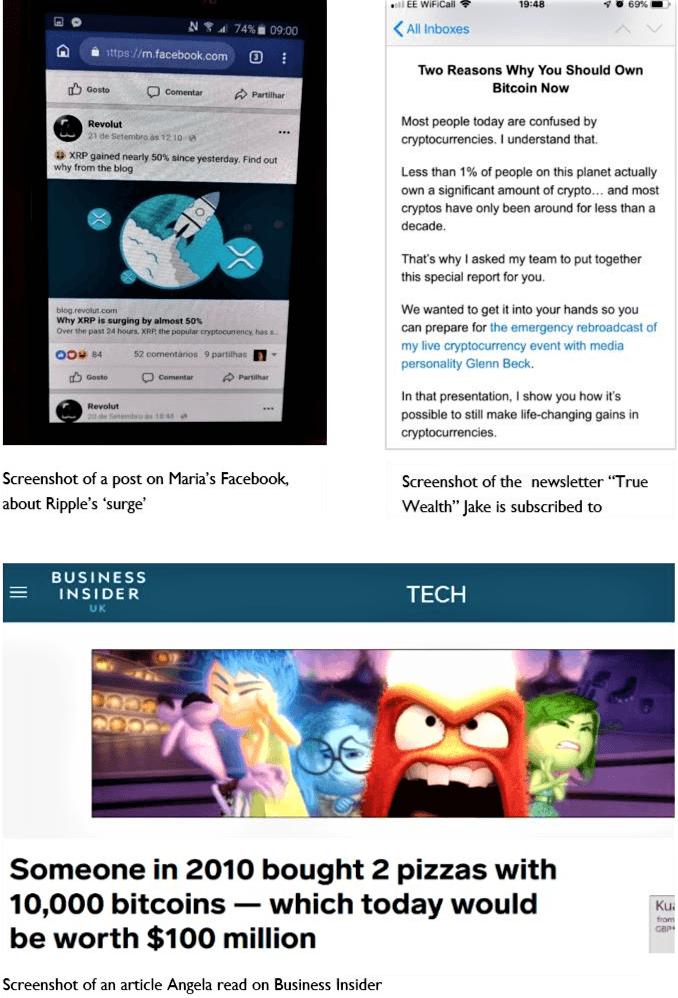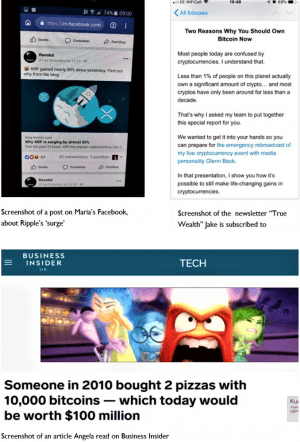 Source: the FCA
Ashton, 26, musician in a wedding band, small village in the Midlands
Ashton has recently moved out of his parents' house to his own rented house and is working as a musician in a wedding band. He reports that another 'job' is daily spread betting from which he makes around £500 per month. Ashton started purchasing cryptoassets in March 2017. He had heard about Bitcoin and was intrigued by stories of people becoming multimillionaires. However, he thought he had missed his chance and was instead investing in the S&P500 Index. He then moved all his savings (£13,000) to Ethereum after he saw some comments on Investopedia. After six months of poor results with Ethereum he moved all his value to XRP (Ripple), as he thought he could get better returns. In December Ripple's value increased sharply and Ashton said his purchase was worth £150,000.
"I got addicted to making money while I slept."
However, he didn't sell until he had lost 90%of his portfolio value. In April 2018 he decided to diversify his portfolio and acquired another six types of cryptoasset. He believes that it will "pull through" one day, and that he will be able to retire early as a millionaire in the next few years.
___
Fred, 26, social media content creator for a tabloid newspaper, London
Fred lives in London in a shared flat and is working as a video content creator for a tabloid newspaper. He received some inheritance money a couple of years ago, which is in a current account and he is not sure what to do with it. He has been researching hedge funds on Google to work out how to invest his money. Fred first heard about cryptoassets from his brother who had purchased some.
However, his decision to purchase some came after talking to a taxi driver, who said he had put himself through college with profits from "investing" in cryptoassets.
Fred purchased £300 spread across Bitcoin, Ethereum and Litecoin, which he said at the time of the interview was now worth £95. Fred regrets his decision to purchase cryptoassets, and believes it was a bad idea: "Looking back I am ashamed of my investment and losing money."
___
Rick, 26, part-time work at his family's small company, Hastings
Rick dropped out of university after two years because he felt "it was a waste of time". Since then he has worked in insurance and real estate, and now works part-time at his family's company, which imports and distributes electric parts. He is also doing an online business course and says his future looks "dire, but education is the light at the end of the tunnel". He lives with his parents.
Rick became interested in cryptoassets because they were "the word around town" – his friends were talking about how they could be a way to make a lot of money. In early 2017 he bought £350 of Ethereum and Litecoin and later traded it all for Cardano and Tron. In late 2017 he valued his cryptoassets at £1,500 but he did not cash out because he thought they would grow even more. Rick reported that his portfolio's value fell to £500, when he decided to keep his cryptoassets and wait for them to regain value in the future. Rick also convinced his parents and girlfriend to buy Cardano – which he felt to be the "safer option".
___
Damien, 32, French and English tutor, Brighton
Damien lives in Brighton with his wife and two young daughters. They plan to become debt-free in the next year and apply for a mortgage. Damien also hopes to run his own post-graduate course. Damien became involved in cryptoassets after being invited by a friend to an event run by 'Omnia', a multi-level selling and trading system for cryptoassets. He then joined the Trading Coin Club, through which he bought and traded 'TCoin'. He initially purchased £700 worth of TCoin, which at the time of interview was valued at £500.
Damien has decided to make further cryptoasset purchases and is "looking into buying a bundle", as he believes that "with cryptos it's now or never".
___
Elena, 34, former marketing director for an ICO in Bulgaria, London
Elena moved to England from Bulgaria last year to pursue a career as a writer. She is "comfortable financially" from her previous work in marketing and she works part-time in an admin role at a local orthodontist surgery. Elena has a relatively long history with cryptoassets as she previously worked as a marketing director for one of her friend's ICOs. Elena knows how external influences can drive market movements, therefore affecting cryptoassets' value. Elena has purchased many cryptoassets and recently bought Polkadot with €60,000, reporting a profit of €40,000. She valued her current cryptoasset holdings at €200,000 at the time of the interview. Her main influence is a friend whom she describes as a 'genius', and whom she believes is well connected to an 'inner ring' of cryptoassets influencers-such as founders of ICOs.
___
Justin, 40, freelance graphic designer, Hertfordshire
Justin is an artist and concept designer for film and TV. He switched careers 10 years ago from working in a bank. He loves his job, particularly as he's not tied to a desk and can explore his passions for film, gaming and new developments in these fields. He likes to keep up with the news and follows a number of international channels. Prompted by his boss at the time, he invested in Orange shares in 2001 "without much research" and sold out five years later. Justin is convinced that cryptoassets will be the currency of the future. He compared them with the internet, saying that it too was only for experts at first, but has since exploded and is now a key part of people's lives. He purchased £2,000 of various cryptoassets in several consecutive instalments using "money I could afford to lose". He valued his portfolio at the time of interview at just under £1,500. Justin gets his news mostly from specialised online magazines such as Coindesk, CoinMarketCap and AMBCrypto.
___
Sandy, 43, part-time book designer, London
Sandy lives in London with her partner and two sons. She works part-time as a book designer and home-maker. She learned about "financial investments" from her step-father and brother, who are "businessmen and love money," and had experience of buying stocks in 2016.
Sandy was first exposed to the cryptoassets world through mainstream newspapers such as the Guardian and the Independent. She purchased £2,000 of Bitcoin, Ethereum and Litecoin, and at the time of the interview she said she had £800 in her holdings.
Sandy says she "doesn't care about the profit", but rather is a big believer in "cryptoassets having a bright future". She wants to have her "foot in the door" because of the promise she sees inthe technology.
___
Maria, 57, care home cleaner and cook, London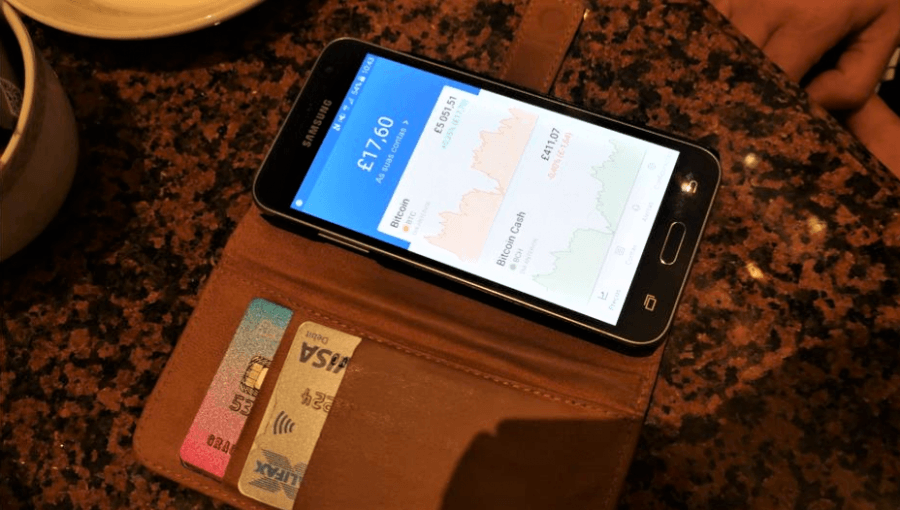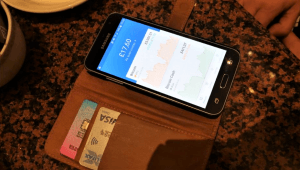 Source: the FCA
Maria used to work as an accountant in Portugal. She invested all her savings in a restaurant there in 2008 which went bankrupt. In 2014 she moved to London seeking a well-paid job, and since then has been working as a cleaning lady and cookin the care home where she lives. Maria first heard about cryptoassets on Portuguese news channels in January 2017, which she says suggested that buying them would be "the best investment you will ever make".
Maria bought £100 worth of Ethereum because Bitcoin was too expensive, and she couldn't "buy a whole coin". Initially when she was making money she "was really excited and checked it once or twice a day. But after it started to fall I stopped looking, now I only check it once a month". She said at the time of interview that the value of her purchase dropped to £17. However, Maria recently bought £5 in Ripple after seeing adverts on the Facebook page of an e-money provider she subscribes to and has an account with. She hopes cryptoassets will pick up again and make her a lot of money in the future.
___
Karina, 31, police officer, London
Karina lives on her own and works as a police officer on a knife crime team. In her spare time, she is completing a degree in English language. She holds shares at the value of £500 in Lloyds and TSB, which she received from her mum. Karina first came across cryptoassets after reading a tweet by a music artist who was allowing purchases of his album with Bitcoin. Later she was influenced by the mainstream media to purchase Ethereum, Bitcoin and Litecoin at £1,500 in August 2017 – she felt that the media's message was "get on the boat now or you won't be getting on it at all".
She reported that her purchase increased by £700, at which point she sold her initial crypto-asset purchase and has kept the increase.
Karina was influenced to divest her initial purchase by the media when she found they no longer predicted price increases in Bitcoin but focused on when it would crash.
She considers herself lucky not to have lost money, but now wants to watch the market from afar and is not planning any future purchases of cryptoassets.
___
Eric, 29, unemployed recent microbiology MPhil graduate, Aberdeen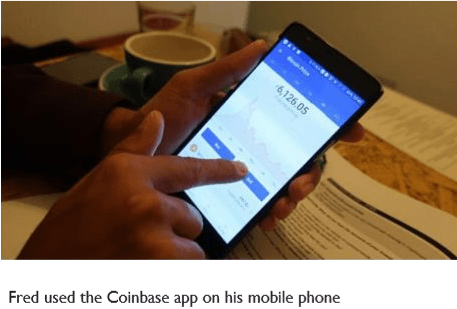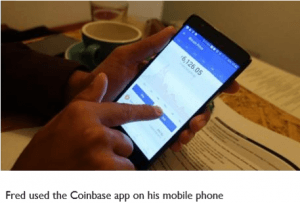 Source: the FCA
Eric recently graduated with an MPhil in microbiology and has been looking for a job since May. He and his wife have lived in Aberdeen for 10 years. Eric is extremely well informed about technology: he has been learning about computer software since he was nine years old, and coding is one of the hobbies he is passionate about – as well as offline and online video games. He started by purchasing £1,500 worth of assets in Ethereum, Ripple, Cardano and Tron in September 2017 to "assess their development". A month later he exchanged it all forTron and Cardano. He suggested that Tron was a "good short-term investment" because it had a "great PR strategy" and hence a "profitable hype around it". He concluded that Cardano was instead a good "long-term investment" because of the technology it supported. Six months after his first purchase Eric cashed out £11,000, which contributes to his living expenses.
___
Jake, 46, financial manager, York
Jake lives near York with his wife, after his two adult children left the family home. He is interested in financial products in general and has invested in both shares and gold in the past. He wants to "build a financial future" for him and his wife, as they have faced some big medical expenses lately and he's concerned about his pension. Jake became interested in cryptoassets because the financial publications and newsletters he follows (e.g. Creating Wealth and The Palm Beach Daily) started featuring blockchain.
He sees cryptoassets as a "short term investment", as he thinks that "the market is still in its infancy" and therefore unpredictable.
He only trusts Bitcoin, as he thinks the other cryptoassets will simply follow the same trends, and he's suspicious about the number of new tokens appearing. He purchased Bitcoin six times in the past 18 months (£500/£1,000 at time), reportedly selling each time after making a 200% profit. He cashed out when he saw market trends declining. While he doesn't rule out buying again, he said he would do so when he sees the start of a new positive trend.
___
Nick, 18, college student working part-time in a phone store, Essex
Nick is a college student living with his parents and working part-time. He is studying business and wants to get an apprenticeship in London. He saved money for two years which he recently used to buy a car, of which he is very proud. He describes his iPad, iPhone and car as his "assets." Nick is heavily influenced by 'celebrity' investors he follows on social media, who post about making lots of money by investing in cryptoassets. Nick believes: "If you are brave enough to risk the gamble then you can make lots of money, but you are more likely to lose money."
Nick came across cryptoassets for the first time when he was 10 years old. He needed Bitcoin to buy a "football team for my FIFA videogame". Currently he wants to buy cryptoassets but has spent his money on his car, so is waiting until he is able to save up enough again.
---