XRP20 Coin Price Could Pump 10x in DEX Listing on Tuesday August 22, Presale Buyers Stake 20 Billion Tokens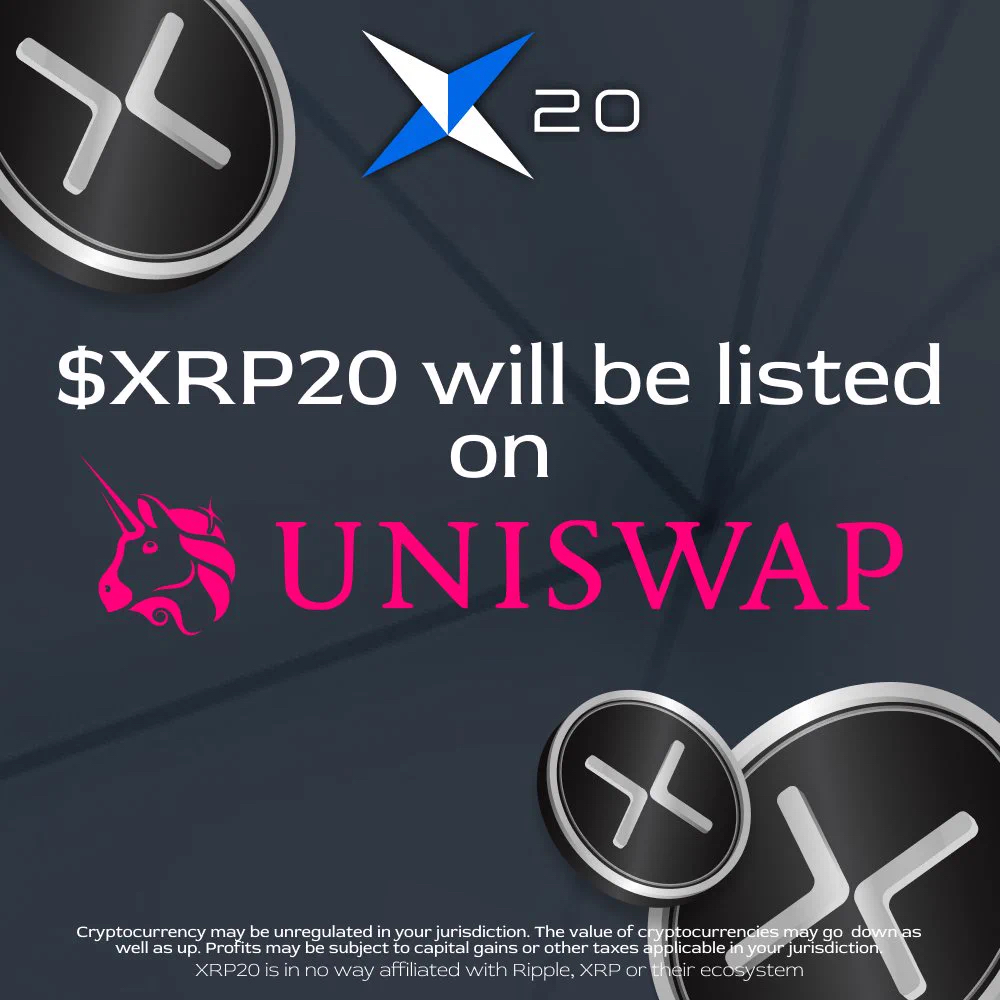 Monday, August 21, 2023 – XRP20 coin price is expected to pump when it lists tomorrow, Tuesday August 22, on Uniswap, after the majority of tokens sold at presale were staked by token holders.
According to the XRP20 staking dashboard, more than 20 billion tokens have been staked and are currently earning holders an annual percentage yield of 49%.
The news of the monster staking takeup by the community comes as token holders gear up to start trading XRP20 when it lists on the Uniswap decentralized exchange (DEX) at 9am UTC tomorrow.
Presale buyers can claim their tokens at the same time as the XRP20 token listing on Uniswap.
To claim purchased XRP20 tokens, buyers simply connect their wallet to the XRP20 website with the wallet they used to buy their tokens with initially.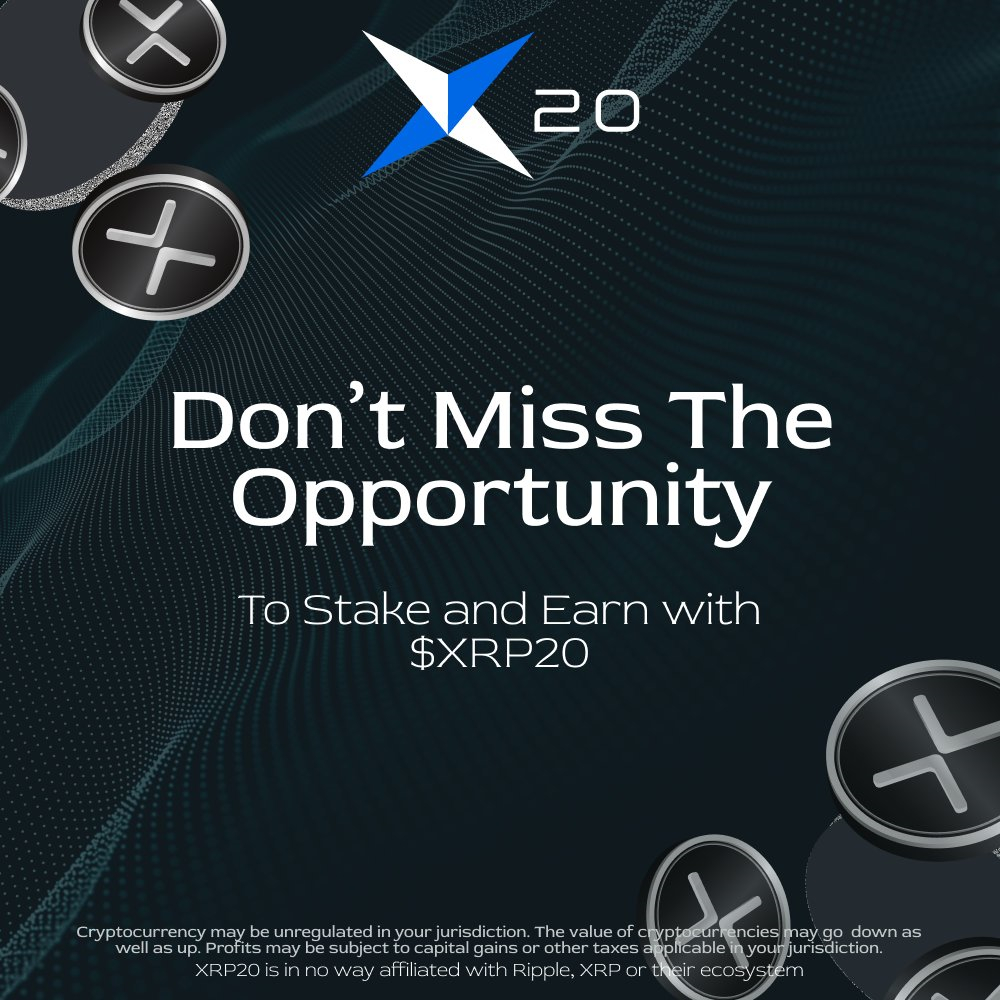 Join the New Wave of Version 2 Stake-to-Earn Coins – XRP20 Can Pump 20x on DEX
XRP20 raised $3.7 million from investors for its mission to inject new life and higher returns into the crypto community that has emerged around the existing XRP coin.
The XRP20 token is part of a new wave of tokens that play on the 'version 2' theme, but with the twist that they have staking built in as a feature instead of a possible add-on from accessing a third-party DeFi protocol.
Coins such as BTC20 have been making a name for themselves. BTC20 pumped 6x at launch and, despite the current skittishness in crypto markets, is trading comfortably above its list price.
XRP20's staking utility provides price support to stake-to-earn coins listing on DEXs by removing a substantial amount of possible selling pressure from buyers looking to flip the coins for a quick profit.
With XRP20, long-term holders are incentivized because of the opportunity to earn rewards from staking tokens.

4 Years of Staking Rewards Up For Grabs
Although there is no affiliation of XRP20 with Ripple or XRP, the former does mirror the token supply of the latter, at 100 billion.
The XRP20 project's innovative stake-to-earn utility is funded by allocating 40% of the token supply to paying community rewards.
Staking rewards will be paid out over the next four years. XRP20 runs on the Ethereum blockchain, and 3,750 tokens are emitted per ETH block.
Staked tokens can be claimed seven days after staking. However, those presale buyers who choose not to stake can claim their tokens tomorrow at 9am UTC.
The 7-day lock rule applies to all initiations of staking, not just those tokens staked prior to listing. Tokens continue to earn APY for as long as they are staked.
XRP20 coin's many advantages over XRP
Because it runs on the Ethereum blockchain, XRP20 is more decentralized than XRP, where supply is controlled by Ripple.
Significantly, unlike with XRP, there are no tokens set aside for founders and team members, so XRP20 is a totally level playing field for all.
Ethereum also boasts the most liquid and developed decentralized finance (DeFi) ecosystem, while DeFi on the XRP Ledger remains near non-existent.
XRP20 could soon find its utility boosted by integrations into all sorts of decentralized applications, not least decentralized exchanges (DEX) like Uniswap, where the token is listing tomorrow.
XRP20 is not just a second chance to reap the early gains that early XRP investors secured but is an improved version of the original XRP token.
Although XRP transactions are currently faster and cheaper than those on Ethereum upon which XRP20 runs. However, Ethereum is upgrading its roadmap with the introduction of sharding technology, which means XRP20 transactions will become cheaper and faster as a result.
Also, in addition to offering staking, XRP20 is a deflationary coin – 0.1% of every buy and sell transaction will be burnt – this will, over time, reduce the circulating supply.
In total, 10% of the total token supply will be removed from circulation, adding to the scarcity value of the XRP20 token.
This is Why the XRP20 Price Could Explode 13.5x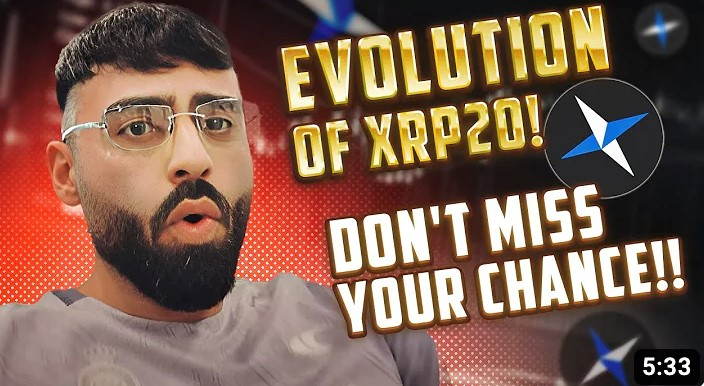 XRP20 has everything going for it as a token that can explode higher at its DEX launch.
Consider that XRP rose from $0.0028 in 2014 to $3.84 in 2018, increasing 137,100% from its lowest to highest price. XRP20 hopes to provide a similar opportunity to investors in today's market.
That contention is supported by a top YouTube crypto channel, Up Next Crypto, with 429k subscribers. Host Danny (pictured above) says if you missed the 2018 XRP bull run, then XRP20 is a second chance.
Other YouTube crypto experts expect to see a 10x pump for XRP20.
XRP20's value proposition is just as impressive and could easily achieve a similar fully diluted market cap.
That would equate to a gain of around 13.5x for XRP20 presale investors. But new buyers getting in at this stage of the bull run will likely have the opportunity to harness similarly eye-watering returns.
Disclaimer: Crypto is a high-risk asset class. This article is provided for informational purposes and does not constitute investment advice. You could lose all of your capital.

---