XRP Price Prediction as XRP Spikes Up 3%, But Whales are Accumulating This Little Known Altcoin – Here's Why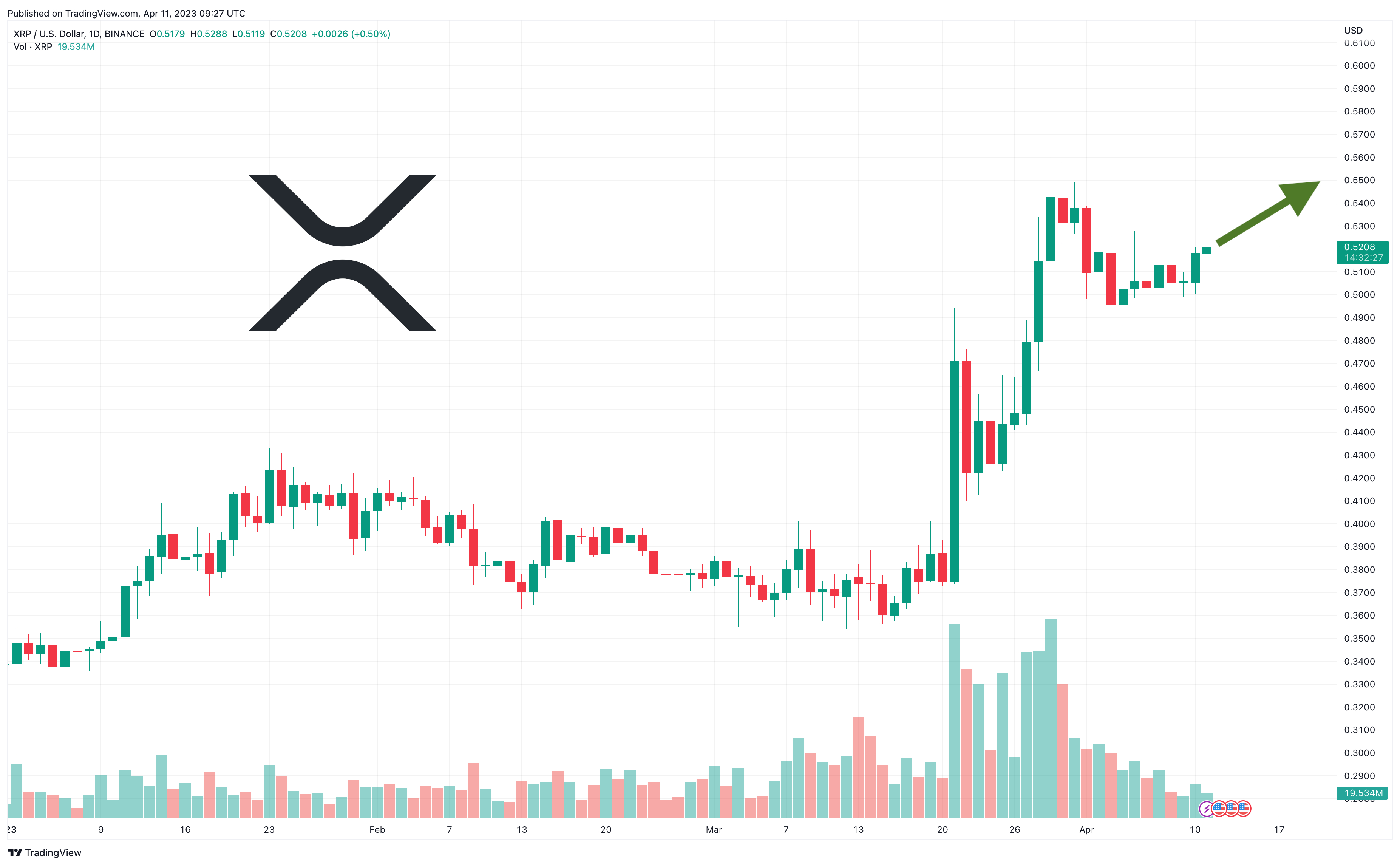 The price of XRP has increased by 3% in the past 24 hours, rising to $0.520724 on a day when the wider market has gained by 4.5%.
This jump puts XRP at a 4.5% increase in the past week and at a 42% return in the last 30 days, with the altcoin also having risen by 53% since the beginning of 2023.
And with the market expecting a positive resolution to the Ripple-SEC case, XRP could witness an even bigger rally later this year.
However, XRP isn't the only altcoin whales have been watching over the past few weeks, with larger investors also pumping money into Love Hate Inu (LHINU), which has seen its presale raise a total of nearly $3.5 million in only a few weeks.
XRP Price Prediction as XRP Spikes Up 3%
XRP's indicators reveal some very strong buying momentum, which could continue for a little while yet before running out of steam.
Its 30-day moving average (red) has climbed steeply above its 200-day (blue), with the shorter-term average currently showing no signs of slowing down.
And after a brief climbdown at the start of the month, XRP's relative strength index (purple) has resumed rising again, and may not stop until it passes 70.
As such, XRP could witness a further rise to $0.53 in the short term, as increasing investor optimism (specifically about the likelihood of additional rate hikes this year) helping to push Bitcoin (BTC) and the market up as a whole.
XRP also has the end of the long-running Ripple-SEC case to look forward to, with most observers (at least within the cryptocurrency community) expecting an outcome that will be largely positive for Ripple.
As of writing, all major depositions, briefings and pieces of evidence have been submitted, with the only thing left to wait for being Judge Analisa Torres' decision.
Some observers suspect that such a decision could come very soon, with ardent XRP loyalist (and attorney) John E. Deaton suggesting that it may arrive by May 6.
More importantly, analysis from the likes of fellow lawyer Jeremy Hogan suggest that the SEC hasn't really been effective in proving the major pillar of its case, which is that buyers of XRP entered into an 'investment contract' with Ripple when they first purchased their tokens.
Because of this, it's not unrealistic to expect a decision in Ripple's favor, something which could really propel XRP to new heights.
From its current price of $0.52, it would likely rise to $1 within a few days of a positive outcome, before reaching $2, $3 and even higher in the following months.
Whales are Accumulating This Little Known Altcoin – Here's Why
Of course, there's no guarantee of a positive decision, which could take even longer than May to arrive (especially if the presiding judge decides to take the case to a full trial).
This is part of the reason why many traders have been looking beyond XRP in recent weeks, with Love Hate Inu proving to be one of the most popular new altcoins in the market right now.
It kicked off the presale for its native LHINU token three weeks ago, with this sale raising close $3.5 million to date.
This total stands as a big vote of confidence from the market in favor of Love Hate Inu, which is a decentralized polling platform that aims to merge the growing interest in online/social media-based polls with the popularity of meme tokens (e.g. Dogecoin and Shiba Inu).
What's interesting about Love Hate Inu is that, when it launches later in the year, it will reward users for participating in its polls, which will cover a range of timely and topical subjects.
Users will be able to engage in polls by staking their LHINU, while receiving a steady yield in return.
Love Hate Inu will also sign a range of partnership deals with recognized brands over time, opening its platform up to exclusive rewards and serving to draw a wider slice of the public into its ecosystem.
This model is a big part of the reason why its presale has already done so well, with the fact that it has already attracted more than 32,000 followers on Twitter being another sign of just how popular it could become in the future.
Interested traders and investors can participate in the LHINU presale by visiting the official Love Hate Inu website, where they can use either USDT, ETH or fiat currency (via credit card) to purchase their LHINU.
The token offering is currently in its third stage, with one LHINU token costing $0.000105.
That said, the fifth stage will begin in just over three days, at which point the price will rise to $0.0000115.
This regular upping of the sale price is another reason why the presale is doing so well, with traders rushing to buy LHINU at the biggest possible discount.
Disclaimer: The Industry Talk section features insights by crypto industry players and is not a part of the editorial content of Cryptonews.com.
---