XRP Price Prediction as XRP Becomes Top Performing Coin in the Market – Is the Sell-Off Over?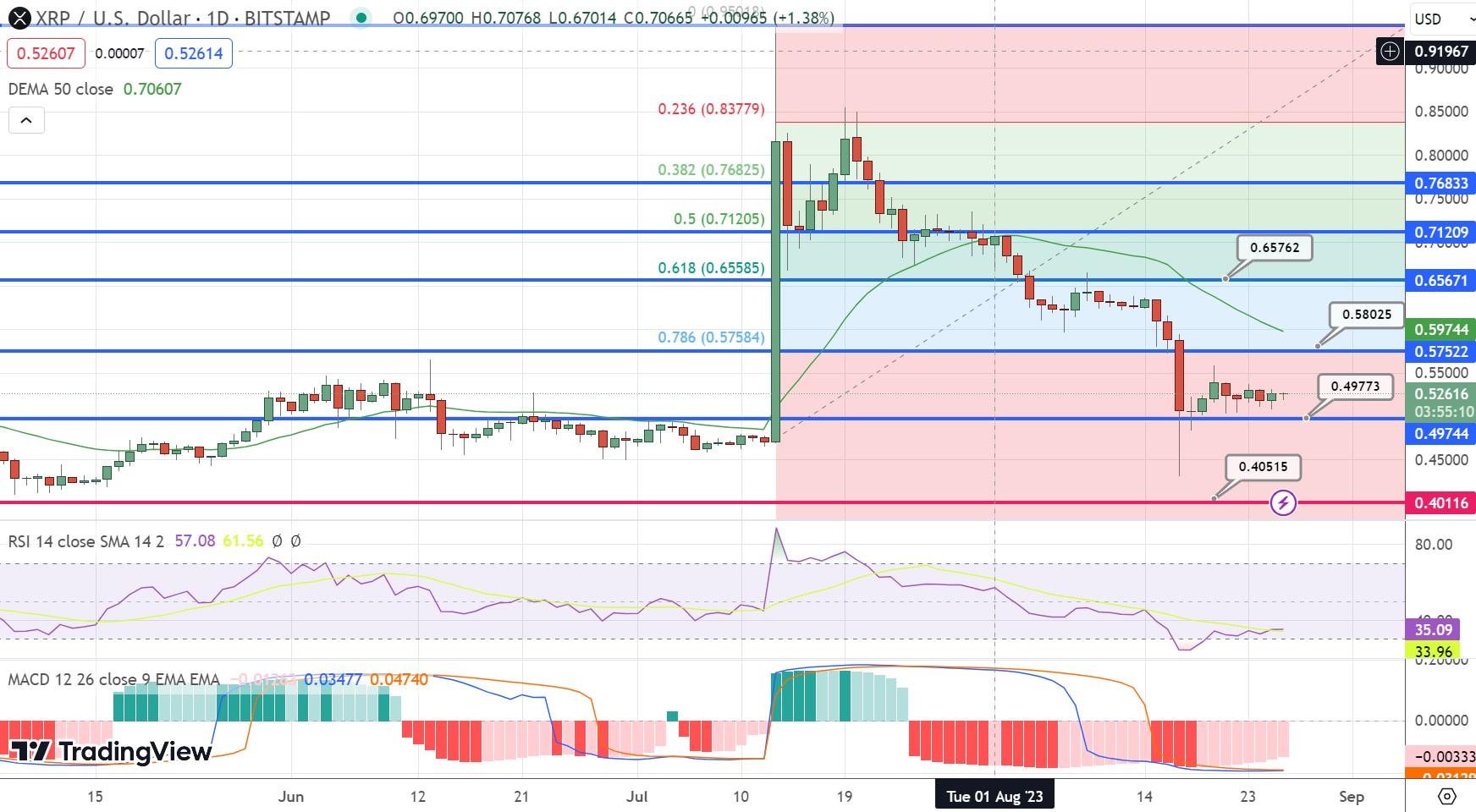 Ripple (XRP) has continued to rise, with a strong buying trend keeping it around the $0.5235 level.
This surge can be attributed to several factors, including the overall bullish trend in the cryptocurrency market.
Positive news, such as the partnership between Ripple and the Moroccan central bank for CBDC development, has also boosted XRP's upward momentum.
This momentum has pushed XRP to more than double its starting point this week, showing its potential in the cryptocurrency market.
In addition, XRP has been gaining popularity in South Korea, with a recent survey by News1 Korea showing that it is now the favored choice among cryptocurrency enthusiasts in the country.
This surge in popularity has triggered a significant uptick in XRP's price, rising by 24.5% from $0.4259 on August 17 to $0.5316 at the time of writing.
Financial Institutions Continue to Embrace Ripple's Technology
Financial institutions are increasingly adopting Ripple's blockchain-based solutions for cross-border payments.
Banks and remittance companies are utilizing the technology to streamline their transactions, reduce costs, and enhance efficiency, which validates the utility of XRP and generates demand for the cryptocurrency as a bridge asset.
As more institutions adopt Ripple's technology, it strengthens XRP's value, making it attractive to investors interested in digital finance.
Is the Sell-Off Over?
It's important to note that XRP's recent sell-off may have ended. Three key factors suggest a potential turnaround.
First, the SEC dropping its lawsuit against Ripple in July relieved a significant burden on XRP's price.
Second, the broader cryptocurrency market's positive trend has lifted the values of major cryptocurrencies, including XRP.
Third, XRP's technical indicators show promise as it has broken free from a prolonged downtrend, and its relative strength index (RSI) suggests strength.
However, it's crucial to remain cautious as the cryptocurrency market remains highly volatile, and XRP's future performance is far from guaranteed.
XRP Price Prediction
A detailed examination of the XRP/USD trading dynamics reveals that XRP has unfortunately slipped below the crucial $0.6500 mark.
This particular level, long considered a reliable support, was reinforced by the 50-day moving average.
Current trends suggest that this once-solid base may transition into a formidable resistance. If the prevailing downtrend persists, XRP/USD could be on a path toward the next support at $0.5800, with the potential to drop further to the $0.5020 mark.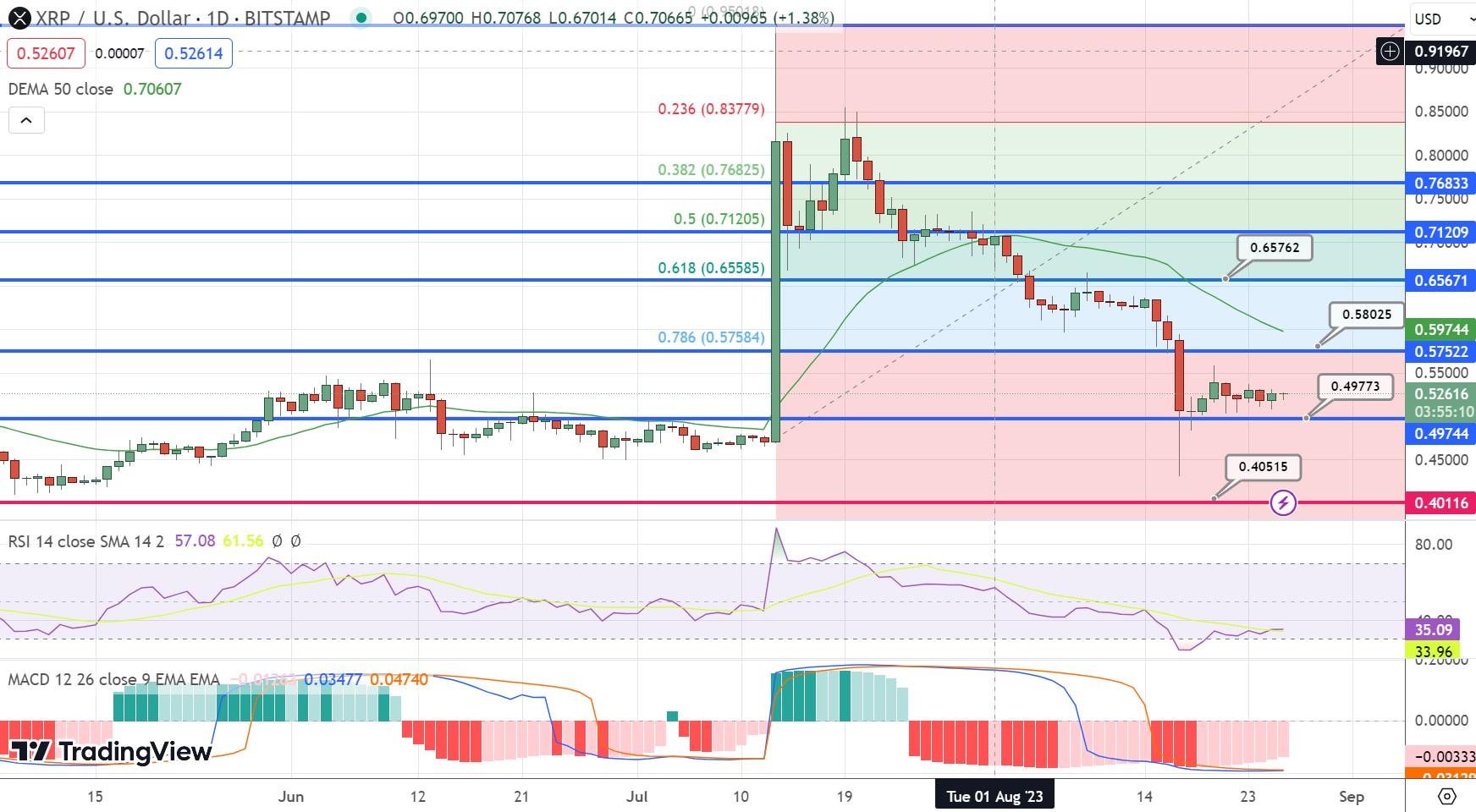 Technical indicators present a mixed view: the Relative Strength Index (RSI) points to a bearish mood, while the Moving Average Convergence Divergence (MACD) hints at emerging buying interest.
However, if XRP manages to overcome the $0.6500 barrier, it might pave the way for an upward journey, targeting roughly $0.7180.
As these technical factors interweave, investors should stay alert to their potential influence on XRP's future direction.
Wall Street Memes - The Alternative Coin Worth Considering
Individual investors are currently considering various investment options within the cryptocurrency market, and an option that has garnered attention is WSM. The presale of $WSM, a meme coin, has generated significant anticipation among investors.
Wall Street Memes, an online community popular for catering to these investors, is behind the coin.
The presale for Wall Street Memes' crypto project started on May 26, 2023, via their official website wallstmemes.com.
The WSM token was initially priced at $0.025 during the first of the thirty stages.
The presale for Wall Street Memes has been met with strong investor interest, surpassing $300,000 in funds raised on the first day and reaching a total of $25 million.
At present, WSM tokens are up for purchase at a price of $0.0337 in this presale phase.
This is an opportunity not to be missed, as it presents exciting prospects for growth. Invest in Wall Street Memes now and be part of this thrilling and rewarding venture.
Disclaimer: Crypto is a high-risk asset class. This article is provided for informational purposes and does not constitute investment advice. You could lose all of your capital.
---