XRP Price Prediction as Unknown Whale Moves 30 Million XRP into New Wallet – What's Going On?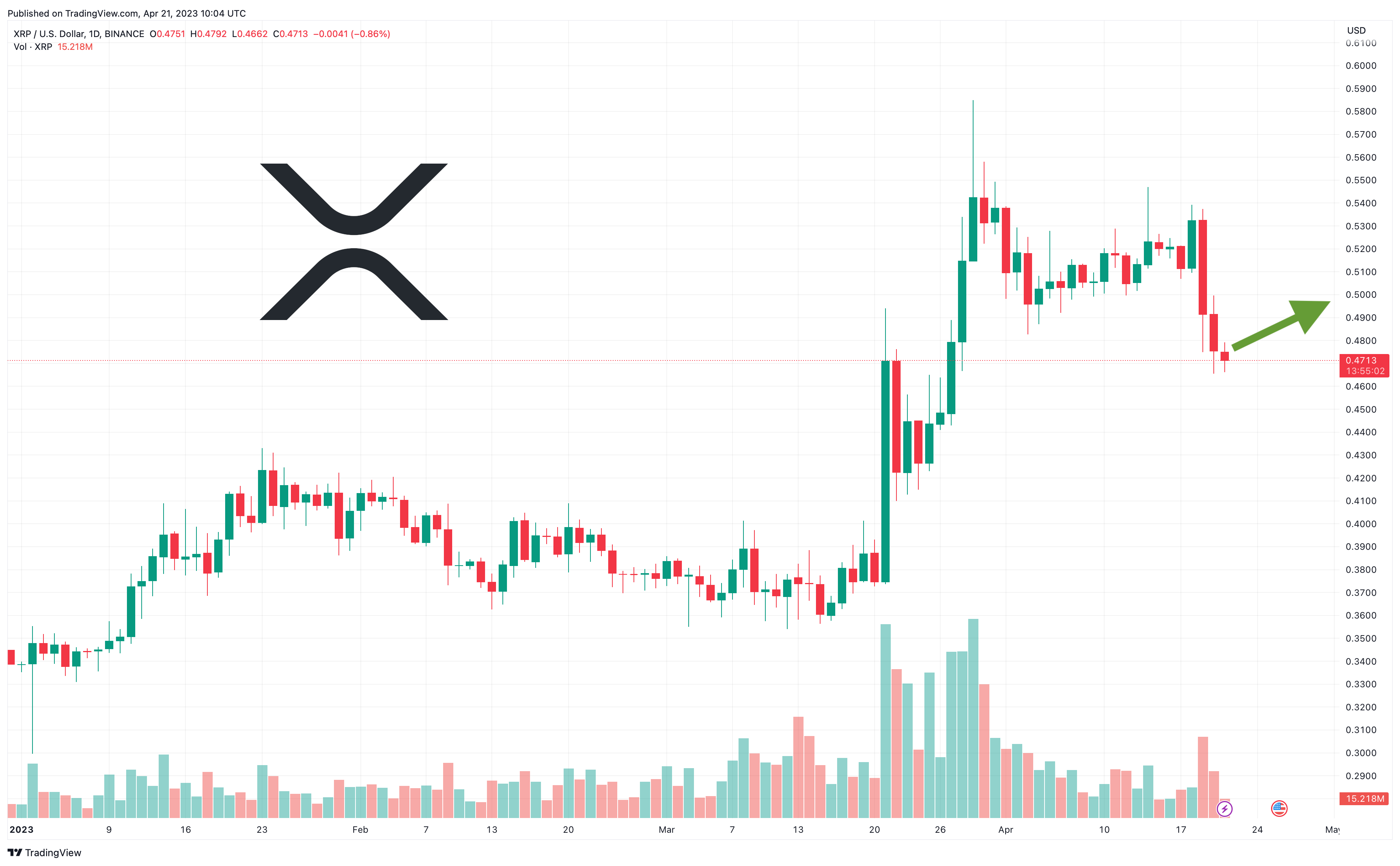 The XRP price has fallen by 4.5% in the past 24 hours, dropping to $0.471535 as the cryptocurrency market as a whole declines by 2%.
XRP's current price means that it has fallen by 8% in a week, although the altcoin has gained by 38% since the beginning of the year, suggesting that 2023 may end up being a year of recovery overall.
Despite its fall today, on-chain data reveals that a whale has transferred just over $15 million in XRP from an exchange to a private wallet, suggesting that the recent selling may be making way for accumulation.
And with Ripple also close to receiving a decision in its case with the SEC, XRP may be on the brink of a big rally in the next few weeks.
XRP Price Prediction as Unknown Whale Moves 30 Million XRP into New Wallet – What's Going On?
XRP's chart suggests that the coin may suffer further losses before it steadies itself and begins rising again, with various factor pointing towards such a conclusion.
Its relative strength index (purple) has dropped below 50 and still has plenty of room left to drop before the coin becomes oversold, implying more losses.
On top of this, XRP's 30-day moving average (yellow) still has to drop below its 200-day average (blue) before the coin can be said to have bottomed out, and with the 30-day average beginning to slow down it seems that it has just begun its descent.
What's worrying for XRP holders is that the altcoin has dropped through a number of earlier support levels, suggesting that the current selloff is a serious and potentially medium-term one.
That said, it now seems that whales have resumed buying the altcoin again, suggesting that its recent falls may be about to end.
Also, it needs to be remembered that XRP has one major piece of news to look forwards to: the end of the Ripple-SEC case, which could start a major rally if it ends in a favorable settlement or judgment for Ripple.
All major pieces of evidence have been submitted in the case, with lawyer John E. Deaton recently predicting that the case may end by May 6.
Regardless of whether it takes a few weeks or a few months, legal opinion is suggesting that when it does end, the case will provide a positive outcome for Ripple.
For instance, attorney Jeremy Hogan has recently argued that the SEC has failed to show that buyers of XRP entered into an investment contract with Ripple when they first purchased their tokens.
It's vitally important for the securities regulator that it proves this, since otherwise it's very hard to argue that Ripple sold unregistered securities.
It's also worth pointing out that the SEC has come under fire in recent weeks, with Republican lawmaker Warren Davidson introducing a bill that would restructure the regulator and remove current chair Gary Gensler.
While this doesn't have a direct bearing on the SEC-Ripple case, it at least suggests that there's a growing sense within the US legislative and judicial system that the securities regulator may have overstepped its remit in recent months and years.
This is positive for Ripple, and if it wins its case, there's little doubt that XRP will become one of the best-performing tokens in the market.
From just under $0.50 it could easily rise to $1 or higher in the immediate aftermath of the case's end, before rising to $2 by the end of the year.
DeeLance Could Rise Sooner
Of course, a decision in the case may not arrive for several weeks or months, so traders looking for big gains in the shorter term may be advised to consider alternative high-potential altcoins.
This includes presale tokens, with several recent sales potentially offering the opportunity to generate some big returns when the corresponding tokens list.
One of the most interesting examples in this vein is DeeLance, an Ethereum-based decentralized marketplace for remote work in the Web3 sector.
Having launched the presale for its DLANCE token several weeks ago, DeeLance has now raised over $300,000.
DeeLance's remote work platform builds on existing freelancer marketplaces such as Upwork to offer several original new features, including the use of non-fungible tokens to indicate and transfer ownership of units of work.
This concept will ensure that freelancers are paid fairly and fully for the work, with the ability to sell NFTs also potentially becoming a source of extra income.
On top of this, DeeLance is building its own metaverse, where freelancers and businesses will be able to set up virtual offices and network more efficiently.
DeeLance's presale can be joined by visiting its official website and connecting their crypto wallets, before using ETH or USDT to buy DLANCE.
One DLANCE token currently costs $0.025, although this will rise to $0.029 in just over two days, when the sale enters its second stage.
And with DeeLance set to launch with a price of $0.053, interested investors should act now if they want to grab some of the new altcoin at the biggest possible discount.
---