XRP Price Prediction as Ripple Obtains In-Principle Approval for Major Payments License in Singapore – Can XRP 10x From Here?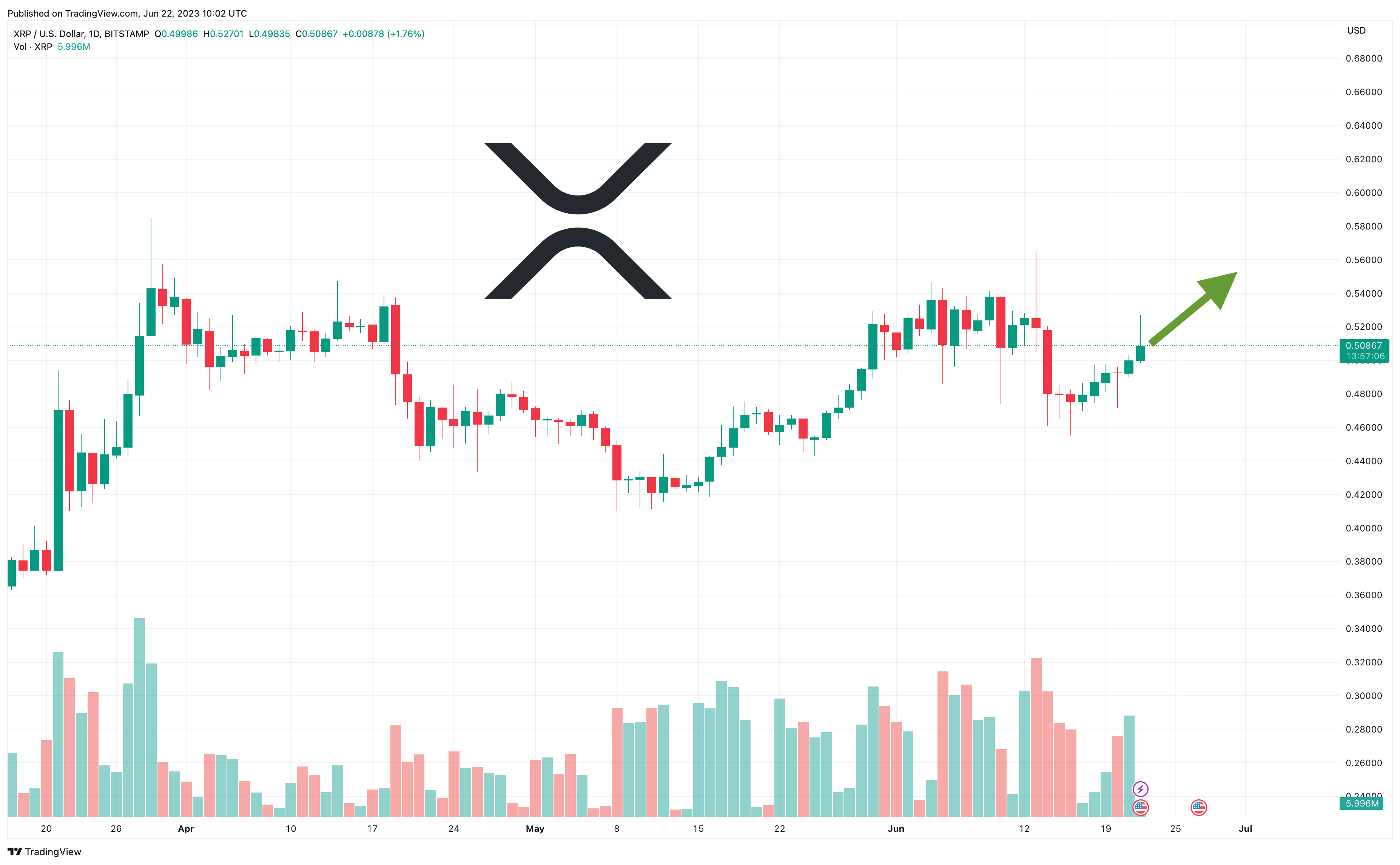 The XRP price has risen by 3% in the past 24 hours, rising to $0.509635 after Ripple announced it had received in-principle regulatory approval in Singapore to offer digital asset services in the city-state.
XRP is now up by 7.5% in the past seven days and by 10% in the last 30, with the altcoin also rising by 58% in the past year, as the market increasingly comes to expect a positive conclusion to Ripple's case against the SEC.
The altcoin's rise today also comes amid a market-wide rally, as news of applications for Bitcoin ETFs from BlackRock and other institutions boosts investor sentiment.
Such a lift in mood could amplify XRP's gains in the event of Ripple's victory in its aforementioned case, potentially making XRP one of the best-performing major cryptocurrencies of 2023.
XRP Price Prediction as Ripple Obtains In-Principle Approval for Major Payments License in Singapore – Can XRP 10x From Here?
XRP's chart finds the altcoin in a promising position, with its technical indicators beginning to gain momentum and signal further gains to come.
For one, XRP's 30-day moving average (yellow) is very close to rising above its 200-day average (blue), something which forms a golden cross and thereby points to a breakout.
Supporting this move is the coin's relative strength index (purple), which remains above 60 today after rising from close to 40 a couple of days ago.
This would indicate more rises to come, as would the fact that XRP's support level (green) is now rising again, providing the cryptocurrency with a stronger base from which to rise further.
As noted above, there are a couple of fundamental reasons as to why XRP is likely to continue rising in the shorter and longer term, with the altcoin also helped by renewed market optimism (because of BlackRock's ETF application).
For one, Ripple has provided news that reveals the further expansion of its business, which largely revolves around its on-demand liquidity and cross-border transfer service.
It has received in-principle regulatory approval from the Monetary Authority of Singapore (MAS), and while it doesn't specify which conditions need to be satisfied in order for this approval to be fully confirmed, it's worth pointing out Crypto.com received a full regulatory license this month after receiving similar in-principle approval a year ago.
What such approval reveals is that Ripple continues to plan for the future and remains confident in the outcome of its SEC case.
And there is good reason to be confident in the light of recent developments, with the release of the Hinman emails a couple of weeks ago showing that even the SEC has been confused in past years on where securities law stands in relation to cryptocurrencies.
The release of the emails supports Ripple's fair notice defense, and assuming that it does secure a positive conclusion, there's no doubt that XRP will rally big.
From roughly $0.5 today, it could comfortably rise to $1 in the weeks following the case's end, while a bull market next year could help it ascend to $2 and beyond.
High-Potential Presale Tokens
Even though XRP's prospects look very good at the moment, it may still not rally hard for a while yet, simply because it may still take another few months for its case to conclude.
In the meantime, traders looking for market-beating returns may be interested in investigating some of the more promising presale tokens in the market right now, with a few showing the potential to rally big once they list on exchanges.
This includes Wall Street Memes (WSM), a new meme token that has already raised more than $9.2 million in its presale, which kicked off at the start of the month.
Benefitting from its association with the meme stocks movement that spawned the infamous 2021 GameStop and AMC rallies, WSM has already attracted a significant community of holders and supporters, as indicated by how quickly it has raised almost $10 million.
It also boasts a Twitter account with more 236,000 followers, which again provides some indication of how popular it has become, and of how strongly WSM could rally when it lists on exchanges in the coming weeks.
Investors can enter its presale by visiting the official Wall Street Memes website and connecting their crypto wallets.
The sale is currently in its 16th stage (out of 30), with 1 WSM now costing $0.0298, while this price will climb to $0.0337 by the time the offering ends.
Disclaimer: The Industry Talk section features insights by crypto industry players and is not a part of the editorial content of Cryptonews.com.
---