XRP Price Prediction as $1.4 Billion Sends XRP Down 1.5% – Are Whales Selling?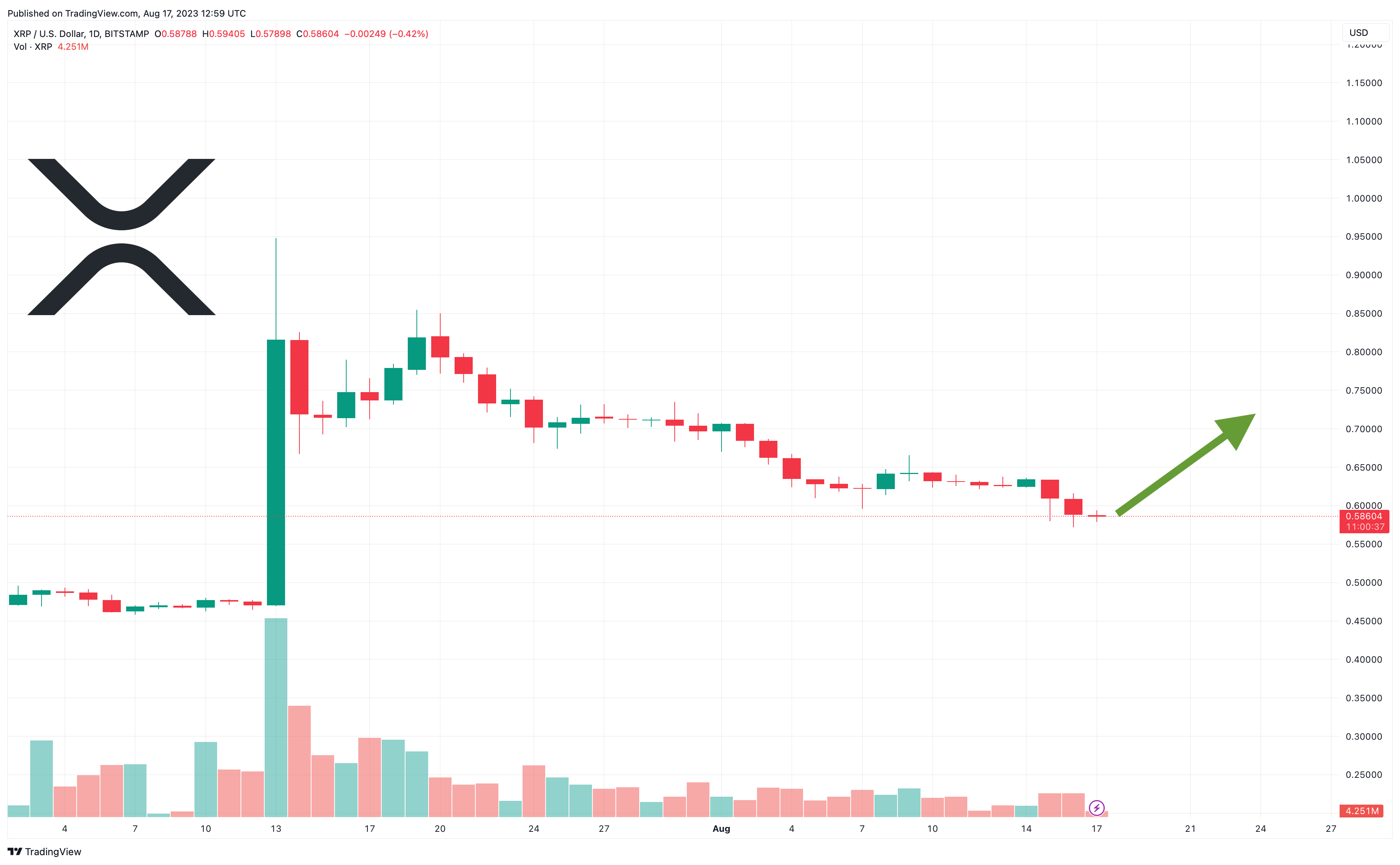 The XRP price has dropped by 1.5% in the past 24 hours, slipping to $0.585019 as the cryptocurrency market as a whole falls by 2% within the same timeframe.
The market has been pulled down by a number of factors today, from ongoing weakness in stock markets to disappointment over delayed Bitcoin ETF decisions, with XRP sharing in the general negativity.
However, despite being down by as much as 22% in the past month, XRP remains up by 72% since the beginning of the year, with Ripple's successes in its case against the SEC providing a big factor in this increase.
And with Ripple recently filing its opposition to a motion from the SEC to appeal against aspects of July's ruling, it's likely that XRP could soon receive some support that would help it rise again.
XRP Price Prediction as $1.4 Billion Sends XRP Down 1.5% – Are Whales Selling?
XRP is currently in a bad position, with its relative strength index (purple) dropping below 30 earlier this morning, indicating overselling and also the approach of a possible rebound.
Reinforcing the perception of an undervalued asset is the fact that XRP's 30-day moving average (yellow) continues to fall below its 200-day average (blue), and is now some way below it.
This would suggest that the altcoin is bound to rebound in the very near future, yet its support level (green) also continues to slide downwards, implying that it may not be able to guard against a few more drops before things become more positive.
On the other hand, there are no indications that whales have made big XRP transfers to exchanges in the past few days, even if the coin's trading volume has risen beyond $1.4 billion today.
It's declines could therefore be about to end, with the coin suffering largely for external reasons, with negativity affecting the market as a whole today.
Part of this is to do with delays in the applications of several Bitcoin ETFs, while it's also related to global investor negativity stemming from the Chinese economic slowdown.
And given this XRP had risen further than most coins in previous weeks, it's arguably the case that it has to fall a bit harder when sentiment turns sour.
However, there remain good reasons to be optimistic about XRP, even if the altcoin had been affected last week by the SEC's application to file an interlocutory appeal against aspects of the ruling delivering in July in its case with Ripple.
Ripple has just filed its opposition to the SEC's application, while it's also worth remembering that the regulator doesn't currently have the right to lodge a normal appeal against the ruling (until a court trial on a separate question concludes), which is why it has sought an interlocutory appeal.
Such appeals are granted only under specific circumstances, meaning that the SEC may fail in securing one.
Needless to say, this would be good for Ripple and XRP, and as yet nothing fundamental has changed since July's ruling.
This means that XRP should rebound healthily soon, with the coin potentially returning to $0.60 in the next few weeks.
New Meme Tokens for Quicker Gains
XRP may take some time to recover, especially when the global economy remains in a delicate condition.
However, there are opportunities to profit even during periods of relative slowdown, with presale tokens providing one of the most lucrative sources of returns this year.
And possibly the biggest presale of 2023 so far is still underway, with Wall Street Memes (WSM) having raised over $24.6 million since beginning its sale in June.
An ERC-20 token, Wall Street Memes has its roots in the meme stocks movement that was responsible for AMC and GameStop rallies in 2021, with its links to this community being a big part of the reason why it has risen so much money so quickly.
Such is Wall Street Memes' strong community that its Twitter account now counts more than 260,000 followers, a number which the vast majority of new meme tokens can only dream of.
It's this online following that will help to boost WSM's price when it lists on exchanges in the next few weeks, and which will support it over the longer term.
Indeed, WSM's tokenomics have been designed in such a way as to give the driving seat to its community, with 50% of its total supply going to the sale and 30% going to community rewards.
Such a broad distribution has helped to encourage investors to get involved in the WSM presale, with new buyers still able to do so by visiting the official Wall Street Memes website and connecting their software wallets.
1 WSM is currently priced at $0.0334, yet this will rise to $0.0337 in just under two days, when the sale's final stage will begin.
And once this stage has finished, WSM will be added to trading platforms, where early investors will potentially earn a nice profit.
Disclaimer: Crypto is a high-risk asset class. This article is provided for informational purposes and does not constitute investment advice. You could lose all of your capital.
---