XRP Price Prediction as $1.2 Billion Trading Volume Comes In – Are Whales Buying?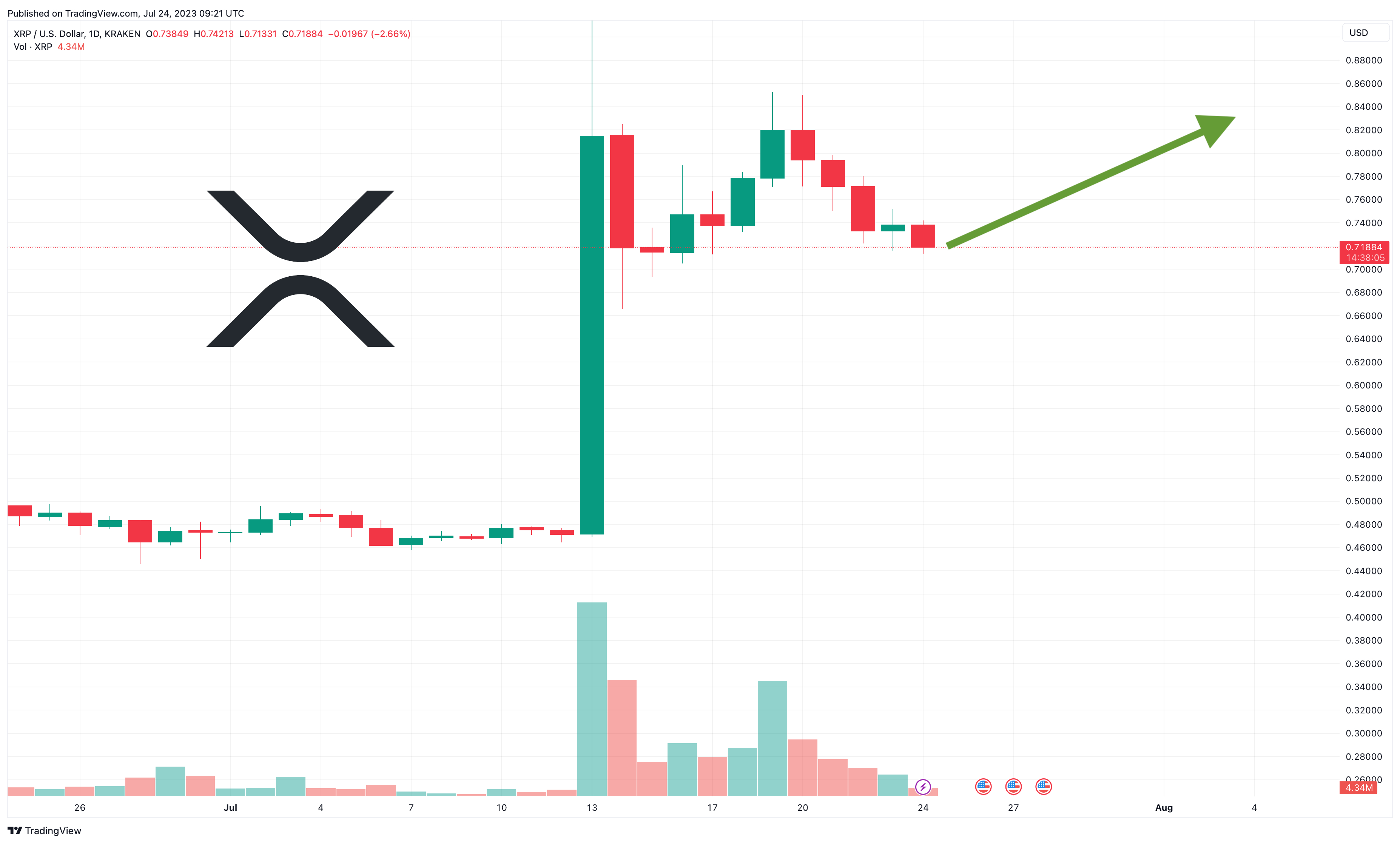 The XRP price has dropped by 2.5% in the past 24 hours, falling to $0.719308 as the cryptocurrency market as a whole barely moves.
XRP is now down by 4% in the past week, having lost momentum following the rally it enjoyed in the wake of the Ripple-SEC ruling.
Nonetheless, the altcoin remains up by 53% in the last 14 days and by just over 110% since the beginning of the year, based largely on increasingly positive expectations surrounding its future and that of Ripple.
And with its trading volume remaining elevated at over $1.2 billion, XRP could easily see further gains in the next few days or weeks.
XRP Price Prediction as $1.2 Billion Trading Volume Comes In – Are Whales Buying?
XRP's chart suggests that the altcoin may be close to hitting a bottom of its mini-dip, with its relative strength index (purple) just about to fall below 30, something which would signal that the coin is being oversold.
XRP's 30-day moving average (yellow) is also sliding downwards at the moment, although it's possible that the cryptocurrency may recover before the shorter-term average falls below the 200-day average (blue), given the lingering momentum involved.
Perhaps the most important indicator to watch out for at the moment is XRP's support level (green), which has been pushed down in the past few days by a number of dips.
If it's breached again, with XRP's price falling decisively below $0.715 or $0.71, then the altcoin could be due for a few more losses before it rights itself again.
This negativity aside, XRP is likely to resume its rallying in the medium-term (and long-term), with the coin still benefitting from considerable momentum as a result of Ripple seeing a mostly positive result in its case with the SEC.
Available data seems to suggest that, while some may have sold recently, whales are generally still buying and/or holding onto XRP at the moment, likely in the expectation that it has bigger gains in store.
Indeed, an analysis from Lookonchain found that most whales have still held onto their XRP, even after the altcoin's price surged in the wake of the Ripple-SEC ruling.
As such, the market can expect XRP to return to growth sooner or later, with the coin potentially set to return $0.80 in the next few weeks before reaching $0.90 or higher in the next couple of months.
And in the longer term, Ripple's growth as a business could help push XRP even higher, potentially to $2 or $3 by the first half of next year.
New Altcoins With Short-Term Potential
While XRP is now probably one of the strongest coins in the market in terms of fundamentals, it may actually take some time to see significant price appreciation, especially when its initial post-SEC rally appears to be over.
As such, some traders looking for quicker and bigger gains may prefer to turn to newer altcoins, particularly those that haven't yet really had their initial growth spurts.
One of the most promising examples of such a cryptocurrency is BTC20, a new ERC-20 token that will provide an Ethereum-based version of Bitcoin that can be staked to earn passive income.
Its presale opened last week and has already raised more than $1.5 million, providing a clear and incontrovertible sign that investors are liking what they see.
BTC20's presale will make 6.05 million of the altcoin available at a fixed price of $1, which was a level BTC itself reached back in 2011.
And in another homage to Bitcoin, BTC20 will have a total maximum supply of 21 million, with the remainder of its supply being minted via staking rewards in a total of 120 years.
Such features will help make BTC20 a deflationary cryptocurrency, and over time, the altcoin should see its price steadily appreciate.
It seems that this is exactly what investors are expecting, given that BTC20's presale has raised more than $1.5 and is likely to sell out in the next couple of weeks.
New investors can join in the fun by going to the official BTC20 website and connecting their software wallets with the coin purchasable using either USDT, ETH or fiat currency.
Disclaimer: Crypto is a high-risk asset class. This article is provided for informational purposes and does not constitute investment advice. You could lose all of your capital.
---