XRP Price Prediction as $1 Billion Trading Volume Comes In – Are Whales Accumulating Ahead of the Lawsuit Conclusion?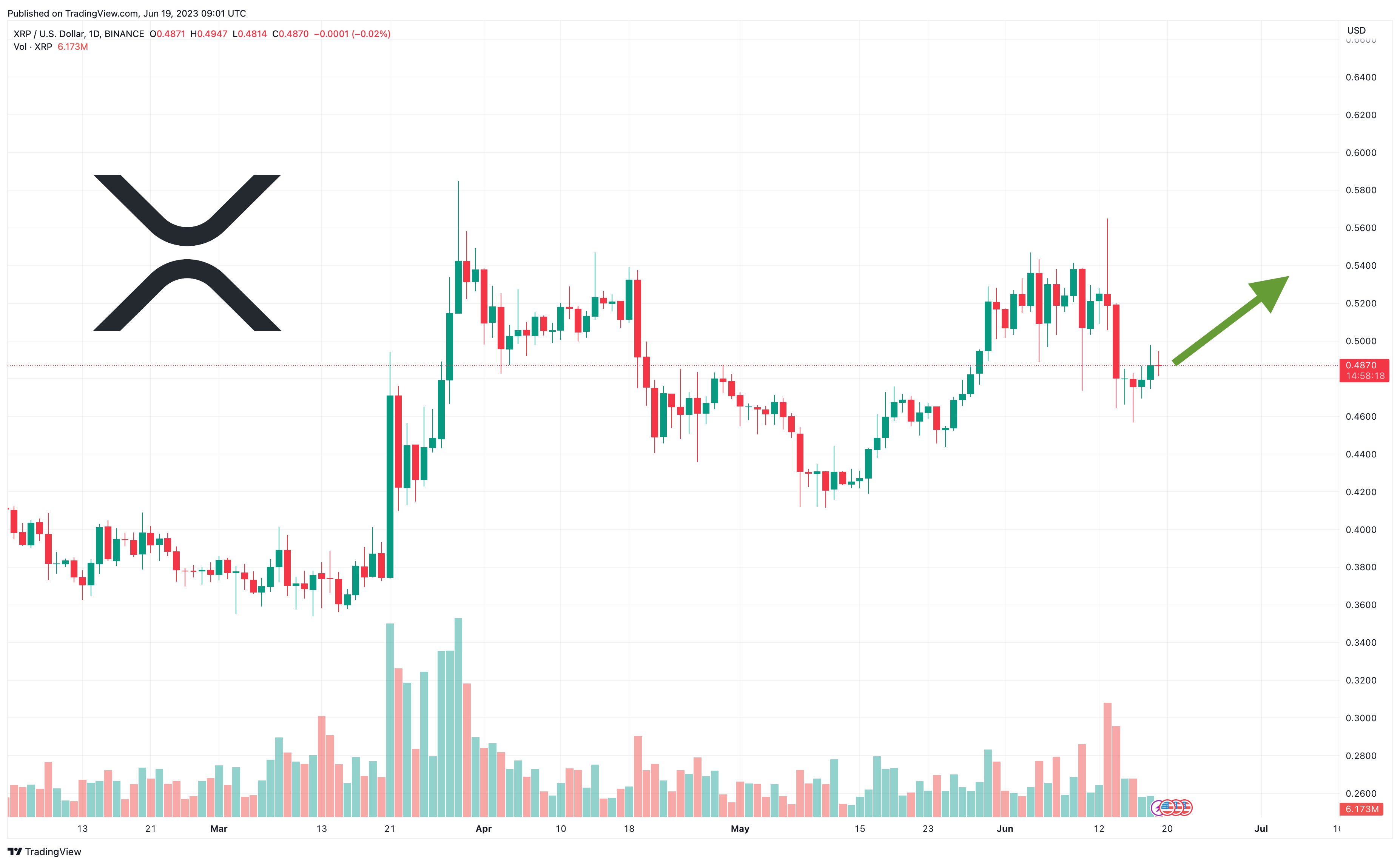 The XRP price has gained by 1% in the past 24 hours, inching up to $0.490659 as the cryptocurrency market as a whole dips by 0.5%.
XRP is now down by 5% in a week but up by 5% in the last 30 days and by 61% in the last 12 months, as anticipation builds regarding Ripple's long-standing legal battle with the SEC.
This anticipation is also evident in XRP's 24-hour trading volume, which has increased to $1 billion today, having spent the weekend very close to $500 million.
There are also signs that some whales may be accumulating XRP ahead of the case's incoming resolution, which is expected in the next few weeks and which could send the altcoin's price surging.
XRP Price Prediction as $1 Billion Trading Volume Comes In – Are Whales Accumulating Ahead of the Lawsuit Conclusion?
XRP's chart suggests that it may be due for a more substantial recovery soon, with its indicators close to picking up from oversold positions.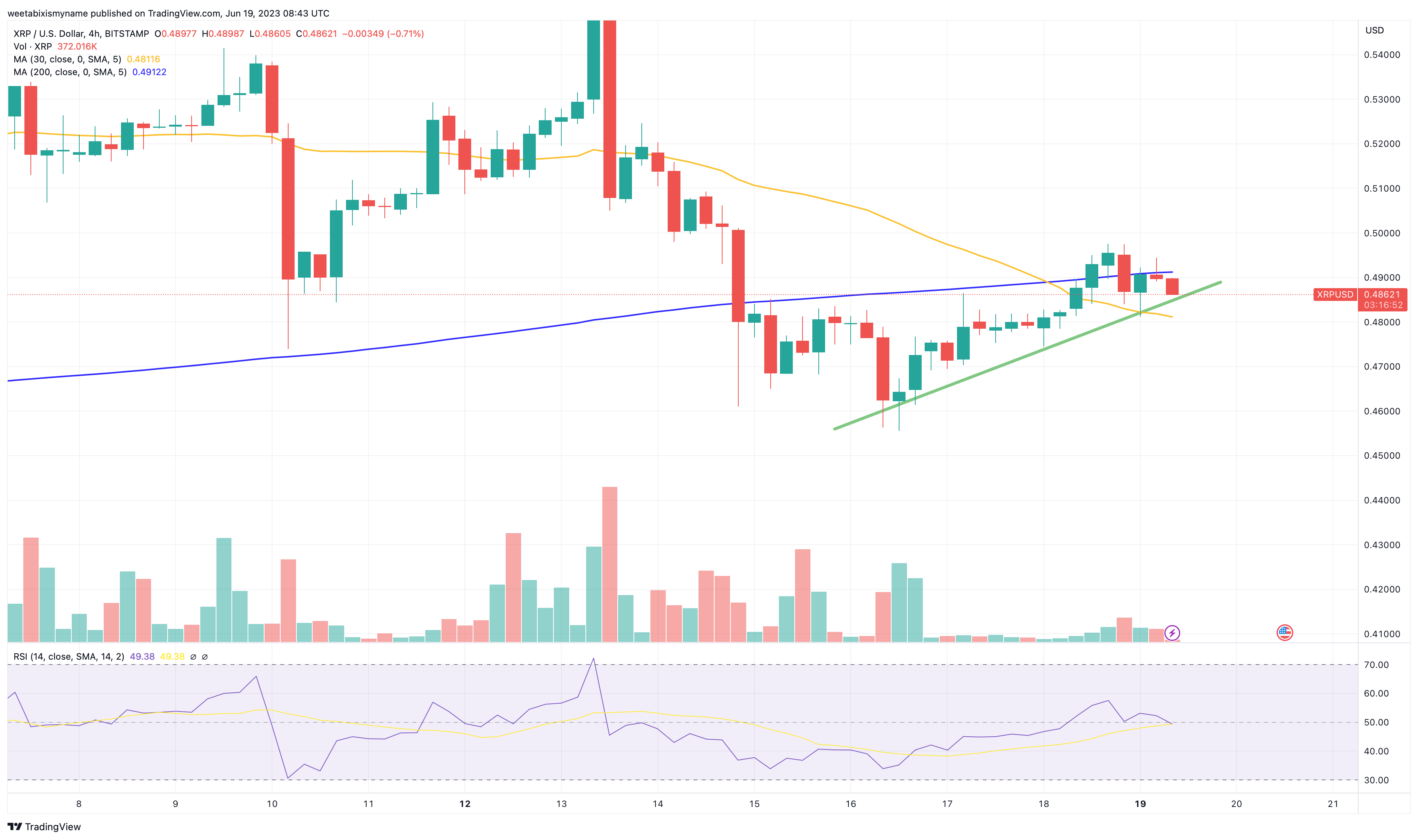 Its relative strength index (purple) has climbed back to 50 after spending the end of the last week closer to 30, suggesting that it's gradually regaining some momentum.
At the same time, XRP's 30-day moving average (yellow) fell below its 200-day average (blue) a couple of days, into a position where it may be ready to climb again soon.
Supporting this positive outlook is the fact that the altcoin's support level (green) is rising, implying that XRP has fallen as low as it will during this difficult period and is ready to mount a recovery.
Such an outlook is certainly reinforced by XRP's fundamentals, in that Ripple is nearing the conclusion of its case with the SEC.
More importantly, recent developments would suggest that the cryptocurrency firm has a good chance of witnessing an outcome that will be favorable for it insofar as enabling it to continue its business and enabling XRP to be listed on exchanges.
In particular, the recent release of the Hinmain emails (related to William Hinma's famous 'ETH-is-not-a-security' speech from 2018) has revealed that even officials at the SEC believed the regulator's guidance and pronouncements on cryptocurrencies and cryptoassets were confusing.
As such, the release of these emails supports Ripple's argument that it did not receive fair notice from the securities regulator, which some observers have also claimed has not proven that XRP investors had a reasonable expectation of profit.
Such events do make Ripple's situation look fairly promising, and if the company does get the kind of result it wants, XRP will certainly moon.
There are some indications that whales are acting on this assumption, with a recent transfer of 100 million XRP suggesting that larger investors are looking to get their hands on the altcoin.
If Ripple does secure something close to a win, XRP could easily move back up to $1, with a return to bullish conditions later in the year potentially also helping it move to $2.
High-Potential Altcoin with Fundamentals
As promising as the current situation seems for Ripple, the case may not end for several months yet, and there's also no guarantee of a positive outcome.
For this reason, more risk-averse traders may prefer to look to other new altcoins, with this year producing no shortage of interesting new projects with solid fundamentals.
Arguably the most notable example of such a project is ecoterra, a recycle-to-earn platform that has impressively sold more than $5.1 million of its native ECOTERRA token since its presale began last month.
Running on Ethereum, ecoterra's platform aims to provide a decentralized and crypto-based ecosystem for encouraging more sustainable living.
This will primarily be achieved by rewarding users in ECOTERRA for recycling their household waste at participating recycling points.
The platform will also provide NFT-based carbon offsets to users who generate their green energy, with these credits tradeable on the platform's own NFT marketplace.
Such features indicate that ecoterra will quickly build itself a thriving ecosystem, a sentiment shared by the investors who have already plowed into its presale.
Investors can join its presale by visiting the official ecoterra website and connecting their software wallets, with 1 ECOTERRA currently costing $0.00925.
This price will rise to $0.01 in just over nine days, although based on its fundamentals, it has a very good chance of eclipsing such a price once it lists on exchanges.
Disclaimer: The Industry Talk section features insights by crypto industry players and is not a part of the editorial content of Cryptonews.com.
---