XRP Lags Behind Market Despite Strong Weekly Gains
XRP, the cryptocurrency affiliated with US-based fintech company Ripple, is among just a handful of digital assets that are trading in the red or are unchanged over the past 24 hours, with the broader crypto market recording strong gains during early Monday trading.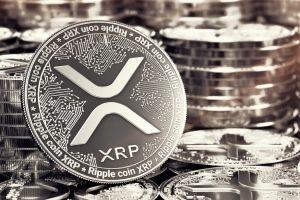 Heavy selling Sunday night added pressure on XRP, and contributed to the coin seeing lackluster performance since Sunday as compared to the rest of the market. Today's underperformance comes despite XRP remaining the best-performing asset among the top 10 cryptoassets by market capitalization over the past 7 days.
As of press time on Monday morning (10:19 UTC), XRP was almost unchanged in over the past 24 hours, trading at USD 0.17. Meanwhile, major cryptoassets such as bitcoin (BTC) and ethereum (ETH) were both trading up by 2% and 1% over the same period, respectively.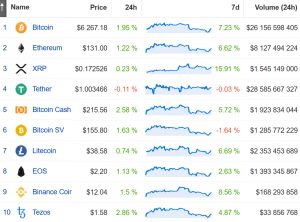 XRP is still in an overall down-trend on the long-term weekly chart, with a consistent pattern of lower highs seen in the chart since the all-time high was reached at the end of 2017. Looking at the shorter-term daily chart, however, the price appears to have found some support in the USD 0.14 to USD 0.15 area, which has helped it rebound up to the current USD 0.17 level.
Following the latest gains, XRP has managed to recover about half of the losses from the major market crash on March 12.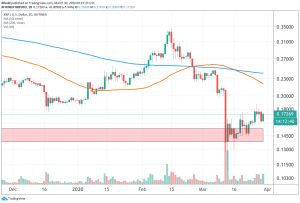 Today's muted trading also occurred as news came out about an online scam where one user reportedly lost XRP 14,908 after using a fake Ledger hardware wallet extension for the Google Chrome web browser. The story was first shared on Reddit by a person claiming to be the victim of the scam, saying she downloaded the only Ledger extension she could find in the Chrome store, and then entered her Ledger's seedphrase, thus allowing hackers to get away with her hard-earned XRP coins worth approximately USD 2,580.
Meanwhile, as reported last week, in an amended complaint filed in the U.S. District Court of the Northern District of California, XRP investors accused Ripple CEO Brad Garlinghouse of touting the product, as well as suggesting that he was holding his XRP for the long-term while unloading XRP 67 million and liquidating the coins within days of getting them. They said that Ripple overstated and misrepresented XRP's utility as a "bridge currency" that facilitates international payments, so that it wouldn't be classified as a security.
---