World's Biggest Listed Hedge Fund Firm Chief Makes Bitcoin Noob Mistakes Too
The Cryptoverse is seeing yet another traditional financial boss making the very same greenhorn Bitcoin (BTC) mistakes that had been debated and debunked numerous times before, continuing the cycle of misinformation. And this time too it's about - you guessed it - value and scarcity.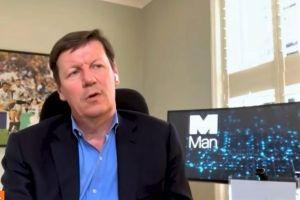 The focus of the 'we've-been-here-before' criticism this time around is Luke Ellis, the CEO of the world's biggest publicly traded hedge fund firm Man Group.
Ellis told The Financial Times that "if you look at cryptocurrencies as a whole, it is a pure trading instrument. It has no inherent value."
Also, he disagreed with the idea that cryptoassets themselves will always be "a limited supply instrument" because "you can have an infinite number of different cryptocurrencies." While, this time, Ellis didn't mention BTC specifically, back in March this year, he told CNBC that he sees BTC "as a trading instrument, not a thing that you think of as a long term asset allocation play."
The Cryptoverse had many opportunities to respond to identical claims and it did. For example, when it comes to the inherent value, Bitcoin's utility lies in the fact that it allows people to store value outside of any currency system in something with a provably hard-capped supply, which is more easily verifiable than gold, and then to transport that value easily across the world, as popular generalist investor Lyn Alden explained.
As for scarcity, industry players have already pointed out that other cryptoassets do not mitigate Bitcoin's scarcity feature, as they are separate assets with different features, goals, and networks. It's like saying that silver mitigates the scarcity of gold.
Meanwhile, Ellis added that cryptocurrency is "a tulip bulb," referring to the often-cited speculative bubble in the Netherlands, which is a speculative story by itself as it looks like this "tulip fever" is a myth.
However, per the CEO, due to their volatility, cryptos are creating business opportunities for Man Group, and they were one of "probably 800 markets that we operate in today plus 15,000 stocks and thousands of credits." The company trading in cryptos doesn't mean they were "an asset management product," in which the funds "offer value" by owning an asset to investors, he said, adding that cryptoassets were "things to trade because they go up and down a lot."
Meanwhile, the analysts at the very same Man Group - which is reported to manage USD 127bn for its clients - said in January that bitcoin's volatility is simply part of the price discovery in a new asset class, and that these are not bubbles.
"It's easy to see how from the outside crypto seems like a tulip market, especially with institutional money looking to cash in on the returns, but they fail to see [people] are building real shit that will withstand the hype & serve [traditional finance]," reacted Maya Zehavi, a blockchain-focused entrepreneur and Founding Board Member of the Israeli Blockchain Industry Forum.
____
Learn more:
- 6 Most Common Misconceptions About Bitcoin Picked by Lyn Alden
- Bitcoin is a 'Ponzi' With Infinite Supply - Skeptics Chime In
- Why You Should and Shouldn't Care About Goldman Sachs' Report on Bitcoin
- 7 Biggest Misconceptions About Bitcoin, Picked by 6 Crypto Experts
- Nobel Laureate Krugman Takes Another Swing at Bitcoin And Bitcoin Swings Back
- Taleb Releases a Dirty Swan Upon Bitcoin, Bitcoiners Were Fast to Clean It
---