While XPEPE Token Shoots Up 1,000% Overnight, Viral Coin Wall Street Memes Just Raised $20 Million – How to Buy Early?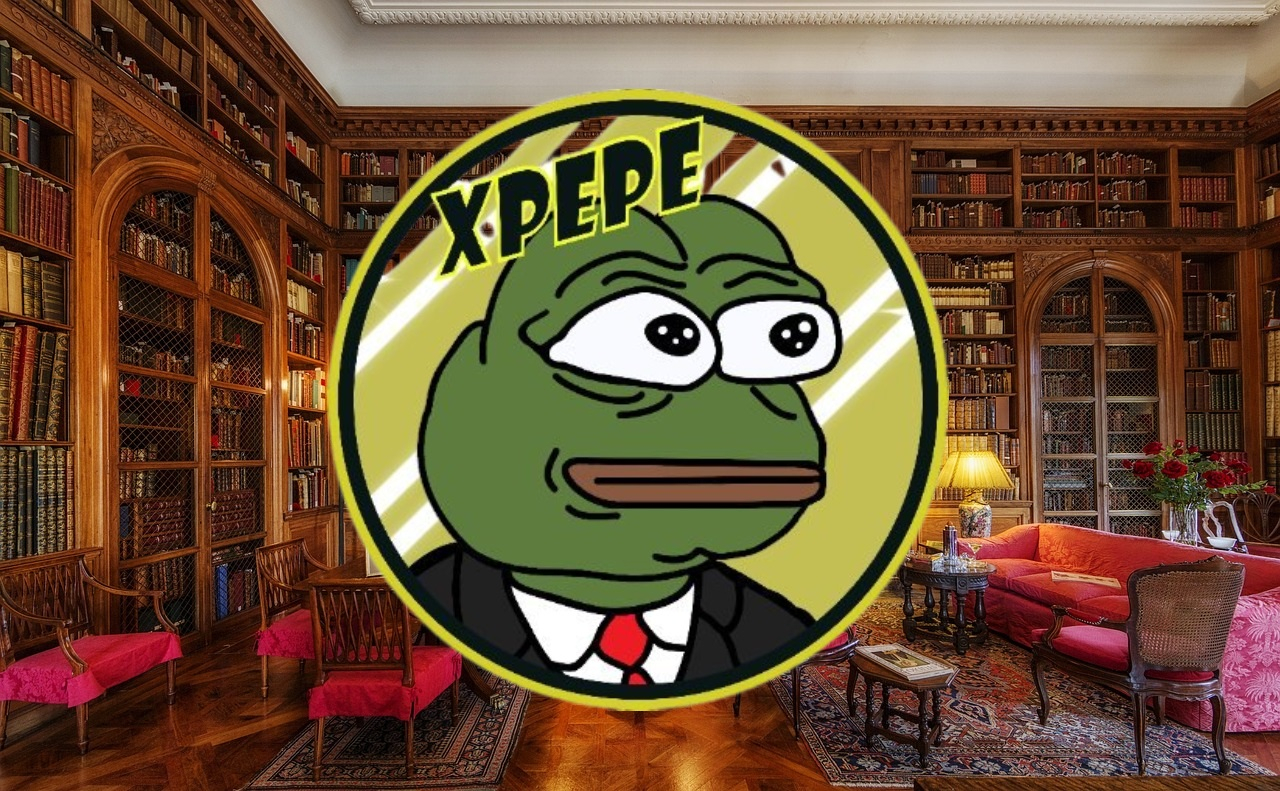 As leading meme coin Dogecoin (DOGE) continues to make gains into August, straight-to-DEX meme coin launches aren't missing out on the action - and the latest market entrant, XPEPE token has pumped a magnificent +1,000% overnight.
The meme coin vertical has seen a strong month as top tokens appear to be pushing up, Dogecoin surged +16.73% this month, while fresh-faced sensations such as Pepecoin saw -15% to the downside.
Some of the biggest movements have come from meme coins launched straight to DEX, and 21-day-old XPEPE token undertook a jaw-dropping +1,000% rally in the early hours of August 2.
XPEPE Price Analysis: Can Pepecoin Spin-Off Token Maintain Moon-Shot?
Now in minor local retracement following the sensational move, XPEPE is currently trading at $0.093652 with the overall 24-hour change now standing at +226%.
The outlandish +1,000% pump was driven by a sudden influx of $205k in liquidity, triggered by an initial bounce from support at 18:00 on August 1.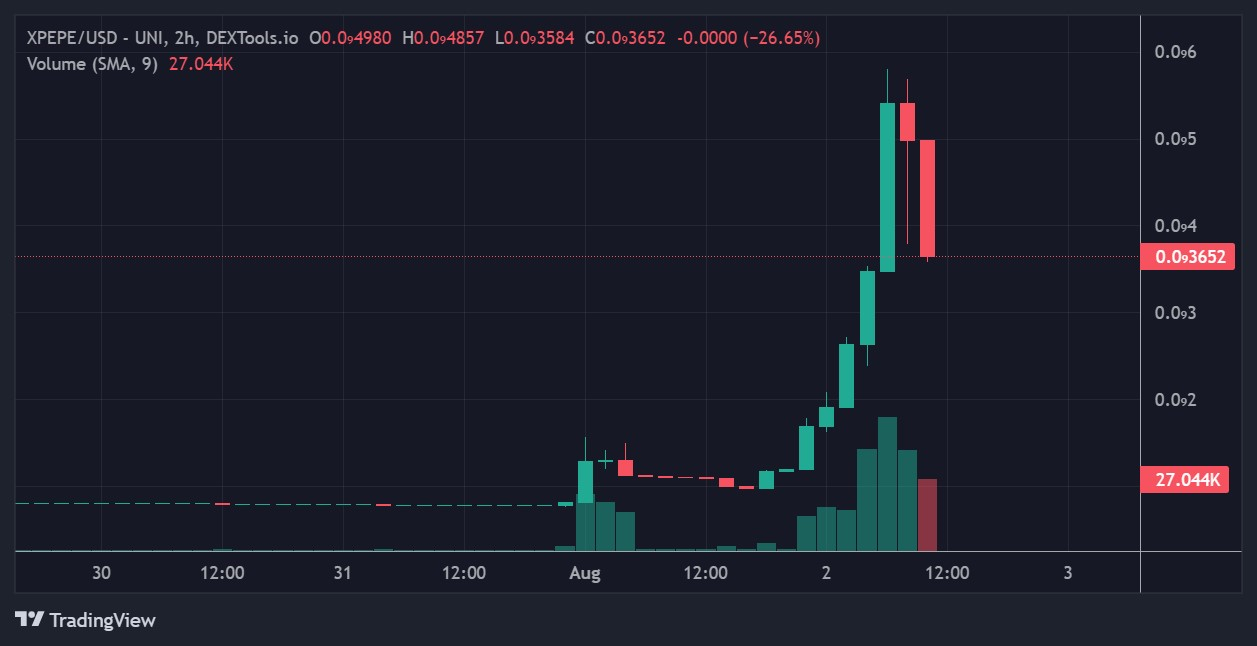 Eagle-eyed DEX traders noted the strong technical bounce from support, and 500 traders rushed to claim a position as the skyrocketing price action pushed up.
Surging from a lowly $0.0109685, XPEPE pushed up to smash a zero and topped out at $0.095820 - delivering an alluring +1,000% return to early buyers.
However, as with most DEX pumps, the initial 4.91k transaction hysteria soon gave way to fears about limited liquidity locked (just $106k - significantly below the 24-hour volume and total market cap), and price action moved into a substantial retracement move (currently around -40%).
The downside move has given way to fears that the moon-shot opportunity could have come to a premature end, but as DEX traders race on with the hunt to find the next trade - smart money has begun rotating into a lucrative presale opportunity with similar skyrocketing potential.
Wall Street Memes Goes Viral As One Million Strong Community Fuel +$20m Presale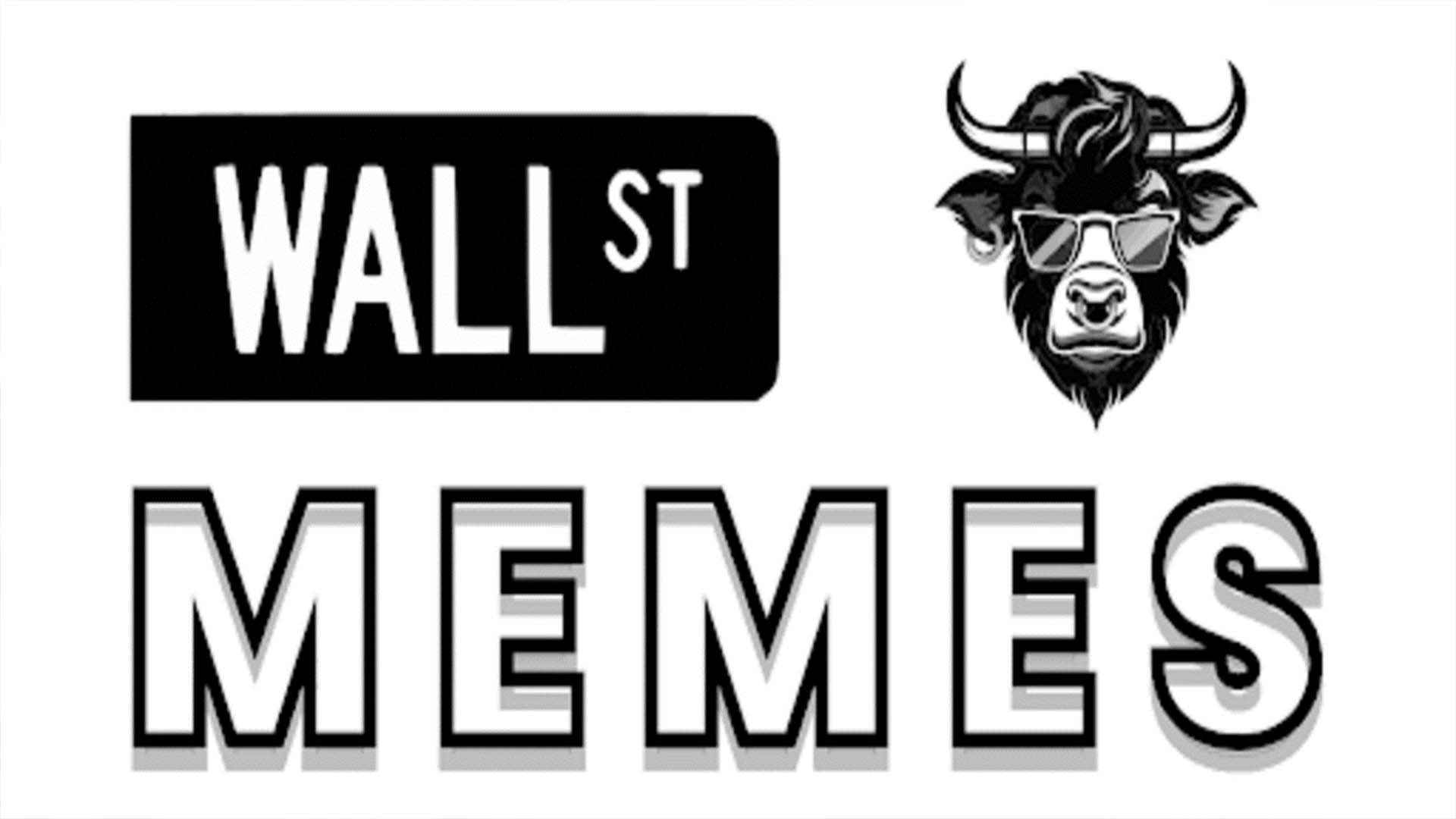 As the meme coin vertical makes a resurgence, there is one project on everyone's watchlists and it's not Dogecoin or JIM, the latest market entrant making waves on Crypto Twitter is Wall Street Memes.
In a testament to the skyrocketing growth, the $WSM token community now stands one million strong, with the presale exceeding all expectations to amass +$20m in presale funding.
The humungous feat is almost unprecedented for new meme coin projects that are yet to even hit the DEX markets, and investors are taking notice as the project emerges as a top choice for the biggest coin launch of Q3 2023.
In a meme coin homage to the anti-bank investors that took on Wall Street, $WSM is aiming to transform powerful Wall Street Bets community sentiment into a tangible asset - seeking not only to tokenize the anti-bank movement but also to redefine our perception of digital value.
But what really has investors flocking in, is its democratic price point at just $0.0328, the WSM presale has surged with $20.21m raised. and with the speed of the presale growing faster by the day, there is a clear signal that investors could unlock lucrative gains with $WSM, not least because of the built-in +30% for presale investors in the initial listing.
Wall Street Meme's Unhinged Growth Fuelled By CEX Listing Expectations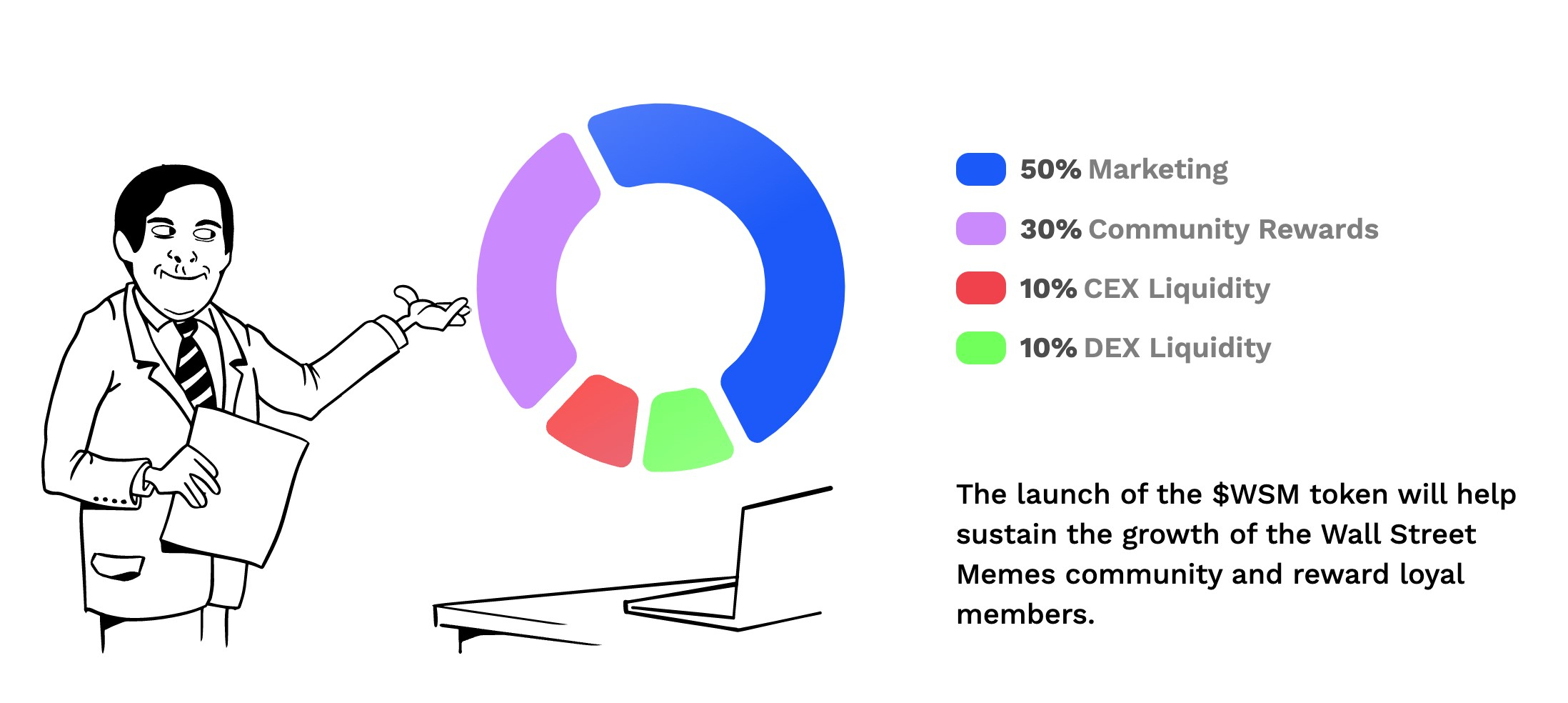 In keeping with the original anti-bank philosophy, $WSM will be allocating 30% of the token supply to community rewards, with an additional 20% going towards liquidity, and 50% up for grabs in the presale - this is a democratic project for the masses.
And this no-team split has fuelled the project's explosive growth on social media, with the Wall Street Memes community now amassing an impressive +1m followers in the community.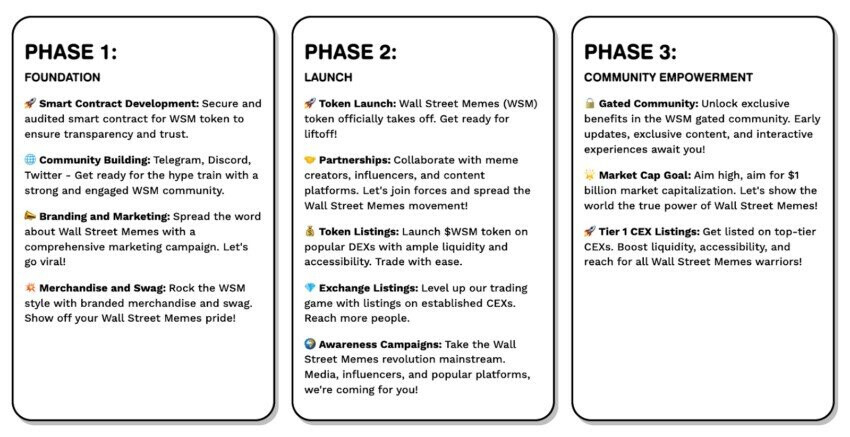 This explosive community growth is likely to incentive major CEX listings such as Gate.Io, which could propel the $WSM token on an incredible moonshot.
With a proven track record stemming from the success of the Wall Street Bets NFT collection, this project continues to thrive off the original moment in history when $WSM exploded onto the scene.
Don't miss your chance to secure a slice of the next skyrocketing meme token.
Disclaimer: Crypto is a high-risk asset class. This article is provided for informational purposes and does not constitute investment advice. You could lose all of your capital.
---