Dogecoin Price Prediction as $500 Million Trading Volume Comes In As Rumors of Elon Musk Twitter Coins Integration Arise – Here's the Latest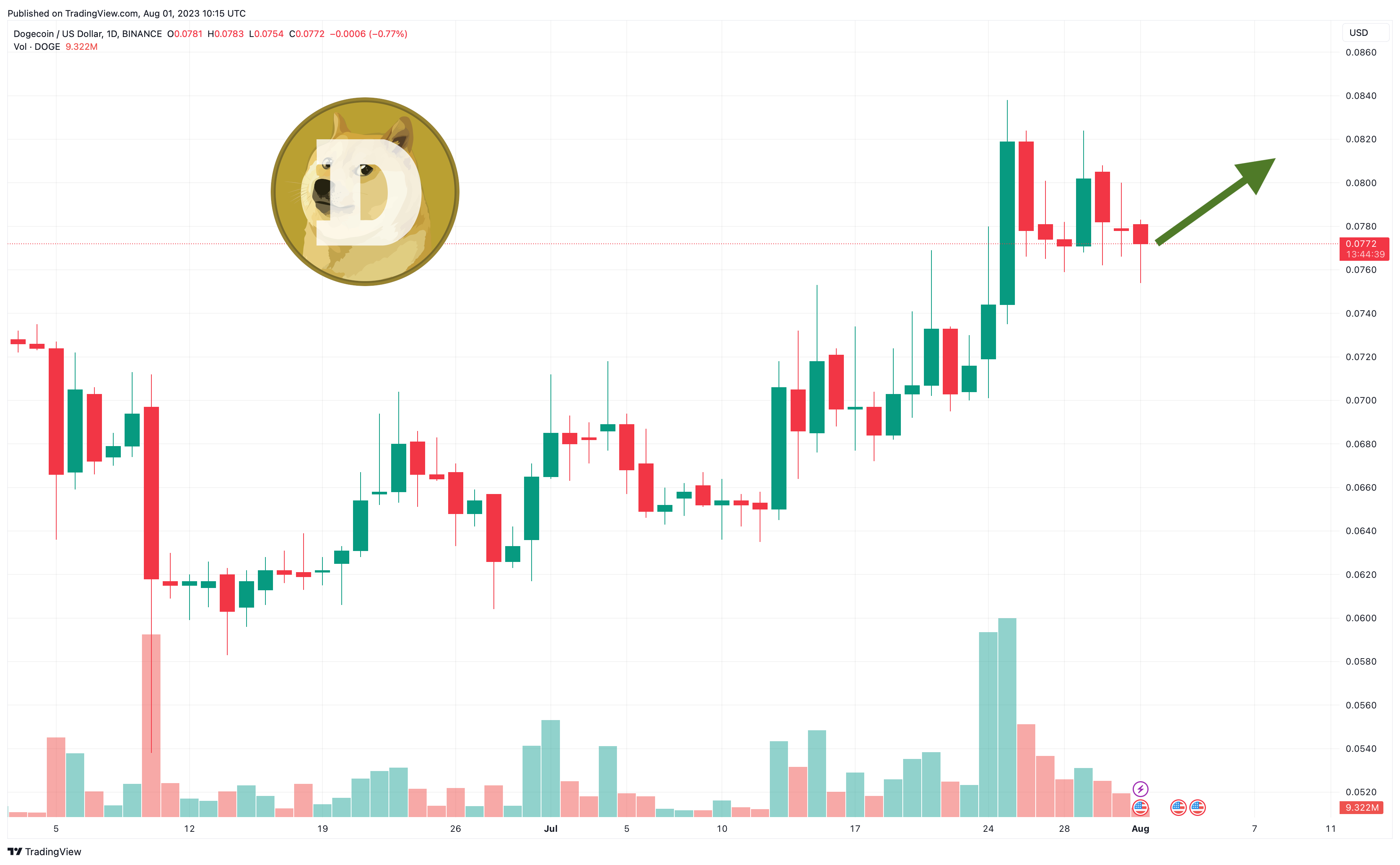 The price of Dogecoin (DOGE) has dropped by 2.5% in the past 24 hours, slipping to $0.076938 as the cryptocurrency market as a whole declines by 1%.
DOGE's current price means it hasn't moved in the last seven days, but it remains up by 15% in the past month and by 9.5% since the beginning of the year, with the meme token's trading volume reaching $500 million this morning.
And there's a chance that DOGE could see some further gains in the very near future, with speculation mounting as to how close Twitter is to introducing payment options on its network, including options in crypto.
Dogecoin Price Prediction as $500 Million Trading Volume Comes In As Rumors of Elon Musk Twitter Coins Integration Arise – Here's the Latest
Dogecoin's price chart seems to suggest that the meme token is on course for further falls, given that its indicators had been in overbought positions for several days over the past week.
Firstly, DOGE's relative strength index (purple) dropped to 40 overnight and, after plenty of time close to or above 70, it looks ready to drop towards 30, meaning further losses.
Perhaps even more damningly, the altcoin's 30-day moving average (yellow) has cearly peaked and is now on course to fall below its 200-day average (blue).
Yet it has a long way to go before it sinks to the 200-day average's level, something which again implies that DOGE could lose more value before it recovers.
Having said that, the meme token's support level (green) has held up way in recent weeks, providing a base that may protect it from significant losses.
And it's arguable that Dogecoin remains in a very strong place fundamentally, given recent speculation that Twitter is moving ahead with digital payments and could integrate DOGE-based payments soon.
That DOGE payments are closer than ever was highlighted in the video above, which shows Elon Musk using a hypothetical example of Twitter users paying to read an article or post using the meme token.
However, it should be noted that the video is not new, and was first uploaded (to YouTube) in November 2022, before Musk even owned Twitter.
As such, DOGE holders shouldn't jump the gun and assume that this is a new video that indicates an imminent integration of Dogecoin payments.
But with Musk recently rebranding Twitter to X, it remains clear that the entrepreneur – and long-time DOGE holder – is reshaping the social network in his image.
And given that Musk has had a fondness for DOGE for several years now, it remains credible to suggest that Dogecoin payments will end up on Twitter sooner or later.
As for now, it's unlikely that DOGE will make any real big movements, with the coin potentially rising back up $0.080 in the next few weeks.
New High-Return Altcoins
Because Dogecoin appears to be almost entirely dependent on Musk and Twitter for its gains, some traders may prefer to look to alternative investments while they wait for a new concrete development in the DOGE payments saga.
Fortunately, there's currently no shortage of new altcoins to invest in, with a number of new presale tokens promising to offer big returns to early investors once their sales end and they list on exchanges.
One of the best new presale tokens right now is XRP20, a new cryptocurrency that offers an Ethereum-based version of XRP, enabling users to earn passive staking income from it.
Its presale began yesterday, making XRP20 available at a price of $0.000092, with this low level being intended as a tribute to the price XRP itself had back in 2014, when it was extraordinarily cheap.
XRP20 therefore provides investors with the ability to compensate themselves for missing out on the original XRP the first time around, yet it also has interesting tokenomics that will make it deflationary over time.
The coin will have a maximum supply of 100,000,000,000 XRP20, with 40% of this going to the presale and 40% being set aside for staking rewards.
On top of this, 10% of its overall supply will be burned over time, helping to restrict its supply and boost relative demand.
As such, XRP20 looks set to be one of the year's biggest new presales, with investors able to participate by going to its official website and connecting their wallets.
Disclaimer: Crypto is a high-risk asset class. This article is provided for informational purposes and does not constitute investment advice. You could lose all of your capital.
---