Web3 Freelancing and Recruitment Platform DeeLance Races Toward $1.5 Million – Huge Price Pump Incoming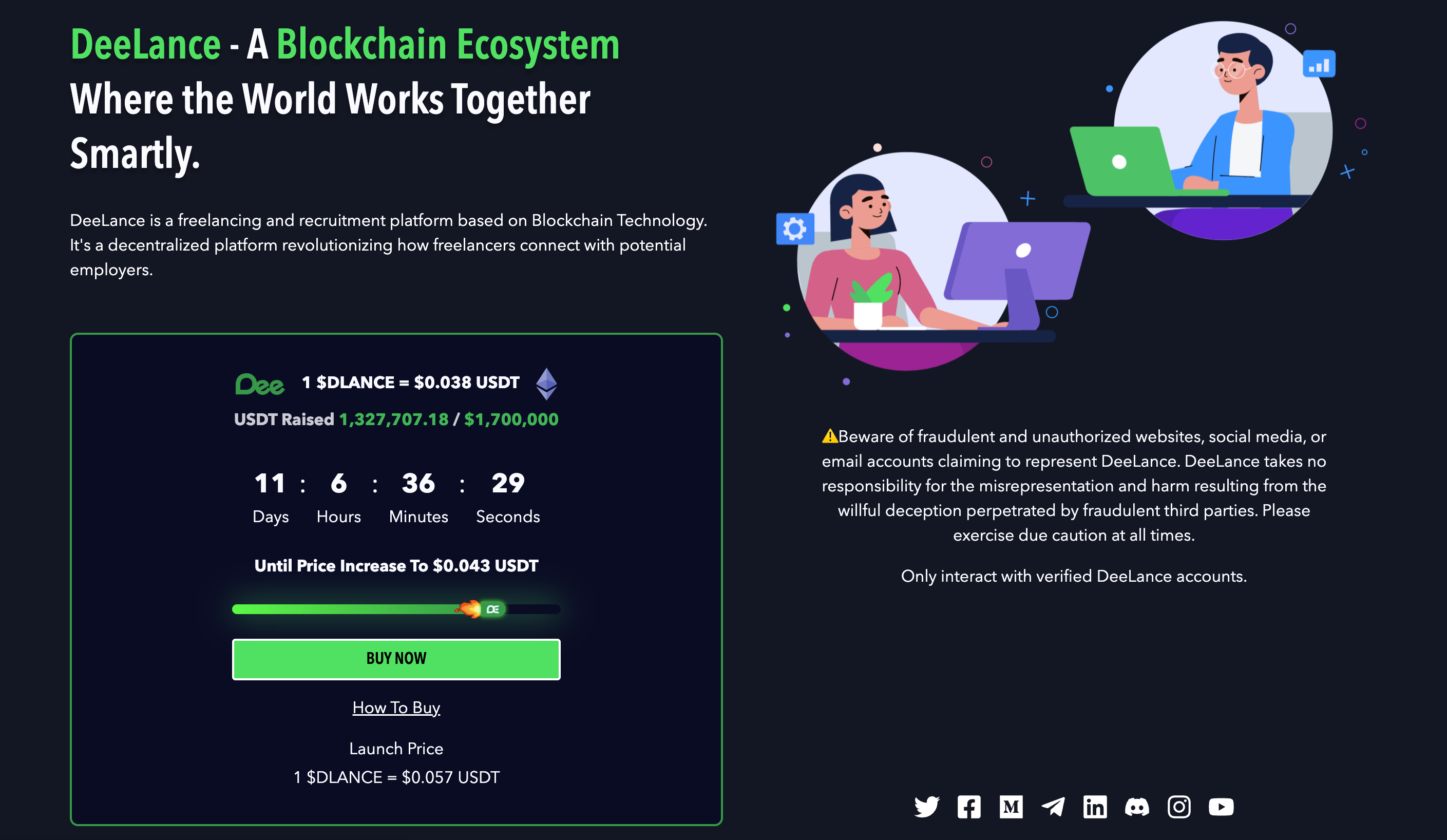 The freelancing industry has experienced substantial transformations in recent years, primarily driven by globalization and the increased digitization of work.
Technological advancements, particularly the emergence of blockchain technology, have provided new opportunities for transparency, cost reduction, and efficiency across various sectors.
However, the traditional centralized platforms that have long dominated the freelance marketplace have faced criticism due to their high fees and lack of transparency.
These platforms have failed to embrace new technologies and have struggled to adapt to the changing landscape.
In response to this demand for a more equitable and advanced freelancing environment, DeeLance has emerged as a Web3 coin project operated "By Freelancers, For Freelancers."
DeeLance aims to disrupt the freelancer marketplace by leveraging cryptocurrency and NFTs to establish a fair and transparent ecosystem for freelancers and employers.
DeeLance – Working Mechanics
DeeLance has a minimal entrance barrier, which makes it more user-friendly than other freelance platforms.
DeeLance registration does not need browser add-ons, third-party apps, or credit card information. Fast payments are made using cryptocurrencies, and an escrow system and smart contracts are used to ensure transparency and security.
The tokenization of freelancing work items into NFTs, which enables a secure and dependable transfer of work ownership, is the basis of DeeLance's methodology.
This gives all parties involved piece of mind by addressing persistent issues in the digital freelance environment, like copyright infringement and payment fraud.
DeeLance Ecosystem – Business in Metaverse
DeeLance's ecosystem encompasses an NFT marketplace, an immersive metaverse, and an advanced freelancing and recruitment platform with lower fees.
This comprehensive platform simplifies the hiring process and ensures work ownership through secure escrow and NFTs. Cryptocurrency is accepted for fast and cost-effective payments.
Further strengthening its position in the market, DeeLance recently secured a strategic investment of $1.12 million from Bitgert Ventures.
Bitgert is a venture capital firm known for supporting decentralized ecosystems with transformative potential. This investment will accelerate the development of DeeLance's blockchain-based platform.
Looking ahead, DeeLance has an ambitious roadmap for 2023.
It plans to launch the DeeLance metaverse and marketplace, introduce a token staking program, and develop a decentralized autonomous organization (DAO) to govern the platform.
Additionally, DeeLance aims to expand its offerings beyond freelancing by creating a decentralized e-commerce platform, a web3 social media platform, and a blockchain-based online learning platform.
DLANCE Raises towards $1.5M in its Presale – Time to Grab some Tokens
The presale of DeeLance's native token, DLANCE, has already exceeded expectations, generating significant investor interest by raising $1.32 million in token sales.
As the presale progresses through its various stages, the token price has climbed, and the project is poised for continued growth and success toward $1.5 million.
Early investors can secure DLANCE at a discounted price before it reaches exchanges.
Retail investors can participate in the DeeLance project by securing $DLANCE tokens at $0.038 each during the presale, which is currently in its fourth stage.
However, time is of the essence, as the price of $DLANCE is expected to rise to $0.043 once the presale reaches $1.7 million.
Only 12 days are left until this stage of presale comes to an end.
With only three presale stages remaining, fundraising efforts will cease soon.
Notably, $DLANCE will be listed on major cryptocurrency exchanges at $0.057, potentially yielding significant gains for early investors.
Disclaimer: Cryptocurrency projects endorsed in this article are not the financial advice of the publishing author or publication - cryptocurrencies are highly volatile investments with considerable risk, always do your own research.
---