Wall Street Memes to List on Gate.io and CoinW After Trading Boom on 7 Other Exchanges Beats Pepe and Challenges Shiba Inu
Disclosure: Crypto is a high-risk asset class. This article is provided for informational purposes and does not constitute investment advice. By using this website, you agree to our terms and conditions. We may utilise affiliate links within our content, and receive commission.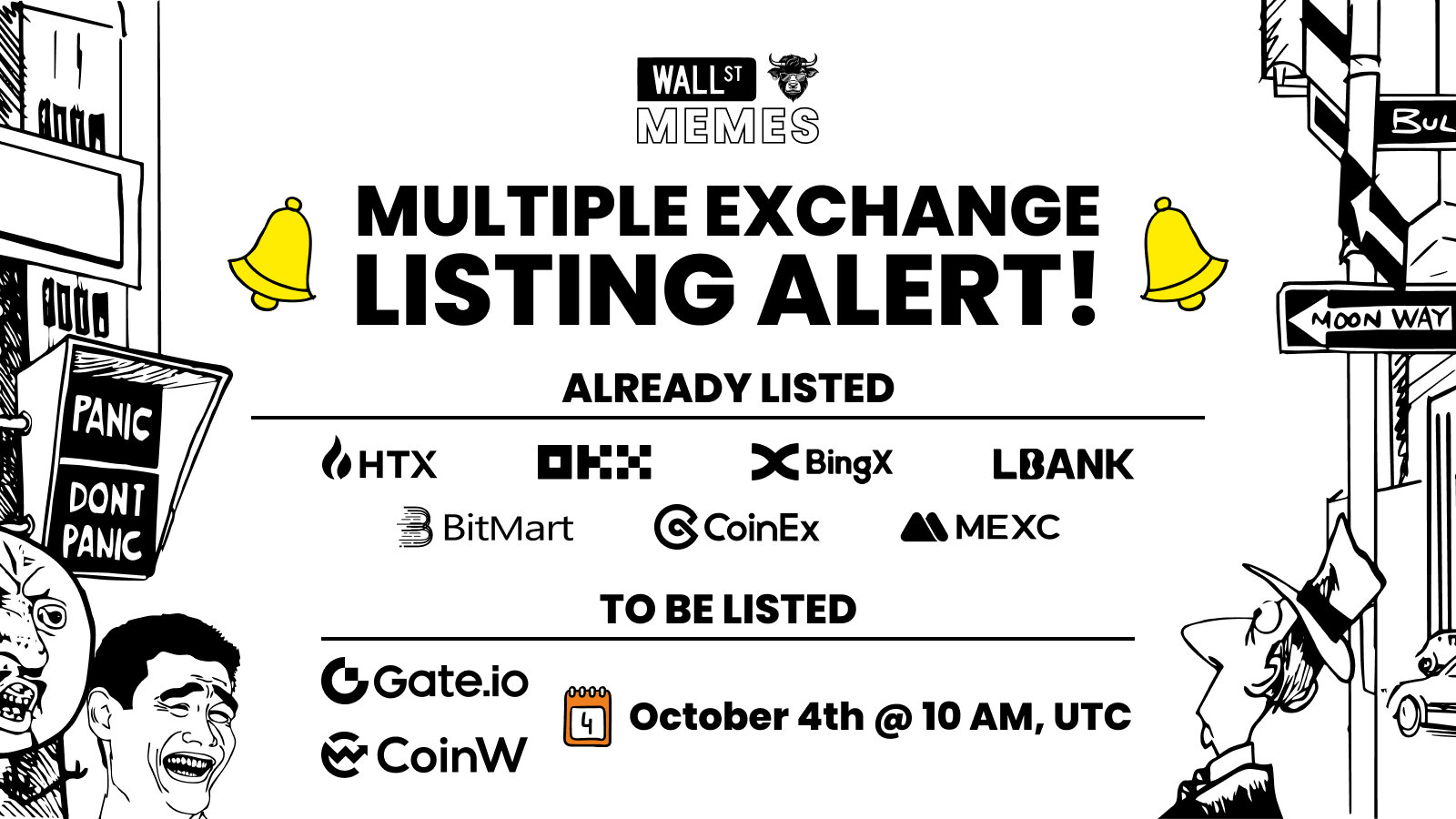 Crypto's newest meme coin Wall Street Memes ($WSM) announced today that it will list on Gate.io and CoinW centralized exchanges (CEXs).
$WSM is now the 3rd-most-traded meme coin, commanding a 24-hour trading volume of $95 million, a remarkable achievement for a coin that is only one week old.
Now with two more CEXs joining the fray, trading momentum continues to grow. Shiba Inu is only $3 million ahead of $WSM in the meme coin category trading volume league table.
Gate.io is the 9th-ranked spot exchange by CoinMarketCap and has a 24-hour trading volume running at $734 million; CoinW has a 24-hour trading volume of $823 million. Combined, both exchanges will serve to attract even more traders and investors to the meme coins.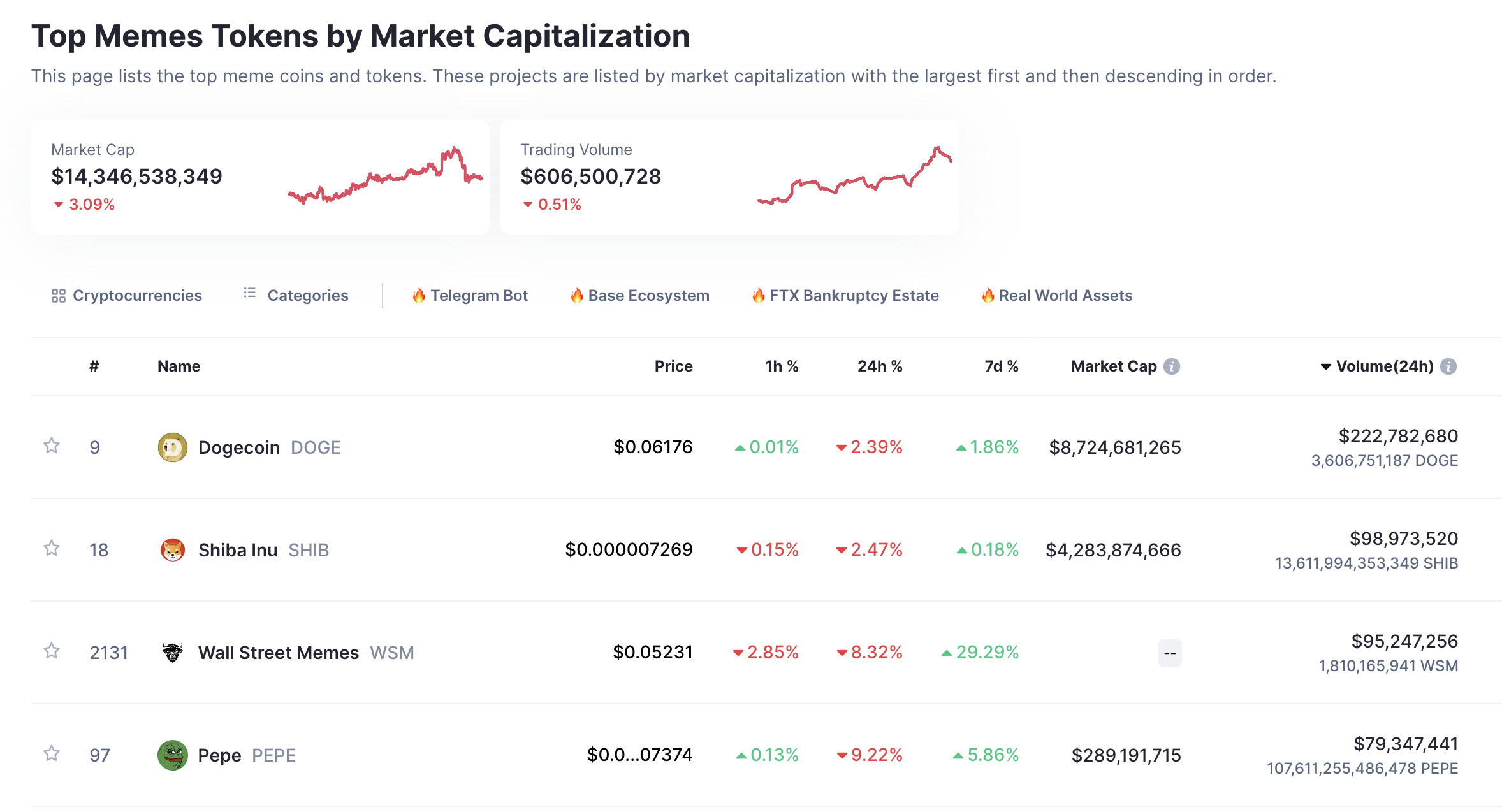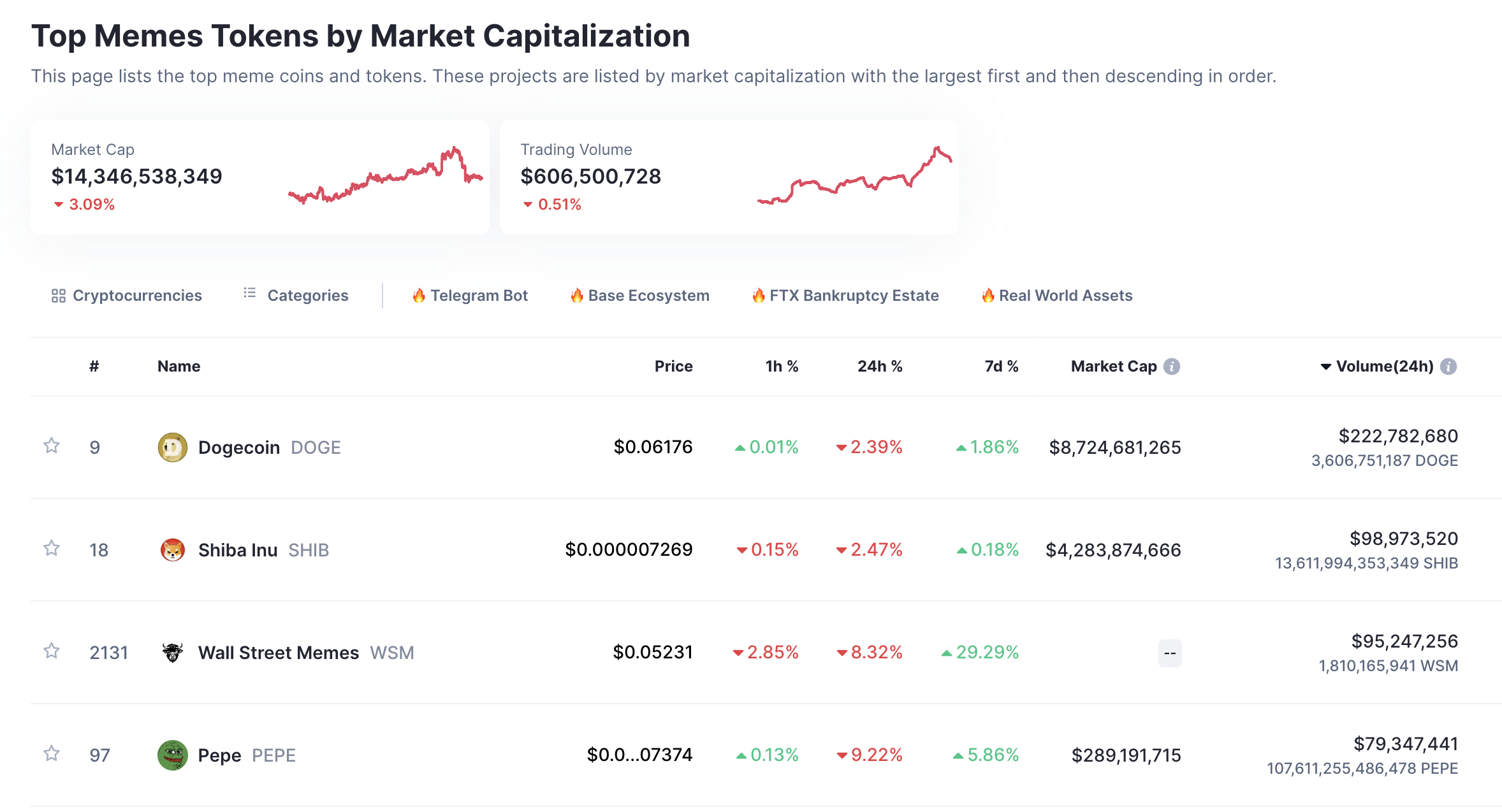 Which exchanges are next – Kucoin, Binance, Coinbase, ByBit?
As the $WSM steamroller plows ahead, it will surely draw to itself a continuous flow of exchanges wanting to list it.
Wall Street Memes has set out to revolutionize the financial markets by rooting for the small guy against Wall Street. Market participants clearly like what they have seen so far.
The first shot in that campaign was the launch of its staking service. The first unlock of tokens began today. Yesterday there were 551 million tokens staked.
Today the number is just shy of 500 million at 496 million, suggesting that the overwhelming majority of token stakers remain firmly committed to the project. Naturally, a generous APY of 40% is concentrating minds.
There is no top meme coin that offers a yield-earning potential, let alone a 40% return. So not only do $WSM token holders enjoy the benefits of capital appreciation as the price of the coin more than doubles from its presale price, they also have the opportunity of snaring a passive income as well.
The newest and hottest meme coin is already listed on OKX, HTX, MEXC, LBank, CoinEx, BitMart and BingX centralized exchanges.
From today you can also buy $WSM direct on the project website with ETH, USDT or a bank card.
Gate.io and $WSM are currently conducting a $70,000 airdrop. Trading starts at 10am UTC on Gate.io and CoinW.
🚨The subscription of #Gateiostartup $WSM will start in 1 HOURS! @wallstmemes

🗓️ Subscription: 7:00am, Oct 3-Oct 4 (UTC)
📷Airdrop Value: $70,000

Entry: https://t.co/FEgGNuRAv4 pic.twitter.com/xC1f2Wil2t

— Gate Startup (@Gateio_Startup) October 3, 2023
$WSM set for 2,000% price surge as more listings beckon
Pepe, which is down 10% in the markets today, was listed on Binance 17 days after its decentralized exchange listings – $WSM looks on track to achieve the same feat.
Despite its regulatory troubles, Binance is still far and away the largest exchange, so a listing on its platform is much coveted by crypto projects. The surest way to get onto Binance is to grow trading volumes, and $WSM is doing exactly that.
As the likes of Kucoin, ByBit, Coinbase, and Binance come into view, it will further drive up FOMO around the project. Traders are all too aware that a listing on the top 10 exchanges can often be accompanied by a price surge.
Pepe, for instance, exploded 2,000% when it was listed on Binance. There is no reason why WSM can't do the same. In fact, there are plenty of reasons why it could actually outperform Pepe, Shiba Inu, and top dog Dogecoin.
Clarissa Yorke with 2.5 million followers on X (formerly Twitter) is asking which crypto project has the strongest community. $WSM is placed third on the list in a huge marketing win for the project
Which #crypto project has the strongest community? 🗣️

🟢 $CAL
🟢 $VRA
🟢 $WSM
🟢 $RET
🟢 $PEPE
🟢 $PNDC
🟢 $DORKL
🟢 $PUMP
🟢 $FINE
🟢 $COKE
🟢 $JESUS
🟢 $BIAO

— Clarissa Yorke (@ClarissaYorke) October 3, 2023
6 reasons to buy $WSM if staking is not enough of a buy-in
First off, many buyers are cognizant of the involvement of Elon Musk in the Wall Street Memes community, with his interactions on Twitter starting during the height of the meme stocks frenzy.
Then there's the swelling community. Wall Street Memes entered the crypto meme coin space with a vibrant community already in place.
Although many thousands of new traders from beyond the existing community have certainly been among the buyers, the existing community has played a large part in increasing the coin's visibility, as can be seen in the ever-rising trading volumes.

There are now 36,706 members of its Telegram channel, where activity is frenetic as excitement about the project continues to grow.
If an Elon Musk connection, a 1.1 million-strong social community of savvy traders and investors, and exploding trading volume are not enough to convince those still sitting on the sidelines, then a promised major product launch should be the clincher.

It is not known what the product is that the team is working on. However, it is likely to be tangibly value-enhancing for $WSM token holders.
Fourthly, there's the promised token burn and buyback, both set to take place later this month. The burn program will decrease the $WSM token supply over time. This will increase the token's scarcity and the value of the remaining tokens.
Traders should also take note of the generous $50,000 airdrop competition, which can be entered on Gleam.
Lastly, in a development that by all accounts was a surprise to the team, yesterday the MEXC exchange opened the first futures market in the $WSM/USDT token pair. That is an excellent indication that exchanges see growing opportunities in the $WSM markets given that the futures markets are far larger than the spot ones.

Futures will help to widen the base of buyers and appeal to sophisticated traders, who are much more likely to use leverage in their trades.
That's just 6 reasons – there will be more inducements from the team in the coming days and weeks.
With 30% of the total supply of 2 million tokens allocated to community rewards, there are bound to be more lucrative incentives to hold the token, in addition to the existing staking system.
Wall Street Memes Pumps 62% on stake unlocking – CryptoTwitter predicts possible 1,000x return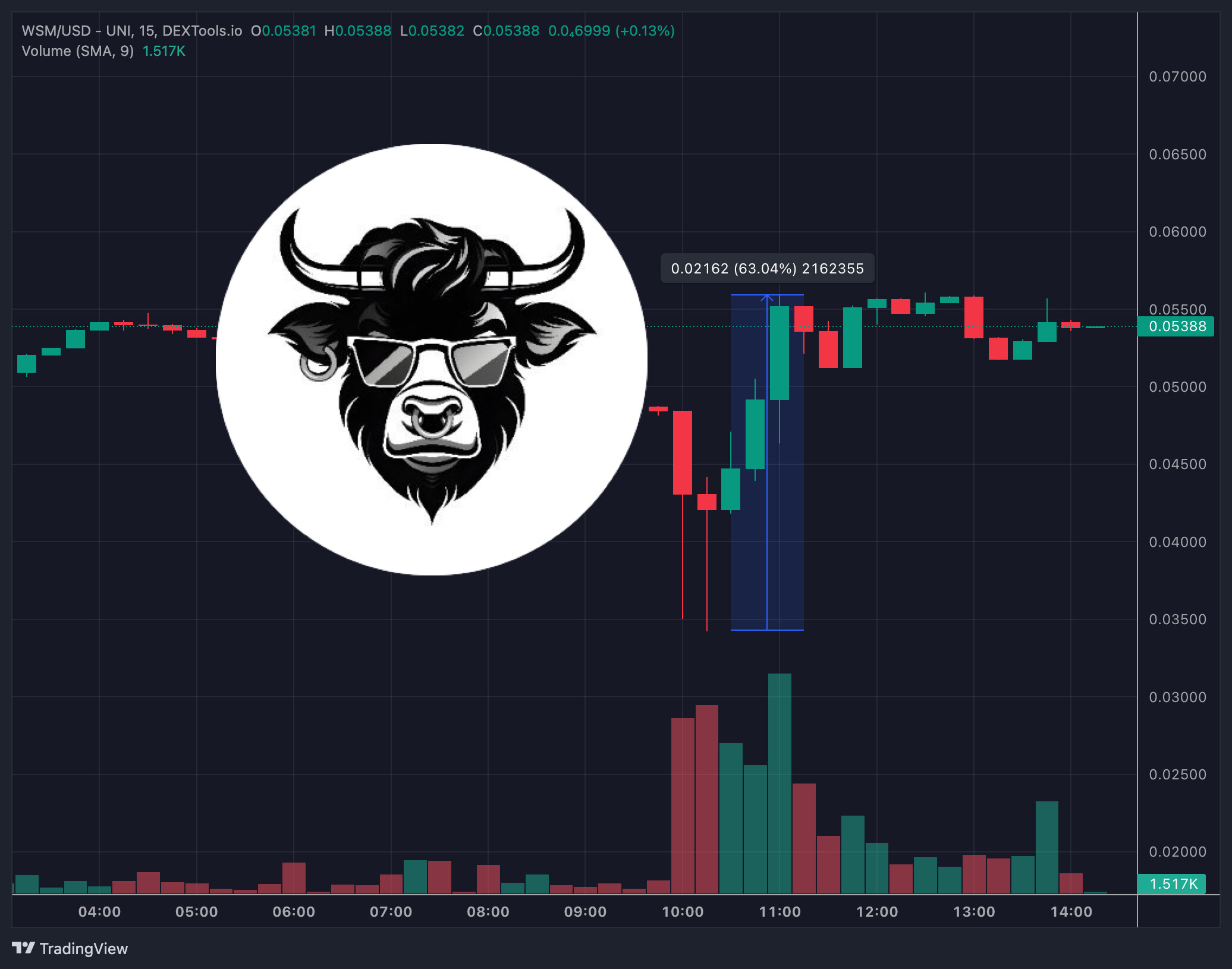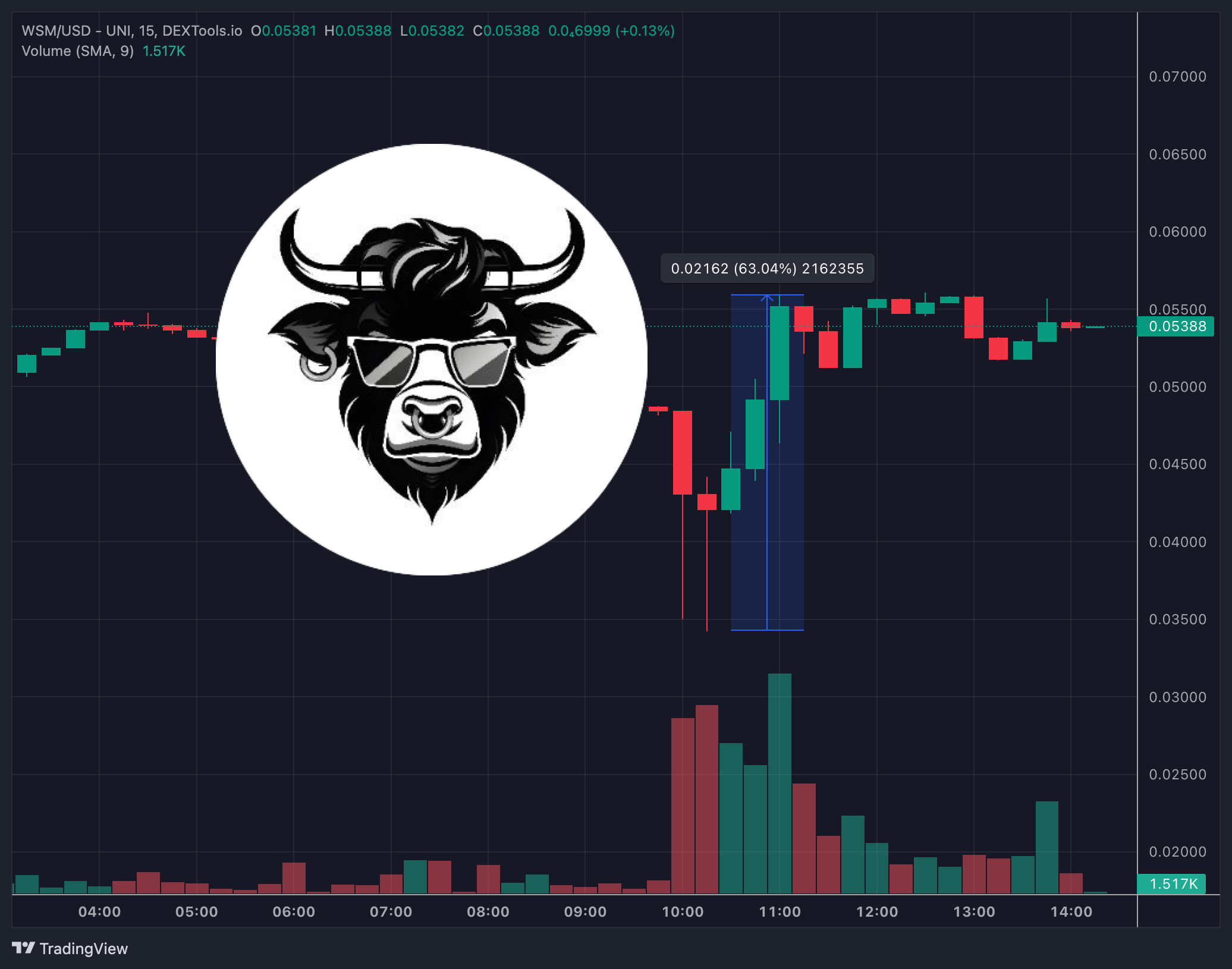 $WSM is currently trading at $0.0538 after reaching an all-time high (ATH) of $0.089. As liquidity pours into the market, there is likely to be more upward pressure on the price.
Despite some FUDsters predicting a price dump from the unlocking, the reverse appeared. There was some selling going into the unlock, but that only served to attract buyers. Briefly, an intraday low of $0.034 was touched at the beginning of the European session, only for the coin to then surge 62%.
Presale buyers who took the lowest price available of $0.025 are today enjoying a gain of 115%, a return of more than 2x on their initial investment.
As the unlocking progresses without the expected downward pressure bears had predicted, selling is likely to dissipate, with resistance in the low $0.050s region flipping to become support and providing a platform for the next price advance.
Interestingly, decentralized exchanges are seeing record trading volumes for $WSM, even bigger than on launch day.
Bulls will continue to target $0.10 and it could be that the next CEX listings will provide the impetus to take out resistance identified at current levels.
Crypto Gems, with 367,000 followers on X, lists $WSM as among the coins to watch for possible 1,000x gains.
Meanwhile, OG James with more than 600,000 followers wants to know what to invest in, and the WSM Army is giving him some advice:
I need know whats the best option to invest right now$FINE$WSM$RET$DORKL
$….

👇🏼

— OG James (@0xJamess) October 3, 2023
Crypto analyst Ari said on YouTube that he thinks the market needs to pay attention to the buyback program that the team intends to roll out this month, possibly as part of the broader 'major product launch' that has already been signaled. He thinks it's time to prepare for explosive gains.
---