Vogue Brings NFTs To Fashion Magazines World
The Singaporean edition of international luxury fashion magazine Vogue is bringing non-fungible tokens (NFTs) to high-end fashion, featuring a QR code in its September issue that enables access to two digital covers created by fashion designers, which are available as NFTs.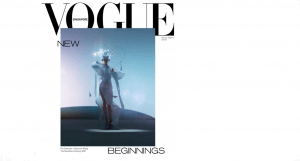 The first NFT cover that is featured in Vogue Singapore's September edition, which arrived on newsstands on August 25, is 'The RenaiXance Rising' by digital fashion house The Fabricant in partnership with Singaporean artist Shavonne Wong.
"This programmable NFT changes in posture and lighting according to the live time in Singapore," the magazine said.
The September magazine's second NFT cover, 'Triumphant Awakening' by 3D artist Chad Knight, was developed in collaboration with Singaporean design studio Baëlf Design which created an artificial intelligence-generated fractal headpiece, according to Vogue Singapore.
The magazine says its latest initiative is part of a joint global project by the magazine's 27 editions. The magazines are slated "to unite under the global theme of 'New Beginnings' as a hopeful statement towards a new dawn," Vogue Singapore said, adding that to the edition's staff, to consider new beginnings is equal to exploring the intersection of fashion and technology.
The emergence of NFTs as a new marketplace for digital designers and creators has encouraged the magazine to develop two digital covers, according to Vogue Singapore.
In addition to the two covers, Vogue Singapore is expanding its exposure to NFTs through other initiatives in cooperation with established fashion designers.
"To celebrate his 10th anniversary as creative director for Balmain, Olivier Rousteing has designed a virtual-only 'Flame Dress' exclusively for Vogue Singapore, which is available for purchase as an NFT," the magazine said of one of the developed projects.
Earlier this month, Vogue Singapore also launched a series of mystery boxes, each comprising an NFT artwork designed and conceptualised by the fashion magazine and digital media firm Robot Playground Media, in partnership with NFT platform Brytehall and NFT production company NFKings Productions. The Mystery Boxes contain NFT artworks depicting the moment of sunrise in 10 selected cities.
____
Learn more:
- Crypto.com, Virtual Fashion Platform to Launch NFT Store, SpaceX-Inspired Pieces
- Blockchain Deals: Virtual Car for USD 100K and Digital Dress for 9.5K
- Why Would Anyone Buy NFT – A Link To A JPEG File?
- Check These 4 Make-Your-Own-NFT Platforms
---