Top Crypto Gainers on DexTools –  WOJAK2.0, PEPE2.0, OSLAI – 1,000x Potential?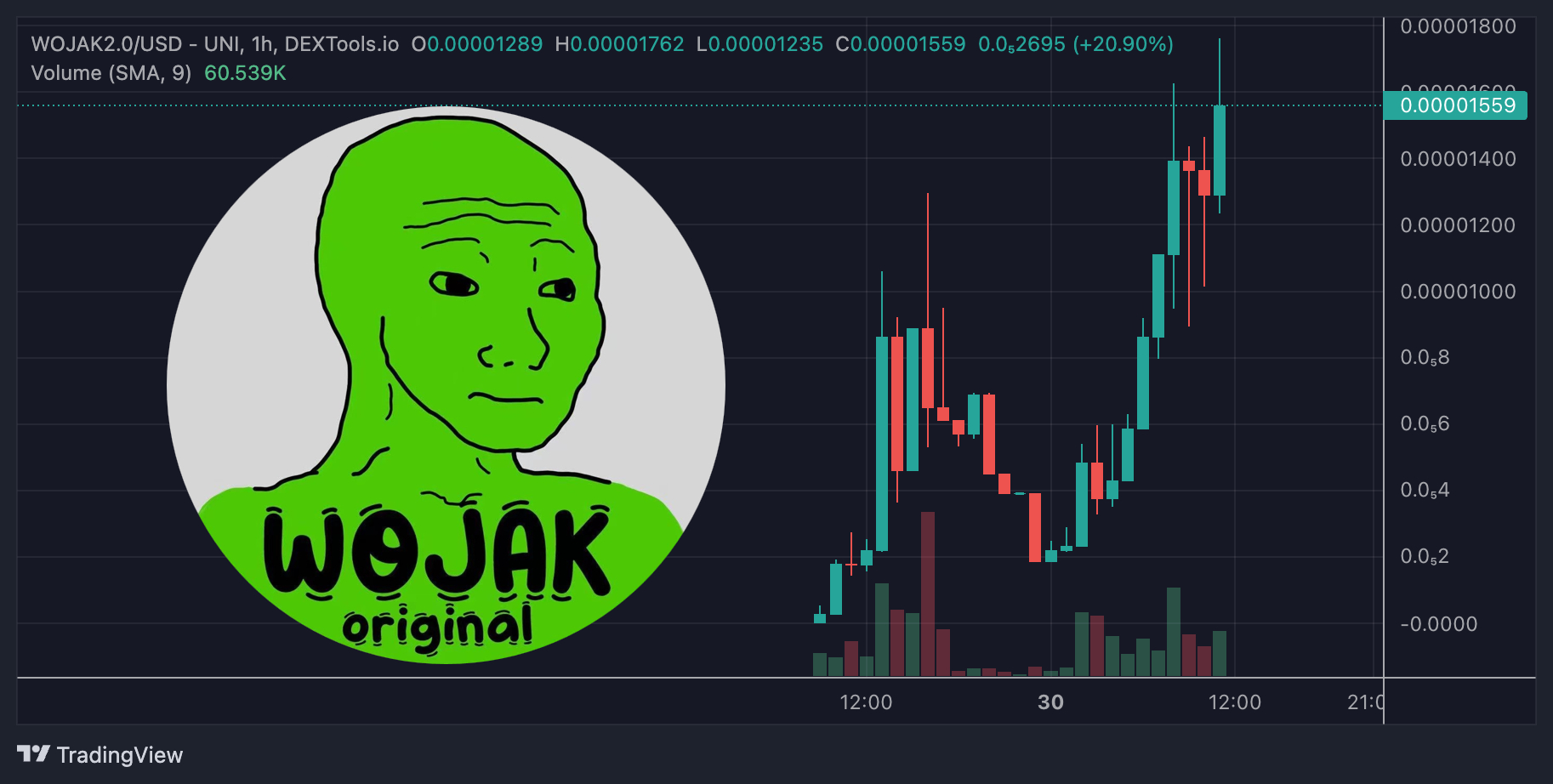 Top Crypto Gainers on DexTools is the place to look for smart profitable trades, and WOJAK2.0, PEPE2.0 and OSLAI are the latest tokens leading the charge for outsized profits.
The latest micro trend in crypto, which threatens to become a mega trend is the 2.0 meta, primarily for now in the meme coin arena, but likely to be spreading fast from there.
Even the most mildly successful of the 2.0-themed coins have the potential to deliver quick 1,000x gains.
WOJAK2.0 is today's star performer so far – it is up a massive 3,221% after launching yesterday (June 29th).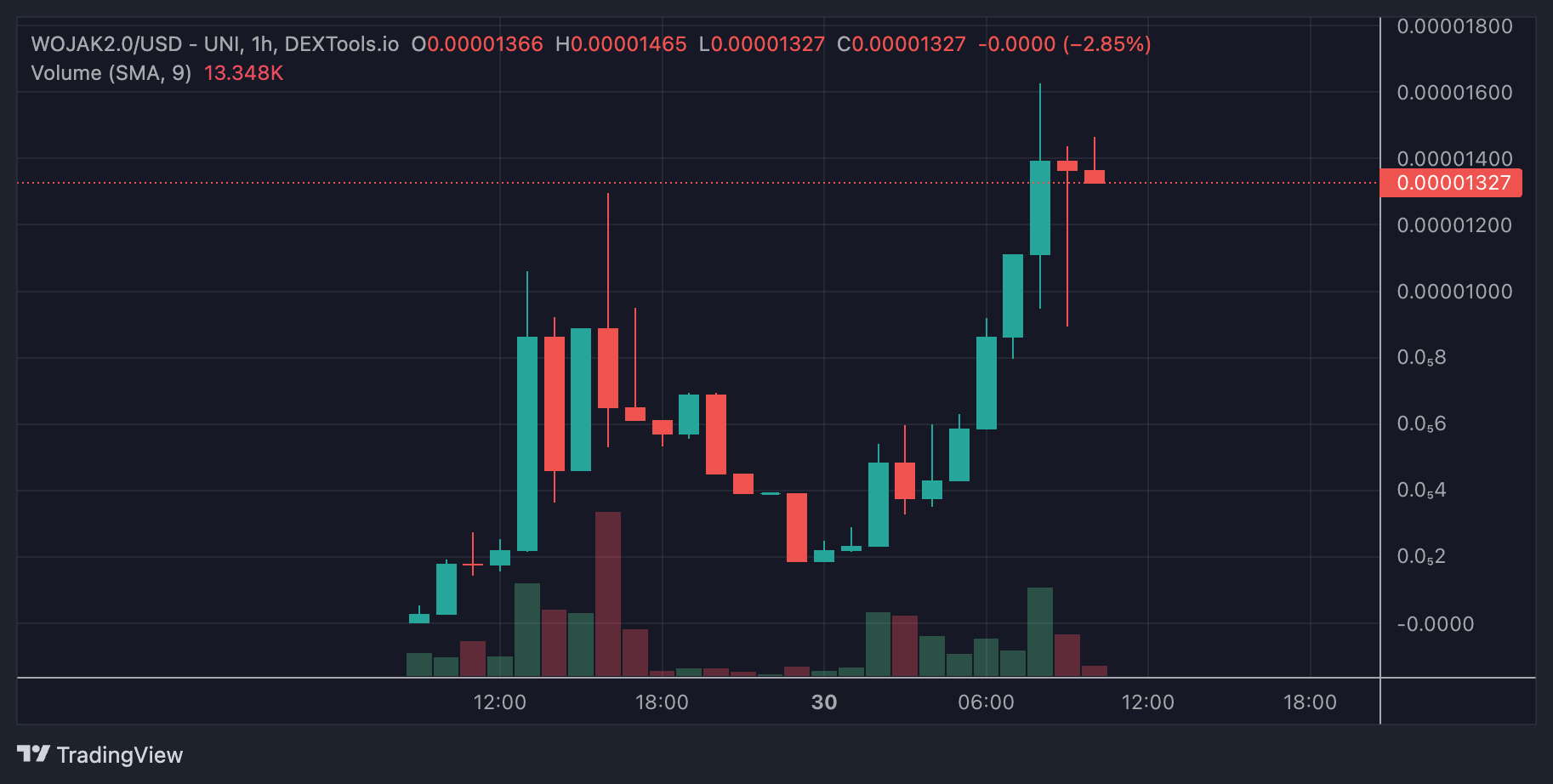 The original WOJAK meme coin reached a high of $0.00107427 on May 05, 2023, for a gain of 56,000%, for those who moved fast enough to buy at the start of trading. WOJAK2.0 could be on a trajectory to repeat that performance.
However, to catch the trend – and the gains – speed is of the essence, before the initial buyer enthusiasm fades, as it may have done with the original WOJAK token.
PEPE2.0 takes a breather but volume pumps to $33 million
$PEPE2.0 is perhaps the first standout success of the 2.0 meta trend. At the time of writing $PEPE2.0 is trending at No.1 on DexTools hot pairs ticker tape, with the original PEPE at No.2.

Incidentally, yesterday PEPE2.0 was joined by SHIB2.0, as the 2.0 theme got into its stride, up 1,600% in 24 hours.
PEPE 2.0 has already seen gains in excess of 10,000% on the daily chart but is taking a relative breather today, up just 6%.
However, interest is still red hot. Trading volume in the PEPE2.0/WETH pair is $33 million and the liquidity pool is healthy, with 86% of the $862k locked according to Unicrypt.
Even at today's less elevated price though, PEPE2.0 has gained 4,327% since its inception.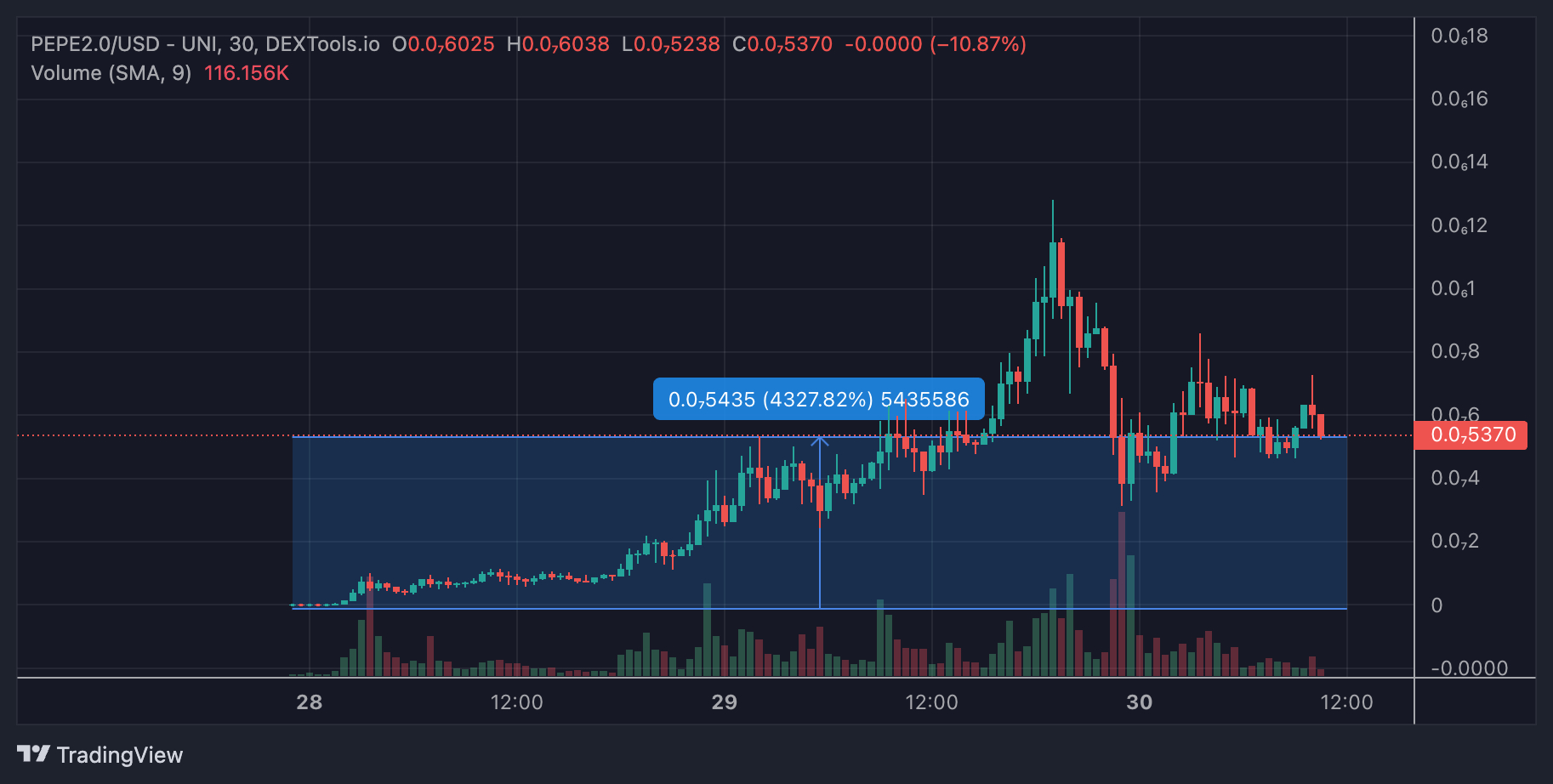 OSLAI token is backed by Hong Kong licensed prime broker and is up 1,000%
Over on the BNB Smart Chain it is $OSLAI that is pulling in the buyers at a phenomenal rate. The new trending coin has 18.4k holders and is only 23 hours old.
This is a very different beast to the meme coins above.
OSL is a crypto (and stocks) prime broker based in Hong Kong, where it holds its trading license. As you may have already guessed, the AI in the name stands for artificial intelligence.
OSL AI claims to be the first company to have been granted Hong Kong Securities and Futures Commission Wholesales 1 and 7 digital asset licenses.
Trading at $0.000000000024555, $OSLAI token has gained more than 1,000% and the chart is still trending higher.
Backed by a real business and with partners that include asset and fund management giant Fidelity and the Singapore Blockchain Association, OSL could be a company in the right place at the right time.
Its OSLAI token is the gateway to its trading services, as set out in its whitepaper. OSL has also received investments from Standard Chartered Bank and OCBC Bank.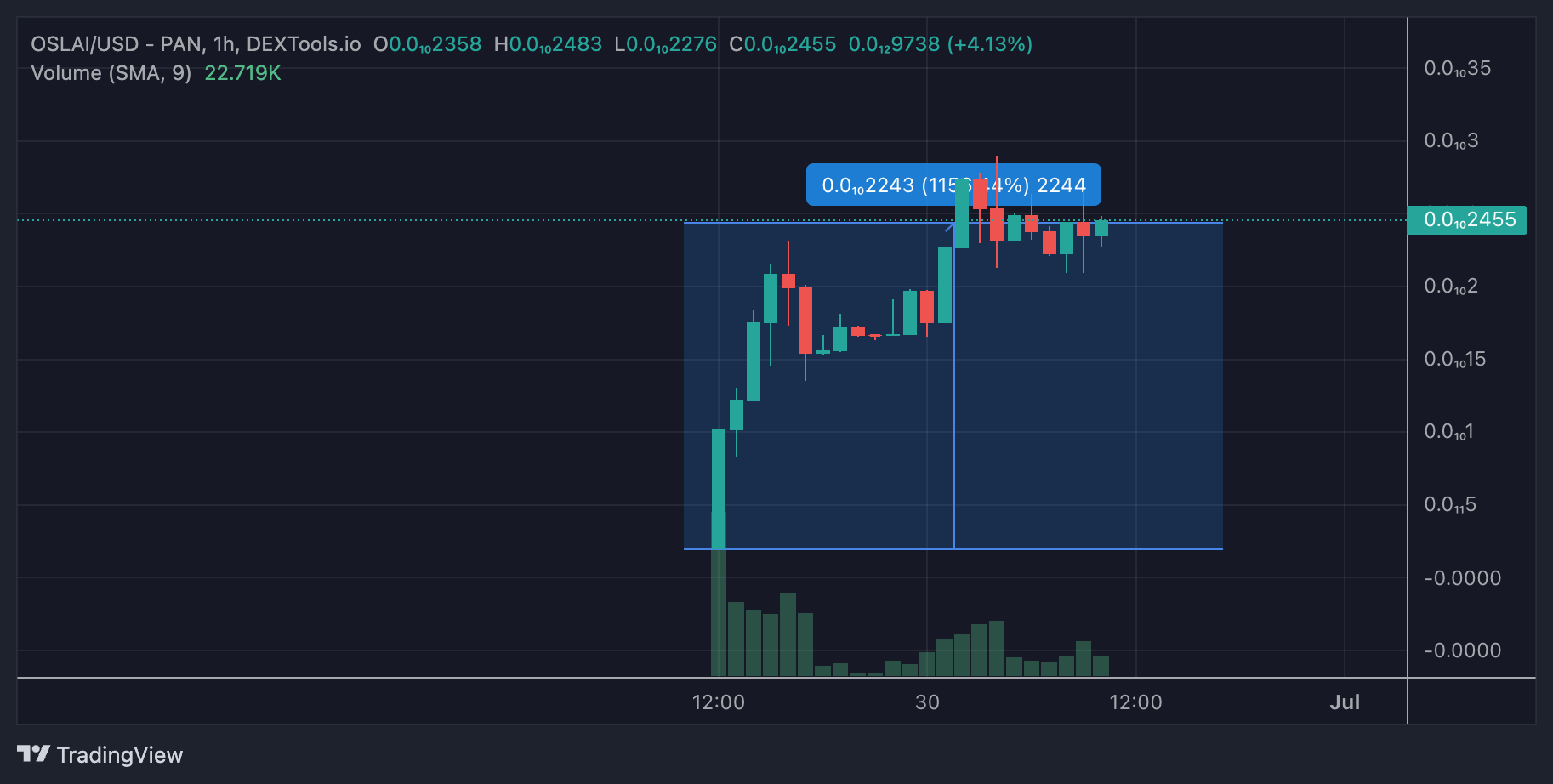 Three more hot new meme coins to watch – $WSM, $THUG and Safemoon 3.0
Meme coins live or die by the strength of the supporting community that they can create, sustain and grow – Wall Street Memes ($WSM), Thug Life Token ($THUG) and Safemoon 3.0 look like they will be three coins that can do just that.
Wall Street Memes is an online community that stormed into the internet zeitgeist during the meme stocks craze. Today WSM boasts a community of a million across top social media channels such as Twitter, Instagram, Telegram and Discord.
Known to many as the 'King of Stonks', WSM has a ultra-engaged community, which is exactly what token buyers want to see in a meme coin.
Such is the online mindspace of the WSM brand, Elon Musk has engaged with WSM community on Twitter on several occasions. Here's one of Elon's tweets to WSM:
Also, the WSM team have proven business execution and product delivery across both stocks and, in particular, crypto.
The founders of WSM famously made $2.5 million when, in 2021, they minted the highly successful Wall Street Bulls 10,000 piece NFT collection – it sold out in 32 minutes.
In addition, in late May Wall Street Memes launched the 420-piece Wall Street Bulls Ordinals NFT Collection.
So far, $WSM has raised an impressive $11.5 million in its presale, and the coins are being snapped at a quickening pace so there really is no time to lose to get in on what could be Shiba Inu-level returns.
Is Snoop Dogg and PEPE team behind $THUG?
$THUG token launched its presale yesterday and is rumored to be supported by rapper and entrepreneur Snoop Dogg. No wonder it has already raised $118,000 in 24 hours.
When $THUG reaches $2 million the presale ends, so prospective investors will need to move fast to grab their stash.
In a tweet on the official account, Snoop Dog gets referential treatment with one of his songs pumping out against a green-tinted smoke-filled backdrop.
Notice that Snoop is tagged in the tweet embedded above. If and when Snoop Dogg interacts, expect to see the $THUG price rocket when it exits its brief presale.
According to the website blurb, $THUG is all about "resilience, comedy and trolling". $THUG says it is on the side of the downtrodden crypto investor who has lost one bag too many and needs some copium.
With Snoop Dogg's rumored backing, and perhaps support from elsewhere as there are murmurings about the $PEPE and 4CHAN teams having a hand in the $THUG launch, the coin is certainly worth a bet.
$THUG has all the essentials to go viral, so a small investment could go a very long way.
Will This New Safemoon 1000x?
If you missed out on Safemoon and Safemoon2, this new project, Safemoon 3.0 may just be the next best thing.
Launched less than 12 hours ago, SFM3.0 is the latest meme coin on the market, poised for huge growth.
Just hours into the launch has seen more than 300 transactions flooding through from across the globe, sending the total trading volume up $1.5 million.
According to the official Twitter account, the liquidity is locked and the contract is renounced, protecting the coin from rug pulls that so many other meme coins have experienced.
The project is aiming to improve on the original SafeMoon and learn from its mistakes.

Disclaimer: Crypto is a high-risk asset class. This article is provided for informational purposes and does not constitute investment advice. You could lose all of your capital.
---