Is Shiba Inu Price Dead? SHIB 2.0 Shitcoin Pumps Instead and These 2 Meme Coins Could Be Next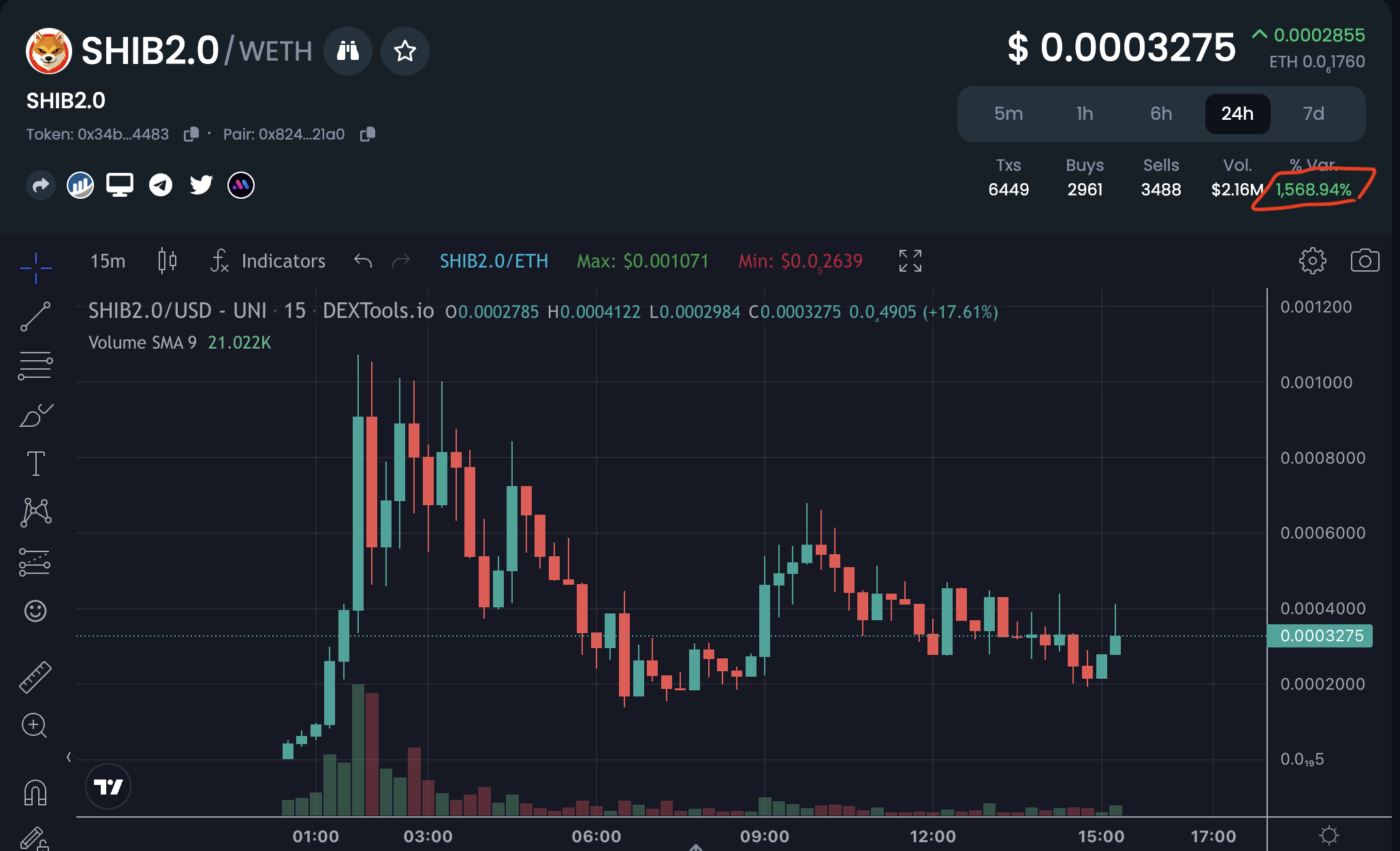 Is the Shiba Inu price dead? $SHIB is down 5.4% as its selloff of recent weeks continues. Meanwhile, new coin SHIB 2.0 is pumping 1,635% in the past 24 hours and attracting all the excitement, plus two other newcomers.
Launched at 11:30pm UT yesterday, SHIB 2.0 token has already reached a high of $0.001071, although it has since lost a zero to trade at $0.0002919.
Make no mistake, meme coins are still all the rage in crypto, with traders and investors voraciously hunting down any coin that looks like it could be the next big thing.
Is Shiba Inu price dead as SHIB 2.0, PEPE 2.0.DOGE 2.0 come on strong?
Shiba Inu is currently the 19th largest coin by market cap ($4.3 billion), ranked only second to the original standard bearer of the sector, Dogecoin.
However, as traders, to some extent, sour on centralized exchanges, it is decentralized exchanges that are attracting the hot money, especially in the days of a token. Shiba Inu is down 32% in the past three months.
And for those who missed out on Doge, Shiba and Pepecoin, the 2.0 meta looks like it is taking off.
Crypto Doug is one of the SHIB 2.0 early buyers – he took a long position at $400k market cap. $SHIB2.0 market cap has since soared past $2 million:
Given the pump seem by SHIB 2.0 today and Pepe 2.0 yesterday (up 54,000%), and the recent birthing of a Doge 2.0, there may be a trend emerging.
Are traders and speculators – and even some whales – increasingly looking to a host of newcomers to steal the crown from the meme coin sectors establishment incumbents?
SHIB 2.0 has formed a flag that could presage more positive price action to come. Early buyers have been taking their profits, but that could be opening up enticing opportunities for new buyers.
Total liquidity in SHIB 2.0 is only $51.6k at the time of writing and trading volume is a modest $2.16 million. Still, SHIB 2.0 is barely 15 hours old and there is plenty of runway ahead for volume to build from here.
Is SHIB 2.0 the next coin to turn $100 into $14 million?
Early buyers in Shiba Inu who invested on January 1 2021, would by March of this year had made a gain of 14,467,432%. Put that another way, if you had invested $100 in Shiba Inu in January 2021 your modest capital advance will have ballooned in size to $14.5 million.
Buyers should be aware that so far the liquidity is yet to be locked, with only 14.16 ETH pooled.
The implications of those numbers are that the price could move north very quickly. SHIB 2.0 has 1,000 holders which indicates fairly strong growth at this stage of its short life.
Analysing trading data on DexTools, it is evident that no whales have yet arrived at the party, so there is every chance of the price exploding much higher.
The largest trade in the SHIB2.0/WETH pair was at 13:23, valued at $2,248.34 at the time of execution.
It is probably too early to tell whether SHIB 2.0 has the legs to go head to head with Shiba Inu. Indeed it may be an unfair comparison, given Shiba Inu's market cap of $4.3 billion compared to $2 million for SHIB 2.0.
Two SHIB 2.0 alternatives for 1,000x gains – $WSM and $THUG
Meme coins are all about community and branding and there are two coins that have both of those elements in spades – Wall Street Memes ($WSM) and Thug Life Token ($THUG).
Wall Street Memes is an online community that came to prominence around the meme stocks craze during the Covid pandemic. Today it boasts a community of a million across Twitter, Instagram, Telegram and Discord.
Known as the 'King of Stonks' it has a hyper-engaged community, which is exactly what investors want to see in a meme coin.
Such is the online clout of the WSM brand, Elon Musk has engaged with WSM community on Twitter on several occasions.
Also, it no fly by night project. The founders of WSM famously made $2.5 million when, in 2021, they minted the highly successful Wall Street Bulls 10,000 piece NFT collection, which sold out in 32 minutes.
What's more, in late May Wall Street Memes launched the 420-piece Wall Street Bulls Ordinals NFT Collection.
To date $WSM has raised an impressive $11 million in its presale, and the coins are being snapped at a quickening pace so there really is no time to lose to get in on what could be Shiba Inu level returns.
Thug Life Token – is Snoop Dogg in the house?
$THUG token launched its presale yesterday and is rumored to be supported by rapper and entrepreneur Snoop Dogg. No wonder it has already raised $118,000 in 24 hours.
When $THUG reaches $2 million the presale ends, so prospective investors will need to move fast to grab their stash.
In a tweet on the official account, Snoop Dog gets referential treatment with one of his songs pumping out against a green-tinted smoke-filled backdrop.
You will notice that Snoop is tagged in the tweet above. If and when Snoop Dogg replies, expect to see thie price rocket when it comes out of its short presale.
According to the website blurb, $THUG is all about resilience, comedy and trolling. It is on the side of the downtrodden crypto investor who has lost one bag too many and needs some hope.
With Snoop Dogg's rumored backing ,and perhaps support from elsewhere as there are murmurings about the Pepe and 4CHAN teams having a hand in the $THUG launch, the coin is certainly worth a bet.
$THUG is a viral opportunity you probably don't want to miss.

Disclaimer: Crypto is a high-risk asset class. This article is provided for informational purposes and does not constitute investment advice. You could lose all of your capital.
---