This Is How John McAfee Made USD 23m For Shilling ICOs (According to SEC) (UPDATED)
The US Securities and Exchange Commission (SEC) said that the controversial cybersecurity entrepreneur and former Bitcoin (BTC) bull, John McAfee, was promoting initial coin offerings without disclosing that he was paid to do so. (Updated at 12:32 PM UTC: updates in bold.)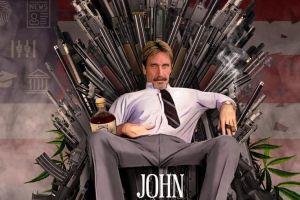 Yesterday, the SEC charged McAfee and his bodyguard Jimmy Watson, Jr. with violating antifraud provisions of the federal securities laws, McAfee with violating the anti-touting provisions, and Watson with aiding and abetting McAfee's violations. Also, the entrepreneur was arrested in Spain where he is pending extradition, the US Department of Justice (DoJ) said in a separate announcement. Yesterday, the DoJ unsealed an indictment, charging McAfee with tax evasion and willful failure to file tax returns.
"McAfee and Watson profited, investors were left holding digital assets that are now essentially worthless," the SEC said.
According to the SEC, the alleged ICO shilling scheme worked like this:
McAfee promoted multiple ICOs on Twitter, allegedly pretending to be impartial and independent even though he was paid more than USD 23 million in digital assets for the promotions.
McAfee allegedly denied receiving any compensation from the issuers even when he was asked about it by certain investors.
McAfee allegedly lied that he had personally invested in some of the ICOs and that he was advising certain issuers.
Watson assisted McAfee by negotiating the promotion deals, helping McAfee cash out the digital asset payments for the promotions, and, for one of the ICOs McAfee was promoting, having his then-spouse tweet interest in the ICO.
Watson was allegedly paid at least USD 316,000 for his role.
McAfee and Watson also allegedly engaged in a separate scheme to profit from a digital asset security by pumping and dumping the asset.
"Potential investors in digital asset securities are entitled to know if promoters were compensated by the issuers of those securities," Kristina Littman, Cyber Unit Chief at the SEC, was quoted as saying in the press release.
Meanwhile, the DoJ said that, from 2014 to 2018, McAfee allegedly failed to file tax returns, despite receiving millions in income from promoting cryptocurrencies, consulting work, speaking engagements, and selling the rights to his life story for a documentary.
According to the indictment, McAfee allegedly evaded his tax liability by directing his income to be paid into bank accounts and cryptocurrency exchange accounts in the names of nominees. The DoJ further alleges McAfee attempted to evade taxes by concealing assets, including real property, a vehicle, and a yacht, in the names of others.
This is what might be waiting McAfee:
If convicted, McAfee faces a maximum sentence of five years in prison on each count of tax evasion and a maximum sentence of one year in prison on each count of willful failure to file a tax return.
McAfee also faces a period of supervised release, restitution, and monetary penalties.
The SEC seeks permanent injunctive relief, conduct-based injunctions, return of allegedly ill-gotten gains, and civil penalties.
The SEC also seeks to bar McAfee from serving as a public company officer and director.
Meanwhile, on Tuesday, a statement was published on McAfee's wife, Janice McAfee, Twitter account, saying that "unfortunately what has been reported is true, John has been detained in Spain."
"I cannot comment on any details of the situation, but I can tell you that I have been in contact with him through the team of lawyers that has been working tirelessly on his behalf," the statement said, adding that John McAffe "is in good spirits."
___
Learn more:
John McAfee Charges USD 105,000 for Promotional ICO Tweet
McAfee Accused of Promoting Copycat ICO
"SEC Won't Let Me Shill ICOs," Cries McAfee
McAfee Magic Crypto Trading Platform is Live
McAfee Breaks Up With Bitcoin; Calls His USD 1M per BTC Bet a 'Ruse'
---