The Move-to-Earn Crypto Boom: How This New Project Is Set to Capitalize on the Trend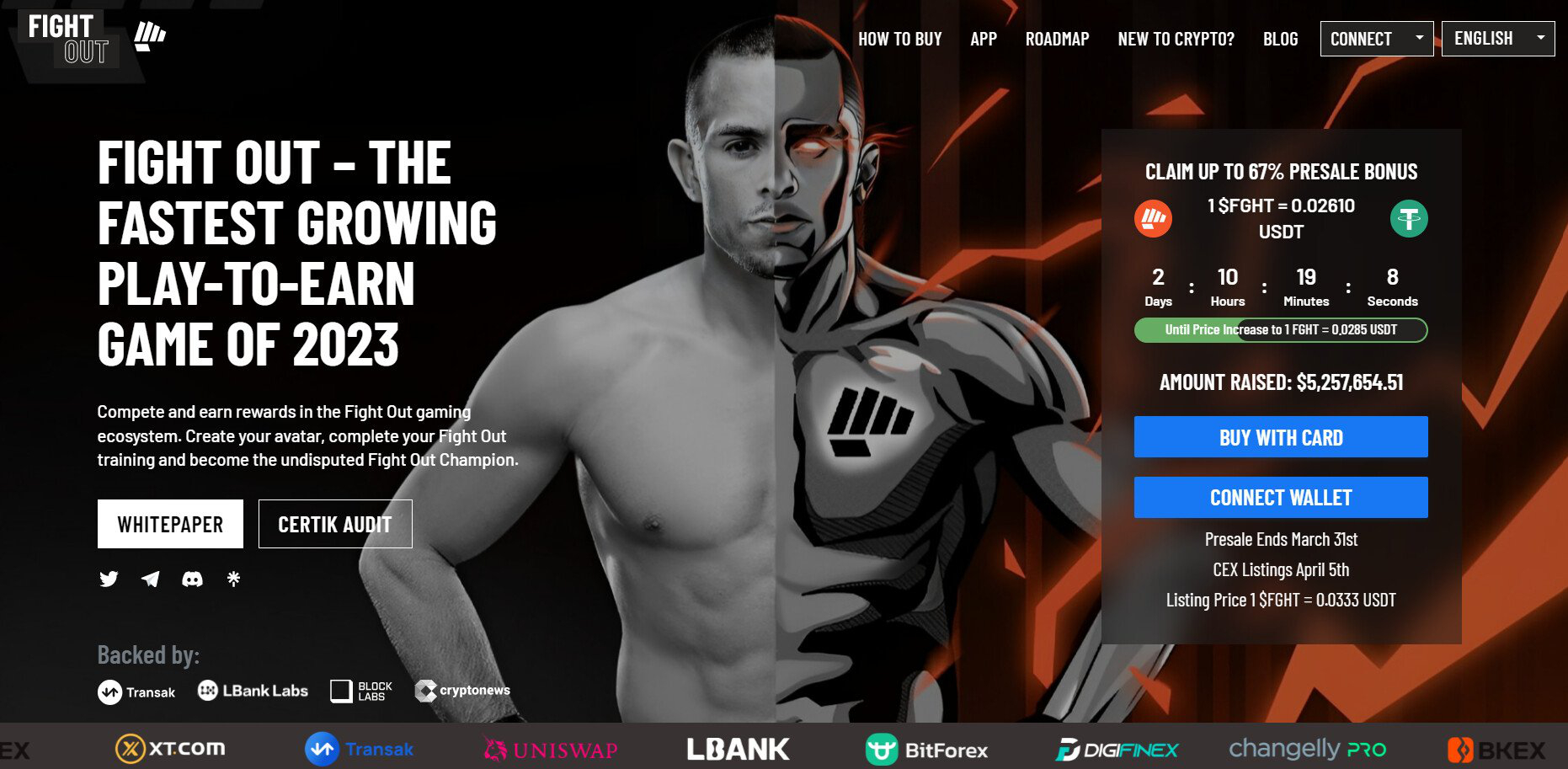 Health and fitness are important aspects of our lives. To demonstrate its significance, a popular adage states that health is wealth, which has geared the industry's growth.
According to a market report, the fitness industry is worth over $87 billion, with the US market accounting for $33.25 billion in 2021 alone. A whopping 39% of US residents hold gym memberships, which points to the robust nature of the health and fitness industry.
However, there is a catch – the only reward system in place with the traditional fitness industry is a great lifestyle change and a more appealing visual physique.
What if there is a solution that enriches the body and the pocket?
Fight Out Ensures Both Physical and Financial Wellbeing
The blockchain industry has slowly been making its way into the health landscape. The first popular option has been the Solana-based move-to-earn (M2E) project called Stepn.
The general idea is simple – just move using NFT-powered virtual sneakers and earn its GMT tokens. This way, a user keeps fit while also enriching their pockets.
While Fight Out operates in a similar fashion, it is fundamentally different from Stepn and any other M2E project.
For a start, it is a combination of both M2E and play-to-earn (P2E), which is another concept focused on promoting users' health and financial health.
Additionally, it is a combat-driven sporting activity as it allows users to engage in bouts with professional athletes. In this niche, Fight Out is the only pure-bred combat sports blockchain project, making it a front-row seater for the coming age of metaverse-centric sports.
But this is not where the excitement stops for it – Fight Out will also create a channel through which users will be able to bet on which professional fighters will win a bout.
Another significant difference between Fight Out and Stepn is the absence of virtual sneakers. Users must first purchase non-fungible token (NFT) sneakers in order to generate rewards on Stepn.
However, the user's earning ability depends on how much they spend, and this restrictive requirement is missing on the Fight Out platform, as users only need to sign up and access its line of virtual gym chains.
In this arena, they get to access masterclass courses from professionals like Amanda Ribas and Savannah Marshall, compete with one another and professional athletes, and complete workouts and preset challenges.
The amazing thing is each user is given a free 'soulbound NFT avatar' once they sign up. This unique identity serves as a digital twin as every workout and challenge completed directly impacts the digital copy of the user.
In return for taking up this strenuous activity, users are given a REPS token which can be used to change the physical appearance of their avatar as well as increase its stats.
Metaverse Health Set to Explode
The final piece of the puzzle for Fight Out is its infusion of a metaverse concept. Basically, users get to train and combat with one another in a virtual reality landscape – this is done anywhere and at any time.
Fight Out's strong appeal has since led to growing interest in a UFC fight night occurring in the metaverse as depicted by Meta's founder, Mark Zuckerberg.
However, this is not where the majority of the traffic is generated. According to a Statista report, the metaverse is expected to generate over $500 billion in revenue by 2030. Of this, the health and fitness industry will take up more than 50% of the funds generated within that period.
This project's strategic launch demonstrates the enormous appeal it will most likely have in the coming years. Fight Out may be the next big thing after Stepn because more people are concerned about their health following the COVID-19 pandemic.
Also, its growth trajectory in the presale stage has been eye-catching, with its native token already raising over $5.42 million.
Disclaimer: The Industry Talk section features insights by crypto industry players and is not a part of the editorial content of Cryptonews.com.
---