Terra Luna Classic Price Prediction as LUNC Reaches $500 Million Market Capitalization – Time to Buy?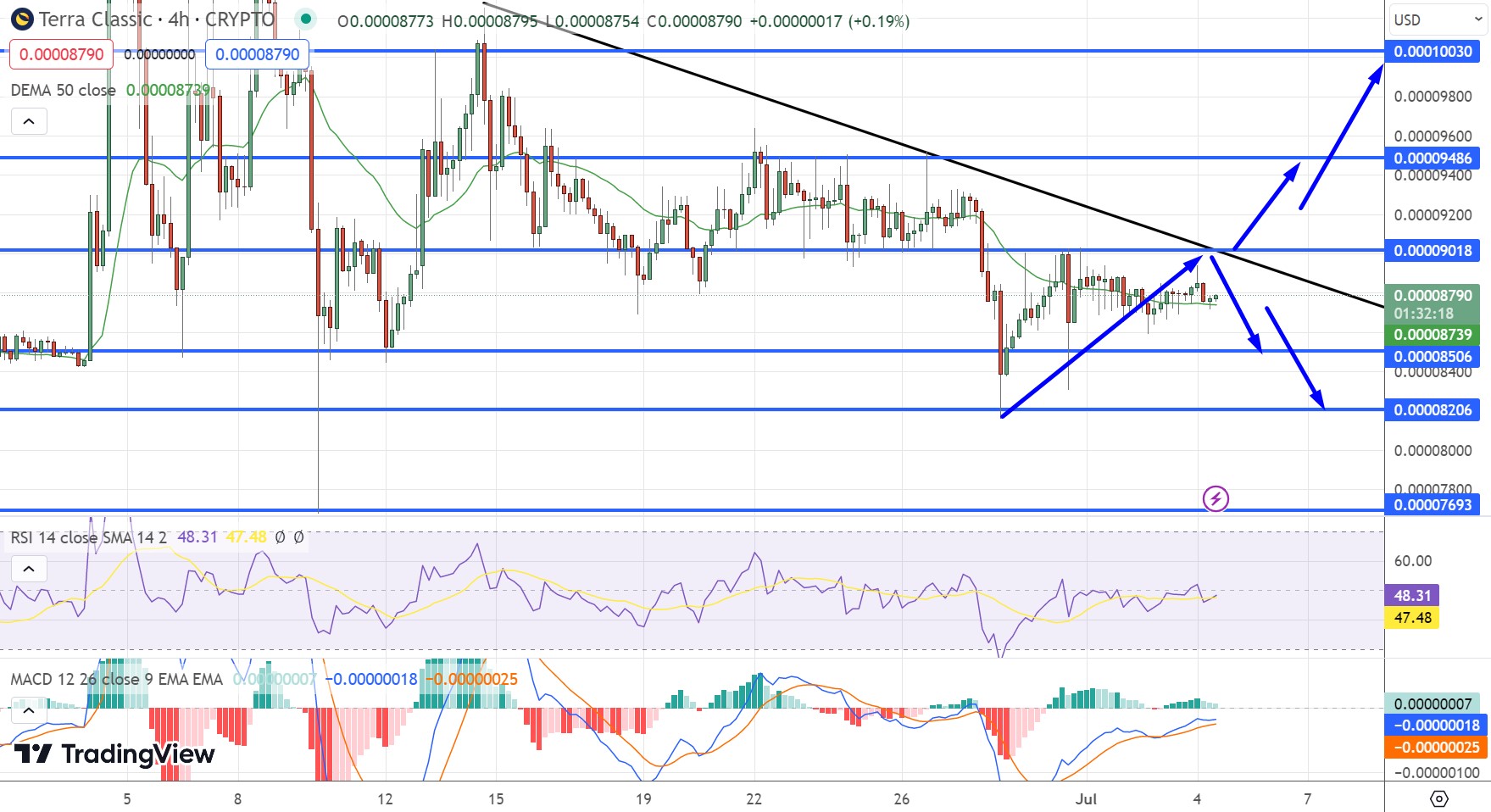 Terra Luna Classic (LUNC) coin has recently garnered attention in the cryptocurrency market as it reached a market capitalization of $500 million.
This achievement has sparked speculation among investors about the coin's price prediction and potential investment opportunities.
As the crypto market evolves, investors are eager to determine whether now is the right time to buy LUNC tokens.
In this Terra Luna price prediction, we will delve into the factors contributing to Terra Luna Classic's market capitalization milestone and assess whether it signifies a bullish trend that could offer profitable prospects for investors.
Terra Luna Classic (LUNC) Coin's Potential to Reverse Losing Streak with $500M Market Cap
It is possible for the Terra Luna Classic (LUNC) coin to halt its losing streak and gain traction as it reaches a $500 million market capitalization.
This milestone is seen as a positive development for the cryptocurrency, indicating increased market attention and investor confidence.
A higher market capitalization suggests a larger pool of potential buyers and improved liquidity, which can contribute to price stability and growth.
Binance Executes 11th Token Burn for Terra Luna Classic (LUNC) - Positive Outcome
Another significant factor that has the potential to greatly boost the value of the LUNC coin is Binance's recent 11th token burn event.
As the world's largest cryptocurrency exchange, Binance has successfully destroyed a substantial 2.65 billion Terra Classic (LUNC) tokens.
This strategic move is aimed at improving the token's supply dynamics and fostering greater value and stability.
The LUNC community has responded positively to this development, resulting in a 3% price increase shortly after the token burn announcement.
The continuous reduction in token supply through these burns, combined with the support from the community, holds the promise of stabilizing and potentially increasing the value of the LUNC token in the future.
Binance's commitment to reducing the token supply and the strong community backing further contribute to the favorable outlook for Terra Classic.
Overall, this token burn event has had a positive impact on the cryptocurrency, as evidenced by the 3% price increase.
It signifies a renewed interest and growing confidence in LUNC, while also creating a favorable environment for potential stability and future value appreciation.
Terra Luna Price
The current price of Terra Classic (LUNC) stands at $0.000087, accompanied by a 24-hour trading volume of $31,607,366.
Over the past 24 hours, Terra Classic has experienced a decrease of nearly 0.50%.
Presently, it holds the 79th position in the market rankings, with a live market capitalization of $505,008,397.
The circulating supply of LUNC coins is approximately 5,820,265,744,225.
Terra Luna Price Prediction
Taking a closer look at the technical aspects of Terra Luna Classic (LUNC), it is currently trading around the 0.00087 level after failing to surpass the 0.000090 level.
Presently, it is forming neutral candles, indicating a consolidation phase within a trading range of 0.000085 on the lower end and 0.00090 on the upper end.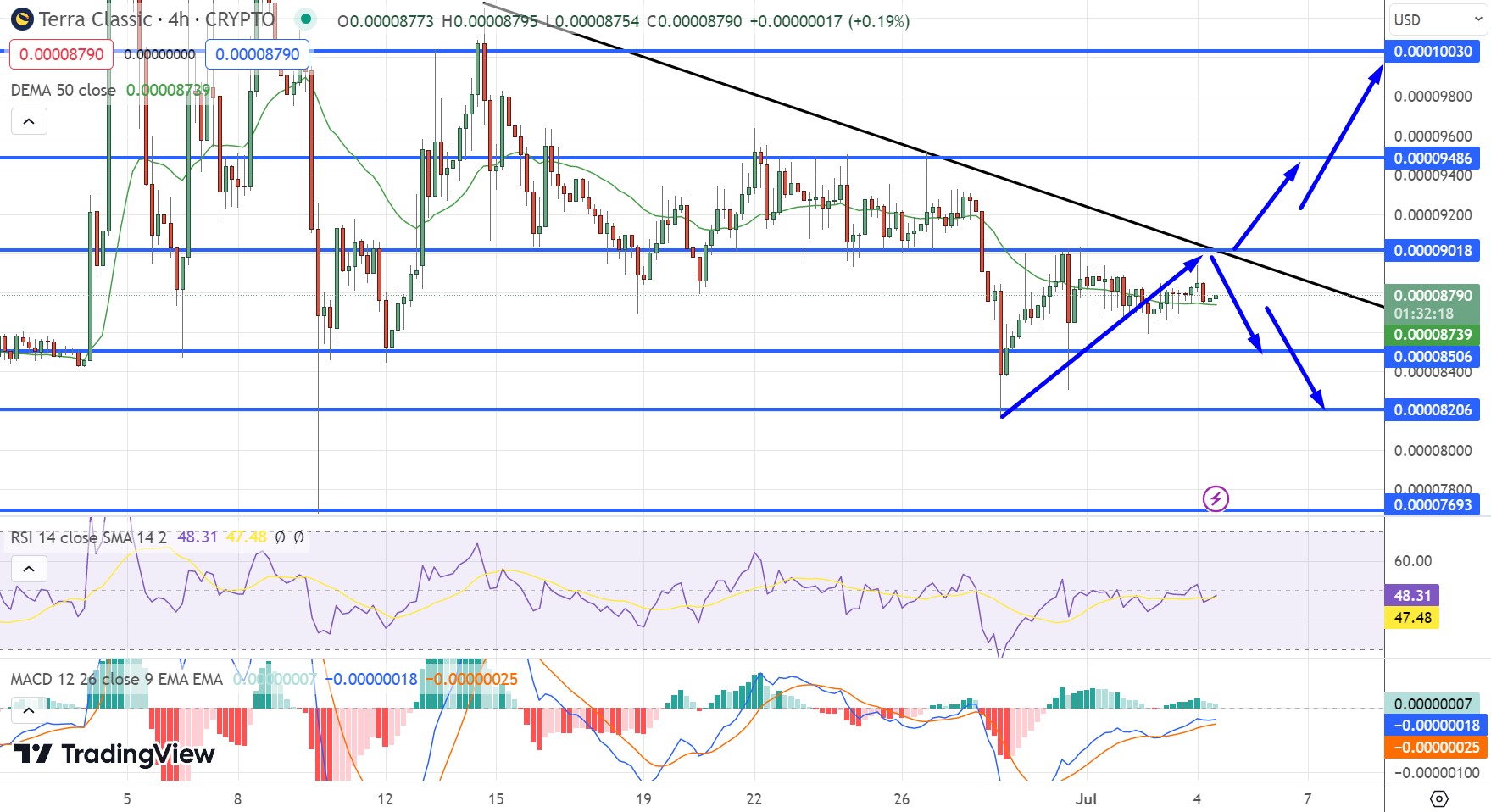 In the event of a bearish breakout below $0.00008506, the LUNC price may decline towards the next support level at $0.00008206.
Conversely, the resistance level is situated around $0.00009018, and a successful breakthrough above this level has the potential to propel the LUNC price towards $0.00009332 or even $0.00009612.
With all these developments discussed above, the LUNC token holds promise for stability and potential value appreciation in the future.
---