Terra Luna Classic Price Prediction as LUNC Falls to $0.000078 Support – Time to Buy?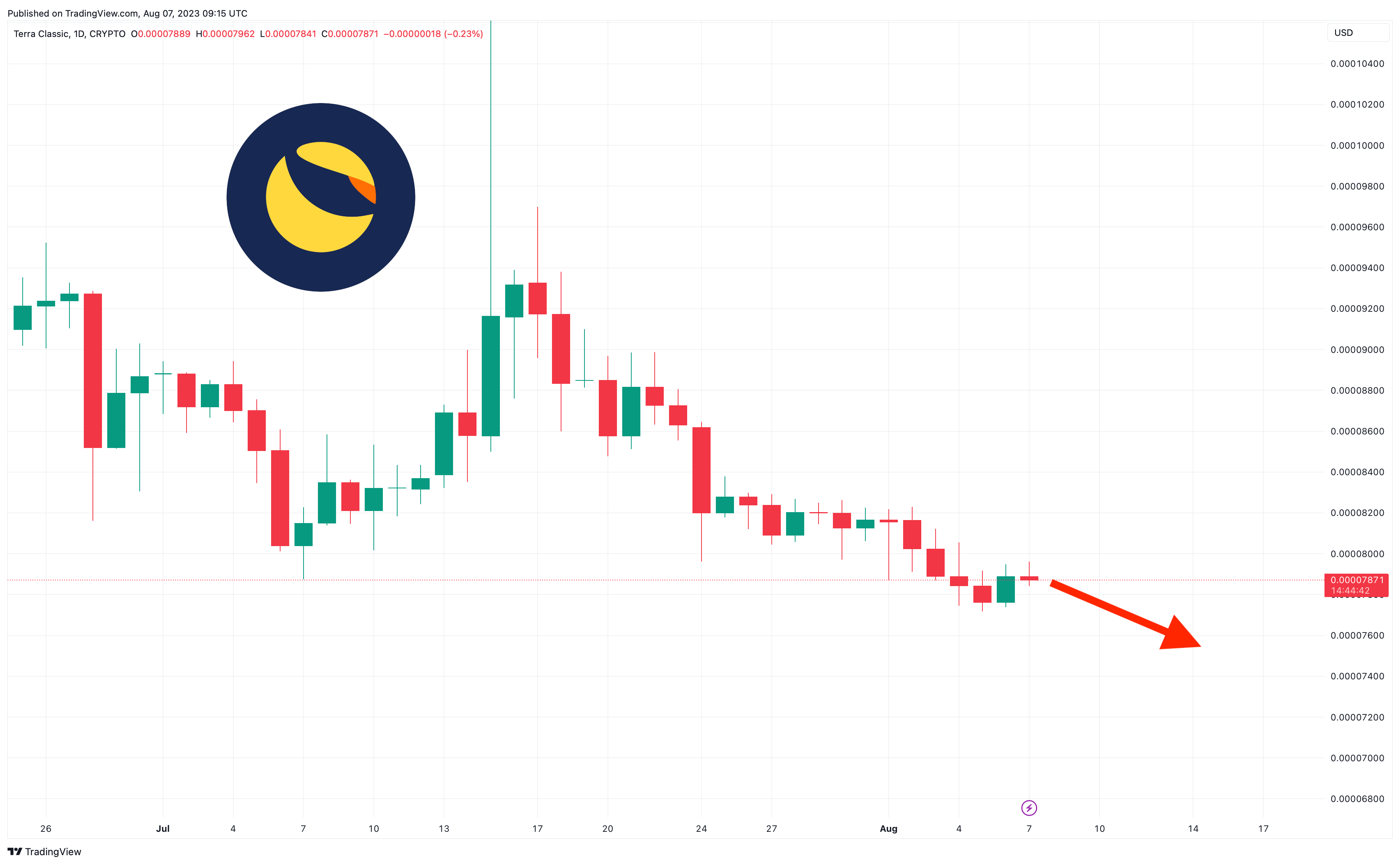 The price of Terra Luna Classic (LUNC) has dropped to $0.00007840 today, representing a 0.5% loss in 24 hours and a 3.5% decline in the past week.
LUNC also disappointingly remains down by 7.5% in the last 14 days and by 46% since the beginning of the year, in contrast to many major cryptocurrencies – such as Bitcoin (BTC) and Ethereum (ETH) – that have enjoyed double-digit gains since January 1.
The underperformance of LUNC comes amid the failure of the Terra Luna Classic community to make substantial progress on the matter of re-pegging LUNC's associated stablecoin, USTC, to $1, as well as on boosting the price of LUNC itself via burning.
However, with developers making some modest progress in terms of updating Terra Luna Classic's network and its usability, we may still see LUNC may a gradual recovery over time.
Terra Luna Classic Price Prediction as LUNC Falls to $0.000078 Support – Time to Buy?
LUNC's chart makes it abundantly clear that the coin has been falling consistently since the middle of July, and at the moment there's no real sign that its slump is going to end anytime soon.
For example, the altcoin's relative strength index (purple) has languished well below 50 for the past couple of weeks, and despite a slight recovery over the weekend it remains stuck around 50, without any clear upwards momentum.
Likewise, LUNC's 30-day moving average (yellow) has fallen some distance below its 200-day average (blue), with its downwards angle suggesting that the falls may continue before the cryptocurrency sees anything like a rebound.
Supporting this negativity is the fact that LUNC's support level (green) has been sliding consistently for several weeks now, implying that the coin may not be able to defend itself against further losses.
This means there's a real chance that the market could see LUNC drop to $0.000070 in the next week or so, and potentially lower.
The coin isn't really being helped on a fundamental level either, which is a big part of the reason why it continues to decline with no apparent end in sight.
Most notably, real progress on LUNC and USTC has been scuppered by the constant disagreements that take place whenever a new governance proposal emerges, and there have been many of these over the past few weeks and months.
It seems that for every propsed idea attracts majority assent, there's another one that causes bitter disagreement, something which has arguably prevented the Terra Luna Classic community from doing anything truly significant to help restore LUNC and USTC to their former glories.
Given conflict over proposals (including the one above, which relates to burning 800 million USTC), it's hard to see LUNC ever making any real gains in the near future.
That said, the past week did witness the acceptance of a proposal to reopen Terra's use of the Inter-Blockchain Communication (IBC) proposal, something which may in the long term result in more LUNC usage.
But this is likely a long way off, with LUNC as likely to be lower by the end of the year than higher.
Higher Potential Altcoins
Given that it may be a while before LUNC does anything major, many traders may be better off turning to newer altcoins, particularly those that have yet to enjoy initial surges and rallies.
In the main, this means looking at presale tokens, with some of the best presale coins in the market potentially due for big movements once they're added to trading platforms.
A good example of this comes from Shibie (SHIBIE), an ERC-20 coin that has creatively and playfully mixed memes from Shiba Inu and Barbie.
SHIBE kicked off its presale last week, making available 60% of its overall supply of 2,107,202,300 tokens.
It has already raised more than $150,000 in a matter of days, with investors being drawn in by its distinctive mix of memes, which in combining Barbie and Shiba Inu have arguably attracted a wider demographic of supporters.
Building a community around it will be hugely important for SHIBIE, since it's precisely a meme token's community that supports its price over the longer term.
Investors can participate in the presale by visiting Shibie's official website and connecting their software wallets, with SHIBIE costing $0.000167.
SHIBIE will list on decentralized exchanges soon after the sale ends, at which point its early investors could be due to make a sizable profit.
Disclaimer: Crypto is a high-risk asset class. This article is provided for informational purposes and does not constitute investment advice. You could lose all of your capital.
---