Terra Luna Classic Price Prediction as LUNC Falls Below $500 Million Market Capitalization – Here are Key Levels to Watch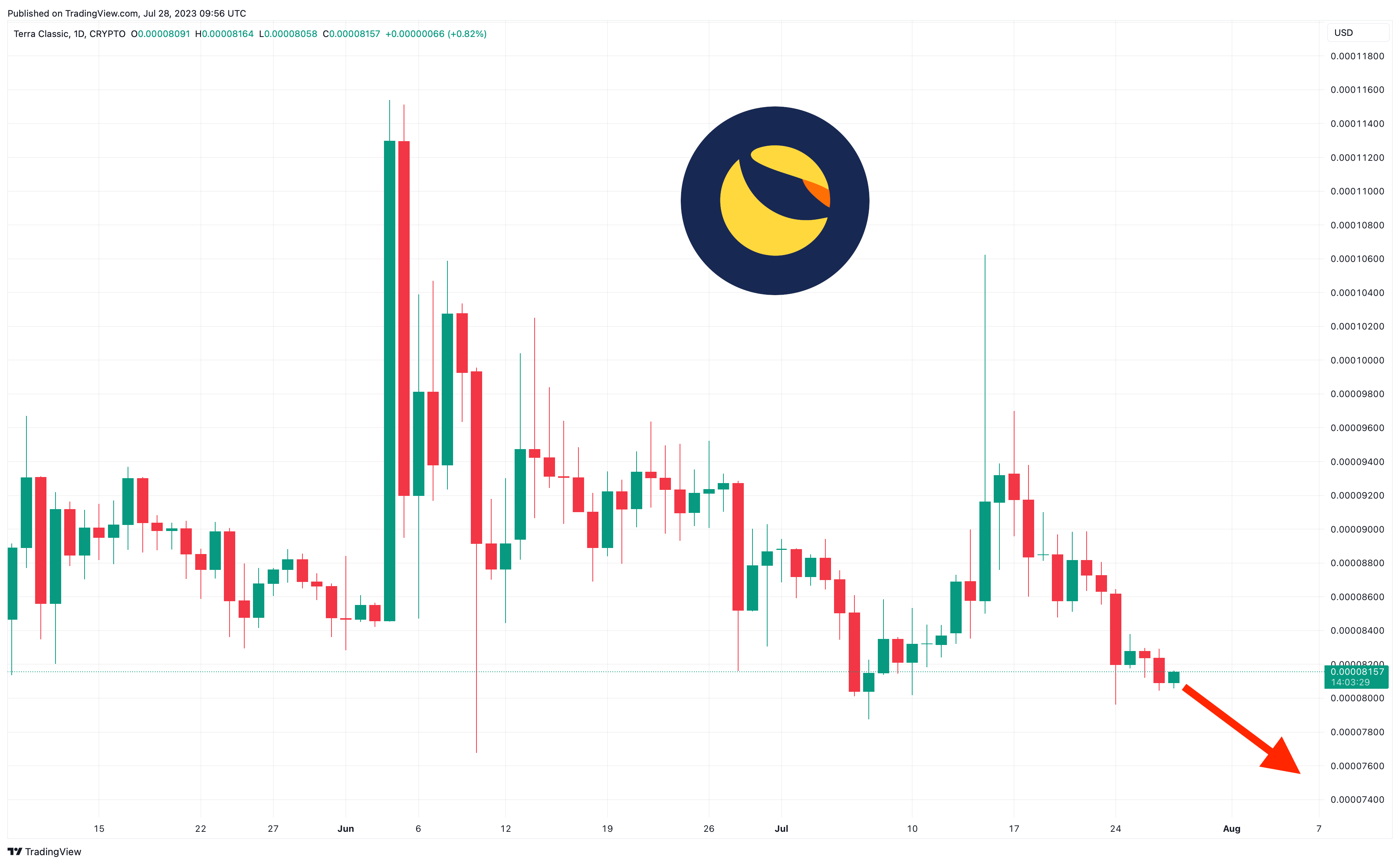 The Terra Luna Classic price has fallen by 0.5% in the past 24 hours, with its slip to $0.00008144 also representing a 6% loss in the last seven days.
This marks a bad week for LUNC, yet the altcoin has been facing a decline for several months now, with its price also down by 9% in the past fortnight and by 43% since the beginning of the year.
Such a slide has happened in the context of most major cryptocurrencies (e.g., Bitcoin, Ethereum, XRP) enjoying big gains since January, with LUNC's market cap also falling below $500 million this month, for the first time in September 2022.
Such a slump paints a very negative picture for LUNC, with the coin being entirely dependent on significant developments regarding a USTC re-peg for it to see any kind of recovery.
Terra Luna Classic Price Prediction as LUNC Falls Below $500 Million Market Capitalization – Here are Key Levels to Watch
If you were looking solely at technical indicators, then LUNC should really be rebounding in the very near future.
The coin's relative strength index (purple) has begun rising again after dipping very close to 30 yesterday, something which appears to suggest some kind of recovery of momentum.
At the same time, LUNC's 30-day moving average (yellow) has fallen substantially below its 200-day average (blue), meaning that it's oversold and is due to recover anytime soon.
On the other hand, such positivity appears to be contradicted by LUNC's support level (green), which continues to fall and which has been declining steadily pretty much throughout the year.
Indeed, LUNC truly does seem like a cryptocurrency caught in the throes of a terminal decline, with there being the possibility of a drop to $0.000070 if it dives through the $0.000080 support level.
This is certainly the impression created by its recent price history, yet its followers and supporters continue to suggest that it's far from being dead, with its network continuing to witness a significant degree of development activity.
Such activity suggests that Terra Luna Classic is playing a long-term game as far as its recovery is concerned, with new platforms continuing to be built on its network.
New proposals regarding its development also continue to be submitted and accepted, with the latest concerning measures that would increase the decentralization of governance on its chain.
As such, it can't be ruled out that LUNC will eventually enjoy sustained growth, even if it seems unlikely at this stage, with little real progress on boosting its price or on re-pegging USTC.
Taking a positive stance, LUNC could potentially return to $0.0001 by the end of the year, assuming bullish market conditions.
New Hope With New Altcoins
Assuming that LUNC may not do anything for a while, traders may be better off spending their time with newer altcoins, particularly those that have big potential gains on the horizon.
This is particularly the case with presale tokens, which can rally big once they list on exchanges.
One particular presale token with plenty of momentum right now is Evil Pepe (EVILPEPE), an ERC-20 meme coin that has raised more than $1.3 million, despite the fact that its sale began just over a week ago.
Styling itself as an 'evil' version of the ever-popular Pepe meme, EVILPEPE has clearly done a successful job of attracting a growing community of holders, with its sale making 90% of its total supply (6.66 billion EVILPEPE) available to the public.
Such a big allocation contrasts very favorably with many of the new meme tokens that have emerged this year, with most of these listing directly on exchanges, usually with their creators holding the vast majority of their tokens.
But with 90% of EVILPEPE's supply being directed into the hands of investors, the chances of a big dump are minimal, giving the meme coin more long-term viability.
Any investors interest in joining its presale can go to the official Evil Pepe website and connect their crypto wallets, with the sale having just under five days left to run.
1 EVILPEPE token costs $0.000333, yet this price is likely to rise significantly once the coin finds itself on exchanges.
Disclaimer: Crypto is a high-risk asset class. This article is provided for informational purposes and does not constitute investment advice. You could lose all of your capital.
---