Terra Luna Classic as LUNC Bounces Back From SEC Lawsuit Crypto Slump – Where is LUNC Heading Now?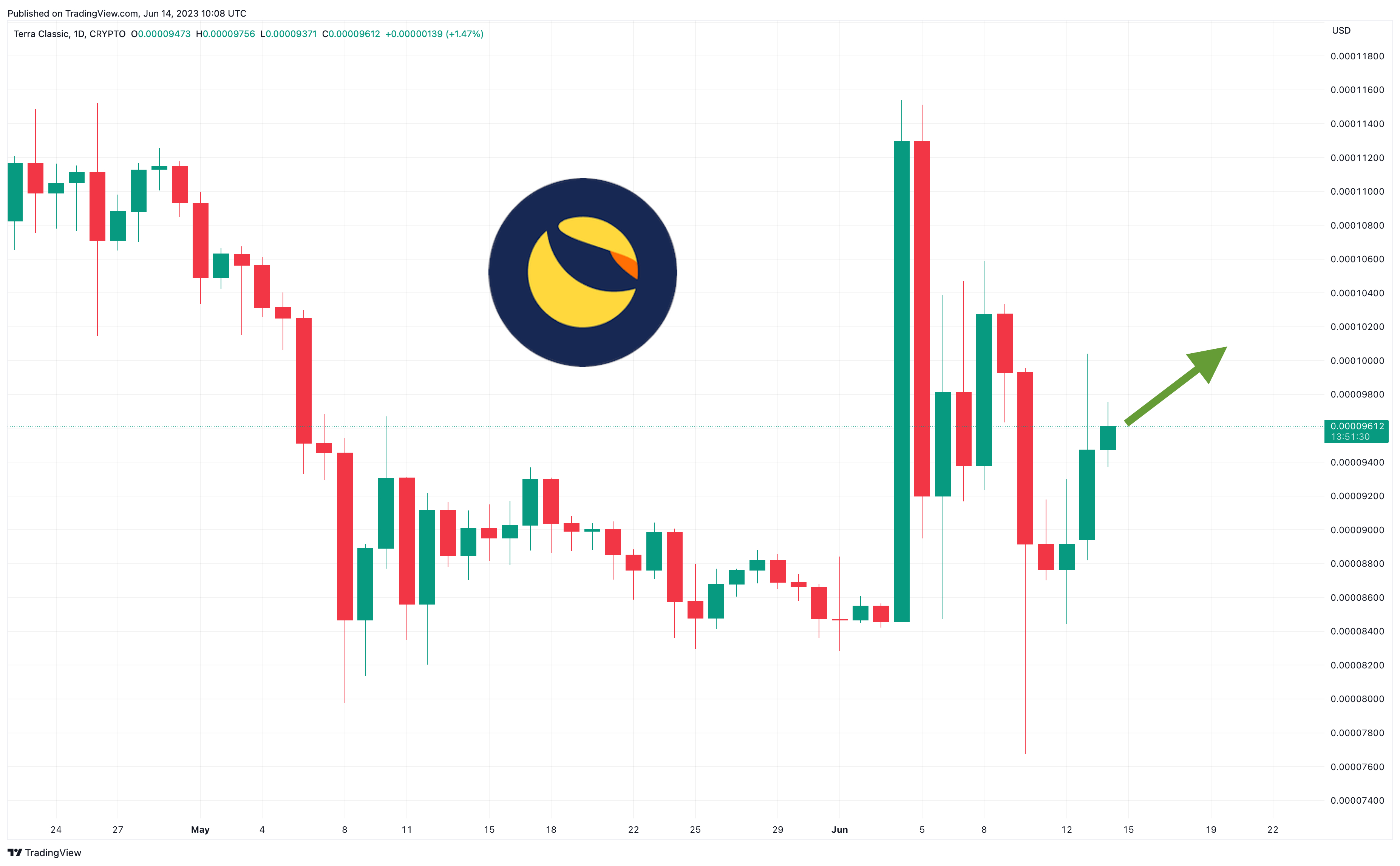 The Terra Luna Classic price has fallen by 2% in the past 24 hours, although its drop to $0.00009607 today represents a 13% gain in the past fortnight, as the altcoin compensates for some of the losses caused by the SEC's recent legal actions.
LUNC's current price also means that it has risen by 5% in a month, while the coin is actually down by 33% since the start of the year, as a result of enthusiasm gradually waning for the Terra Luna Classic community's attempts over the past few months to support its price.
However, with this community recently passing a proposal to give the Terra Luna Classic blockchain technical parity with that of Cosmos, momentum appears to be returning to LUNC, as the market regains confidence in its direction.
This means that the next few weeks and months may bring further LUNC rallies as the altcoin attempts to recover some of the ground it has lost since May 2022's collapse.
Terra Luna Classic as LUNC Bounces Back From SEC Lawsuit Crypto Slump – Where is LUNC Heading Now?
LUNC's chart also strengthens the view that it has begun to regain a little impetus, with its relative strengrth index (purple) in particular rising from close to 30 (oversold) to around 60 today.
And while its 30-day moving average (yellow) had been in the process of falling below its 200-day average (blue), it has now flattened a bit and may actually resume rising again.
This all suggests renewed momentum, although given how uncertain crypto's current regulatory situation is at the moment (in light of recent SEC's actions), traders need to be aware that LUNC may not be entirely stable.
Still, it does seem that, all other things being equal, the altcoin is due more for further gains than further losses.
This is largely because LUNC has already been massively oversold this year, mostly because of dissatisfaction with the Terra Luna Classic community's inability to agree on a concrete plan for restoring the USTC peg.
That said, recent weeks have actually seen some progress in this regard, with the community accepting a proposal that will result in the introduction of several technical upgrades for the Terra Luna Classic blockchain, upgrades which will actually be implemented today.
The biggest change introduced by this update will be an increase in the interoperability of the Terra Luna Classic blockchain, something which will make it more attractive as a destination for developers and their apps.
For this reason, we could easily see LUNC rise steadily in price as more apps begin to use it.
On top of this, the community has also recently accepted a proposal that will see the creation of a test environment for re-pegging USTC.
This is a vitally important step in the gradual rehabilitation of both USTC and LUNC, and if it bears fruit and leads to an actual concrete plan of action, there's little doubt that LUNC will rise substantially.
Altcoin Potential
Of course, such gains may not come for several months, seeing as how long it can take to iront out practical disagreements and devise a realistic plan for re-pegging USTC.
In the meantime, many investors may end up choosing to diversifying into newer altcoins with a better chance of gains in the short- (as well as long-) term.
In particular, presale tokens present the opportunity for sizable returns, especially when they list for the first time on exchanges.
One promising presale token at the moment ecoterra, an Ethereum-based recycle-to-earn platform that has raised more than $5 million and will launch in the latter half of this year.
Once launched, ecoterra's platform will reward users for recycling their household waste at participating recycling points.
Users will receive the native token ECOTERRA as the reward for their recycling, incentivizing them to recycle more and improve their lifestyles.
In addition, ecoterra's platform is set to reward users who provide proof of generating their own green energy, with such rewards coming in the form of NFT-based carbon offsets.
These offsets will be tradeable on ecoterra's own carbon credit and NFT marketplace, providing users with further motivation to make their living more sustainable.
Investors can participate in ecoterra's presale by going to its official website and connecting their software wallets.
1 ECOTERRA currently costs $0.00925, although this price will rise to $0.01 in two weeks.
And from there, it could rise even higher once it gains its first exchange listings, making its earliest investors a nice market-beating profit.
---