Tamadoge Meme Coin Presale Beats STEPN – Raises More Than $10 Million in 4 Weeks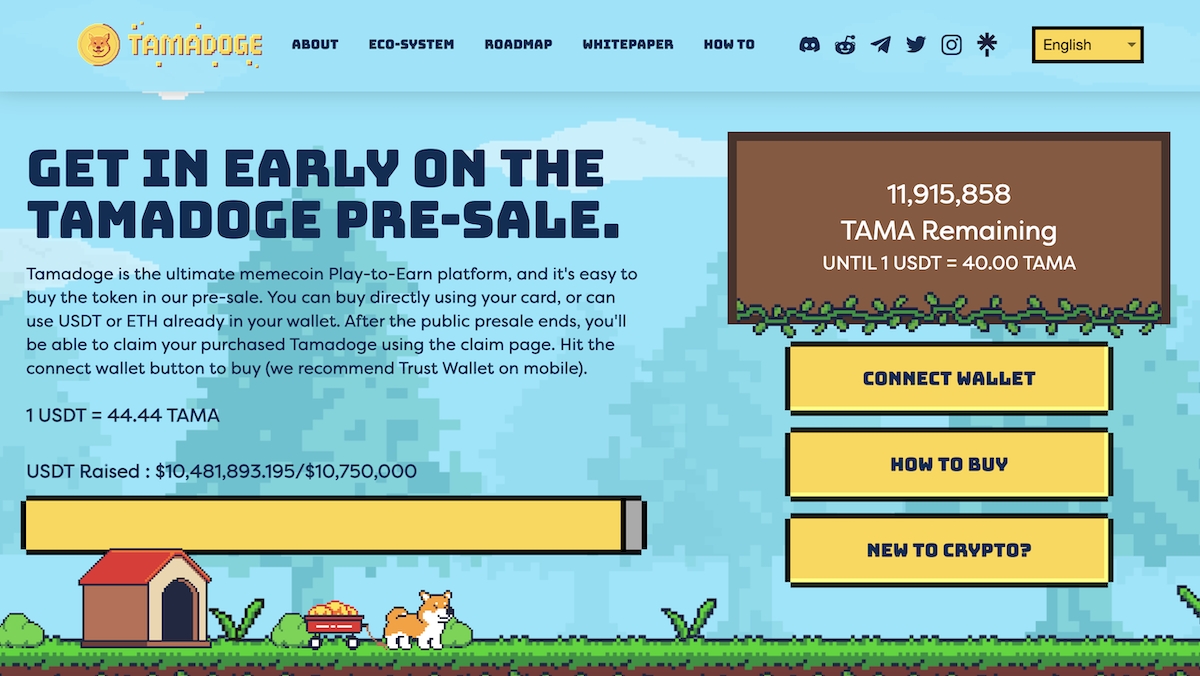 Play-to-Earn (P2E) game Tamadoge is conducting one of the fastest fundraises seen in crypto this year, completing 70% of its presale by securing $10 million from eager investors in less than a month.
At the time of writing $10.62 million has been raised, beating the $9.2 million raised by move-to-earn NFT app STEPN on Binance Launchpad and in its private sale. FTX was a major contributor in the private sale.
In the current (sixth) phase of the Tamadoge presale, which will be closing soon, the TAMA token is priced at 1 USDT to 44 TAMA. When $10.75 million is raised, the token price goes up to a rate of 1 USDT to 40 TAMA in what will be the seventh phase of the presale.
USDT is the ticker of the Tether stablecoin, so called because its value is held stable by being pegged 1:1 against the US dollar, backed by cash and cash-equivalent reserves.
Who needs VCs when you can do a presale
It has taken less than a month for the TAMA token sale to raise $10 million. From the point of view of the project developers this is a much more efficient way to solicit funds from investors than the venture capital route.
From the perspective of investors it is also a more transparent and open process than the venture capital and private equity route that dominates early stage investments and excludes those with relatively modest sums to invest.
Only 30% of presale TAMA token allocation left
Seven-hundred million tokens have been sold from a total of 1 billion available in the presale, with the price rising for each successive token tranche. TAMA's total supply is 2 billion.
There are less than 30% of presale tokens left for purchase, with the allocation draining fast.
Tamadoge sold for 1 USDT/100 TAMA (1 TAMA = 0.01) in the initial beta sale phase, in which 200 million tokens were sold. Several tranches of 100 million tokens have followed since then.
The token price keeps rising until it reaches $0.03, equivalent to x3 the beta sale price.
The price hike after the 40 TAMA price (seventh phase) is 1 USDT buys 36.36 TAMA (eighth phase). The ninth and final stage sees the price rise to 1 USDT buys 33.33 TAMA.
Who are the mystery backers of Tamadoge?
Although the exact identities of those who make up the Tamadoge team are yet to be released, two members are known to be British.
A fortnight ago it was revealed on the Tamadoge website that Thomas Seabrook, formerly of WMS and StarDigital, is the project's lead games developer and Carl Dawkins, previously marketing manager at SocialBlox, is head of growth at Tamadoge.
Is Elon Musk – a famed lover of the Shiba Inu dog breed that has done so much to inspire the meme coin sector – among the mystery backers of the project?
GameFi is 'least affected by the bear market' – Tamadoge next meme coin to explode?
Although the crypto winter has seen valuations tumble across the digital asset space, blockchain games, sometimes referred to as GameFi, has been the sector "least affected by the bear market", according to data compiled by data and analytics site DappRadar.
Tamadoge is building a platform where players are rewarded for bringing up their Tamadoge Pet by nurturing it from baby to adulthood.
Each pet is represented by an NFT and has unique traits. The leaderboards in which pets compete to climb go live before year's end. In another twist, pets can also battle each other.
Tamadoge will also be releasing a games arcade featuring a host of play-to-earn games in which the pets can take part.
Also, early next year the team plans to explore partnership opportunities with metaverse platforms.
A full-blown augmented reality app will be released next year.
---