Tamadoge Launches New Website, Leading the Pack for the Future of Web3 Gaming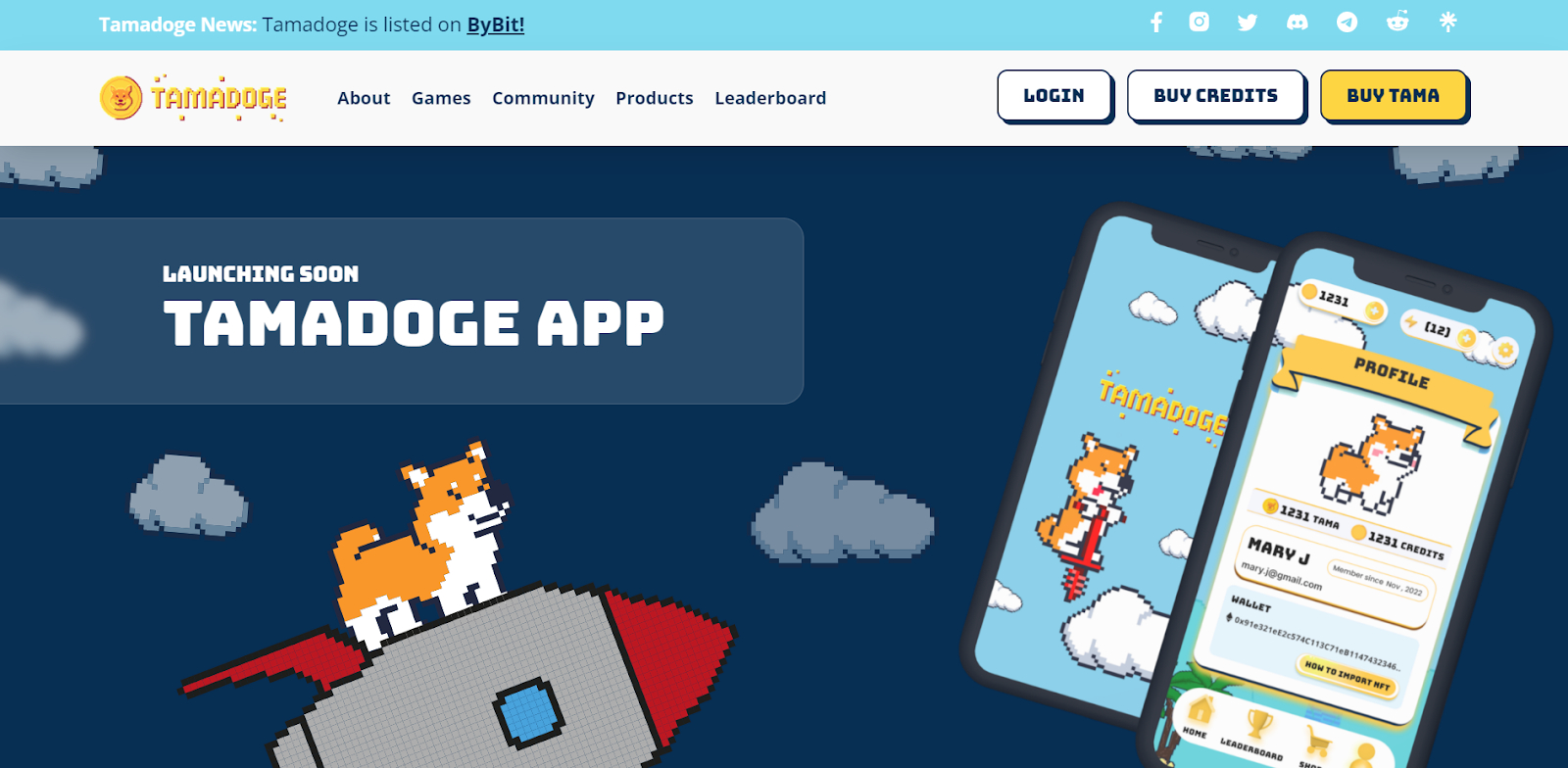 London, 15 May 2023 - Tamadoge is excited to announce the highly anticipated launch of its new website.
This significant milestone marks a major leap forward for Tamadoge and sets the stage for a new era of immersive web3 gaming experiences.
Tamadoge's new website is the warp-speed evolution of development and user feedback resulting in a cutting-edge platform that offers a pawsome gaming ecosystem.
With a revamped look, visitors can seamlessly navigate through the website and explore the wide range of games, features and products on offer.
At the core of Tamadoge's platform lies the power of blockchain and the innovative use of web3 technology.
By leveraging the transparency, security, and decentralization of blockchain, Tamadoge ensures that players have true ownership of their in-game assets.
Through the integration of smart contracts and the use of non-fungible tokens (NFTs), gamers can collect, trade, and earn their digital assets easier than ever before.
This coupled with the recent announcement of their integration of Web3Auth, a simple authentication infrastructure for Web3 wallets and applications, Tamadoge has simplified the sign-up process for the Tamadoge Arcade, making it simpler to start playing and earning rewards.
Tamadoge - A Pioneer in Web3 Gaming
Tamadoge's new website showcases an impressive lineup of classic and vintage-feel web3 games that cater to every appetite.
From action-packed adventures to strategy games and social experiences, there is something for every type of gamer.
The platform fosters a dynamic ecosystem where players can compete on leaderboards for prizes, collaborate with others, and even earn rewards through their play-to-earn (P2E) mechanic.
"Our new website is a huge step forward for Tamadoge and reflects our commitment to constantly improve our platform and make it easy and fun to play web3 games," said Jon Bishop, CEO of Tamadoge.
"With web3 technology, we aim to create a gaming experience where players have true ownership, economic empowerment, and opportunities for social interaction. With all the excellent features we have been launching lately, Tamadoge is already a pioneer in the web3 gaming space."
To experience the exciting world of web3 gaming and join the Tamadoge community, please visit https://tamadoge.io/.
Tamadoge Collaborates with Viral Memecoin Sensation SpongeBob
Last week, Tamadoge announced an exciting new collaboration with one of the hottest memecoins on the exchanges right now, $SPONGE.
The partnership aims to bring together two awesome communities for an airdrop campaign that promises some unforgettable meme on meme action.
The trending memecoin $SPONGE, known for its rapid rise and enthusiastic following, is inviting Tamadoge's loyal community, fondly referred to as the Tama Army, to join them in this exhilarating campaign.
TAMA holders will have the opportunity to recieve exclusive airdrops of $SPONGE to their wallets, and airdrop participants can expect to get the opportunity to engage in exciting activities.
Additionally, Tamadoge encourages its community members to pay attention to the exchanges involved in this collaboration, as it may provide valuable insights into the project's forthcoming Centralised Exchange (CEX) and Decentralised Exchange (DEX) listing announcements.
$SPONGE recently listed across two of the largest CEXs Gate.io and BitGet, with investors excited at the prospect that the meme coin could soon list on a top 5 crypto exchange.
The project is committed to expanding its reach and exploring new avenues for the benefit of its ever-growing community.
This milestone event promises to be a moment of celebration for both Tamadoge and $SPONGE communities.
Stay tuned for further updates and exciting developments as Tamadoge continues to make waves in the crypto space.
---