Sponge Price Poised For Breakout As Highly Anticipated Staking Mechanism Goes Live With Alluring Variable APY
Disclosure: Crypto is a high-risk asset class. This article is provided for informational purposes and does not constitute investment advice. By using this website, you agree to our terms and conditions. We may utilise affiliate links within our content, and receive commission.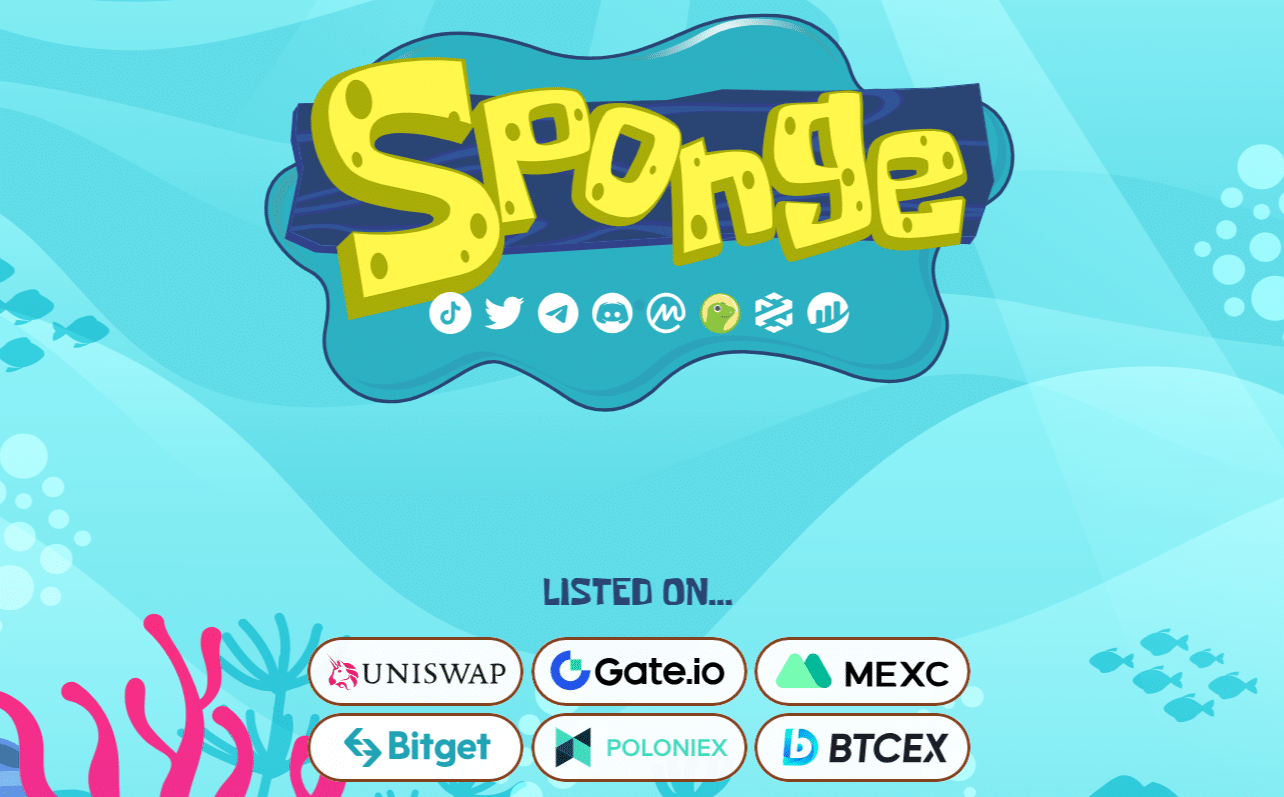 Friday, November 3, 2023 – As meme coin markets bounce back with a 4.53% rise in volume, Sponge token's new staking mechanism has triggered a bullish posturing in the $SPONGE price chart.
The strengthened position of the Sponge token price appears to have been triggered by renewed interest in the promising meme coin's undervalued proposition, which offers an attractive entry price with the possibility to double-down due to substantial staking returns.
🎉 The time is finally here, #SPONGERS! 🧽$SPONGE Staking is NOW LIVE! 🚀 Dive in and start earning passive rewards! 🌊💰

Stake your $SPONGE and let the rewards begin! 🎊#SpongeStaking #Crypto #Web3 pic.twitter.com/MjoV2cM5Jv

— $SPONGE (@spongeoneth) November 1, 2023
Testament to the returning interest is a 10.99% increase in the $SPONGE price over the past month, as fresh capital rushes to take positions around the staking launch.
Dev Team Accelerate Through Roadmap: Unpacking Sponge Token's New Staking Mechanism

Sponge token's new staking mechanism has been highly anticipated by more than 11,000 bag-holders, with the introduction of staking rewards boosting the project via a long-term holder incentive.
Digging down into the details, the Sponge token staking APY % is set at a variable rate that adjusts in real-time to the quantity of $SPONGE staked through the dashboard.
Yet, despite the variability, it is expected that the Sponge staking APY will remain high, with analysts predicting consistent market-beating returns.
Today at launch, the staking yield stands at an eye-watering 1578% APY, offering an alluring incentive for Sponge holders to stake their bags early.
The staking period enables holders to opt between three tiered lock-up periods, with the first option offering a 1.5x APY return for a 30-day lockup, the second option offering a 2x APY return for a 60-day lockup period, and the third most lucrative option offering 3x APY returns for a 90-day lockup.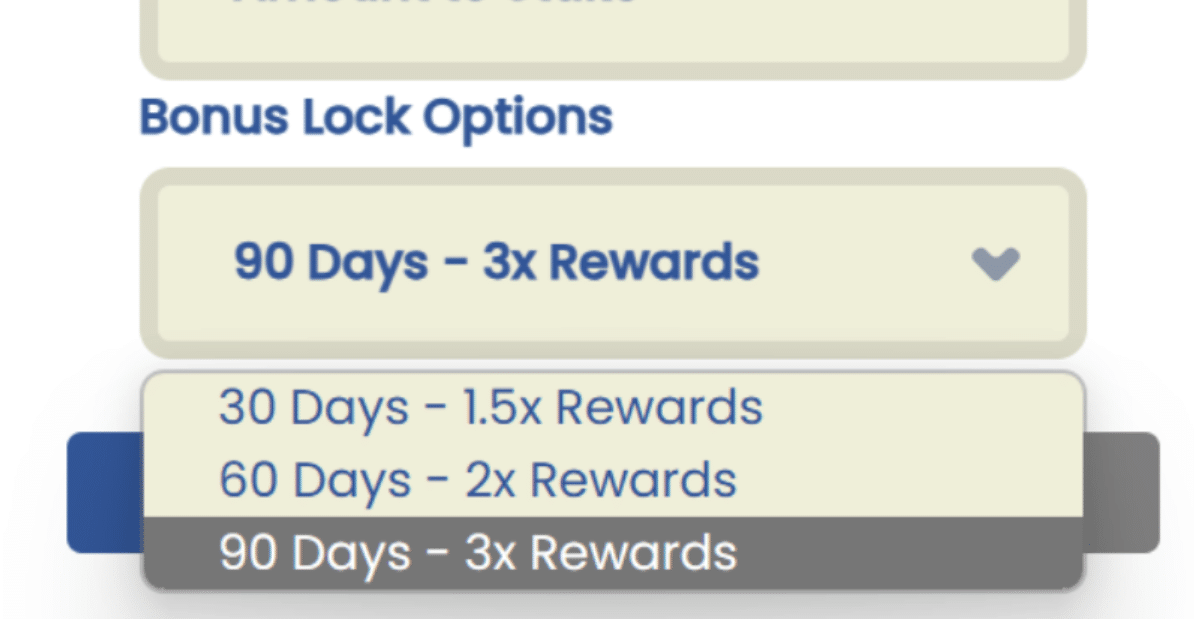 Holders can also opt-out, with the standard APY staking return offered for a 7-day minimum lockup period.
$SPONGE holders can access the now-live staking facility through the Sponge token staking dashboard.
Could $SPONGE Be The Next Meme Coin To Skyrocket? Market Sentiment Thinks So

When looking at the meme coin marketplace, it's clear that this high-volatility vertical is ripe for a shake-up, with $SPONGE emerging as an alluring contender for the next skyrocket rally.
Bring it on 🧽🧽🧽🧽💦💦💦#Crypto #Trading $PEPE $SPONGE pic.twitter.com/xuMd4AhWRO

— $SPONGE (@spongeoneth) November 1, 2023
Indeed, when compared to No.2 ranked meme coin (by market cap) Shiba Inu token, $SPONGE is rapidly emerging as an outperforming asset.
As price action pushed high amid the wider resurgence in meme coin valuations throughout 'Uptober', a well-defended support level has been established above $0.00011.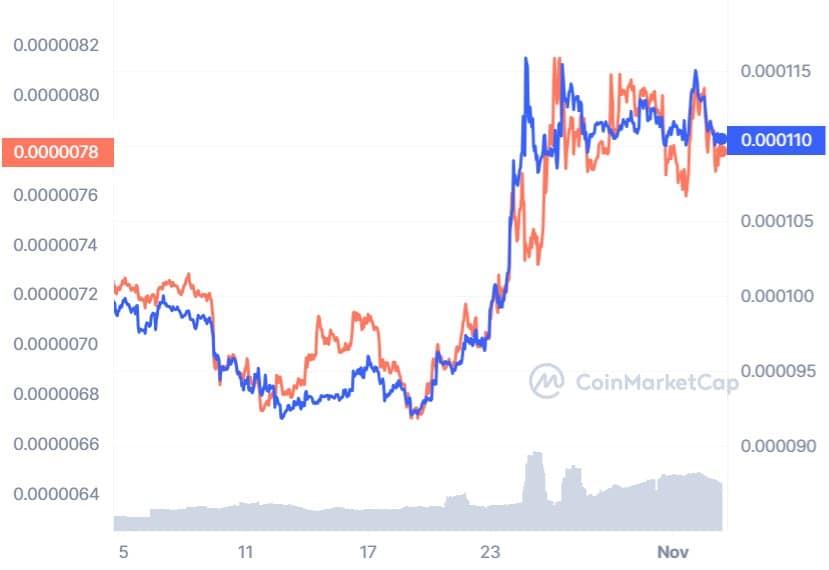 And in defiance of market movements, $SPONGE appears to have shifted bullish, avoiding the highly volatile retracement moves undertaken by $SHIB.
This has left $SPONGE trading higher (by percentile movements) than Shiba Inu, revealing promising market sentiment surrounding the Sponge project.
A potential explanation for this is the low $SPONGE market cap, which suggests an undervaluation in current market conditions at $2.78m.
Comparable meme coin alternatives such as Tamadoge ($11m market cap) and Wall Street Memes ($38m market cap) suggest that $SPONGE could undertake a potential 4x to 14x return from here.
This undervalued status hasn't gone unnoticed, with a recent video released by Crypto World Daily highlighting a 17% surge in $SPONGE volume.
What's Next After $SPONGE Staking Launch – Rumors Abound Bolstering Sponge Price

It's clear that the staking launch is a massive step in the right direction for the Sponge token, and with the $SPONGE holder community invigorated by the move, rumors now abound speculating about what could come next.
The Sponge roadmap teases the potential of upcoming Tier-1 CEX listings, and a potential $SPONGE airdrop to dedicated holders.
Yet, another prominent rumor (which remains unverified) suggests that the Sponge dev team might introduce an innovative burn-mechanism in the coming weeks.
This is a tokenomics move that would begin to reduce $SPONGE supply, potentially fuelling further price accrual for holders.
Other rumors suggest that there could be some major $SPONGE partnerships on the horizon, with the project aiming to synergise efforts with other growing meme coins in the space.
These possibilities could open the door to new price-supportive product launches, so stay tuned to the $SPONGE Discord channel, Telegram group, and X account for the latest updates.
And as Sponge price stands poised don't forget to absorb the damp!
Disclaimer: Crypto is a high-risk asset class. This article is provided for informational purposes and does not constitute investment advice. You could lose all of your capital.
---