Solanax Now Officially Part of Solana Ecosystem! Jump Into Solanax IEO
Disclaimer: The text below is a press release that was not written by Cryptonews.com.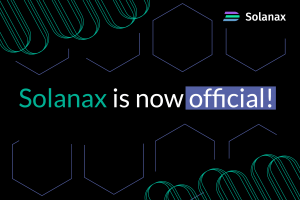 If you missed the private sale of Solanax tokens, here is your last chance to participate in IEO (Initial Exchange Offering), which is live now!!!
It's official! Solanax is now a part of Solana's ecosystem!
Solanax has finally been recognized as a part of the fast-growing Solana's ecosystem. We can expect more things to come out of Solanax, since it got its badge of approval. Solana lists the projects via tags. You can find the young project by searching tags such as AMM, DEX, DEFI. With their recent surge of partnerships, they are sure to find investors that will boost the project to its full potential. Maybe you are one? You can contact the team for more information regarding sales at [email protected]
Solanax is one of the most anticipated projects of this year and recently has been in the news for their private sale, partnership with ExMarkets, and their IEO (Initial Exchange Offering) launch on ExMarkets June 28th. Now Solanax has partnered up with 'The Astronaut', a group of long-term & experienced crypto investors, and are ready to bring you up to date in cosmic speed. For those who haven't read the news - Solanax is the fastest Cross-Chain DEX (Decentralised Exchange) for Decentralized Finance (DeFi) and is built on the Solana blockchain (the fastest blockchain in the world). The Solanax project is focused on eliminating centralized intermediaries and solving the fund liquidity issues. With aggressive plans in sight, the Solanax token has already started its voyage to rock the cryptocurrency world. The future is now!
Feel left out? Fret not – IEO is here!
After selling out more than half of their private sale tokens, Solanax has started its IEO on ExMarkets. A Solanax token has a total token supply of 80 000 000 SOLD Tokens, and out of that, 20 Million SOLD tokens have already been distributed. Round one of the IEO will be running from June 28th to July 4th. Round two will start from July 7th to July 11th, followed by the third round from July 14th to July 16th. The IEO has a total available supply of 10,000,000 SOLD tokens, and here are the details around the rounds of the IEO.
Round 1: 28 Jun 2021 – 04 Jul 2021 | 0.20 USD | Available supply: 5,000,000 SOLD
Round 2: 07 Jul 2021 – 11 Jul 2021 | 0.25 USD | Available supply: 3,000,000 SOLD
Round 3: 14 Jul 2021 – 16 Jul 2021 | 0.30 USD | Available supply: 2,000,000 SOLD
The early bird gets the early worm. If you'd like to find out more about the IEO and Token distribution, you can explore the following online sources:
Webpage : www.solanax.org
Twitter : https://twitter.com/Solanaxorg
Gitbook : https://solanax.gitbook.io/solanax/
Whitepaper : Solanax whitepaper
You can also reach out to the Solanax sales team for any inquiries on the project or the IEO at [email protected]
---