Solana Price Prediction as SOL Ranks 10th in Global Market Capitalization – Can SOL Reach $1,000?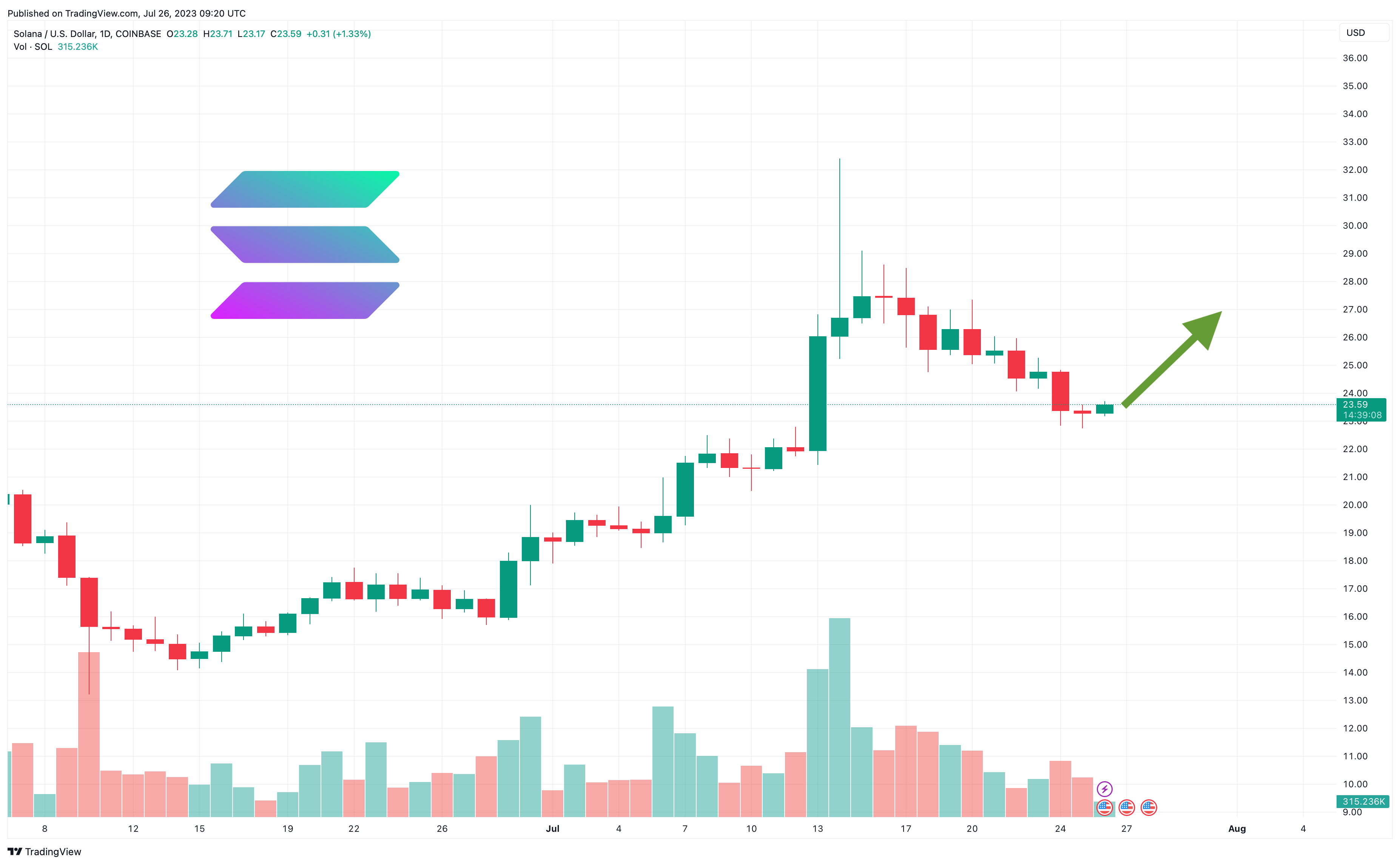 The Solana price has risen by 2% in the past 24 hours, reaching $23.60 as the cryptocurrency market sees a very modest recovery from its dive earlier in the week.
SOL is now down by 10% in the last seven days, yet it remains up by 39% in the last 30, with its recent gains helping it to climb to tenth in terms of market cap.
And the altcoin has also risen by over 130% since the beginning of the year, helped largely by Solana's recovery from last year's outages, with the blockchain network having become more robust in more recent months.
This therefore puts SOL on track to post more gains in the near future, with the coin potentially looking to reach triple figures by the end of the year.
Solana Price Prediction as SOL Ranks 10th in Global Market Capitalization – Can SOL Reach $1,000?
Solana's momentum remains good, even if it had suffered a decline in previous days.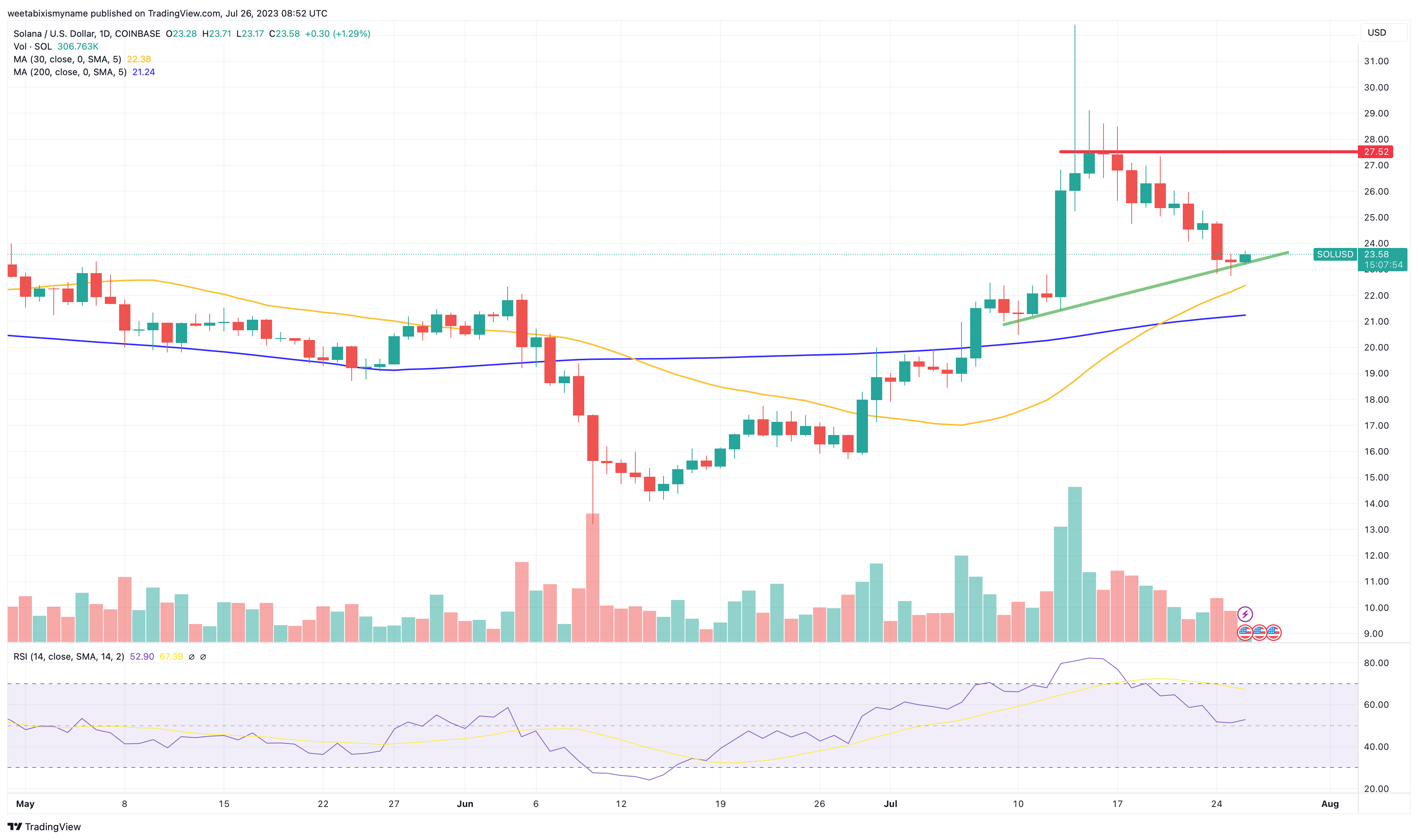 The coin's relative strength index (purple) has turned upwards again after dropping close to 50 in the past few days, with its newly begun climb potentially signaling a new rally.
Likewise, it's encouraging to note that SOL's 30-day moving average (yellow) recently formed a 'golden cross' with its 200-day average (blue), a move that often signals a strong breakout.
SOL could therefore be at the beginning of a rally, with its support level (green) having risen massively since last month, providing it with stronger bases from which to launch new surges.
One of the more immediate reasons as to why Solana has outperformed the market today is the platform's announcement of Solang, a compiler that enables developers to write Solana smart contracts in the language used on Ethereum (Solidity).
This is likely to boost development on Solana, with a growth in dapps running on its chain likely to feed into greater demand for SOL as its utility token.
Even without Solang, Solana is currently ranking fourth among blockchains for Github commits, a clear sign that it's currently enjoying a significant amount of development work.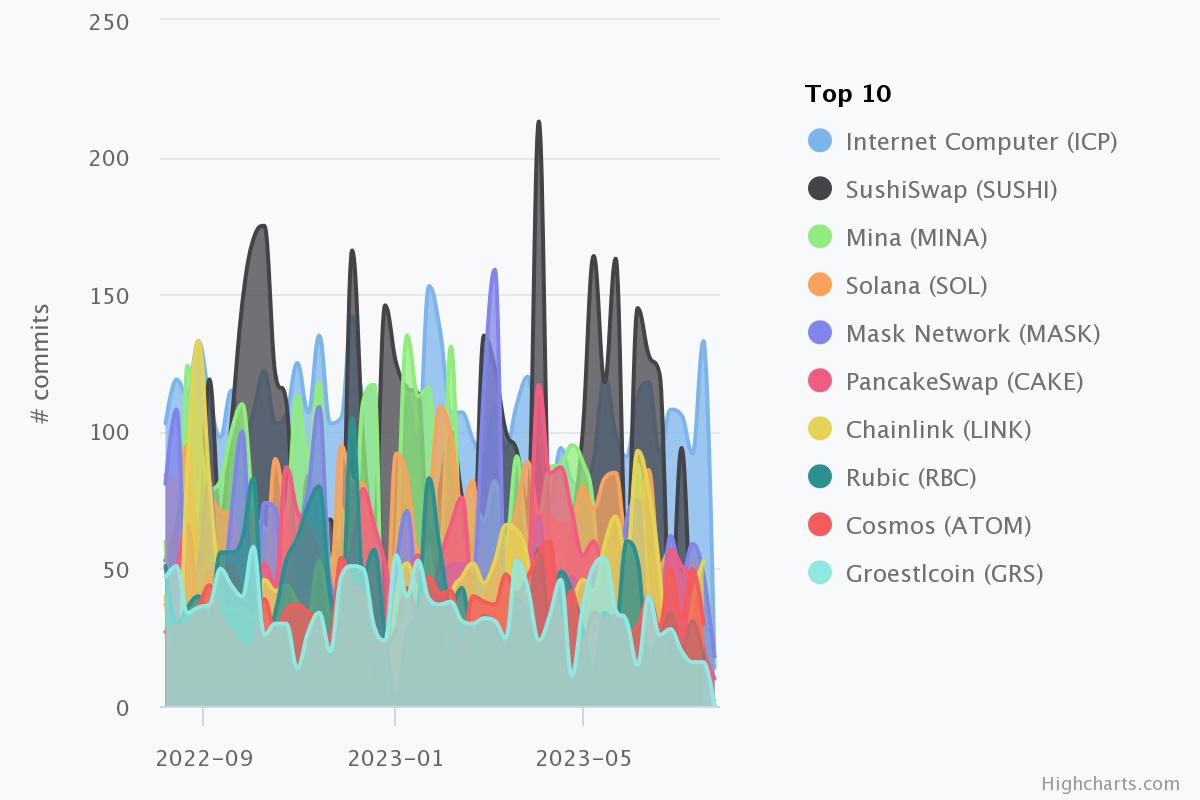 This work has all helped to restore Solana's reputation as a stable blockchain network, with its 2022 being marred by a number of damaging outages that undermined confidence in the platform.
Now, Solana has enjoyed 100% uptime in the second quarter of 2023, testifying to its improvement as a network.
As such, we expect SOL to continue rising steadily, compensating for its undervaluation in previous months.
From its current level of around $23, the altcoin is likely to hit $30 again in the next few weeks, before seeing out the year at $50 or higher, depending on the overall market's bullishness.
New High-Potential Altcoins
While SOL remains one of the most promising major tokens in the market, its progression from here on out may be gradual, leaving traders having to look elsewhere for more immediate gains.
Fortunately, there has been no shortage of promising new altcoins in 2023, with presale tokens in particular often rallying big when they first list on exchanges.
One such token likely to succeed is BTC20, a new ERC-20 coin that will offer an Ethereum-based version of Bitcoin, one which can be used to earn staking rewards.
Having begun last week, its presale has already raised more than $2 million, providing a strong indication that investors have faith it will grow and succeed.
The sale has a hard cap of 6.05 million, with BTC20 having a total maximum supply of 21 million, just like Bitcoin itself.
Another similarity with BTC is that BTC20's presale price is fixed at $1, in a tribute to the level the original Bitcoin reached in 2011.
This provides investors with the opportunity to buy a coin with the same deflationary potential as Bitcoin, but at a much cheaper price.
It's also worth pointing out that the remainder of BTC20's supply will be issued over the course of 120 years, providing further constraints on its supply that may help to boost its price further.
New investors can get involved in the sale by going to the official BTC20 website and connecting their cryptocurrency wallets, with the coin purchasable using either USDT, ETH or fiat currency.
Disclaimer: Crypto is a high-risk asset class. This article is provided for informational purposes and does not constitute investment advice. You could lose all of your capital.
---