Solana Price Prediction as Rumors Emerge of FTX Dumping Tokens – Can SOL Drop Below $10?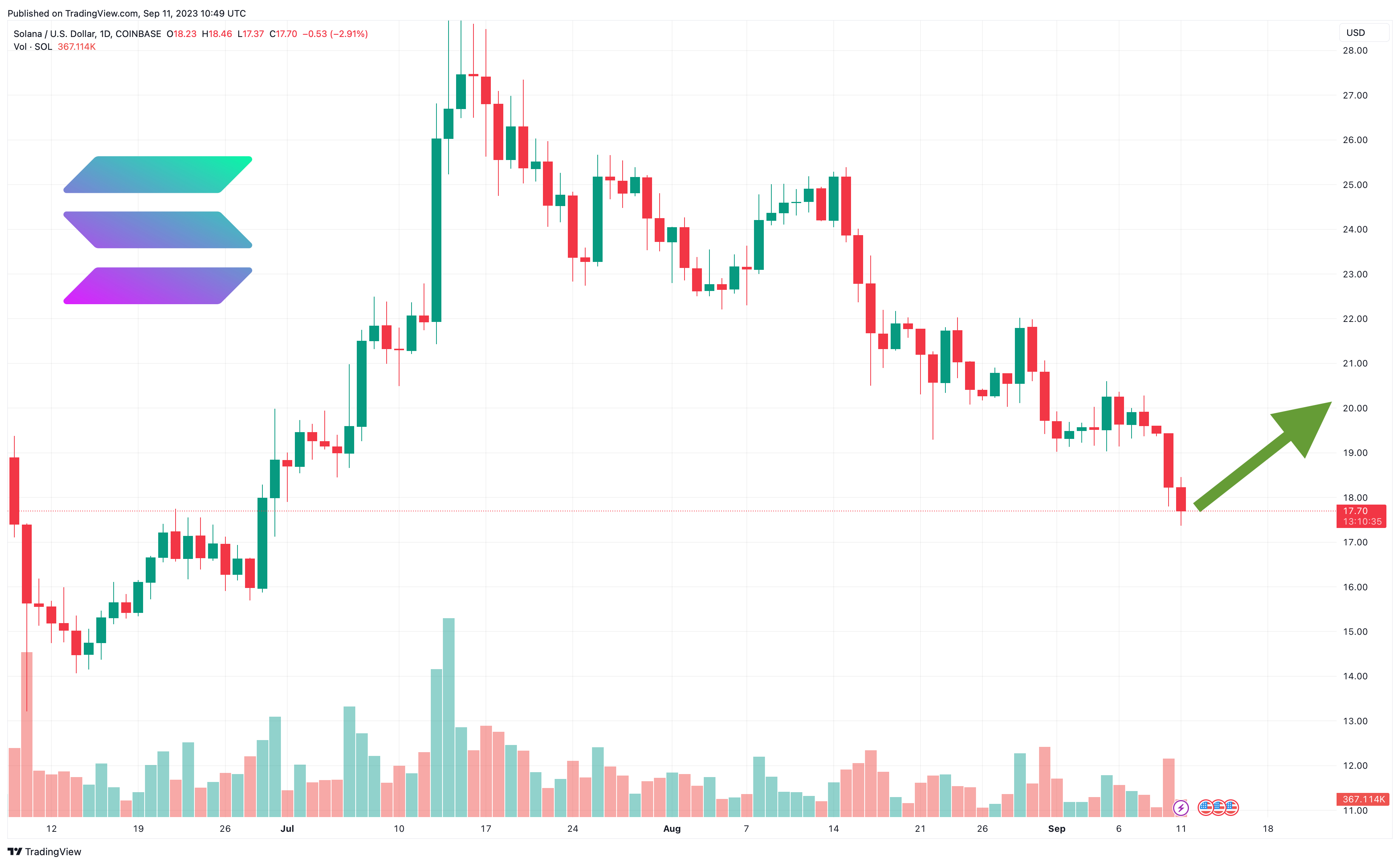 The price of SOL has dropped by 3% in the past 24 hours, falling to $17.72 after speculation emerged that FTX is readying itself to offload its Solana-related holdings.
SOL is now down by 10% in the past week and by 27% in the last 30 days, although the altcoin remains up by 77% since the beginning of 2023, which has been a year of recovery for the token.
And while FTX does sit on a large quantity of Solana, much of this is locked up until 2025 or later, meaning that the risk of a big dump from FTX is minimal.
Solana Price Prediction as Rumors Emerge of FTX Dumping Tokens – Can SOL Drop Below $10?
If there's one good thing about the current FTX-related scare, it's that it has made SOL available at a considerable discount, with the coin's main indicators showing that its distinctly oversold right now.
Its 30-day moving average (yellow) has just dipped below its 200-day average (blue), a sign of an impending dip, but also a sign that SOL is due to hit a bottom very soon.
Supporting this view is the coin's relative strength index (purple), which has dived to 30 in the past few hours and which is likely to fall close to 20 in the next day or so, before rebounding.
It will, therefore be interesting to see whether SOL can protect its $17.65 support level: if it does, it's likely that it will rebound sooner rather than later.
The reason for SOL's weakness at the moment comes from the aforementioned FTX rumors, which suggest that the exchange is planning to sell a substantial chunk of its Solana holdings.
As the above tweet illustrates, an FTX-associated wallet has transferred a sum of Solana-related tokens (around $10 million), yet these haven't actually been sold.
And while FTX does sit on a grand total of $685 million in Solana-based tokens, the sum of actual SOL it holds is considerably smaller.
What's more, much of this SOL is locked until at least 2025, so the exchange isn't going to be responsible for a dump anytime soon.
For this reason, shrewd investors could potentially take today's dump as an opportunity to buy SOL at a discount, with the coin remaining as fundamentally sound as ever.
Indeed, Solana has had a good 2023, with many months of unbroken uptime and also significant adoption/usage news, including last week's announcement that Visa will be adding Solana to its stablecoin tests.
As such, SOL can be expected to recover soon enough, potentially returning to $18 in the next few weeks and breaching $20 again in the next one or two months.
Other High-Potential Altcoins
Despite SOL's sound fundamentals, the state of the wider market could mean that it takes some time for the coin to recover, leaving traders having to look elsewhere if they want to make bigger gains in a smaller space of time.
One option for achieving this resides with presale tokens, with the best of these often rising strongly after listing on exchanges for the first time.
A good example of just such a token at the moment is Bitcoin BSC (BTCBSC), a BNB Chain-based cryptocurrency that has raised more than $1 million since beginning its presale last week.
This is an extremely impressive figure, with investors clearly drawn in by Bitcoin BSC's offer a stakeable – and more affordable – version of Bitcoin.
Indeed, 1 BTCBSC is selling for the entirety of the sale at $0.99, a price that the original BTC attained in 2011.
Bitcoin BSC will also have the same 21 million hard cap as Bitcoin, making it a deflationary cryptocurrency in the longer term.
Encouragingly, 6.125 million BTCBSC has been reserved for the presale, with the remaining supply being released gradually over time to stakers, who can therefore earn a passive income from staking the token.
New parties can join the presale by going to the official Bitcoin BSC website and connecting a crypto wallet.
Bitcoin BSC will then list on BNB Smart Chain DEX once the sale finishes, with more trading platforms likely to follow soon after.
Disclaimer: Crypto is a high-risk asset class. This article is provided for informational purposes and does not constitute investment advice. You could lose all of your capital.
---