Shiba Inu Price Prediction as SHIB Spikes Up 7% in a Week – Is a New Rally Starting?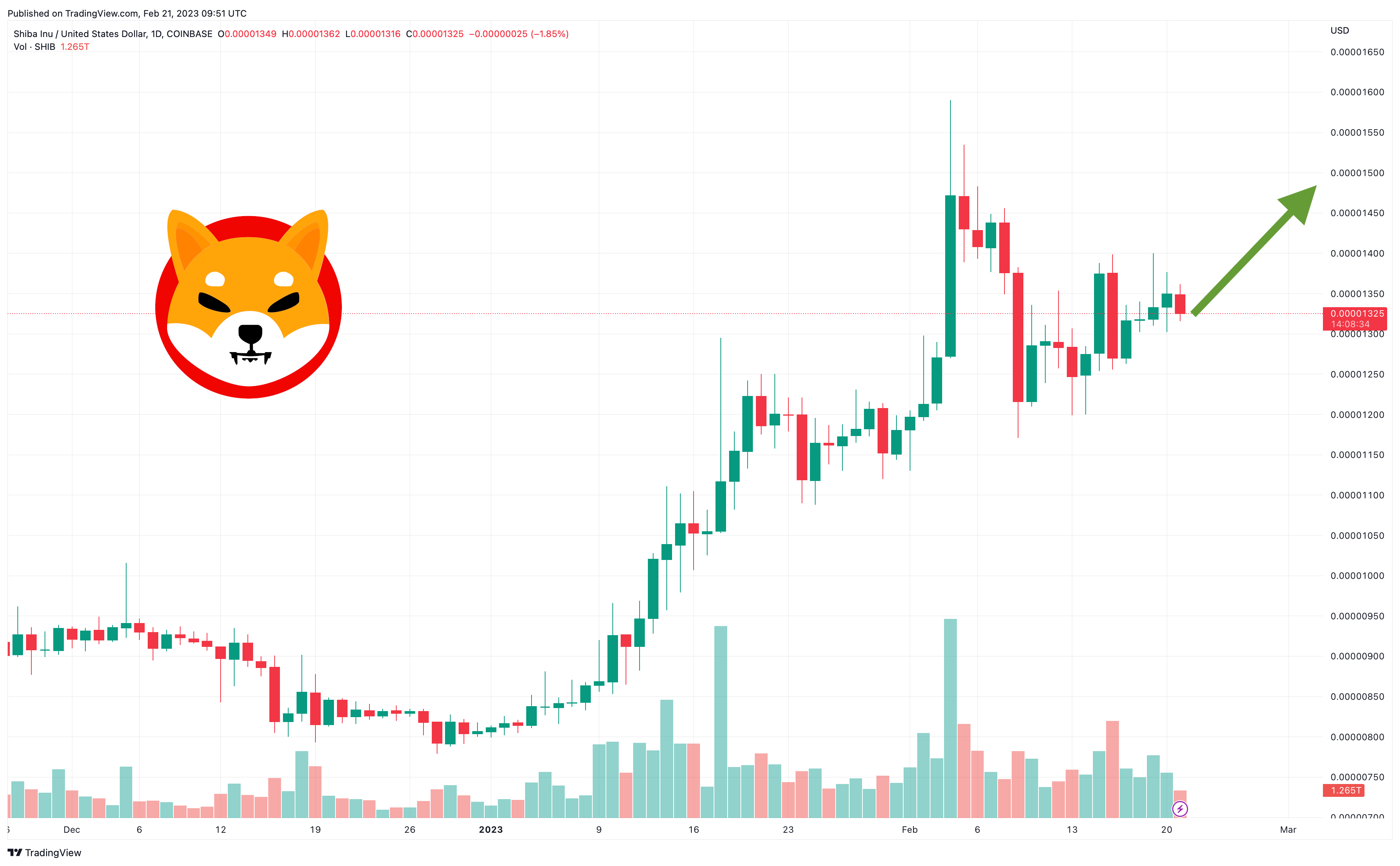 The Shiba Inu price has fallen by 2.5% in the last 24 hours, dropping to $0.00001331 as the wider market remains barely unchanged from yesterday. Its current level marks a 7% gain the past week and a 12% rise in the last 30 days, with SHIB benefitting from a combination of improved investor sentiment and expectations surrounding the launch of the Shibarium layer-two network.
Seeing as how Shibarium will help the Shiba Inu network become faster and cheaper, many experts are predicting that SHIB to rise strongly following its launch. And combined with the later launch of SHIB: The Metaverse, 2023 could end up being a very good year for the meme token, even if big rallies may not be forthcoming in the shorter term.
Shiba Inu Price Prediction as SHIB Spikes Up 7% in a Week – Is a New Rally Starting?
SHIB's chart is in a strong position, with the coin's 30-day moving average continuing to rise above its 200-day (blue). Combined with a relative strength index (purple) that has been gaining from 50 and is far from being in an overbought position, this indicates that further gains for SHIB could be on the cards.
The key resistance level to monitor here is $0.00001373, which is currently SHIB's seven-day high. If the coin can break through this price and remain above it, this could indicate further rises, as well as consolidation around a higher level.
Nothing has happened in the past few days that indicates an incoming SHIB rally, yet the coin's fundamentals continue to point towards gains in the medium- and long-term. Indeed, some supporters are predicting that it will break its all-time high this year (which is currently $0.00008616) and that, eventually, it could even reach $1.
This is perhaps unlikely, if nothing else because rising to $1 would imply a return of around 7,500,000%! Even a more slightly more modest gain towards $0.1, which is often targeted by SHIB supporters, would entail a a 750,000% increase.
In response to such ambition, it needs to be remembered that SHIB has already risen by roughly 23,400,000% compared to its all-time low of $0.000000000056366, set back in November 2020. As such, another percentage gain involving six, seven or eight figures is perhaps stretching things.
This caution aside, there are plenty of reasons to suspect that SHIB will enjoy rallies this year, with the imminent launch of the layer-two Shibarium network being one of the likeliest causes. According to a January 15 update from its developers, the sidechain is "about to be launched" in beta form, suggesting that it could now be a matter of days.
According to a January blog on Shibarium, the layer-two solution will operate over the Ethereum blockchain, providing "the benefits of scalability, faster transaction times, lower fees, and an expanded development framework." The network will focus primarily on such areas as the "metaverse, web3 innovation, and gaming" and will potentially enable Shiba Inu to transition from being 'just another meme token' to being a platform that offers some genuine utility.
In fact, things don't stop there, since Shiba Inu is also awaiting the arrival of SHIB: The Metaverse. A Shiba Inu-themed virtual world that users can explore and own (as NFTs), it's due to launch at some point later in the year, consisting in 100,595 plots of land that will eventually be open to purchase.
These plots will be released in phases and will be spread across differently themed districts. And once the metaverse platform is launched, it will continue to witness regular development, while also helping to expand Shiba Inu's ecosystem and draw in more users.
As such, the latter half of 2023 looks very good for SHIB. It could easily return to levels last seen in May (e.g. 0.000018), and from there, it could continue rising steadily, particularly if the wider market continues to recover.
Shiba Inu Alternatives
While SHIB may be due a modest rally in the coming days, it's not likely to rise substantially until after the launch of Shibarium and SHIB: The Metaverse.
As a result, traders looking for quicker gains may prefer to consider other high-potential tokens. We've reviewed such tokens in this list of the top 15 cryptocurrencies for 2023, as analyzed by the CryptoNews Industry Talk team.

The list is updated weekly with new altcoins and ICO projects.
Disclaimer: The Industry Talk section features insights by crypto industry players and is not a part of the editorial content of Cryptonews.com.
---