Shiba Inu Price Prediction as SHIB Sees $400 Million Trading Volume Come In – $1 SHIB Incoming?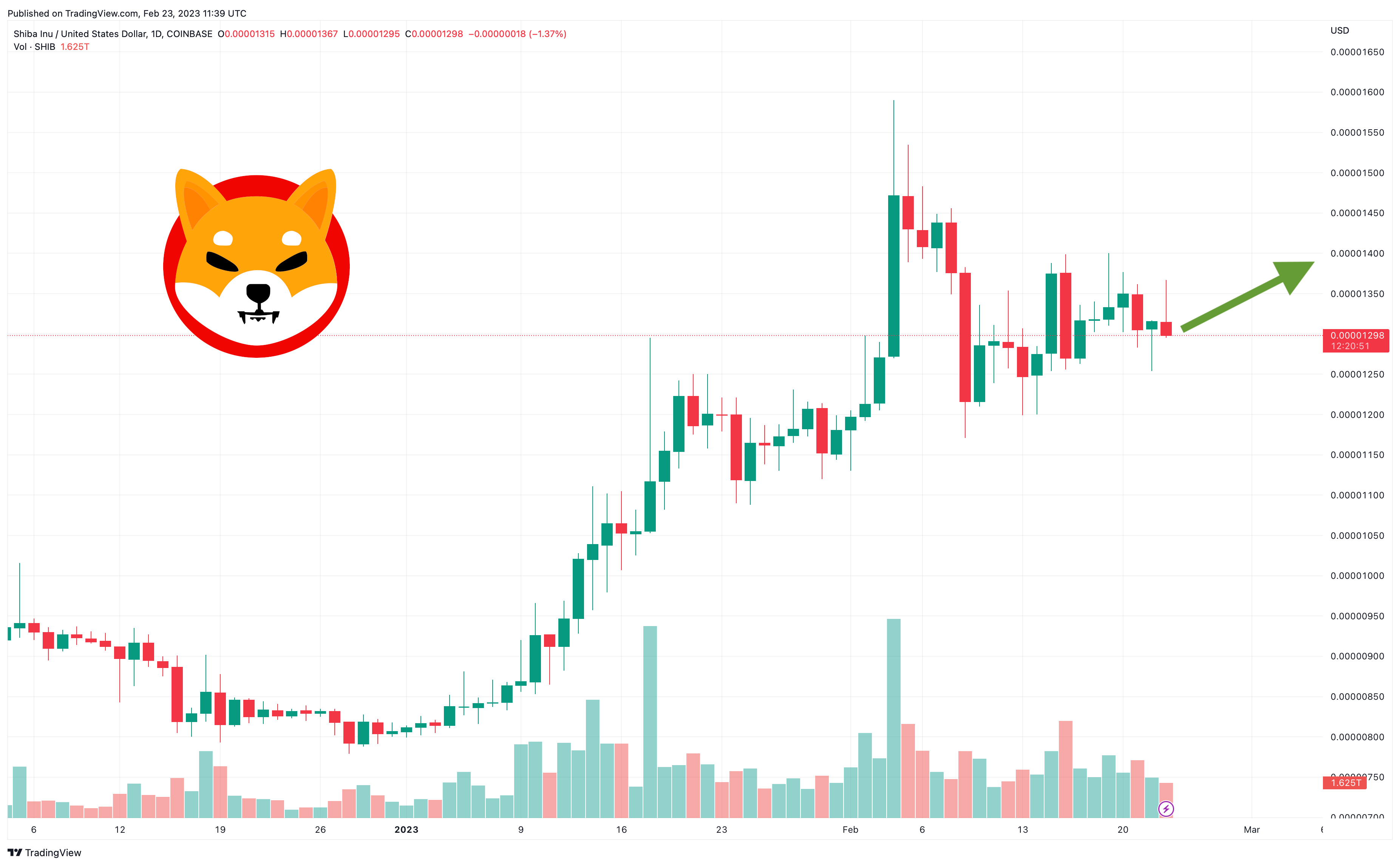 The Shiba Inu price has risen by 3% in the past 24 hours amid the expectation that the beta launch of Shiba Inu's layer-two network Shibarium could happen by the end of the week. This has helped cap a 10% rise for SHIB in the last 30 days, although the coin is down by 3% in the past week.
The arrival of Shibarium potentially marks a new era for Shiba Inu, in which it moves from being just a meme cryptocurrency to being a platform that offers genuine utility. And in conjunction with the potential launch of SHIB: The Metaverse this year, its launch could help rally SHIB to new record highs.
Shiba Inu Price Prediction as SHIB Sees $400 Million Trading Volume Come In – $1 SHIB Incoming?
SHIB's chart is in a mixed position and could potentially go either way from here on out. Its relative strength index (purple), for example, has begun rising again after dropping close to 50 in the past few days, indicating a slight recovery of the momentum it had towards the end of February.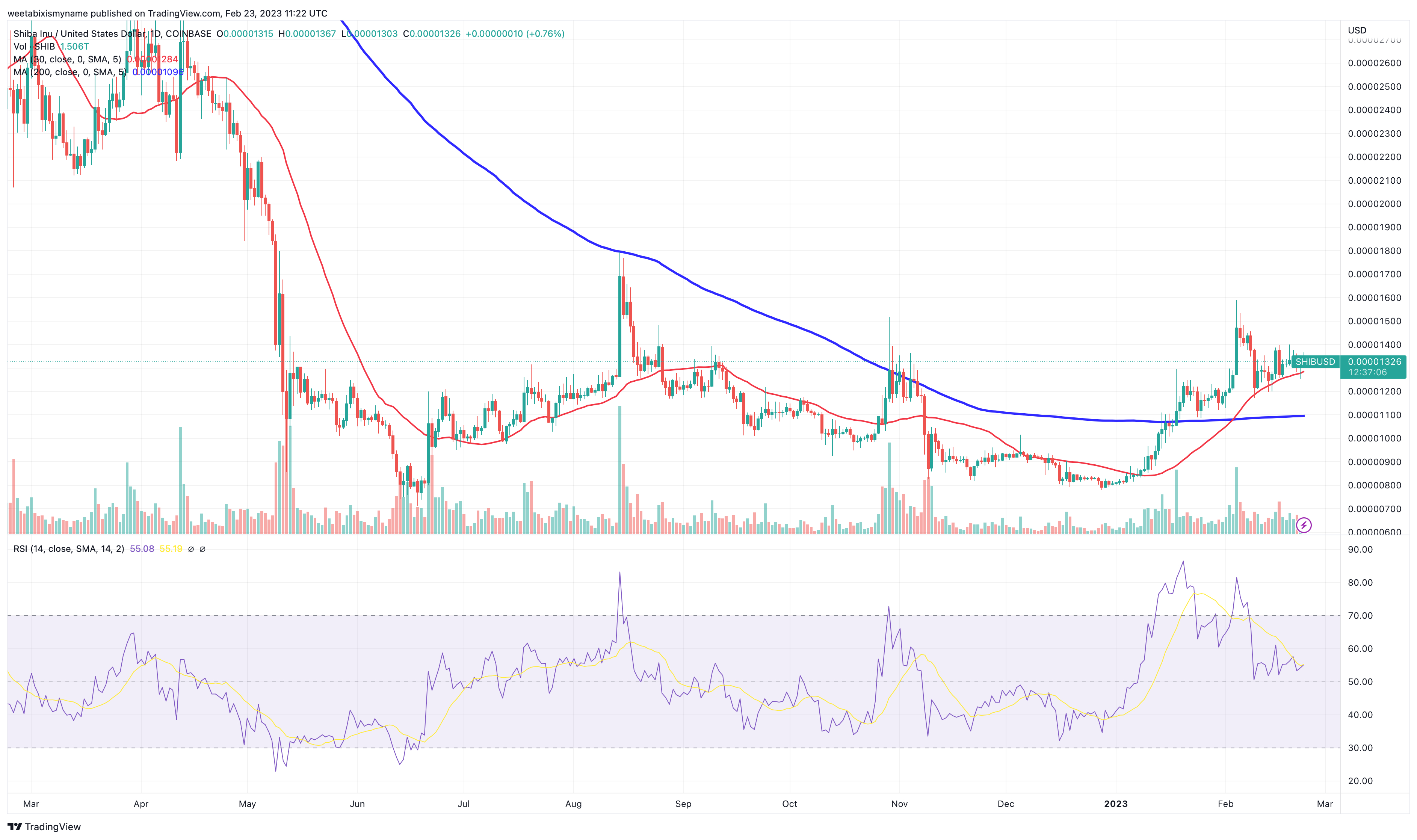 At the same time, SHIB's 30-day moving average (red) continues to rise incrementally above its 200-day average (blue). This suggests that its current rally may have space left to continue before the coin becomes overbought.
In terms of resistance levels, a clean break above $0.0000135 could indicate a more sustained rally for the altcoin. And with SHIB's 24-hour trading volume rising above $400 million today, it looks as though it has the liquidity and the interest to mount such a rally.
Indeed, one thing that may help SHIB continue to rise is the aforementioned launch of Shibarium in beta. While unconfirmed, it has been reported within the coin's Crypto Twitter community that Shytoshi Kusama, one of the lead developers behind the layer-two network, has said this beta launch will happen "This Week".
This may explain SHIB's above-average rise today. However, even if Shibarium's beta doesn't make it out by the end of this week, its arrival in the very near future will undoubtedly fuel further SHIB rises.
As for where exactly SHIB could go, some supporters have been predicting that it will break its all-time high this year (which is currently $0.00008616) and that, eventually, it could even reach $1.
That said, a price of $1 would mean that SHIB had risen by about 7,500,000% from its current price. Given that the coin has already risen by roughly 23,600,000% compared to its all-time low of $0.000000000056366 (set in November 2020), it may be hard to imagine such a rally, especially when SHIB has a total maximum supply of 999.99 trillion.
Nonetheless, there have been reports of SHIB whales boosting their holdings in the meme token, pointing to further rallies.
Likewise, the imminent launch of Shibarium will eventually be magnified by SHIB: The Metaverse, a Shiba Inu-themed virtual world in which users can explore and own NFT-based plots of land (and various other items). It's due to launch later in the year, and perhaps even more than Shibarium, it will help Shiba Inu become more of a fully-fledged platform, rather than just a meme token.
Given that SHIB will be the native token of its own metaverse, the latter's launch will result in much higher demand for the altcoin. All other things being equal, it should therefore experience a steadily rising price over time following the launch.
With all this in mind, SHIB could rise to $0.00002 by the end of the year, or even higher if the two aforementioned launches go particularly well. This would result in a 50% gain over the coin's current price.
High-Potential Alternatives to Shiba Inu
While SHIB may be waiting for the launch of Shibarium and SHIB: The Metaverse in order to enjoy a substantial rally, there are other high-potential tokens in the market that are likelier to rise big in the short term. We've reviewed such tokens in this list of the top 15 cryptocurrencies for 2023, as analyzed by the CryptoNews Industry Talk team.

The list is updated weekly with new altcoins and ICO projects.
Disclaimer: The Industry Talk section features insights by crypto industry players and is not a part of the editorial content of Cryptonews.com.
---