Shiba Inu Price Prediction as SHIB Pumps 7% in 24 Hours – 2 Alternative Coins to Watch
Disclosure: Crypto is a high-risk asset class. This article is provided for informational purposes and does not constitute investment advice. By using this website, you agree to our terms and conditions. We may utilise affiliate links within our content, and receive commission.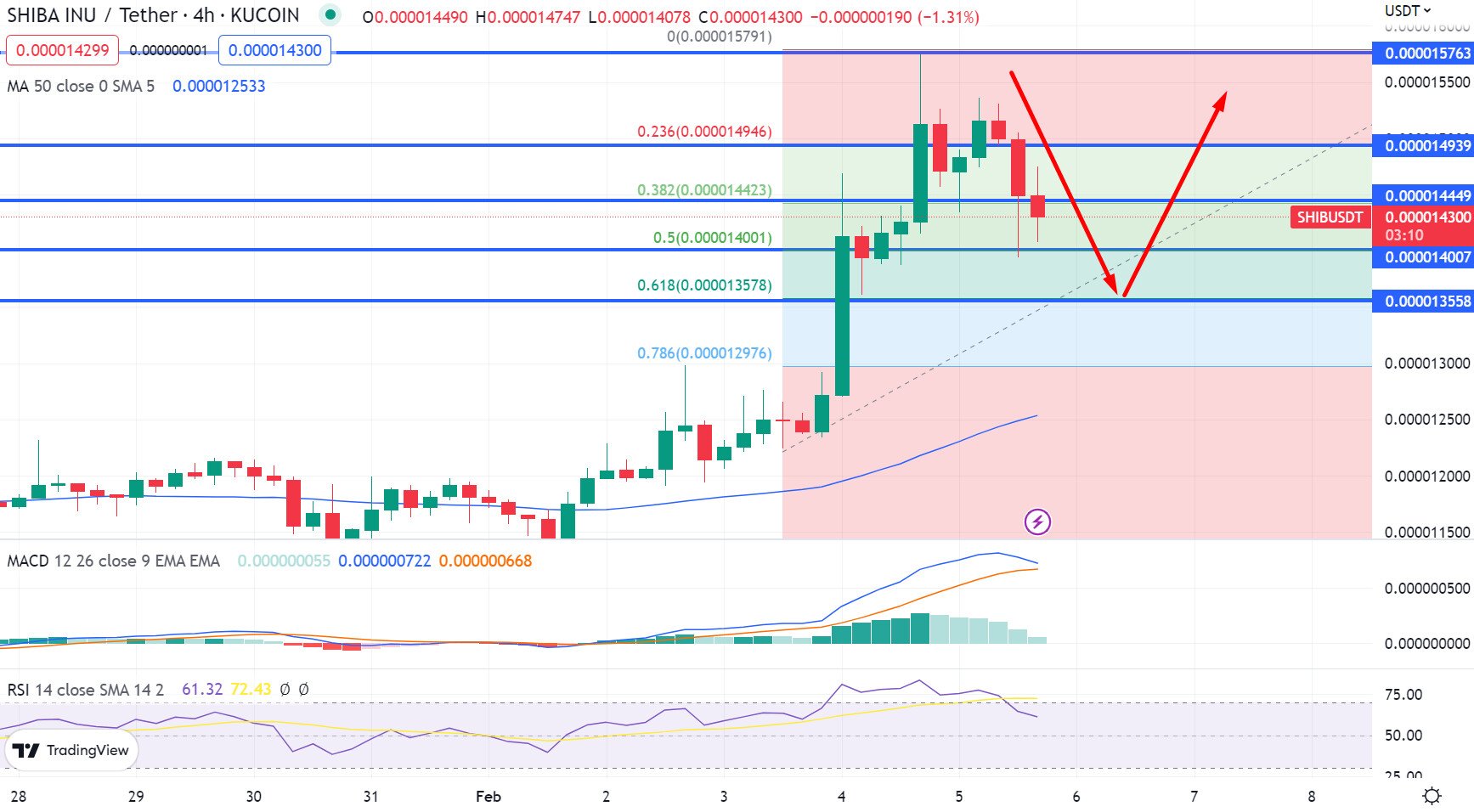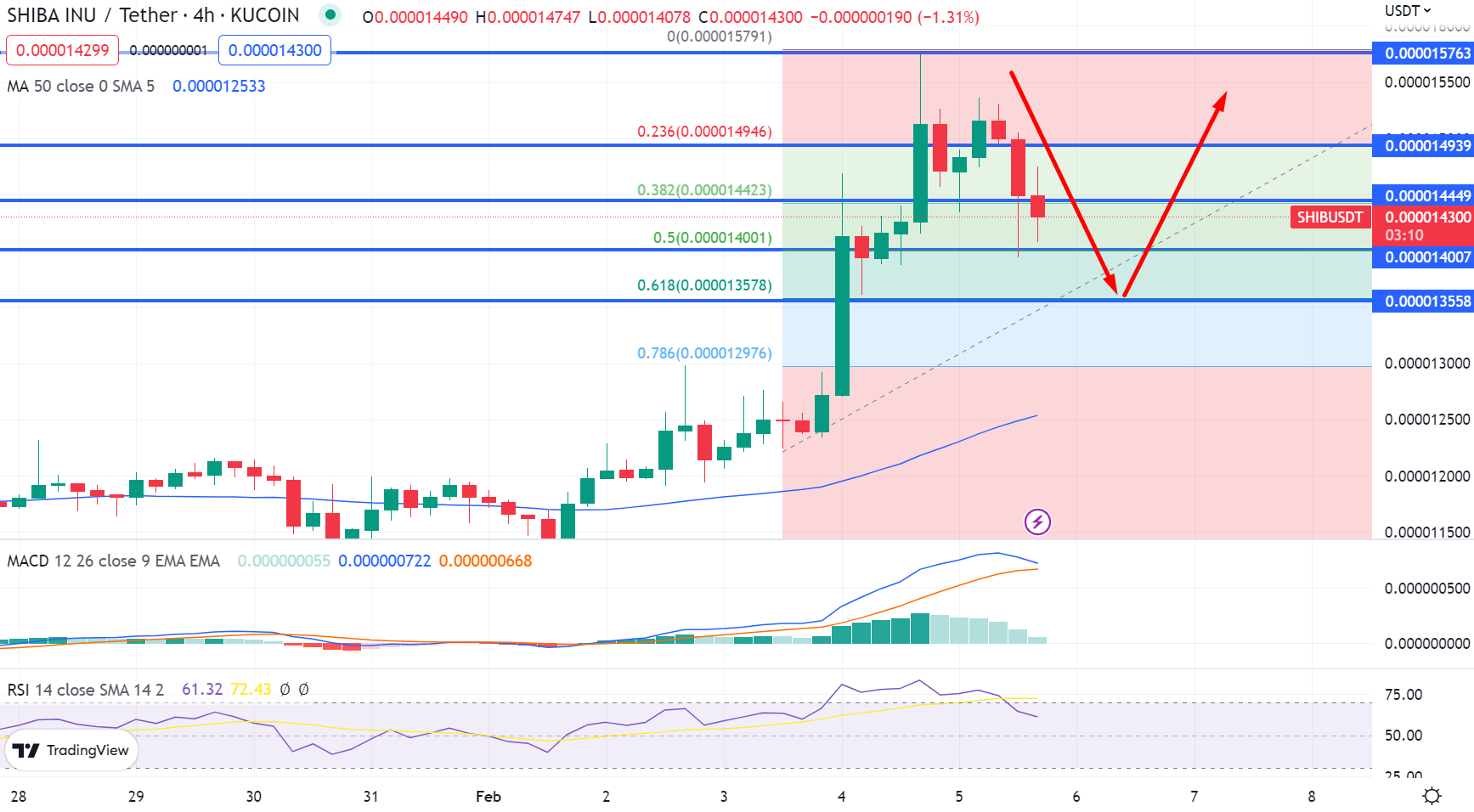 Shiba Inu (SHIB) is one of the most talked-about cryptocurrencies in 2023, with its price rising 7% in just 24 hours. This has made many investors curious about the future of SHIB and whether it's a good investment.
In this article, we'll look at what factors influence Shiba Inu's price and make predictions on its future value. We'll also look at two alternative coins to watch out for if you're interested in investing in cryptocurrency.
SHIBA INU (SHIB) has had a great start to the year, with its price rising over 60% this year. It recently reached an intraday high of $0.000015, cementing its position as one of 2023's top-performing coins.
The upward surge of the SHIBA INU coin has been attributed to the positive economic climate, which instilled optimism in investors and encouraged them to invest in the crypto market. Furthermore, these macroeconomic conditions also played a significant role in the success of this digital asset.
https://www.twitter.com/StckPro/status/1622184175083159553?s=20&t=ldN1xUUyBqdJPCU9YFWF2w
Furthermore, the SHIBA INU (SHIB) gained further traction due to the upcoming launch of Shibarium, a layer-2 blockchain supported by Shiba Inus and built on the Ethereum mainnet. According to Cointelegraph, news of Shibarium's launch on February 14th fueled the SHIB price recovery.
$SHIB breakout will be LEGENDARY after the launch of #Shibarium. 🚀

— SHIB HODLER (@ShibaInuHodler) February 5, 2023
Furthermore, the US central bank's reduction of the interest rate by 25 basis points also had a major impact on supporting the cryptocurrency market sentiment. Another factor that may support the cryptocurrency industry is the increasing regulation of cryptocurrencies as a digital payment method.
According to Mark Yusko, founder, and CEO of Morgan Creek Capital Management, the bull market in crypto is likely to begin sooner than anticipated due to anticipation of the BTC halving and positive macroeconomic factors.
Upcoming Shibarium Launch Announcement
As previously noted, the price of SHIB has climbed by almost 60% this year; however, the surge may be attributed to the upcoming introduction of Shibarium, a layer-2 blockchain backed by Shiba Inus and built on the Ethereum mainnet.
SHIB is up 100% since the start of this year following its upcoming #Shibarium launch and privacy upgrade features.

How high #SHIB can go in 2023 ❓#Crypto #Shibainu #Shibarmy pic.twitter.com/IzdS1rU3Tt

— Amit Jaiswal (@TheAmitJaiswal) February 5, 2023
According to reports, Shibarium is a layer-2 network that would operate on top of the Ethereum blockchain mainnet. This would enable developers to build and deploy decentralized apps, resulting in cheaper transaction costs and increased network scalability. In other words, Shibarium's development goal is to create a platform that will enable the community to expand the project and fulfill the founder's original vision.
Consequently, the members of the Shiba Inu community are showing their enthusiasm, which could help the Shiba currency gain further traction.
Maintaining A Positive Attitude In The Global Crypto Market: How To Make It Work For You
The global cryptocurrency market has been showing a positive trend, with its value rising 0.24 percent to reach $1.08 trillion over the previous day.
However, recently released positive US data has played a significant role in boosting the crypto market, signaling that the US economy is rebounding and giving cryptocurrency investors confidence, thus contributing to cryptocurrency price hikes.
Last month, the United States economy created more than 500,000 new jobs, reducing unemployment to its lowest rate in decades. Specifically, 517,000 new positions were generated in January – a whopping twofold of the figure from December and three times more than what experts had predicted.
SHIB Burn Rate
The Shiba Inu community has taken drastic measures to decrease the availability of SHIB meme tokens. Over 502% more coins are being removed from active Shiba Inu wallets than before, showing that their efforts have been very successful in doing so.
https://www.twitter.com/StckPro/status/1622195732584300545?s=20&t=ldN1xUUyBqdJPCU9YFWF2w
The rising value of tokens can be attributed to the fact that some are burned, which means they are removed from the supply in circulation. This decreases the overall availability, creating greater demand for it and thus leading to an increase in its price.
Morgan Creek Capital CEO: Positive Cryptocurrency Discussions
According to Mark Yusko, the founder, and CEO of Morgan Creek Capital Management, the bull market in Bitcoin is likely to start sooner than expected due to anticipation of the BTC halving and positive macroeconomic factors.
However, the upcoming dovish central bank policies may lead to the start of the next cryptocurrency bull run as early as the second quarter of this year.
https://www.twitter.com/CoingraphNews/status/1621587260855533568?s=20&t=ldN1xUUyBqdJPCU9YFWF2w
According to Yusko, the Federal Reserve of the United States is unlikely to decrease interest rates anytime soon, despite the markets frequently predicting Fed actions. This indicates that even a slowdown or halt in interest rate hikes would be seen positively by all risk assets, including cryptocurrencies.
UK Leads The Way In Crypto Adoption
Eight major data variables were analyzed, and the results showed that London is the most prepared city for businesses and start-ups to accept cryptocurrency.
With its crypto-friendly legislation and infrastructure, London is the world's most cryptocurrency-ready city for corporations and start-ups, making it an ideal place for the wide adoption of cryptocurrencies.
UK making it happen for #Crypto adoption. Lets hope it works for the people and not the bankshttps://t.co/W7QPLVkw8O

— 2bit Crypto 📌 (@2bitcrypto_YT) February 5, 2023
However, the UK has the highest percentage of individuals employed in sectors related to cryptocurrencies, indicating a higher degree of public interest in the crypto ecosystem. This was considered to be yet another important element that could have a favorable effect on cryptocurrency values.
Shiba Inu Price
In the last 24 hours, the price of Shiba Inu has increased by 6.00%, and it is now ranked 12th on the market with a market capitalization of $8.2 billion and a 24-hour trading volume of $1.2 billion. The current price is set at $0.000015.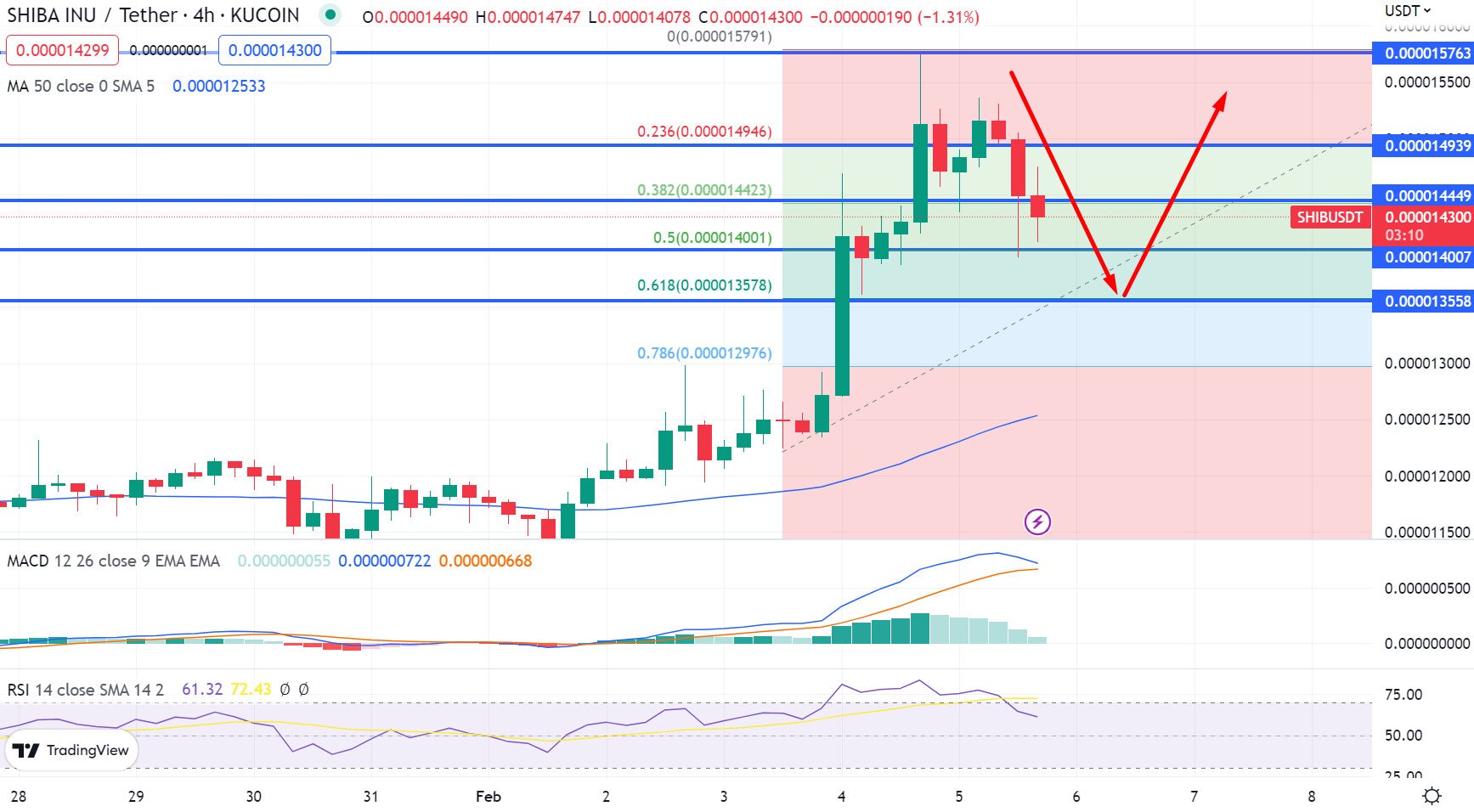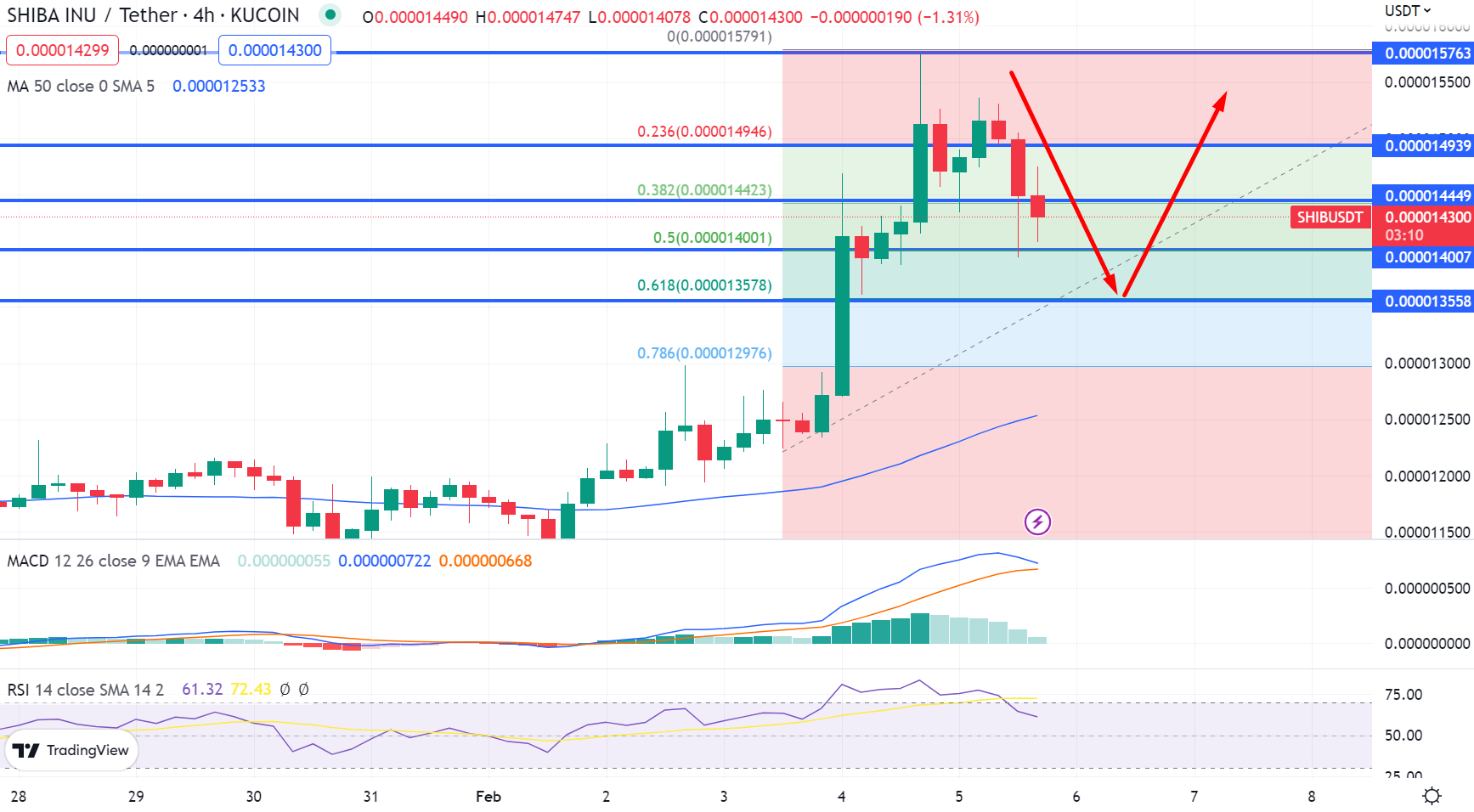 On the technical side, Shiba Inu failed to cross above $0.000014 and failure to break above this level has triggered a selling trend in Shiba Inu.
The price of Shiba Inu may experience a boost in its value if it breaks past $0.000014. This is due to the level being backed by the 50% Fibonacci retracement, and a further breakout could send it toward the 61.8% Fibonacci retracement at $0.0000135.
The 2 Best Crypto Presales In 2023
MEMAG and Tamadoge offer exceptional solutions and lucrative investment opportunities that allow users to explore new planets, reconstruct them, participate in real-money gaming, as well as get involved with innovative Move-to-Earn initiatives.
Meta Masters Guild (MEMAG)
The Meta Masters Guild is an innovative Web 3.0 gaming platform where you can make money by playing games. The platform features NFTs (Non-Fungible Tokens) linked to digital wallets, and you can earn "Gems," the in-app currency, by playing games and trading them for $MEMAG.
It is worth noting that the platform is also collaborating with well-known game developers to expand its influence and visibility in the gaming industry.
💪 Join the #MEMAGFAM today and be a part of the future of mobile gaming! 🕹️

🫂 Don't miss out on this chance to secure your $MEMAG tokens at a great price.

💰 Buy $MEMAG Today!

➡️ https://t.co/tYvHGECcsU#presale #p2e #metaverse #tokens pic.twitter.com/2PIogm9qvs

— Meta Masters Guild (@MEMAGgames) February 4, 2023
The Meta Masters Guild presale has already exceeded $2.9 million and has five more days before the token price goes up to $0.021. Since its launch on January 11, the sale has averaged around $110,000 per day.
Tamadoge (TAMA)
Tamadoge (TAMA) has been creating a buzz in the investment world as one of the top crypto coins to keep an eye on in 2023. It is a platform where the metaverse, P2E gaming, and NFTs come together to form an exclusive system. TAMA is Tamadoge's official digital currency.
#SundayFunday

Can't wait to see you all share your high scores and gaming moments with us

The more our community grows, the bigger the prize pool!

Payout every week – Play now!#P2E #crypto #NFT #gaming pic.twitter.com/5OEC2lyCyT

— TAMADOGE (@Tamadogecoin) February 5, 2023
Investors have the option of collecting and breeding their Tamadoge pets within the Tamaverse using TAMA tokens. Additionally, gamers are responsible for taking care of enhancing their NFT-based Tamadoges with supplies found in the Tamadog shop.
Tamadoge appears to be a great altcoin for cryptocurrency gamers, as it plans to release a mobile app, as well as arcade and augmented reality games, in 2023.
TAMA tokens surged almost 2,000% from their presale price after debuting in late 2022, solidifying itself as one of the top 10 memes by trading volume.
TAMA is an asset that can be found on several major cryptocurrency exchanges, including OKX – one of the biggest crypto trading platforms. It is possible to purchase TAMA from OKX.
---