Shiba Inu Price Prediction as SHIB Becomes Top Performing Coin of the Week as Shibarium Launch Approaches – Can SHIB 1,000x From Here?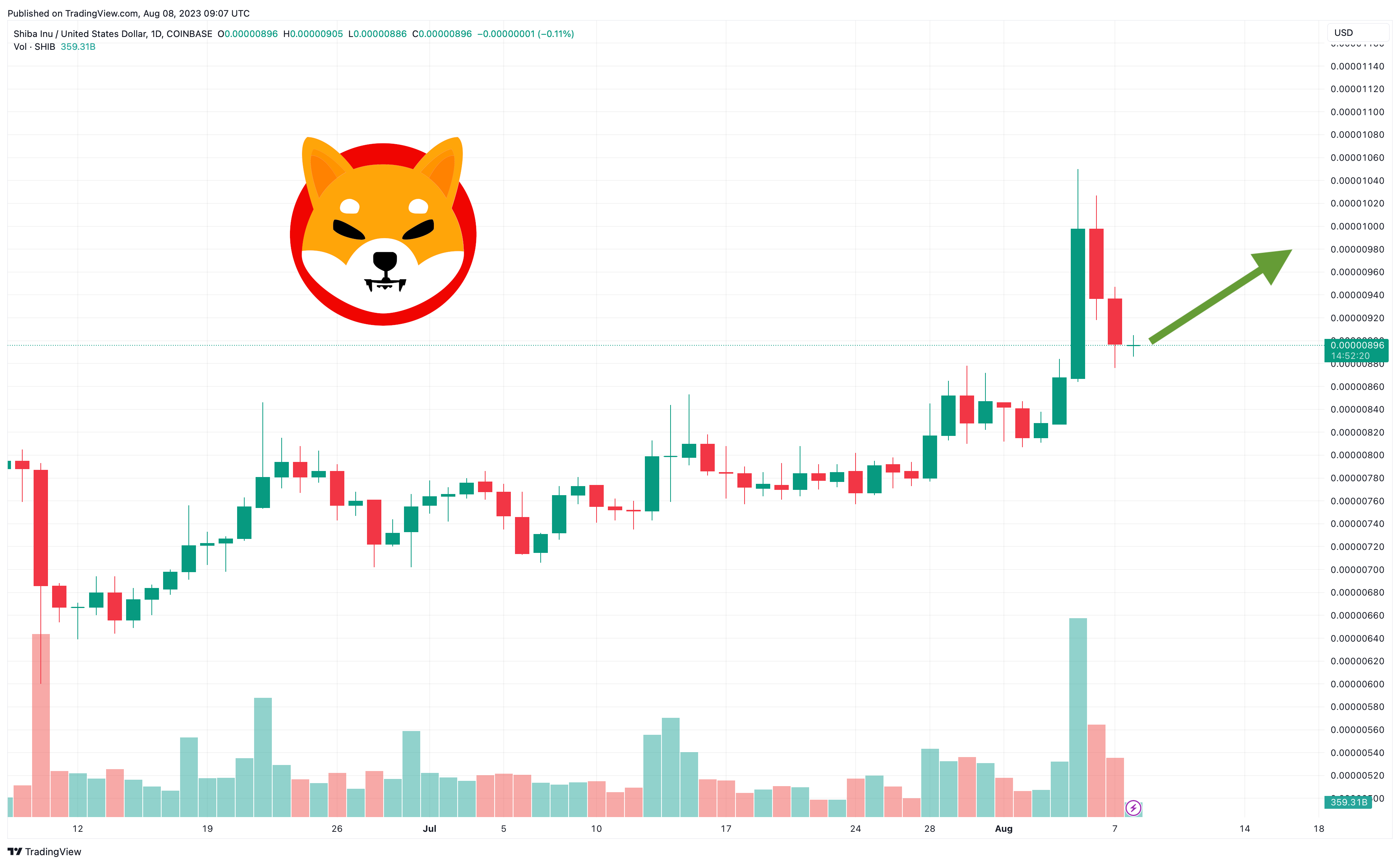 The price of Shiba Inu (SHIB) remains up by 7.5% in the past week, despite the meme token's 1.5% drop today, to $0.00000897.
SHIB is also up by 18% in the last 30 days, as the market becomes increasingly optimistic about the approaching launch of Shibarium, Shiba Inu's very own layer-two network.
And while the full public launch of Shibarium has been delayed on a number of occasions over the past few months, it now seems as though developers are finally ready to deploy the layer-two network, which will boost Shiba Inu development and adoption in the long term.
Shiba Inu Price Prediction as SHIB Becomes Top Performing Coin of the Week as Shibarium Launch Approaches – Can SHIB 1,000x From Here?
While SHIB's weekend saw it rise as high as $0.000010, it has since corrected a little, meaning that its technical indicators are showing reduced momentum at the moment.
The coin's relative strength index (purple) has dropped from just over 80 on Saturday to just below 50 today, something which suggests that its pre-Shibarium rally may have already died down.
On the other hand, SHIB's 30-day moving average (yellow) continues to rise strongly above its 200-day average (blue), indicating that it still has some momentum left and could see further rises in the next few days.
Indeed, it's encouraging to note that SHIB's price hasn't fallen back down to where it was a week ago, but has instead remained in an elevated position, possibly ready to launch another rally.
Regardless, it seems that the meme token's steadily rising support level (green) should mean that, even if it doesn't rally big again this week, it's unlikely to fall back to where it was at the start of the month.
As noted above, the main reason for SHIB's bullishness is that the long-awaited launch of Shibarium looks as though it's about to happen this month.
The layer-two network's developers have hinted that the launch may be a matter of days or weeks away, with the market responding by rushing into SHIB while it's still relatively undervalued.
It also seems that whales have been turning to SHIB in anticipation of Shibarium, with Whale Alert highlighting the transfer of over 4 trillion SHIB from one wallet to another in the past couple of days.
While there's no certainty that this transfer represents one whale buying a large sum of SHIB, it at least indicates that SHIB-related activity is hotting up in the buildup to Shibarium's launch.
As such, we could easily see SHIB make a few more big movements in the final days before Shibarium's arrival, with the meme token potentially rising back up to $0.000010 in the next couple of weeks, before possibly reaching as high $0.00002 in the next few months.
New Meme Tokens Have More Potential
SHIB may be in a good position at the moment, but it's possible that Shibarium's full launch has already been priced in by the market.
This means that the coin may not rise much higher once the layer-two network launches, and in turn this means that traders looking for big short-term gains may be better off looking towards newer altcoins that haven't yet enjoyed their own initial market surges.
Presale tokens are a good source of such surges, given that many of these often rise substantially once they list on trading platforms for the first time.
And one of the most promising presale tokens right now is Shibie (SHIBIE), a new ERC-20 coin that has taken the memes of Barbie and Shiba Inu and put them in a blender.
SHIBIE's presale opened last week, yet it has already raised $200,000, a promising sign for a very new token that has basically come out of nowhere and built its early community from scratch.
The presale will offer 60% of SHIBIE's overall supply, which stands at 2,107,202,300 tokens.
This makes the coin relatively decentralized for a meme token, with 20% and 10% of its supply going towards liquidity and CEX listings, while 10% will be reserved for marketing and its development team.
Given its relative decentralization, SHIBIE should find it easier than other similar meme tokens to attract a sizable community, who will help support its price once it lists on exchanges.
It will also be helped in this respect by its unusual and inventive combination of memes, which in combining tropes from Barbie and Shiba Inu should help attract a wider pool of users.
Investors can participate in the presale by visiting Shibie's official website and connecting their software wallets, with SHIBIE costing $0.000167.
SHIBIE will list on trading platforms once the sale ends, potentially making its early investors a very tidy profit.
Disclaimer: Crypto is a high-risk asset class. This article is provided for informational purposes and does not constitute investment advice. You could lose all of your capital.
---