Shiba Inu Price Prediction as SHIB Becomes 14th Largest Cryptocurrency in the World – Time to Buy?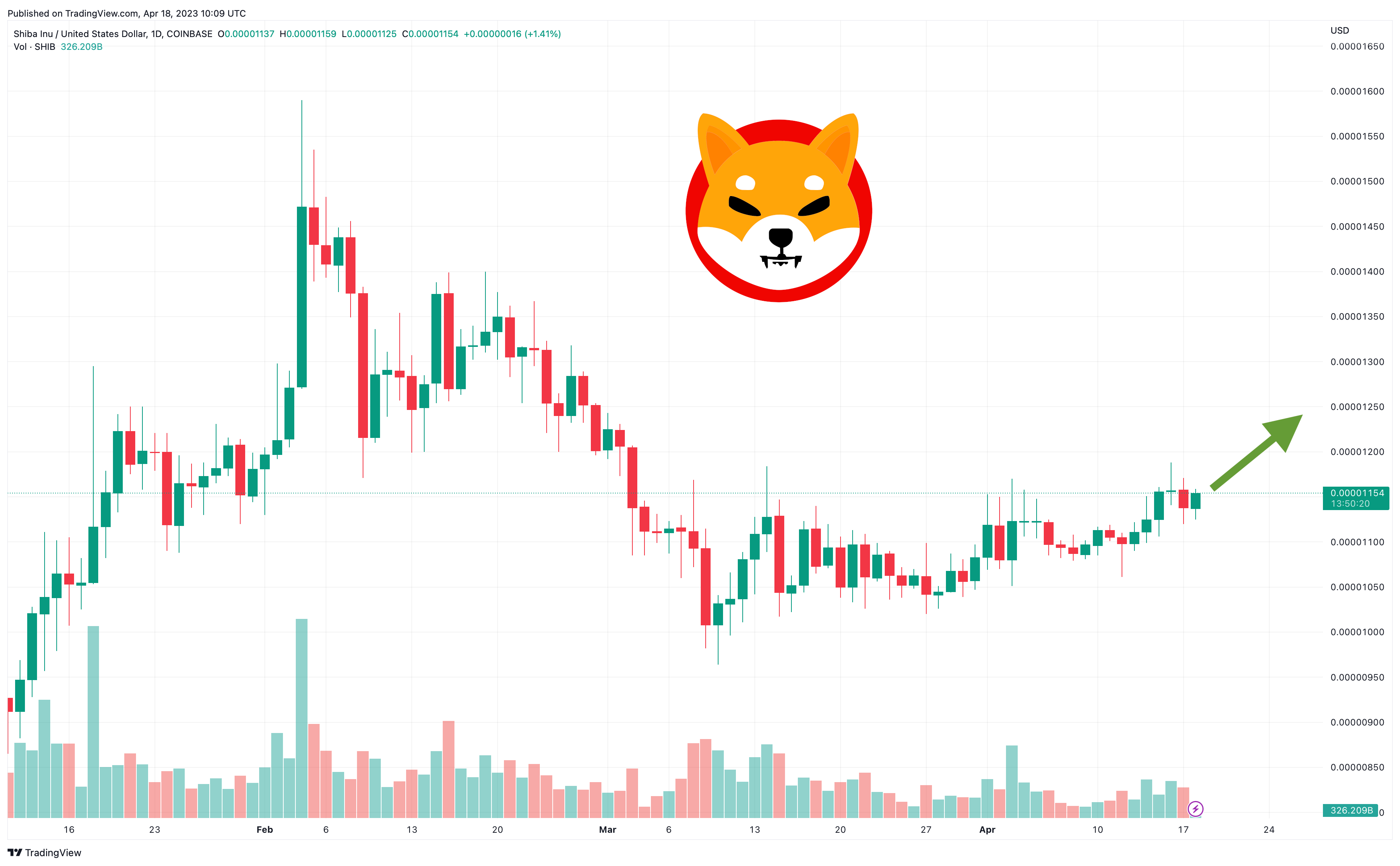 Shiba Inu (SHIB) has become the 14th-biggest cryptocurrency by market cap, overtaking Avalanche (AVAX) as its price moved to a 24-hour high of $0.00001166 earlier this morning.
SHIB's movements today make for a 3.5% gain in the past week and a 7.5% rise in the last 30 days, with the meme token having increased by 43% since the opening of 2023.
This consolidation sets the coin up nicely for further gains in the coming months, especially when it remains relatively undervalued compared to other similarly sized tokens.
And with Shiba Inu also awaiting the full public launch of layer-two network Shibarium (and not to mention SHIB: The Metaverse), now may be the ideal time to purchase the token before it witnesses major rallies later in the year.
Shiba Inu Price Prediction as SHIB Becomes 14th Largest Cryptocurrency in the World – Time to Buy?
SHIB's chart is in a very good position, with the coin breaking through a number of resistance levels in the past few weeks, something which suggests further gains.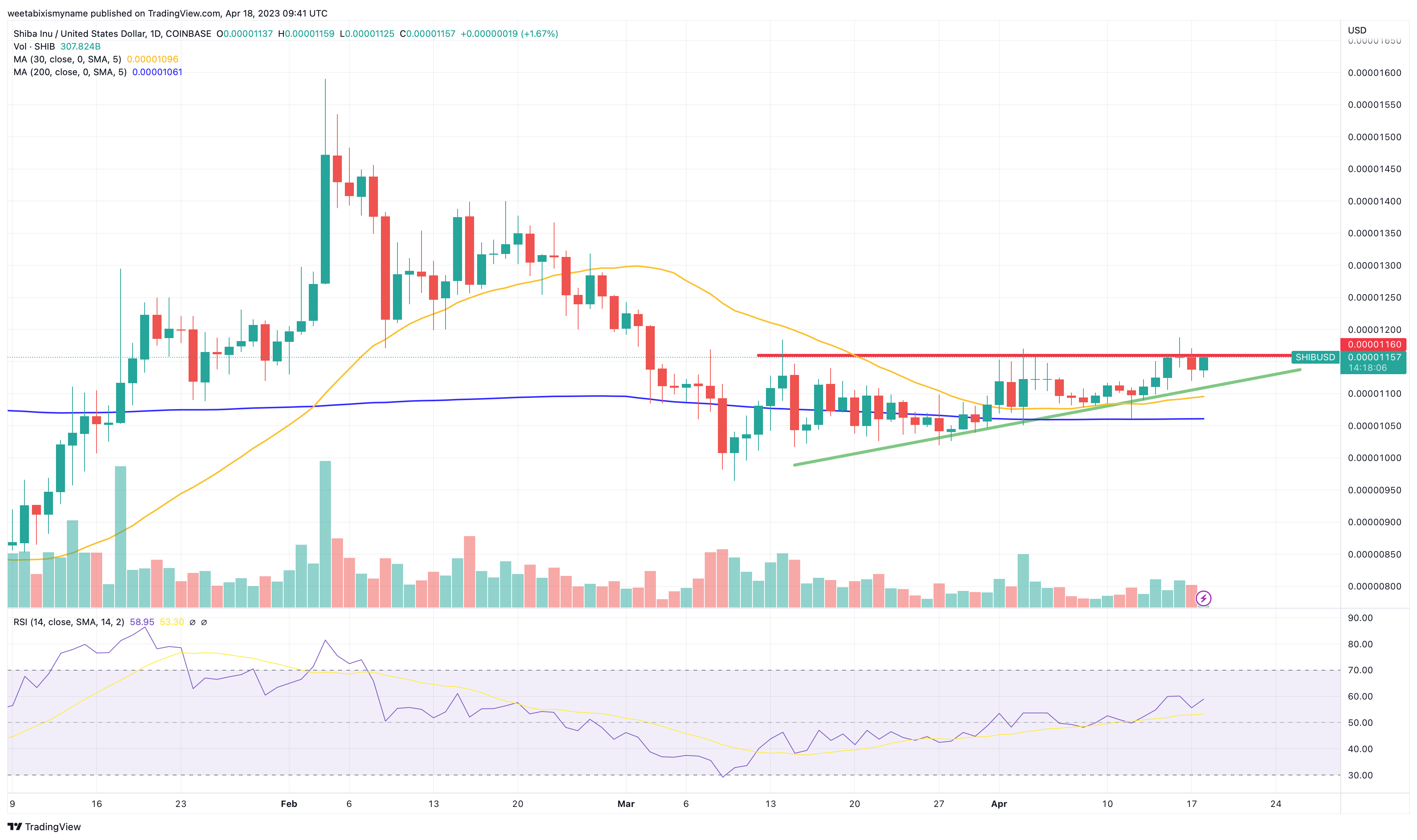 Further gains are also suggested by SHIB's 30-day moving average (yellow), which recently began rising further above its 200-day average (blue), suggesting that it could be in the middle of a period of upwards consolidation.
Similarly, its relative strength index (purple) has risen consistently since reaching a low of 30 in early March, and there's still plenty of room for it to continue rising with the coin becoming overbought.
As such, it's reasonable to expect SHIB to make more gains in the near term before running out of steam, with the coin potentially looking at a short-term target of $0.000012.
Helping it to reach (and possibly surpass) this level is Shibarium, Shiba Inu's layer-two network which launched in beta last month and which can expect a full public launch in the coming weeks.
Data suggests that Shibarium's beta has been attracting considerable use, development and experimentation, with over 11 million wallet address registered on its network, which has now processed over three million transactions.
This indicates just how big the layer-two network could be once it has launched its public mainnet, as well as how beneficial it could be in terms of boosting Shiba Inu's ecosystem.
At the moment, this ecosystem is defined almost entirely by the ShibSwap decentralized exchange, but once Shibarium provides a Shiba Inu-specific platform for development and deployment, it could grow more significantly.
In turn, this implies a rising price for SHIB, which would witness growing demand in parallel with the growth of Shibarium.
Shibarium will also result in more SHIB being burned, with its development team previously confirming that each transaction on the layer two will burn a percentage of its fees.
Because of this, SHIB could easily rise to $0.000015 following the launch of Shibarium, while by the end of 2023 it could potentially reach as high as $0.00005.
This could be helped by the launch of SHIB: The Metaverse, which may see its launch this year, something which could send SHIB rising high.
SHIB Holders May Like New Meme Token
That said, no firm details about SHIB: The Metaverse's launch have been provided, so it could be a while before the Shiba Inu-themed virtual world boosts SHIB's price.
For this reason, traders may prefer to look at other interesting altcoins in the meantime, with Love Hate Inu being one of the most promising in the market right now.
The presale for its LHINU token has raised just over $4.5 million, with investors taking to the decentralized polling platform in a big way.
What's interesting about Love Hate Inu is that its platform will offer users rewards (in LHINU) for participating in polls and surveys, which will span a wide range of questions, issues and areas.
By staking their LHINU, Love Hate Inu's will be able to engage in polls, while they will also earn a regular yield for doing so.
On top of this, Love Hate Inu has been designed to mimic the viral nature of meme tokens (and social media), something which should help attract a bigger community to its platform.
This helps explain why it has already attracted more than 35,000 followers on Twitter, which is an impressive feat for a platform that hasn't even launched and for a token that hasn't even finished its presale yet.
As for the presale, investors can join it by visiting the official Love Hate Inu website, where they can use USDT, ETH or fiat currency to buy the altcoin.
The sale is now in its fifth stage, with one LHINU token costing $0.0000115, although this will rise again to $0.0000125 in six days, when the sixth stage begins.
---