Shiba Inu Price Prediction as Meme Coins See Huge Surge in Volume – New Bull Rally Starting?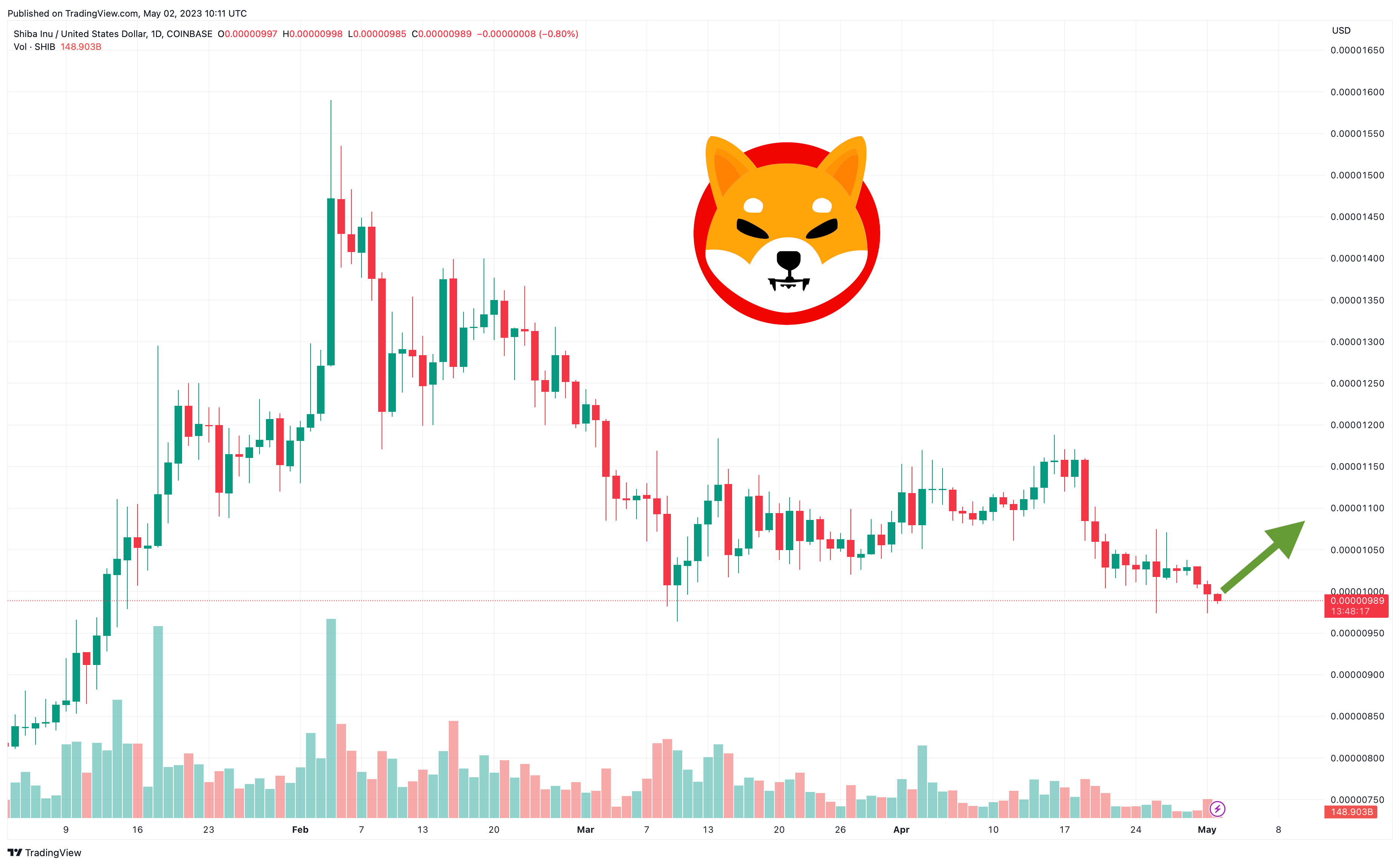 The price of Shiba Inu (SHIB) has dropped by 1% in the past 24 hours, falling to $0.00000990 as the cryptocurrency market as a whole suffers a similar decline.
SHIB is also down by 4% in the past week and 11% in the last 30 days, with the meme token up by 22% since the start of the year.
And while SHIB may be down at the moment, the rise of Pepe (PEPE) has caused a surge in trading volumes for meme tokens, something which could ultimately drive interest towards Shiba Inu.
At the same time, Shiba Inu is also awaiting the full public launch of layer-two network Shibarium, as well as the arrival of SHIB: The Metaverse, both of which could help the coin see substantial gains towards the end of the year.
Shiba Inu Price Prediction as Meme Coins See Huge Surge in Volume – New Bull Rally Starting?
SHIB may still be falling, but its chart suggests that it may be close to bottoming, given the current position of its two main indicators.
SHIB's 30-day moving average (yellow) is on the brink of falling below its 200-day average (blue), and while such a 'death cross' is never really welcome, it usually signals the beginning of the end of a downturn.
Likewise, the coin's relative strength index (purple) is close to hitting 30, at which point it will officially become oversold, something that should signal a recovery.
Of course, this may not happen just yet, with the ongoing decline of SHIB's support level (green) suggesting that it could fall in price for at least a few more days.
That said, SHIB's support level (green) continues to fall and fall, which is a bad sign insofar as it implies that the coin could continue to reach new lows for a while yet.
One ray of light is the fact that PEPE's big rally over the past few days has possibly whetted the market's appetite for meme tokens, although you wouldn't know this solely from looking at the price of SHIB, or DOGE, for that matter.
Data from Whale Stats indicates that SHIB is the most-traded ERC-20 token among whales at the moment, as well as the most widely held in terms of the dollar value of total holdings.
Because of this, there remains the expectation that SHIB can continue to see further rallies in the not-too-distant future, especially when Shiba Inu has the full public launch of Shibarium to look forward to.
Shibarium is Shiba Inu's very own layer-two network, which will provide users with faster and cheaper transactions once it launches in the next few weeks.
Developers had suggested it would go live before May rolls around, although this hasn't quite materialized, suggesting that it may take another one or two weeks.
Still, the latest data reveals that Shibarium's beta continues to attract plenty of testers and contributors, with the testnet seeing over 400,000 transactions per day, as well as 14 million wallet addresses.
This suggests that Shibarium may help usher in greater usage of Shiba Inu, as well as the growth of its overall ecosystem, which includes such apps as (decentralized exchange) ShibaSwap
Shibarium will also result in an increase in the burning of SHIB, something which will ultimately boost the meme token's price in the long run.
And with SHIB: The Metaverse also enjoying some development updates in recent days, the future looks bright for SHIB, even if it's underperforming right now.
As such, expect it to return to $0.00001 in the coming weeks, before potentially losing another decimal place in the latter months of the year.
A New Meme Token
Because SHIB continues to fall at the moment, traders may prefer to invest in coins with more short-term potential, with presale tokens offering some of the most promising opportunities in the market right now.
One of the most interesting presale coins is AiDoge, an AI-powered meme-generating platform that has already raised over $750,000, with the first stage of its presale selling out in just under a week.
AiDoge runs on Ethereum and harnesses artificial intelligence that enables its users to create fun and relevant memes and share these with the platform's community.
Users can create memes simply by typing in a text-based description, with the platform combining its dataset and advanced algorithms to generate relevant images and gifs.
Once memes have been generated, users upvote and downvote them, with the most highly rated memes earning their creators rewards in $AI, the platform's native token.
It's a simple concept, yet also a focused and original one, with the early success of AiDoge's presale suggesting that it's quickly winning over converts.
Participants can join the platform's presale by going to its official website and connecting their wallets, with 1 AI token now costing $0.0000264.
This will rise again in the third stage of the sale, with $AI set to list on exchanges at a price of $0.0000336, which will earn people who buy now a potential profit of 27% – and that's before any potential rallies.
---