Shiba Inu Price Prediction as $100 Million Trading Volume Sends SHIB Down 3% – Are Whales Selling?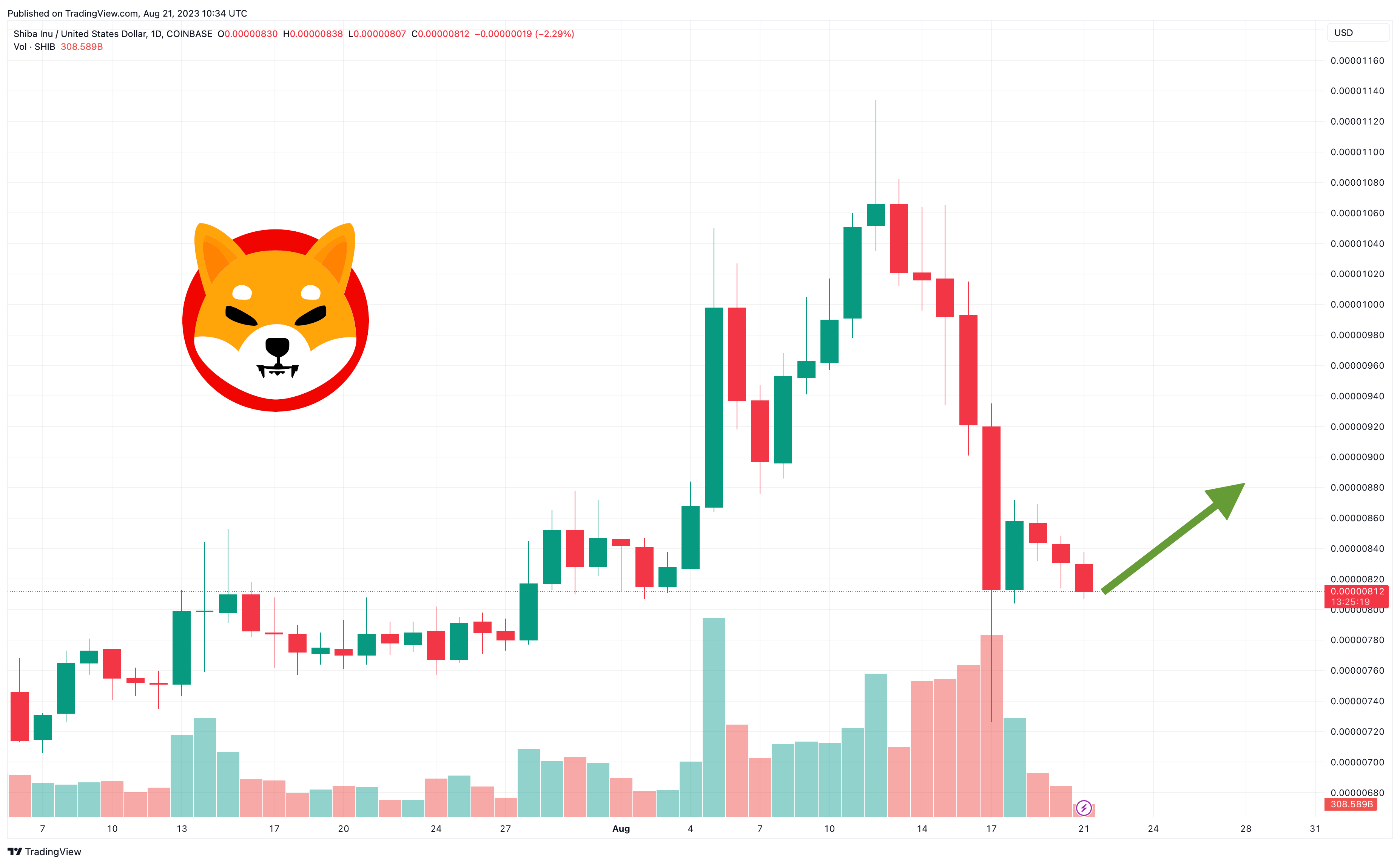 The price of Shiba Inu (SHIB) has declined by as much as 3% in the past 24 hours, having dropped to $0.00000819 on a day when the cryptocurrency market has barely moved.
SHIB's fall today follows a weekend that saw a big selloff for the market as a whole, with the meme token now down by 22% in the past week, even though it remains up by 4% in the last 30 days.
However, SHIB's weakened position seems to have made it more attractive to buyers, with on-chain data suggesting that whales have begun accumulating the coin again, in the expectation of an incoming rebound.
Shiba Inu Price Prediction as $100 Million Trading Volume Sends SHIB Down 3% – Are Whales Selling?
SHIB's volume has declined to $100 million in recent days, creating a market shallowness that could result in a big upwards jump if a whale or large investor were to come in with a big order.
The meme token's relative strength index (purple) has fallen close to 40 and looks as though it could dwindle all the way to 30, at which point it would be due for a recovery.
Likewise, SHIB's 30-day moving average (yellow) has ceased the climb it began just over a week ago, with the indicator likely to fall further below the coin's 200-day average (blue) before things begin to pick up again.
One positive out of all this is that SHIB's support level has largely held up in the face of big selling pressure, with the coin refusing to fall below $0.00000810, which is basically where it began the year.
As such, it's credible to suggest that SHIB isn't going to fall much further in the next few days, with the coin therefore set to begin a steady recovery.
Indeed, there are signs that whales are now beginning to accumulate the meme token in the expectation of a rebound.
Part of the reason for SHIB's disproportionate losses (in relation to the rest of the market) is the launch of Shibarium, which saw its full public deployment last week, but whiich suffered from a number of severe technical issues that have really undermined faith in it and Shiba Inu as a whole.
In the face of this big setback, developers have decided to put Shibarium in private mode while it works on core updates, with the layer-two network set for a relaunch this week.
If successful, this relaunch could really help boost SHIB, which has arguably been oversold and undervalued over the past few weeks.
From its current level of $0.00000819, it could potentially return to $0.0000090 in the next few weeks, before seeing out the year at around $0.0000150.
New Altcoins Offer More Potential
It's not a certainty that the relaunch will restore confidence in Shibarium after its botched initial launch, meaning may struggle to regain lost ground in any significant way.
For this reason, most traders would be better off turning to newer altcoins which have the potential to witness market-beating gains in the near future.
And one of the most promising new alts in the market right now is Launchpad.xyz (LPX), an all-in-one Web3 platform that launched the presale for its native LPX token in July and has raised beyond $1.3 million.
As a portal for all things Web3, Launchpad.xyz will offer a range of features for retail traders, including Web3 wallet addresses, a play-to-earn game hub, a launchpad for presales, a trading terminal, and also market signals and intelligence.
Launchpad will also bring its own DEX and NFT marketplace, as well as the ability to create and trade fractionalized assets, making investment accessible for more people.
Within the Launchpad ecosystem, LPX will be used to pay for various fees, obtain discounts, and also for staking.
This gives it real utility and should mean that its price grows in parallel with the growth of Launchpad as a platform.
Investors can join the presale for the token by heading over to the official Launchpad.xyz website, with 1 LPX costing $0.0445.
Such a price is likely to seem decidedly cheap in a few weeks, when the sale ends and LPX lists on trading platforms, potentially making its early buyers a tidy profit.
Disclaimer: Crypto is a high-risk asset class. This article is provided for informational purposes and does not constitute investment advice. You could lose all of your capital.
---