Shiba Inu Price Prediction as $100 Million Trading Volume Comes In – Is Now the Best Time to Buy SHIB?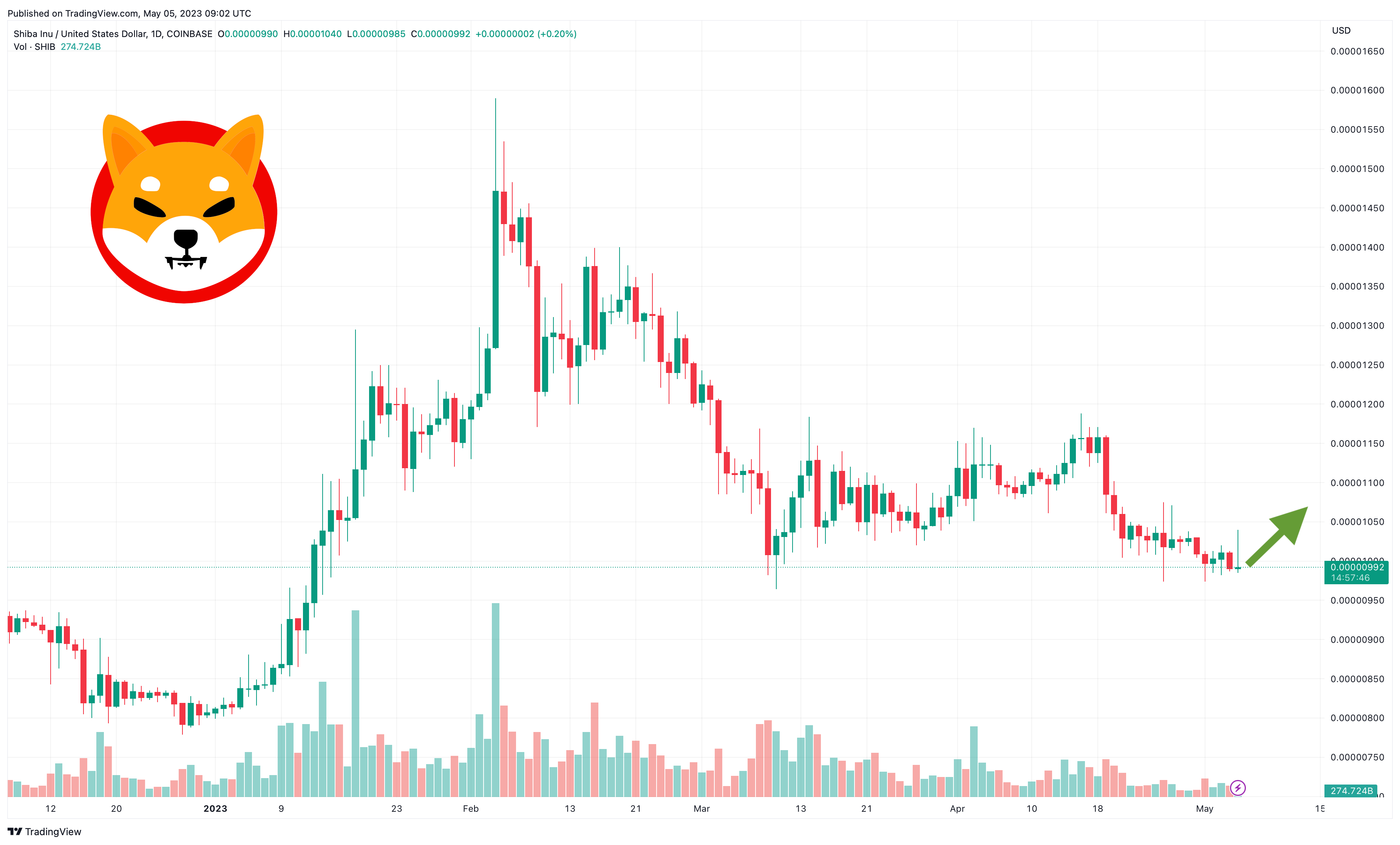 The Shiba Inu price has dropped by 1% in the past 24 hours, falling to $0.00000993 as the cryptocurrency market suffers a similar but smaller dip.
SHIB's price means it has dropped by 3% in the past week and by 11% in the last 30 days, while the meme token has gained by 22% since the beginning of the year, which is less than the gains enjoyed by bigger cryptocurrencies such as Bitcoin (BTC) and Ethereum (ETH).
However, in the past few days SHIB's 24-hour trading volume has risen above $100 million, indicating an increase in liquidity and volatility that may translate into further rises somewhere down the line.
And with Shiba Inu still awaiting the full public launch of Layer 2 network Shibarium, now may be the best time to buy SHIB, before it sees significant rallies.
Shiba Inu Price Prediction as $100 Million Trading Volume Comes In – Is Now the Best Time to Buy SHIB?
As it currently stands, SHIB's chart suggests that it still has some more falling to do before it mounts a notable recovery.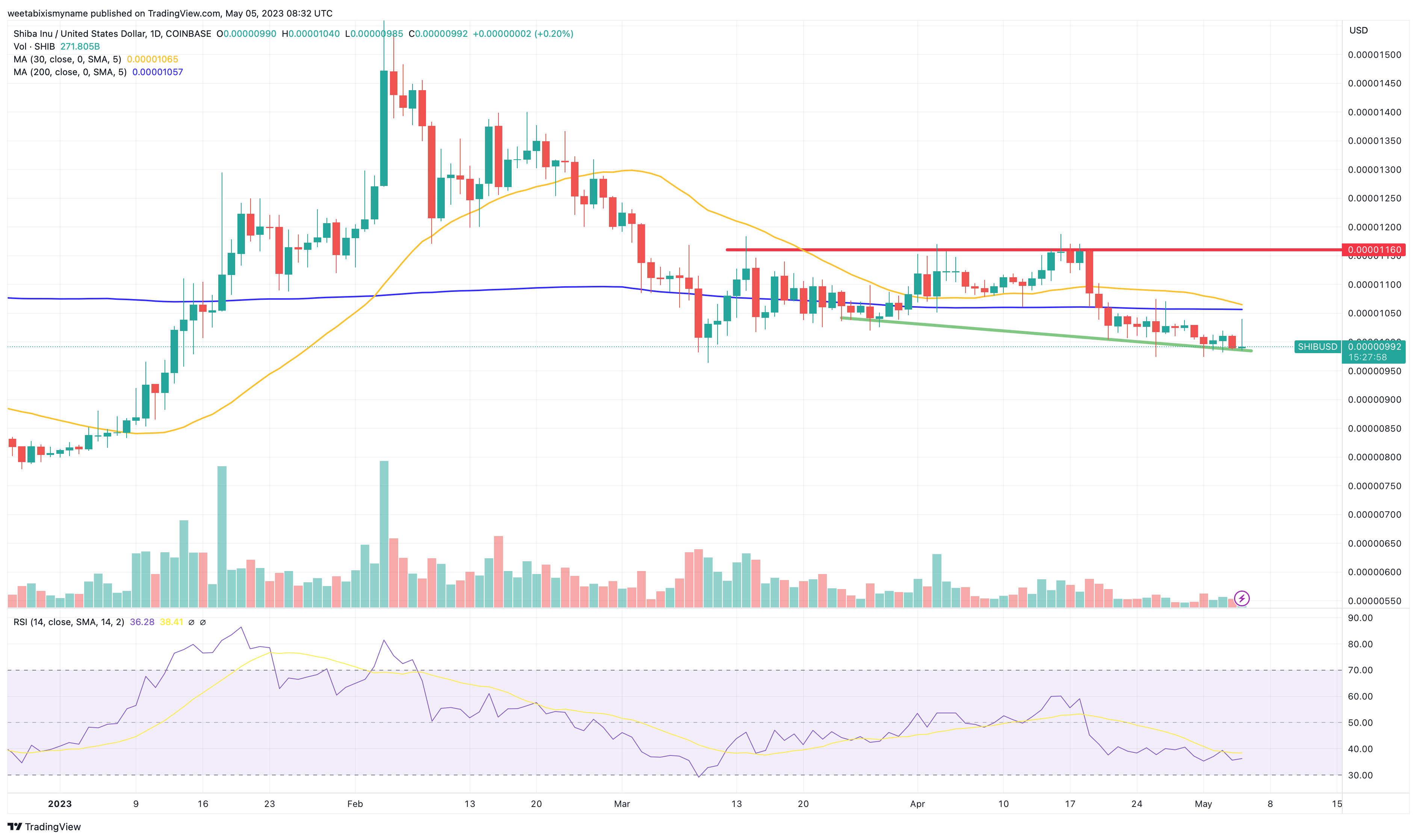 SHIB's 30-day moving average (yellow) is very close to dropping below its 200-day average (blue), forming a 'death cross' that usually indicates further losses to come.
At the same time, the coin's relative strength index (purple) has been low ever since the middle of April, and may still have to drop towards, and below, 30 before things can pick up again.
This suspicion is strengthened by the fact that SHIB's support level has been dropping consistently over the past couple of weeks, implying that the coin's market isn't strong enough to resist further declines in the near term.
Having said that, the slight uptick in trading volume may lay the ground for a recovery of sorts in the next few days.
Despite recent losses, data from Whale Stats indicates that SHIB continues to be the most-traded ERC-20 token among whales, as well as the most widely held in terms of the dollar value of all total whale holdings.
With whales still on the side of SHIB, it can therefore be expected that the coin will eventually enjoy a recovery, and the hotly anticipated launch of Layer 2 network Shibarium may be the catalyst for just such a recovery in the next few weeks.
Currently live in beta form, Shibarium's full public launch will provide Shiba Inu users with faster and cheaper transactions.
Data suggests that Shibarium's beta continues to attract plenty of testers and contributors, with the testnet now having processed just over 15 million transactions.
This provides some indication of the huge demand for Shibarium, which could ultimately help transform Shiba Inu into a rival of platforms such as Polygon, Arbitrum and Optimism.
Bullishly, Shibarium will also result in an increase in SHIB burning, meaning that the token's relative demand to supply will increase, boosting its price.
And with SHIB: The Metaverse also announcing some development updates over the past week, the end of the year and the start of the next could be massive for SHIB.
It may return to $0.00001 in the coming weeks, before possibly rising to $0.0001 and higher if the more distant launch of SHIB: The Metaverse goes well.
AiDoge: A Meme Token With Utility
It can't be overstated that holders may be waiting before big rallies materialize for SHIB, which means that some traders may prefer to look at other high-potential meme tokens in the meantime.
One of the most promising of these AiDoge, an AI-powered meme-generating platform that has already raised over $1.5 million, with the first two stages of its sale selling out in a couple of weeks.
Running on Ethereum, AiDoge enables its users to create timely and topical memes by simply entering a text-based description, with its platform using advanced algorithms and a large dataset to generate corresponding images.
On top of this, users can upvote and downvote the memes they and others have generated, with the most highly rated memes earning their creators rewards in $AI, the platform's native token.
Aside from granting users access to AiDoge's meme-generating tools, $AI can be used for staking, which can earn holders a yield,
Interested investors can buy the token now by going to AiDoge's official website and connecting their wallets.
1 AI token now costs $0.0000268, but this will rise to $0.0000272 in the fourth stage of the sale, which will end with AI at a price of $0.0000336.
However, it's entirely possible that AI ends up rallying far beyond this end price when it launches on exchanges in the next few months, giving investors only a limited window of opportunity in which to buy the new meme token on the cheap.
---