Shiba Inu Price Forecast: SHIB Shows Promising Rebound from Recent Low – Has Sell-Off Come to an End?
Disclosure: Crypto is a high-risk asset class. This article is provided for informational purposes and does not constitute investment advice. By using this website, you agree to our terms and conditions. We may utilise affiliate links within our content, and receive commission.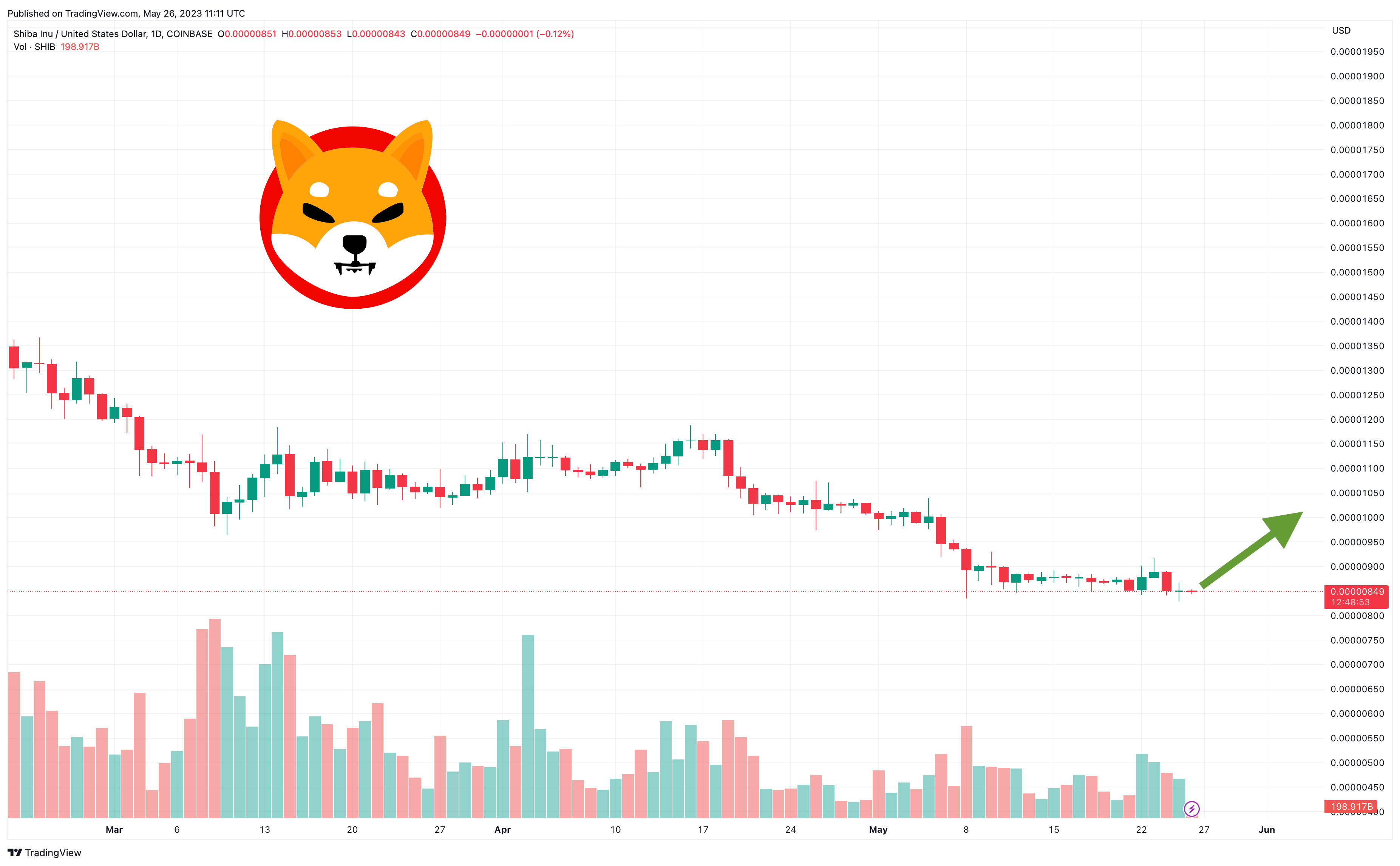 The Shiba Inu price has barely moved in the past 24 hours, with its current level of $.00000850 representing a 2% drop in the last seven days, amid an uncertain period for the cryptocurrency market.
SHIB is also down by 19% in the past month but up by 5% since the beginning of the year, a period which has provided many major cryptocurrencies with much bigger gains.
However, despite its inertia over the past day, SHIB is actually up by 1% from a low recorded yesterday, suggesting that the altcoin may be on the brink of regaining some much-needed momentum.
And with the launch of the long-awaited Shibarium layer-two network, SHIB could indeed have some significant rallies in store in the coming weeks, with the coin looking as though it has reached a bottom.
Shiba Inu Price Forecast: SHIB Shows Promising Rebound from Recent Low – Has Sell-Off Come to an End?
SHIB's chart also suggests that it's gradually accumulating some momentum, with its relative strength index (purple) rising to 50 after a day or so spent around (or just under) 30, which indicates overselling.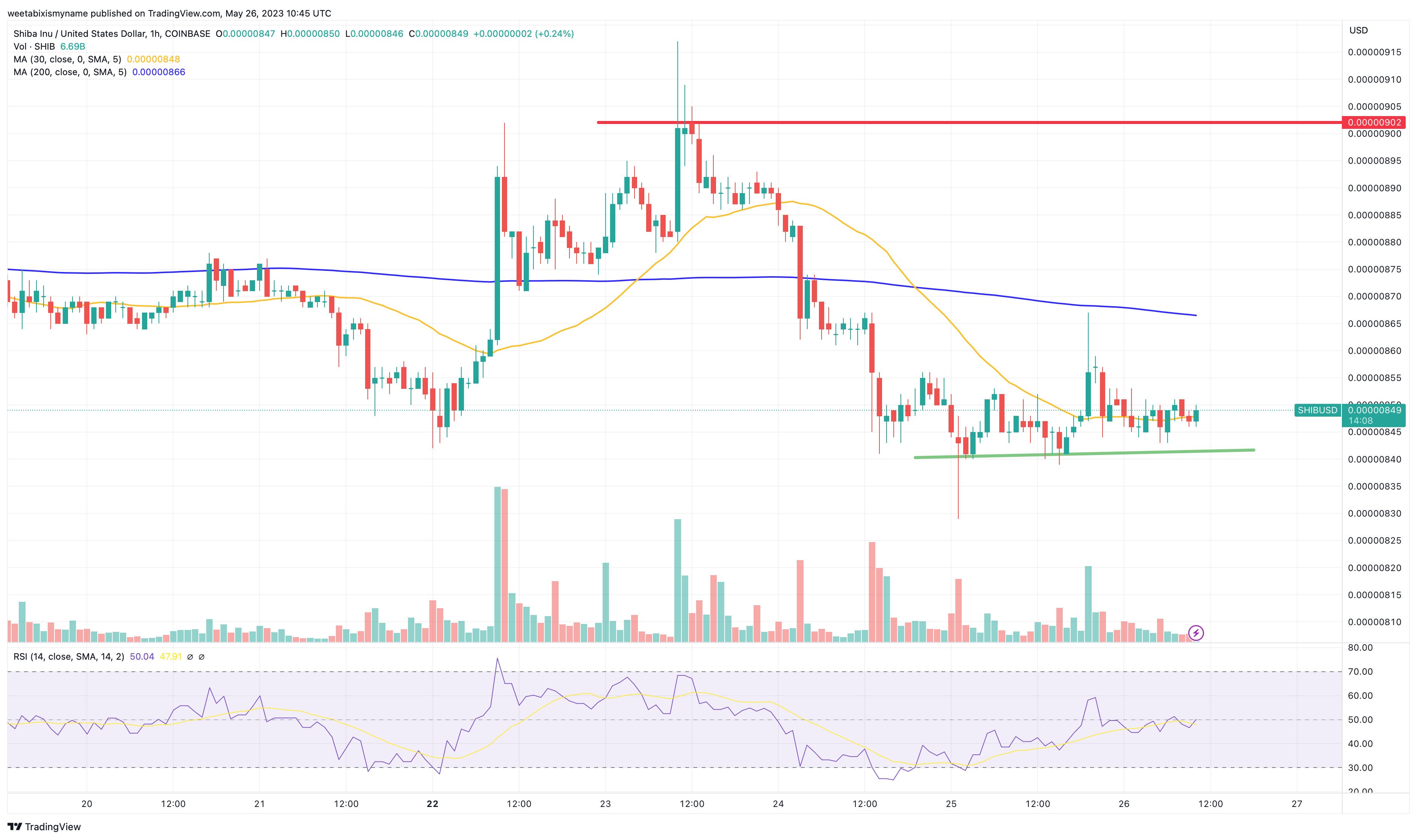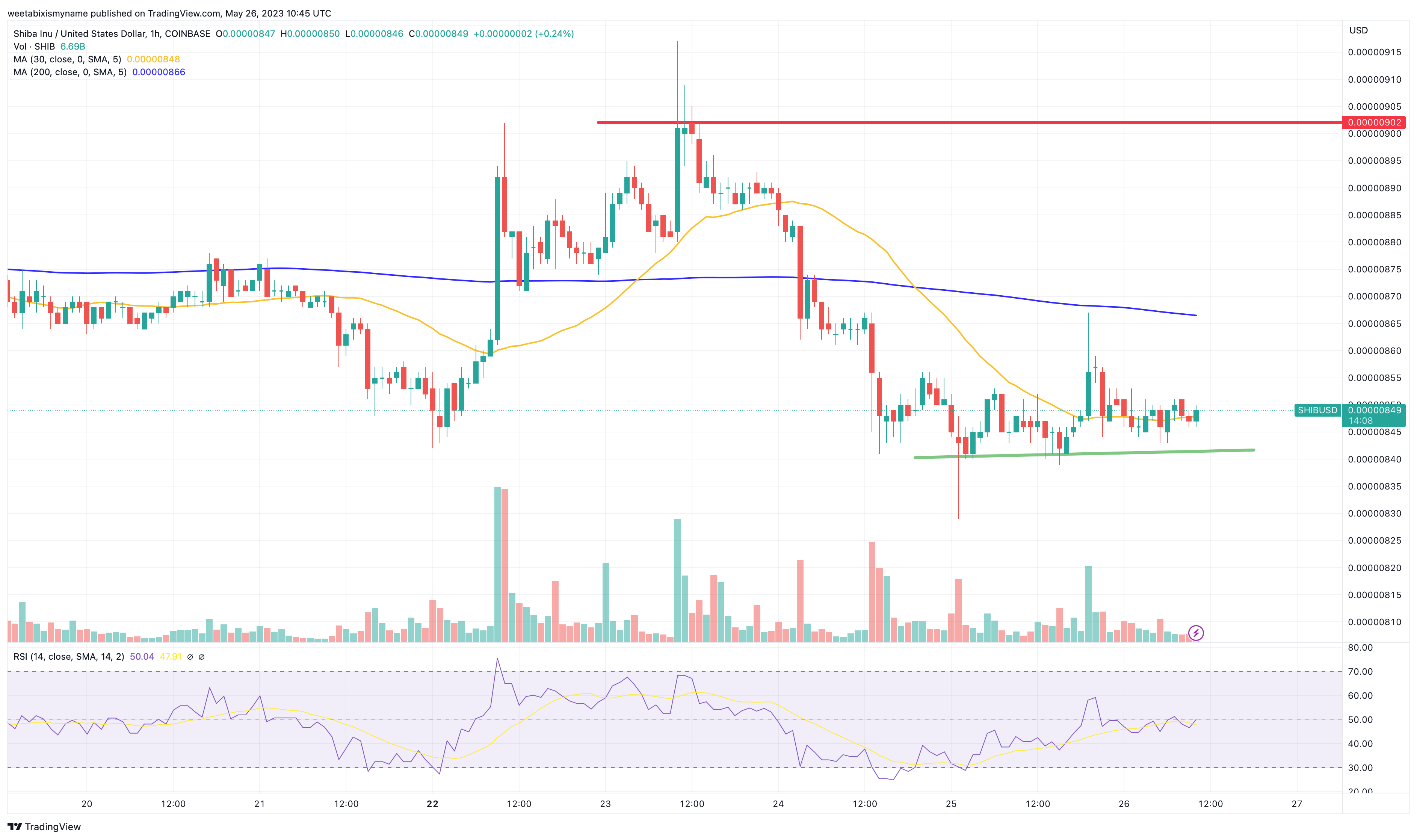 On top of this, SHIB's 30-day moving average (yellow) has seemingly reached a bottom, with its flattening out after several days of descent giving the impression of an incoming rebound.
Likewise, it's encouraging to note that the altcoin's support level (green) is incrementally rising, meaning that SHIB's position is consolidating and strengthening again after its recent falls.
As far as fundamentals go, there's nothing really that explains SHIB's minor recovery in the past couple of days, although it's worth pointing out that the cryptocurrency market as a whole has recorded a 1% gain in the past 24 hours.
Such a fragile recovery could be wiped out if the US ends up defaulting on its debt, with the US Congress and the White House having a deadline of June 1 to raise its debt ceiling, otherwise it will miss out on repayments.
Good Morning #SHIBARMY #SHIB

Bloody Wednesday for stock and crypto market for sure and the next couple days could be crazier due to USA debt default and global economy will take a hit. Be careful with your trades. I am #hodling on my crypto . #DYOR #NFA 🙌🏼#SHIBARMYSTRONG… pic.twitter.com/c4XTbqS98x

— Lola (@CryptoLollla) May 24, 2023
Such a default would have a big negative impact on the cryptocurrency market, including SHIB, which has seen a less vigorous recovery in past months than other major tokens.
Patience is a Virtue
However, the medium- and long-term picture for SHIB does arguably look pretty good, given that it has the launches of Shibarium and then SHIB: The Metaverse to look forward to.
According to developers working on Shibarium, the layer two should see its full launch at any point "from now until the end of August."
From today's #AMA with @CertiK . It looks #Shibarium #Mainnet is really close #Shibarmy!… 🤞 pic.twitter.com/k4wQuLBlDX

— Jolt (@Jolt_yourday) May 23, 2023
While this is a somewhat vague timeline, the arrival of Shibarium will make Shiba Inu considerably more attractive as a platform for dapps and DeFi.
As a layer-two network, it will provide cheaper and faster transactions to Shiba Inu, which as an ERC-20 token has sometimes suffered from Ethereum's notoriously high fees.
According to recent data, the Shibarium testnet has passed 10 million transactions, and at the latest count it stood at just over 12 millon.
This indicates considerable interest in the layer-two network, suggesting that there may be a significant expansion in Shiba Inu dapps and projects once it has its full launch.
🐾 #Shibarium β PUPPY NET🐾
▶ https://t.co/IWDUv84ZM0

Gas tracker➡︎1.03 Gwei
Daily Transactions➡︎440,604

Average block time➡︎5.0 seconds
Total transactions➡︎12,125,676
Total blocks➡︎986,746
Wallet addresses➡︎16,010,374

The testnet is very active!🔥🔥🔥 https://t.co/045psGAq2u pic.twitter.com/w0DNWJbr2j

— KURO🐾SHIBARMY JPN🇯🇵 (@kuro_9696_9696) May 25, 2023
Just as bullishly, Shibarium will also result in an increase in the burning of SHIB, meaning that its supply will decline and its price could rise in parallel.
This all suggests that SHIB could massively undervalued at the moment, and that the second half of the year may bring some big rallies for the meme token.
Such rallies may also be amplified if SHIB: The Metaverse also launches towards the end of 2023, with the metaverse platform revealing a number of updates in recent weeks as its undergoes steady development.
When launched, it will feature just over 100,000 virtual plots of land that can be owned as NFTs, as well as a variety of different districts and games.
Despite a relative lack of details, anticipation for the platform remains sky-high, with the eventual launch likely to result in big rallies for SHIB (as well as for sister tokens, BONE and LEASH).
From its current price of $0.00000851, SHIB could easily rise back to $0.00001 or $0.00002 in the next few weeks, with the launch of Shibarium potentially pushing it as high as $0.00005.
---