Shiba Inu Price Prediction as $250 Million Trading Volume Shoots SHIB Up 16% in a Week – Here's Where SHIB is Heading Now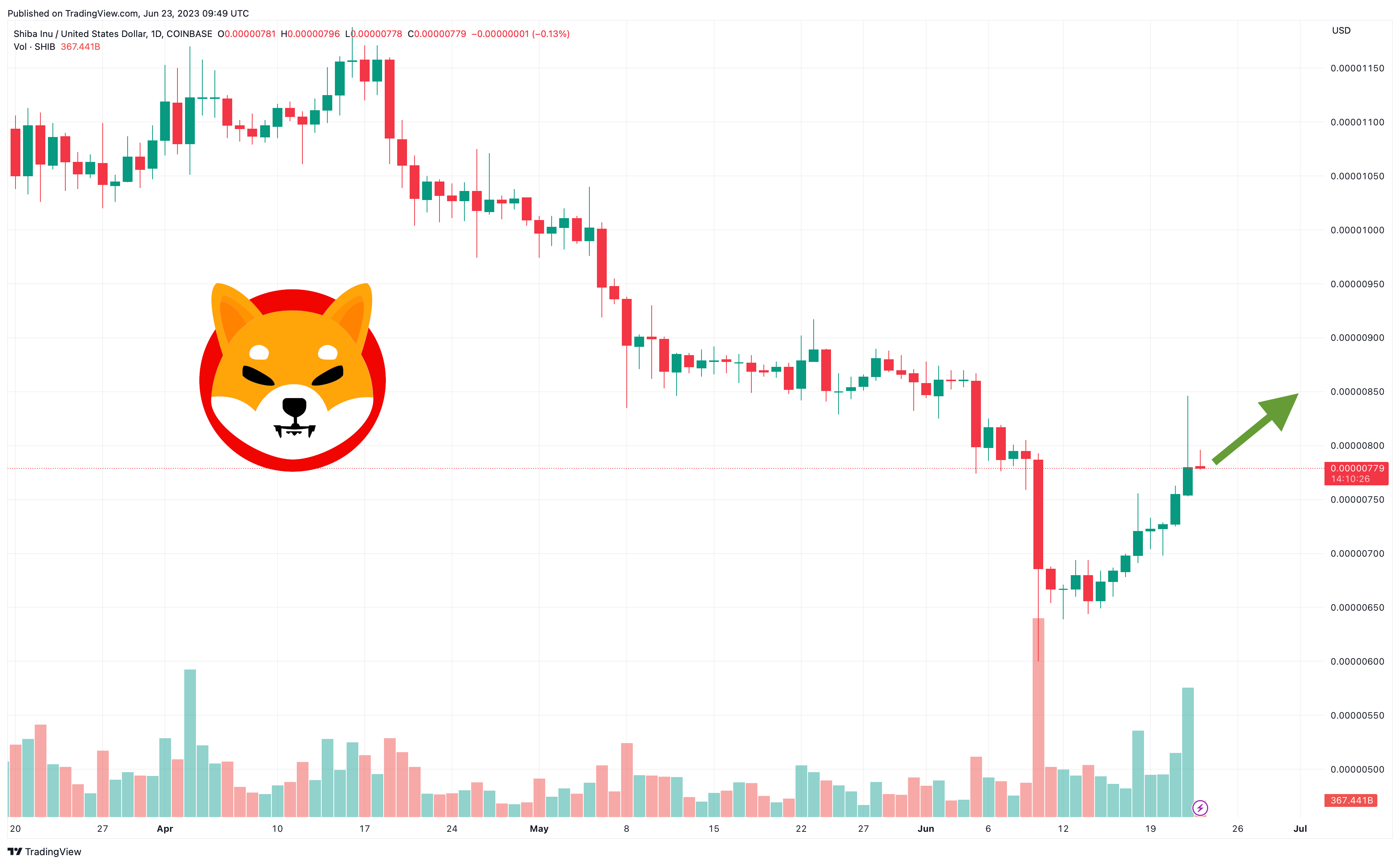 The price of Shiba Inu (SHIB) has dropped by 4% in the past 24 hours, yet it remains one of the best-performing major cryptocurrencies of the week, having gained by 16% in seven days.
At $0.00000784, it's down by 19% in the past month and by 3% since the beginning of the year, yet such falls arguably make it a very undervalued coin right now, one with good potential for future gains.
And with developers recently revealing Shiba Inu's own series of physical NFTs, Shibacals, the price of SHIB could easily witness some big gains in the near future.
This is particularly the case when layer-two network Shibarium is also expected to have its full launch in the coming weeks, providing Shiba Inu with more utility than it's ever had before.
Shiba Inu Price Prediction as $250 Million Trading Volume Shoots SHIB Up 16% in a Week – Here's Where SHIB is Heading Now
SHIB's chart shows the meme token in a very healthy position, even with its dip today.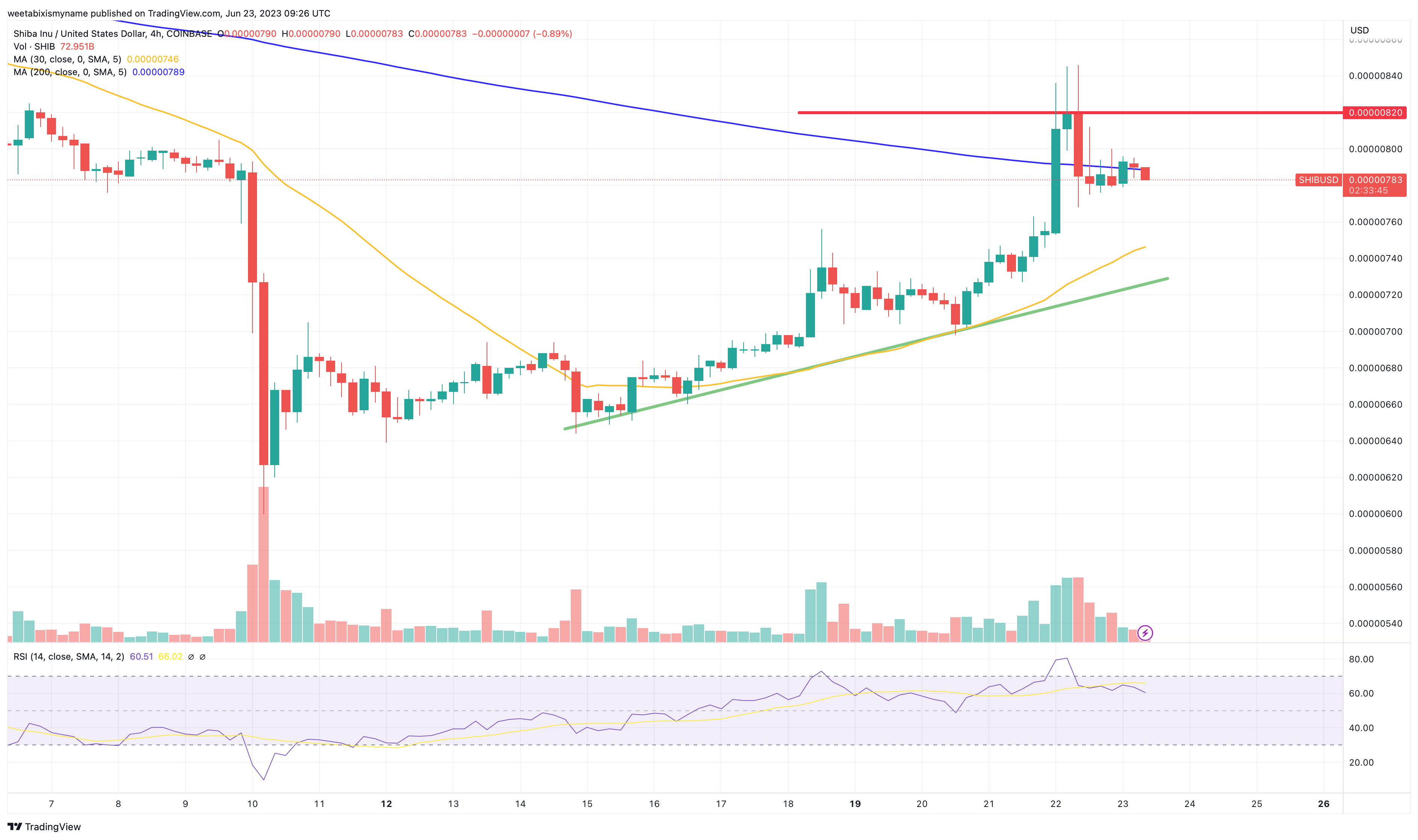 The coin's relative strength index (purple) remains above 60, indicating the continued presence of positive buying momentum that could resume pushing its price upwards again very soon.
Likewise, SHIB's 30-day moving average (yellow) has begun climbing steeply, and isn't too far away from its 200-day average (blue), with a crossover signalling further incoming gains.
The coin has also held fast to a higher support level of $0.00000780 in the past couple of days, suggesting that it won't be returning to the prices (of between $0.0000060 and $0.0000070) it witnessed more than a week ago.
As such, there's good reason to believe that SHIB will make it back up to $0.0000080 and beyond in the next few days, especially when it has gathered so much momentum in the past few days.
The main cause of this momentum has been the market's general recovery this week, on the one hand, and also the unveiling of Shibacals, on the other.
Running on the forthcoming Shibarium layer-two network, Shibacals are non-fungible tokens that are linked with unique NFC (near-field communication) tags, which in turn are used to authenticate the originality and provenance of various collectible items.
Shiba Inu developers have already announced a number of partnerships for Shibacals, with fashion brand Champion Apparel being among the first to sign up to have their own Shibacal-based items.
The announcement of Shibacals suggests that Shibarium will enjoy some significant use and adoption when it launches in the coming weeks, something which has led the market to become increasingly positive about SHIB.
For this reason, it's likely to continue its recent gains in the next few days and weeks, with the altcoin likely returning to $0.000010 before long.
And if the market does become much more bullish in the latter months of this year, the launch of Shibacals and Shibarium could help it rise to $0.000020, and beyond.
Other High-Potential Meme Tokens
SHIB is not the only high-potential meme token in the market right now, with a number of other, newer tokens also promising to rally big in the not-too-distant future.
One of the biggest of these right now is Wall Street Memes (WSM), an Ethereum-based cryptocurrency that has already raised more than $9.7 million in its presale, which kicked off at the beginning of June.
WSM has emerged out of the meme stocks movement, which infamously instigated the GameStop and AMC rallies in 2021.
This is significant because it means that WSM is likely to have a substantial community of supporters at its disposal, as indicated by the fact that it has raised close to $10 million so quickly.
It also boasts a Twitter account with over 237,000 followers, many of whom may become holders of the coin, helping it to rise in price when it lists on exchanges.
Of course, investors don't have to wait for listings to become holders, being able to join WSM's presale by visiting the official Wall Street Memes website and connecting their crypto wallets.
The sale is currently in its 17th stage, with 1 WSM selling for $0.0301, a price that will jump to $0.0337 by the time it enters its 30th and final stage.
But given the growth of its already sizable community, WSM could easily rise beyond even this final sale price when it lists on exchanges in the next couple of months.
Disclaimer: The Industry Talk section features insights by crypto industry players and is not a part of the editorial content of Cryptonews.com.
---