Senior Bank of England Official Calls for Urgent Digital Fiat Action
Central banks in major economies continue to change their stance on digital currency issuance, with Sarah John, the Bank of England's chief cashier, stating that it is "so crucial" that central banks act before tech giants establish dominance in the sector.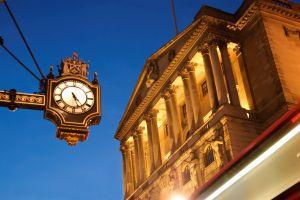 Per British newspaper the Telegraph, John said, "Absolutely [it] is really important that central banks think about [digital fiat issuance] as an option."
John stated,
"We need to think as an institution about how to position ourselves to make sure society still has a broad range of payments that it can use with confidence. It is absolutely right that central banks think about whether [the] public sector or private sector would be best to provide a digital currency going forward."
John said that the bank should consider ensuring both public and private sector involvement on the project and, the media outlet states, "urged the Bank to position itself to ensure monetary and financial stability."
The chief cashier's warning comes in the wake of an announcement from the regulatory Financial Stability Board, which advised the government to "quicken the pace" of developing regulations for cryptocurrencies and stablecoins.
Once one of the cryptocurrency industry's fiercest critics, the outgoing governor of the Bank of England Mark Carney, claimed that digital fiats – such as China's digital yuan or Facebook's Libra project – could effectively end the United States dollar's dominance of the global financial scene.
Meanwhile, per City AM, a recent British survey conducted by Ipsos Mori found that 51% of respondents agree that central banks – rather than big tech companies – should be trusted to develop digital currencies.
As reported in January, around 7 undisclosed central banks, representing 20% of the world's population, are likely to launch central bank digital currencies (CBDCs) in 3 years, a new survey by the Bank for International Settlements, showed.
Also, a study by the central bank of Lithuania in December last year concluded that: "Single-jurisdictional level initiatives are not capable of meeting a global citizens' need for a safe, trustworthy, and cost-efficient instrument for cross-border payments." However, "modern-day technology seems to be able to address this need. […] The issue, including the idea of multicurrency CBDC deserves deep joint analysis."
Moreover, thinkers at the World Economic Forum published what they call a CBDC "walkthrough" for bankers and governments looking to launch digital fiats in the near future.
___
Learn more: Davos Experts: Central Banks Focus on Crypto Due to Fear of Exclusion
---