Revolutionary AI-Powered Web3 Platform yPredict Launches New Model as Presale Surges Beyond $2.3 Million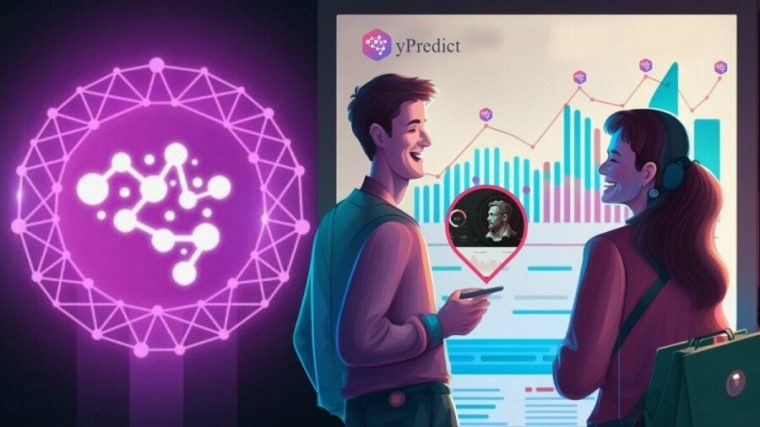 Industry-leading AI-powered market intelligence platform yPredict just made a huge announcement.
The platform just launched its first AI-powered model, which will be free and available for all to use, for a limited time.
According to the project's website, "yPredict Backlink Model is trained on over 100m links to predict exact backlink profile your URL needs to rank for desired keyword… No more guess work, have a precise backlink strategy to rank in no time".
The launch of the new backlink prediction tool comes as yPredict expands beyond AI-powered crypto analytics and price predictions.
yPredict, which is best known for its plans to build a best-in-class AI-powered crypto price prediction and analytics platform, announced earlier this month that it also building a content solution for medium to large content teams.
Excitement regarding yPredict's potential to transform multiple industries with its fusion of web3 and AI technology is palpable, as is evident in the project's surging presale.
yPredict has been raising funds in recent months via a public presale of its native $YPRED crypto token.
The presale has already reached a massive $2.3 million.
There's no time to lose for investors who want to get involved in one of 2023's most promising crypto start-ups.
That's because when the yPredict presale reaches $2.982 million, the $YPRED price will go up another 11% to $0.1.
yPredict has a presale hard cap of $6.5 million, which could be hit in a couple of weeks if the presale continues to gain pace like it has in recent days.
The token will then list across major exchanges for $0.12 later this year, meaning investors who get involved now can be sat on paper gains of 33%.
yPredict's Free Crypto Price Prediction System to Hand Traders a Valuable Market Edge
Recent developments in artificial intelligence (AI) technology, as epitomized by the sudden rise of generative AI-powered chatbot ChatGPT and its competitors, are a gamer for many industries.
And one area where AI is already proving to be a game changer is in the realm of financial market price forecasting.
A recent research paper showed how the machine learning-based large language models (LLMs) at the heart of AI such as ChatGPT enable it to predict stock price movements.
AI models can analyze huge amounts of price data to identify trends that would have gone unnoticed by the human eye.
Good models can hand traders a valuable market edge.
And yPredict wants to give traders just that.
According to the start-up's Litepaper, yPredict is "building a cutting-edge crypto research and trading platform that provides traders and investors access to dozens of AI-powered signals, breakouts, pattern recognition, and social/news sentiment features".
The platform's technology was designed using state-of-art predictive models and data insights built by top 1% AI developers and quants.
For those interested in checking out the platform in its early form, yPredict has already launched a beta, the waitlist for which can be joined here.
The best part?
yPredict's crypto price prediction system will remain free and open for all users to access – the price predictions will be made publicly available and require no login to see, the project's Whitepaper explains.
yPredict says its motivation for keeping the price prediction system free is that it "will serve as a source of inbound traffic for (the broader) yPredict ecosystem".
Indeed, while its price prediction system has been touted as a game changer for the industry, yPredict offers investors much more than just crypto price predictions.
$YPRED – The Best AI Utility Coin With the Fairest Tokenomics?
yPredict's $YPRED crypto token is being touted by some observers as one of the best AI utility coins currently on offer across the market.
$YPRED is issued on the Polygon blockchain meaning low gas fees and fast transactions and forms the economic backbone of yPredict's revolutionary AI-powered trading platform.
To access yPredict's premium features, new users will need to pay a $YPRED-denominated subscription fee.
10% of these fees will be distributed to existing $YPRED token holders.
This will encourage $YPRED investors to HODL as they benefit from a passive income stream, reducing sell pressure in the market.
And that's not the only passive income stream that $YPRED owners can benefit from, with owners also able to stake their tokens in pools to benefit from monthly rewards.
yPredict's AI-trading platform is designed to run on a freemium pricing model.
Three levels of membership include free, active and pro trader.
80% of the total token supply of 100 million will be made available during the public presale.
Analysts have thus labelled yPredict's presale as being amongst the fairest out there right now, given many other presale projects reserve a large proportion of the coin supply for insiders.
The other 20% of the tokens are allocated to liquidity (10%), treasury (5%) and development (5%).
Under yPredict's tokenomics, the incentive for a rug pull is thus drastically diminished.
And with crypto community members able to secure such a large majority of the token supply in the project's early stages, investors won't have to worry about massive insider token supply drops that could hurt the price in the future.
Investors can buy $YPRED with ETH, MATIC and BNB. For more information, watch this how to buy video.
Disclaimer: Cryptocurrency projects endorsed in this article are not the financial advice of the publishing author or publication - cryptocurrencies are highly volatile investments with considerable risk, always do your own research.
---