Research Points to 'Strong Signal' That Altseason Has Arrived
A recent increase in trading on exchanges that are more geared towards speculative altcoins may be a sign that it is once again time for altcoins to shine, according to crypto research firm Coin Metrics.
In their recent report, the firm said that exchanges that typically offer trading in coins that are in the more volatile end of the spectrum saw an increase in their market shares in May. Among these exchanges are Binance and OKEx, which are popular among retail traders who typically move to take on more risk as they become more confident in the market, according to the report.
At the same time, exchanges that are known as fiat onramps and that supports fewer altcoins, notably Coinbase and Kraken, saw declines in their market shares in June, Coin Metrics explained.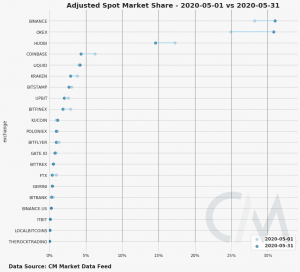 Further, the firm also noted that the trading volumes for bitcoin (BTC) and ethereum (ETH) both decreased by 5% and 2%, respectively, during the month of May. According to the report, much of this volume has instead moved into more volatile altcoins such as ETC, OKB, THETA, OMG and MATIC.
This shift in trading volume away from BTC and ETH and into the more speculative cryptoassets is "a strong signal that altseason has arrived," the report concluded.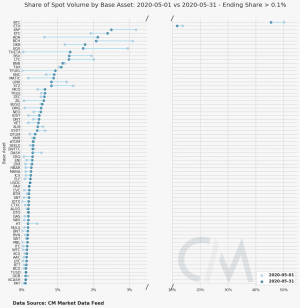 In support of the shift in trading volumes pointed out by Coin Metrics is also a recent decrease in the so-called bitcoin dominance – or bitcoin's share of the total crypto market capitalization – which is down from 66.3% a month ago to 64.2% today, according to data from Coinpaprika.
Going back to April, however, bitcoin's dominance was even lower than current levels, hovering mostly around 63%.
At pixel time (08:35 UTC), BTC trades at USD 9,764 and is up by 13% in a month. ETH advanced by 30.5% in the same period of time.
Top 20 altcoins from the top 100 coins by monthly gains: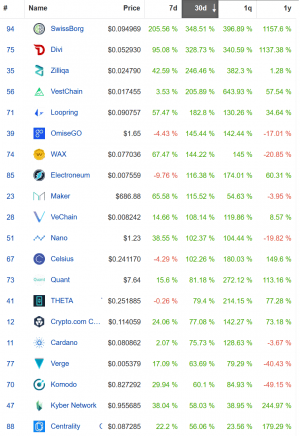 ---