Render Token is Going to Zero as RNDR Price Drops 10% in a Week But Crypto Whales are Accumulating This New Token Instead – Here's Why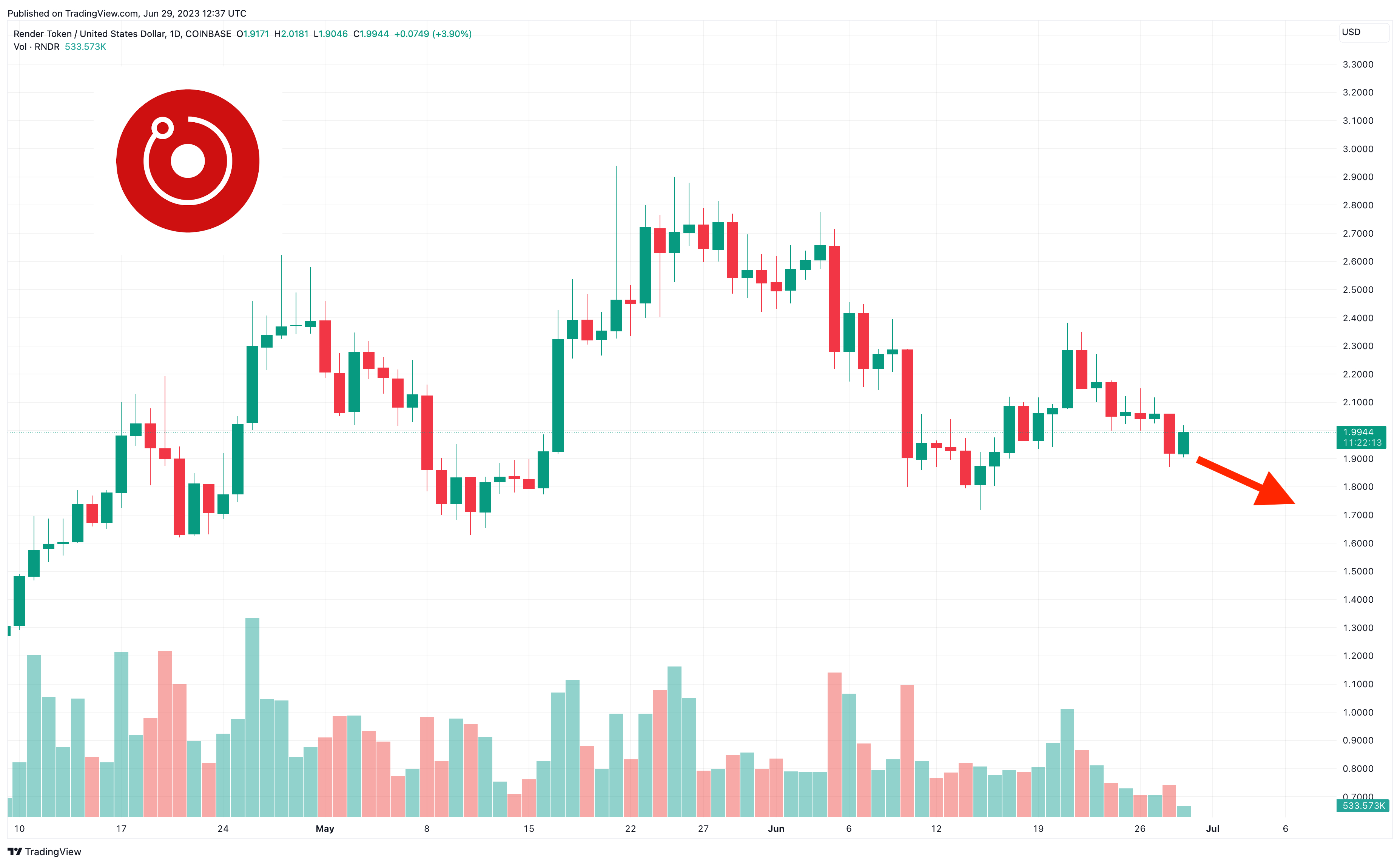 The Render Token price has risen by 1% in the past 24 hours, with its climb to $2.00 helping to compensate a little for the 10% drop it has witnessed in the past week.
RNDR is also down by 23% in the last 30 days, although the cryptocurrency has gained by an impressive 241% in the past year, benefitting from market euphoria surrounding the AI and metaverse/VR industries.
But despite the altcoin's good fortunes this year, it's arguable that its recent dip is a sign it's running out of momentum, and that it may not be able to replicate its former growth in the latter part of 2023.
However, newer tokens are promising to post gains where more established coins may be faltering, with one of the most promising of these being Thug Life Token (THUG), a new meme coin that taps into the gangsta rap and hip-hop communities.
Render Token is Going to Zero as RNDR Price Drops 10% in a Week
RNDR has had a bad week or so, although its jump of the past hour suggests it may have just begun a little recovery of sorts.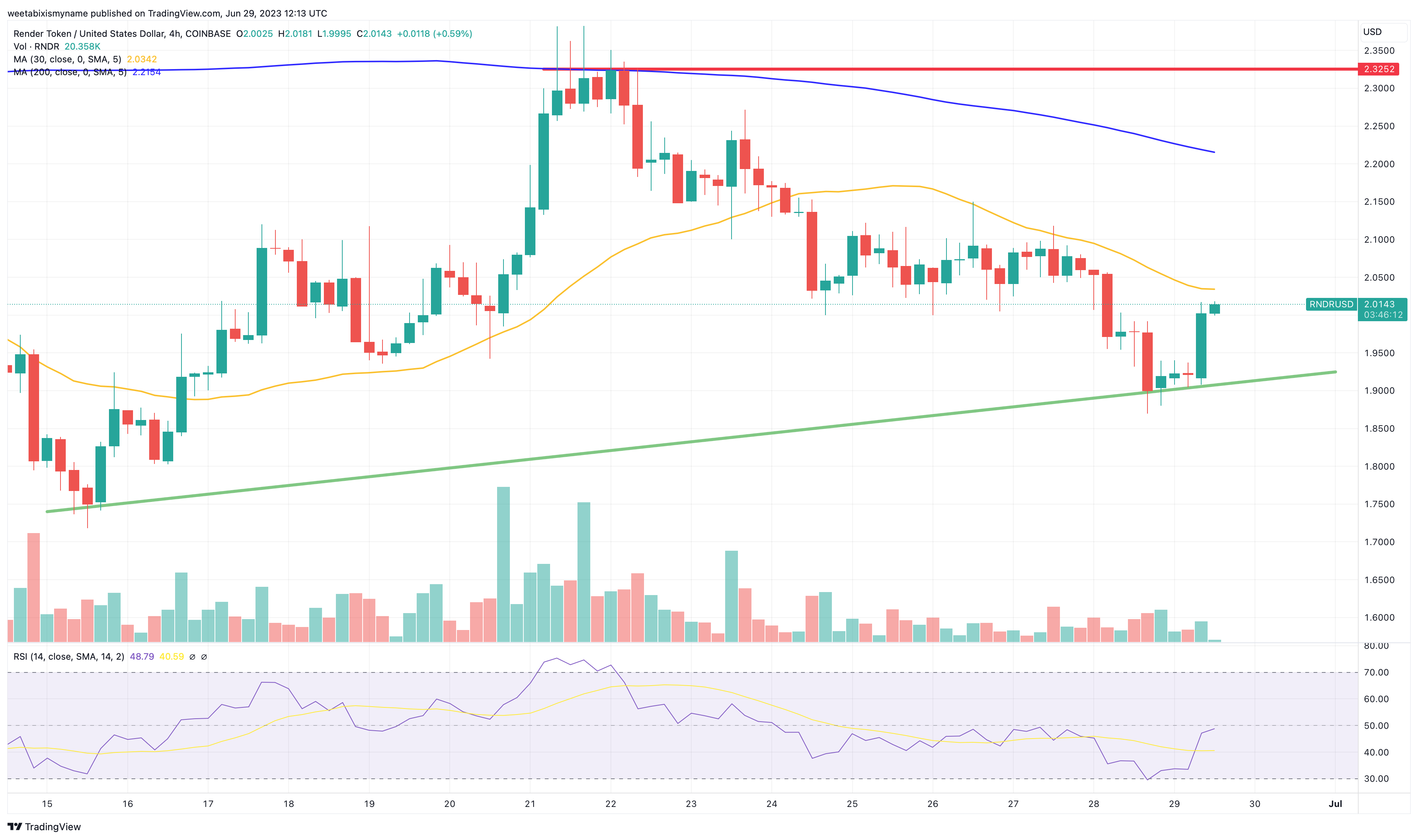 After hitting an oversold position of 30 yesterday, RNDR's relative strength index (purple) has jumped up to 50, signalling an influx of upwards momentum.
Similarly, its 30-day moving average (yellow) has stopped falling any further below its 200-day average (blue), with the short-term indicator potentially beginning to move up again.
Heightening the sense of recovery is RNDR's support level (green), which resisted a fall below $1.90 overnight and looks set to help the altcoin rise.
But while RDNR is enjoying a small bounce following its bad week, it's hard to say whether this bounce will translate into sustained rises.
Render had previously been one of the best-performing major cryptocurrencies of the year, with the graphics-rendering network being boosted by hype for artificial intelligence and the metaverse.
Indeed, news that recent iPad models support Render's OctaneX rendering app had pushed RNDR as high as $2.85 in May, yet it seems that the momentum of this rally has now died down.
And the thing is, just because a Render app is available on mainstream devices doesn't necessarily mean that they'll attract widespread usage.
At the same time, market hype surrounding AI and the metaverse may ebb away in the coming months, leaving RNDR without a source of gains.
For this reason, it's possible that RNDR may not see any more major rallies this year, at least not without really significant adoption news.
Crypto Whales are Accumulating This New Token Instead
Given the possibility that RNDR may not see big gains again this year, traders looking to beat the market may prefer to look elsewhere at the moment.
One particularly promising source of returns this year has been presale tokens, with the best of these promising to witness big rallies when their sales end and they list on exchanges.
One of the newest presales happening right now is for Thug Life Token (THUG), a meme coin that has aligned itself with the gangsta rap and hip-hop communities.
Launched only a couple of days, THUG's presale has already raised more than $115,000, which is impressive for a token that has received pretty much zero publicity up until now.
In a nod to 4/20 culture, THUG has a total maximum supply of 4.2 billion tokens, with 70% of this being allocated to its presale.
Such a large allocation will help to make THUG a more decentralized cryptocurrency than many others in its category, something which in turn will ensure that its community supports the coin for the long term.
Its presale will have only one stage, which is selling THUG at a price of $0.0007 and with a hard cap of $2,058,000.
Investors can join the sale by visiting the official Thug Life Token website and connecting their MetaMask wallets, with the token purchasable for either ETH or USDT.
From there, all they will have to do is wait for THUG to list on exchanges, with the coin's quickly rising presale total suggesting that it could rally big once this happens.
Disclaimer: Crypto is a high-risk asset class. This article is provided for informational purposes and does not constitute investment advice. You could lose all of your capital.
---