Render Price Prediction as RNDR Blasts Up 20% – Will the Launch of Apple's VR Headset Boost Metaverse Tokens?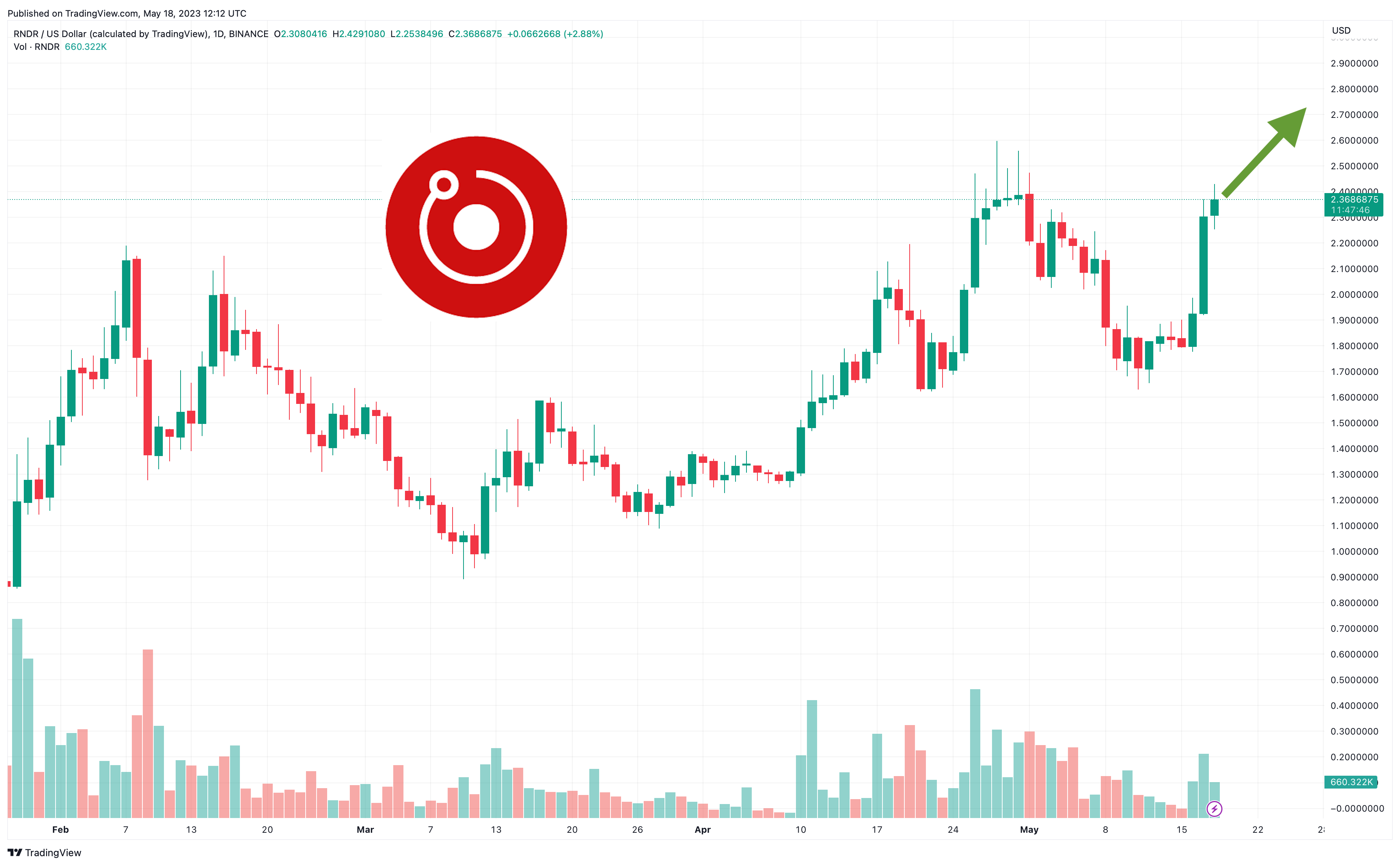 The Render price has surged by 20% in the past 24 hours, with the cryptocurrency benefitting from the news yesterday that Apple will reveal its long-awaited VR headset on June 5.
At $2.36, RNDR has also risen by 38% in a week and by 18% in the last 30 days, with the altcoin also rising by more than 480% since the beginning of the year.
Because the Render blockchain is used to provide a decentralized GPU network that will have applications in virtual reality and the metaverse, the market expectation is that the launch of Apple's VR headset will ultimately increase adoption for Render.
And with Render recently launching a version of its app for iPads, there's a very real chance that developers for Apple's new headset could end up using the Render network, boosting RNDR's price considerably.
Render Price Prediction as RNDR Blasts Up 20% – Will the Launch of Apple's VR Headset Boost Metaverse Tokens?
RNDR's chart provides a fairly clear indication that the token is in full breakout mode, with its indicators all suggesting that it may be the near the peak of its current rally.
In particular, its relative strength index (purple) surged to 80 earlier this morning, something which generally suggests an asset is overbought.
Still, momentum remains high, with RNDR's 30-day moving average (yellow) racing strongly above its 200-day average (blue), indicating that its rally may still have plenty of time left to run.
What's encouraging in this respect is that the altcoin has stuck to new support levels today, signalling that it will consolidate around a higher price.
And as we noted above, its rally is largely due to anticipation surrounding Apple's reveal of its VR headset, whch is expected on June 5.
The reason why RNDR in particular is responding to this news is that Render's parent company launched OctaneX in December, an app for M1 and M2 iPads that can provide real-time, photo-realistic 3D rendering.
It's therefore entirely plausible that developers who build apps for Apple's VR headset will make use of OctaneX, and given that the latter is powered by Render, it implies more demand for RNDR.
So once more investors realize that Render has a real link to the forthcoming Apple VR headset, it's very likely that RNDR will see further rises.
Of course, this could be a long-term process, especially when VR has been around for several years already without having a massive impact on mainstream culture.
But with Apple now entering the VR market, an arms race is likely to begin between the big tech giants, one which will have the effect of increasing virtual reality adoption in general.
For this reason, RNDR arguably has the kind of long-term prospects that most altcoins can only dream of, and should be expected to witness sustained appreciation in the coming months and years.
This is why it's rallying now, because traders and investors are quickly beginning to realize its potential.
From $2.36, it could easily rise to $2.50 in the next few weeks, and potentially see out the year at around $5.
SpongeBob: Another High-Potential Altcoin
But because RNDR's overall growth may be gradual, some traders may prefer to buy tokens that present the possibility of more pronounced spikes and surges.
One cryptocurrency in this mold is SpongeBob (SPONGE), which is an Ethereum-based meme token that has enjoyed gains of well over 2,500% since listing directly on Uniswap on May 4.
SPONGE has gained by 8% in the past 24 hours, based on the news that OKX and Bybit have separately opened community voting on whether they should list the new coin.
Voting is open until May 22, at which point SPONGE could very well be listed on both exchanges.
This is why it's rallying now, with traders acting pre-emptively, in the expectation that these two listings would cause SPONGE to surge.
And even without OKX and Bybit, the meme token has recently gained listings on Gate.io, Poloniex, MEXC, LBANK, CoinW and Toobit.
From not even existing at the start of the month, SPONGE now has nearly 13,000 holders, although this will increase steeply if the above exchanges list it in the next few days.
And with new holders will come new price rises, with the altcoin potentially rising to $0.0006 or $0.0007 by the end of the month.
---