Pepe Price Prediction as PEPE Becomes Top Performing Crypto – Are Whales Buying?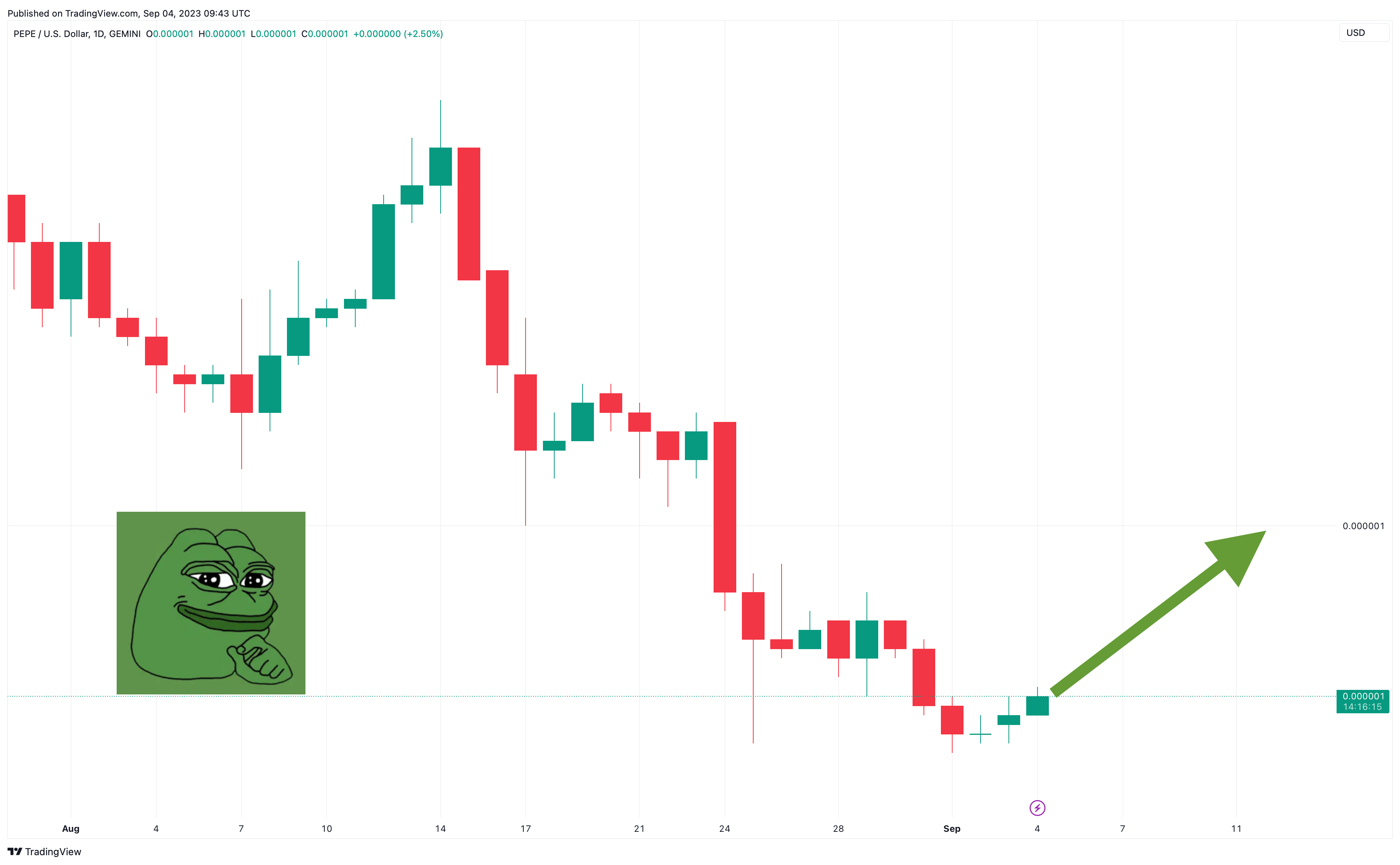 The PEPE price has risen by 4.5% in the past 24 hours, with the meme token's move to $0.000000818131 coming on a very flat day for the cryptocurrency market as a whole.
Despite today's market-beating jump, PEPE remains down by 6.5% in a week and by 28% in the last 30 days, with the altcoin also having dropped by 80% since reaching an all-time high of $0.00000431 in early May.
Yet with the coin having been oversold for several weeks now, it seems as though buyers are starting to show interest in it all over again, paving the way for further potential gains in the coming days.
Pepe Price Prediction as PEPE Becomes Top Performing Crypto – Are Whales Buying?
PEPE's chart and indicators suggest that it was about time that the meme token saw some kind of rebound, with its relative strength index (purple) dropping below 30 over the weekend.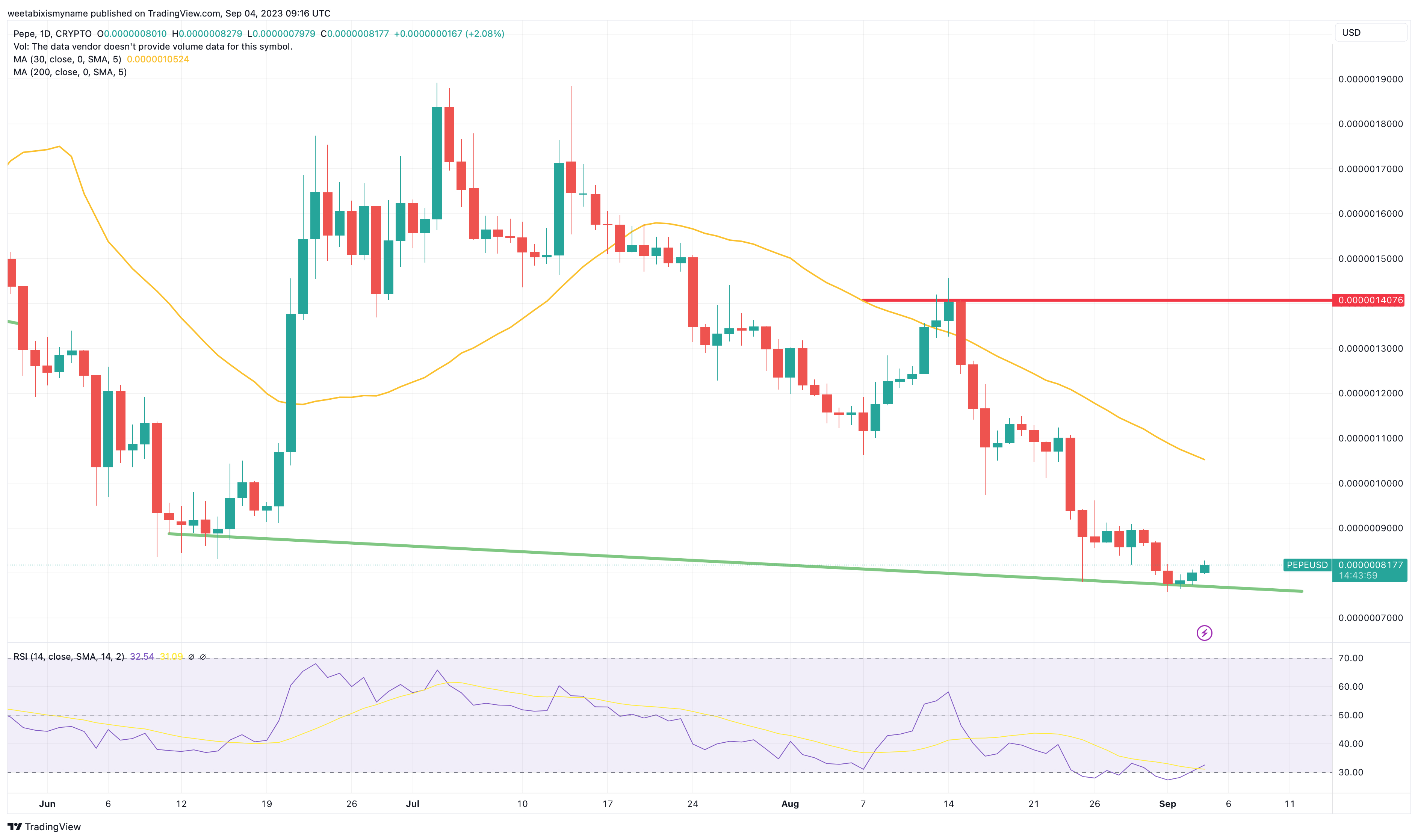 This indicates that the coin had been oversold for quite some time, as does the fact that its price has been substantially below its 30-day moving average (yellow) since the middle of August.
In other words, PEPE has been selling at a steep discount relative to its recent levels, something which should (in theory) make it more attractive to buyers.
This does indeed seem to be the case, given that the coin has jumped by around 4.5% in 24 hours, a move which could be the beginning of a more sustained recovery.
It's also worth pointing out that some whales had begun accumulating the coin all over again in the past few days, taking advantage of the fact that it was selling very cheaply.
The above transactions happened a few days ago now, and while there has been no indication of more recent buys by large investors, the coin's jump today would suggest that other traders are also accumulating the token right now.
As such, it's likely that PEPE will see further gains in the near term, with the token potentially pushing up towards $0.0000010 before running out of steam again.
As a meme token with nothing in the way of actual utility or value, it's of course very likely that PEPE will fall down hard again once its current short-term rally has played out.
Retail traders and investors therefore need to be very careful when it comes to timing their entries and exits, since they could easily end up carrying the bags for whales.
Newer Meme Tokens With More Potential
Given the inherent risk surrounding PEPE, and given that it has become something of a plaything for whales, some traders may prefer to look towards newer meme tokens for their potential gains.
While the market has been flooded by new coins this year, some are definitely better than others, with certain presale tokens in particular holding out the promise of substantial rallies once they list on platforms.
One great example of this is Sonik Coin (SONIK), a new ERC-20 meme token that has raised just over $1.2 million since opening its presale a month ago.
There is only one day left before SONIK's presale ends, with investors being drawn in by the coin's brash and edgy appropriation of memes related to the ever-popular Sonic the Hedgehog franchise.
The token comes with a total maximum supply of 299,792,458,000 (the speed of light in mm/s), while it's also aiming to reach a $100 million market cap as fast as possible when it lists on exchanges in the next couple of weeks.
Interestingly, 50% of its overall supply has been allocated to its presale, while another 40% has been allocated to staking rewards.
The ability to stake SONIK and earn a passive income is another key reason why the meme token's presale has already done so well, with the coin steadily attracting a community of followers.
And while there is only one day left to act, new investors can join the sale by heading over to the coin's official website.
1 SONIK costs $0.00014, although there's no telling how high this price could rise once the coin is added to trading platforms.
Disclaimer: Crypto is a high-risk asset class. This article is provided for informational purposes and does not constitute investment advice. You could lose all of your capital.
---