Is Pepe Going on Another Bull Run? PEPE Surges 5% While Crypto Trader Platform Presale Finds Strong Support
Disclosure: Crypto is a high-risk asset class. This article is provided for informational purposes and does not constitute investment advice. By using this website, you agree to our terms and conditions. We may utilise affiliate links within our content, and receive commission.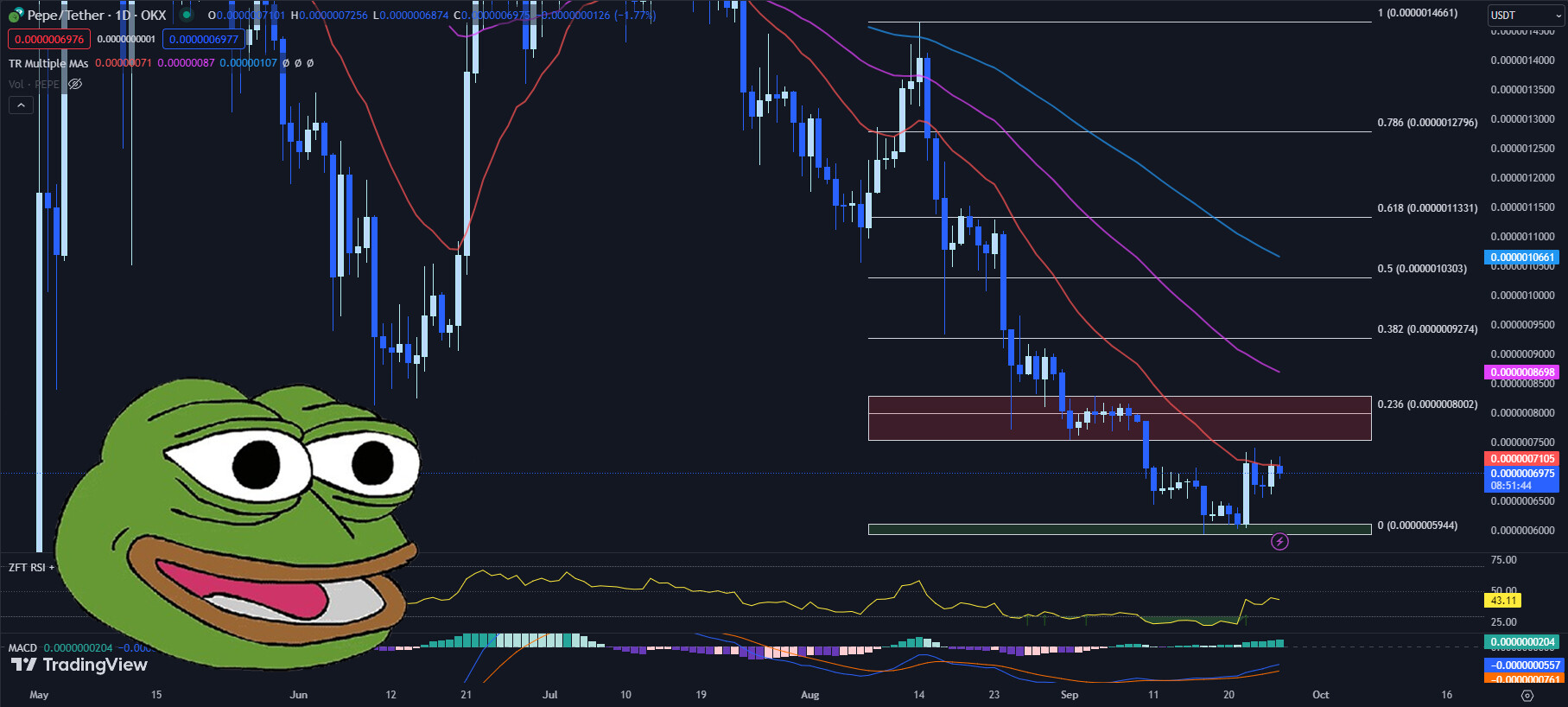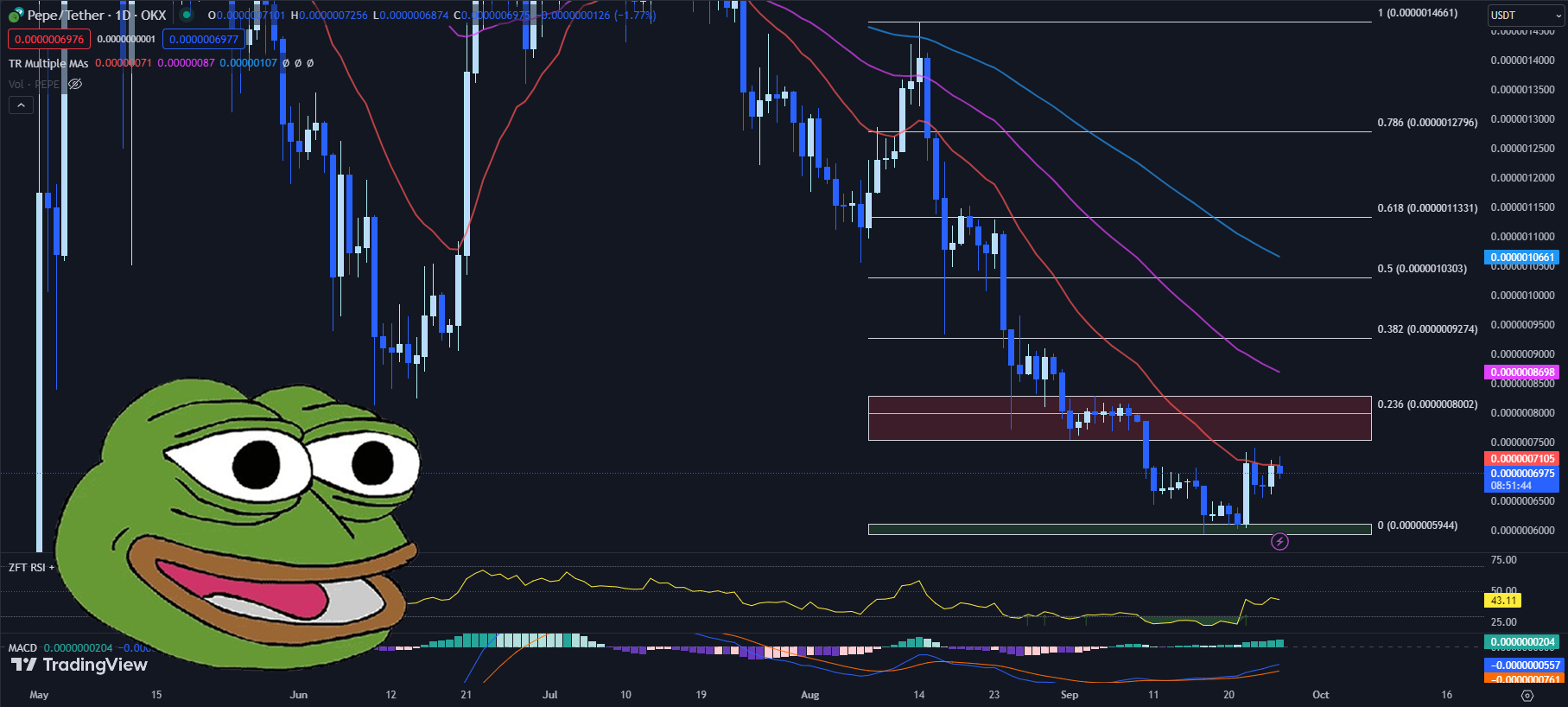 PEPE has flashed signs of life after its drawn-out decline to three lol-month low on September 17. Its 16% dead cat bounce since the bottom has now run into stiff overhead resistance, however.
With PEPE still languishing below its key 20-day EMA, traders are left on edge wondering if this bounce will reverse or if the bottom will fall out again.
At a critical technical junction, the next move could set the tone for PEPE's trajectory in the coming weeks. Whether bulls or bears prevail may come down to how PEPE handles its near-term support and resistance levels.
PEPE Price Prediction: Choppy Trading Points to Indecision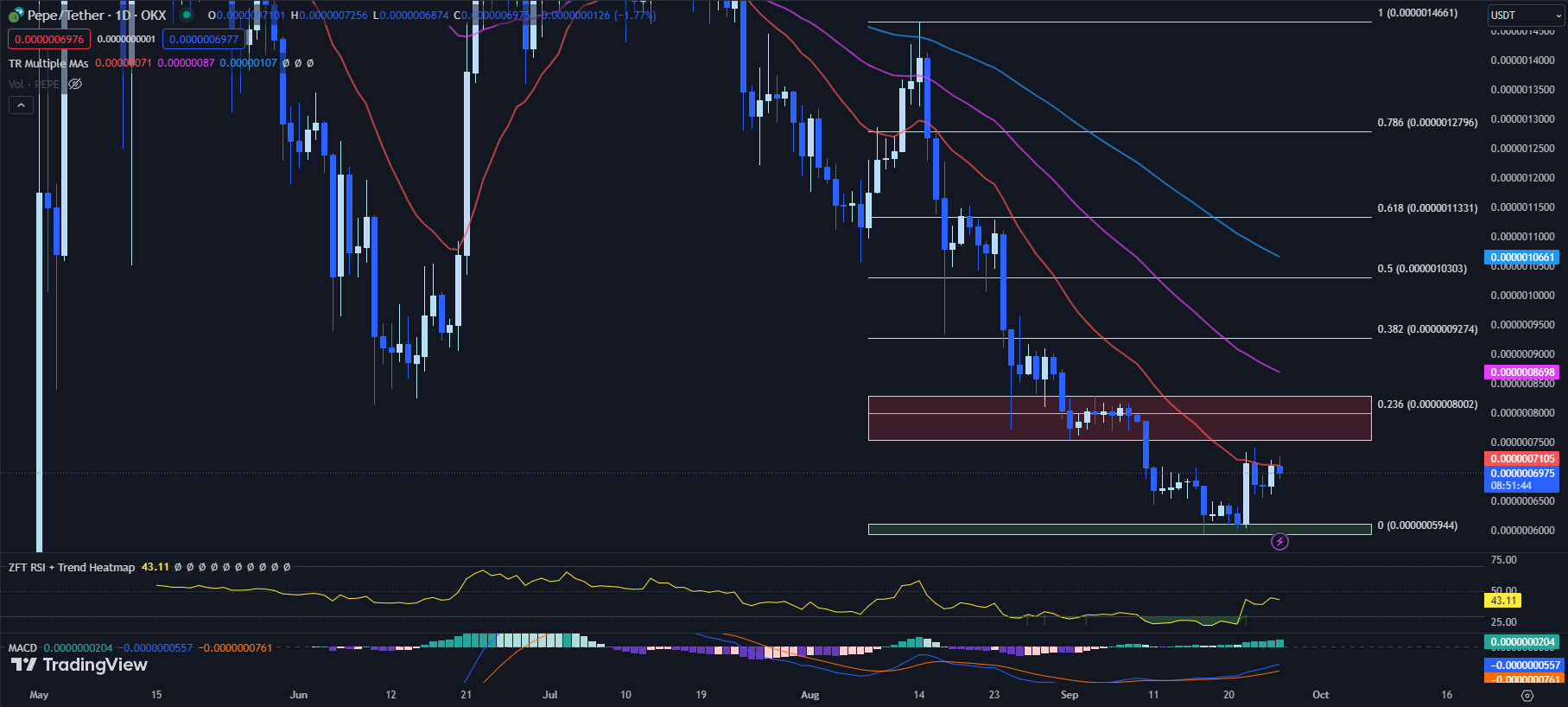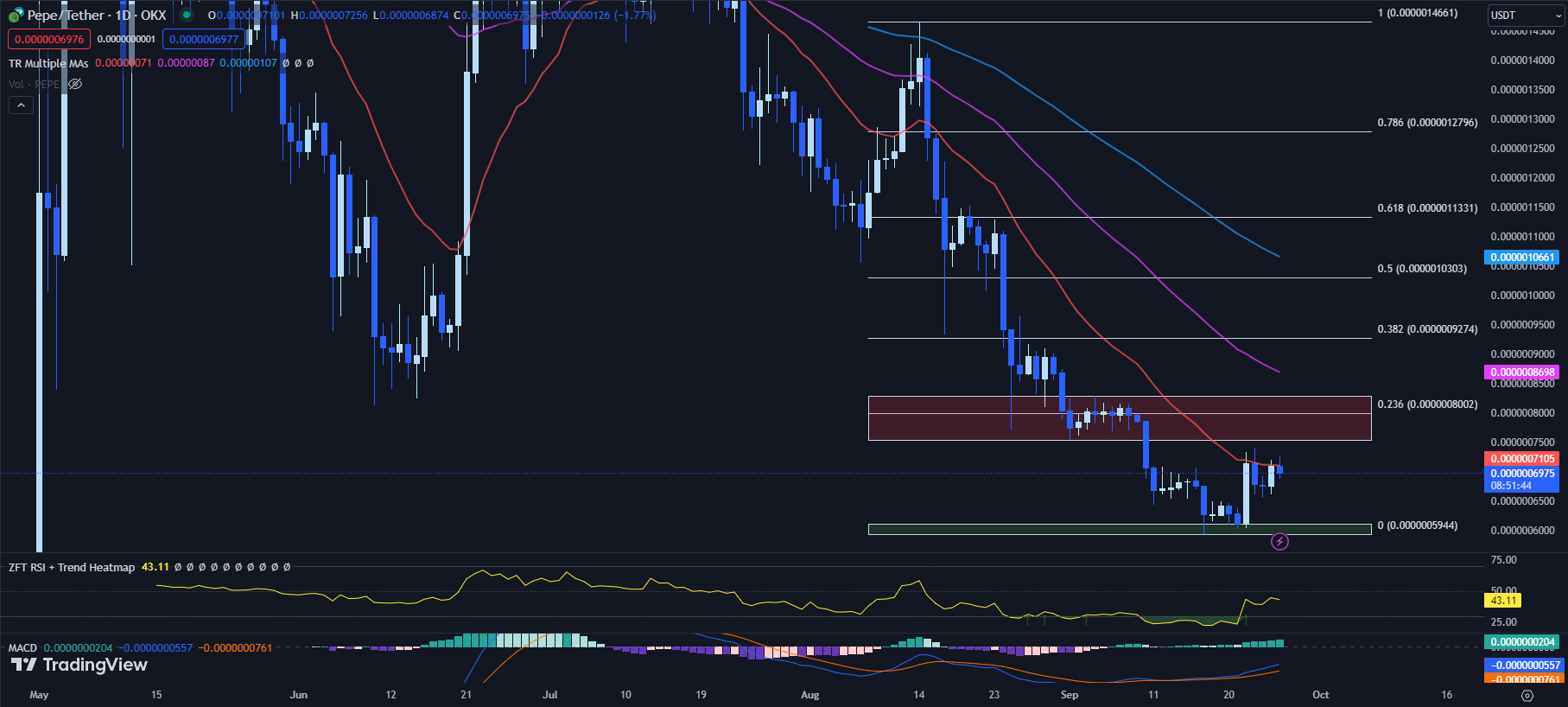 The 20-day EMA for the PEPE price is at $0.0000007105, below the 50-day EMA of $0.0000008698 and the 100-day EMA of $0.0000010661. Typically, when the short-term EMA is below the long-term EMA, it's seen as a bearish sign.
However, the PEPE price is currently in proximity to the 20-day EMA, indicating a possible breakout.
The RSI stands at 43.11, down from yesterday's 44.63, suggesting that the PEPE price is in a neutral zone, neither overbought nor oversold.
The MACD histogram is at 0.0000000204, up from yesterday's 0.0000000196, indicating a slight bullish momentum.
The market cap is up by 1.66% to $273.6 million, while the 24-hour volume is down by 6.37% to $61.4 million.
This mixed signal indicates that even though the PEPE price is attracting capital, it's doing so with less trading activity. This could be interpreted as a cautious sentiment among traders.
Support Zone Must Hold to Avoid Further Declines
Resistance for the PEPE price lies at the 20-day EMA of $0.0000007105, followed by a significant resistance zone ranging from $0.0000006975 to $0.0000008295, in confluence with the Fib 0.236 level of $0.0000008002. PEPE could signal an upward trend if it breaks through this resistance zone.
On the flip side, an immediate support zone lies between the recent swing low of $0.0000005941 and $0.0000006112. If the PEPE price fails to hold this level, it may trend downwards, potentially entering a price discovery mode to the downside.
Breakout or Breakdown Imminent
While technical indicators suggest a potential breakout, traders should proceed with caution and make decisions based on a comprehensive analysis of the market dynamics.
An upward breakout past the 20-day EMA resistance or a breakdown below the swing low support could set the next trend for the PEPE price.
With mixed signals coming from embattled meme coins like Pepe, investors are searching for more reliable opportunities.
Launchpad XYZ seeks to fill this need through its upcoming dashboard tailored to the Web 3.0 sector, including features like token analytics and ICO access.
Launchpad XYZ: Your Gateway to Web 3.0 Investment Opportunities
Blockchain startup Launchpad XYZ is developing a comprehensive dashboard designed to simplify investments in the Web 3.0 sector.
The platform plans to offer a variety of features, including analytics, decentralized token swaps, and access to Initial Coin Offerings (ICOs).
Set your financial GPS with #LaunchpadXYZ and never lose your way

Begin your journey now! 🌟#LaunchpadXYZ #Trading #Web3 pic.twitter.com/Nn9BTI2CgO

— Launchpad.xyz (@launchpadlpx) September 25, 2023
The company's proprietary token, LPX, will serve both utility and investment functions within the ecosystem.
The presale for LPX tokens is currently underway, with plans to list the token on the Launchpad XYZ decentralized exchange (DEX) upon completion.
Comprehensive Features for Investors
Launchpad XYZ intends to provide a one-stop solution for both novice and experienced investors interested in the Web 3.0 market.
The platform plans to offer decentralized exchanges for token swaps and Non-Fungible Token (NFT) trading.
Additionally, it will provide insights into beta-mode play-to-earn games and exclusive access to ICOs. To utilize these features, users will need to stake LPX tokens for a minimum of 90 days.
The LPX token will have multiple use cases within the Launchpad XYZ ecosystem. For instance, staking LPX will grant users access to premium features like ICO and NFT alerts.
The ongoing presale for LPX tokens is offering a 16% bonus that will end in less than a day. The LPX token is currently being sold for $0.0445 and has raised over $1.76 million so far.
Team and Roadmap
The team behind Launchpad XYZ is led by CEO Terence Ribaudo, who has over a decade of experience in the industry.
Ribaudo has a proven track record of success across finance, sports, luxury cars, and more. His trading expertise specializing in Web 3.0 and TradeFi allows him to guide Launchpad XYZ's product development.
The entire Launchpad XYZ core team has public LinkedIn profiles that showcase their qualifications. By providing this level of transparency, Launchpad XYZ demonstrates its commitment to enabling secure and trustworthy trading for its community.
The company has outlined a clear roadmap for the coming year, including the launch of its Web 3.0 wallet in the second quarter of 2023 and various other features set to roll out throughout the year.
Fed up with scams?

Choose #LaunchpadXYZ for secure and transparent trading, so that you can focus on what truly matters

Join our community today! 🛡#LaunchpadKnows #Web3 #Crypto pic.twitter.com/RuqDzSV701

— Launchpad.xyz (@launchpadlpx) September 26, 2023
Launchpad XYZ's commitment to creating an intuitive and comprehensive platform, paired with LPX's multilayered utility, provides a promising foundation.
With presale interest growing and its roadmap goals in sight, Launchpad XYZ has the potential to become a leading resource for investors at all levels looking to participate in the growing Web 3.0 movement.
Disclaimer: Crypto is a high-risk asset class. This article is provided for informational purposes and does not constitute investment advice. You could lose all of your capital.
---