Pepe Coin Price Prediction as PEPE Rises 4% in 24 Hours – Time to Buy?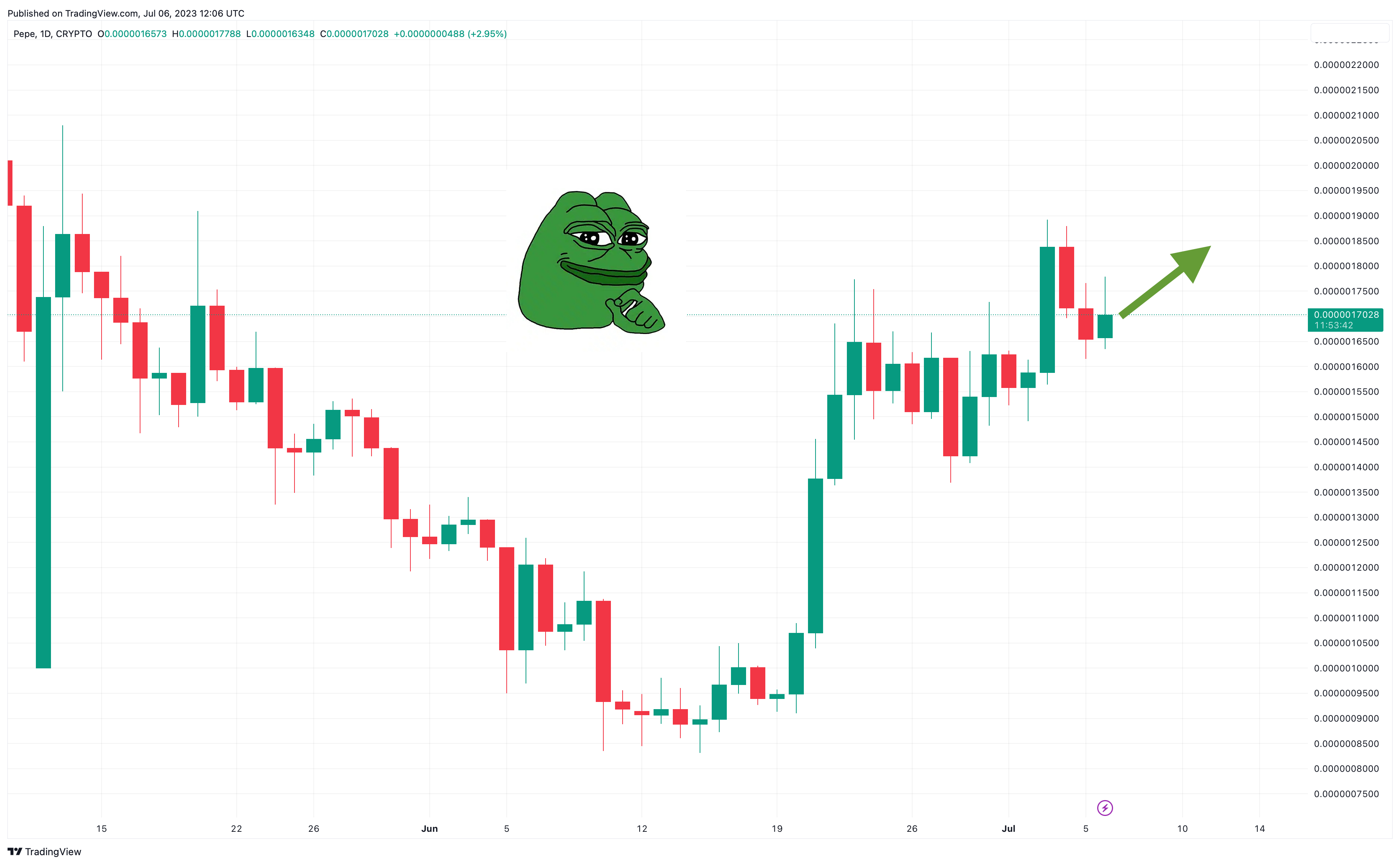 The Pepe Coin price has risen by 4% in the past 24 hours, jumping to $0.00000173 amid a market-wide rally today.
PEPE is now up by 14% in a week and by 70% in the last 30 days, although it remains 60% down from its all-time high of $0.00000431, set back in early May.
PEPE's ascent could mean that it's due to correct in the next day or two, but with the market seemingly regaining a significant amount of optimism, the meme token could just as easily rise for a little while longer.
However, with little in the way of fundamentals or utility, it's hard to shake the suspicion that PEPE will eventually fall again, particularly when whales decide to take their profits.
Pepe Coin Price Prediction as PEPE Rises 4% in 24 Hours – Time to Buy?
PEPE's indicators seem to suggest that the meme token may have some space left to rise before it needs to fall again.
For one, its relative strength index (purple) has risen towards 60 after dipping close to 40 yesterday, reflecting the influx of buying momentum.
This is complemented by PEPE's 30-day moving average (yellow), which continues to rise above its 200-day average (blue), again showing signs of the altcoin's strength today.
It's also encouraging to note that PEPE has held pretty closely to the $0.00000150 support level in the last week or so, meaning that it isn't likely to fall much further below this level if its current rally comes to a quick end.
However, available evidence does suggest that PEPE could continue rising in the short term, with whales still stacking the meme token.
Such accumulation usually points towards further gains, with PEPE potentially in line to return to $0.0000020 soon, if not higher.
Of course, whales hoard a meme token such as PEPE only to offload it for gains at a later date, so retail investors should be aware that the alt's rally may not last too long.
On the other hand, it has clearly had more staying power than many other meme tokens launched this year.
It also appears to be having a small ecosystem built around it, with the launch of the PepeMask cryptocurrency wallet this week being one of the reasons for its gains.
As such, don't be surprised if it continues to witness periodical rallies throughout the rest of the year.
Another New Meme Token with Real Potential
Despite this positivity, it has to be remembered at all times that PEPE is a meme token, and that it could easily stop being fashionable at any time.
As such, traders looking for the next big meme coin may consider looking elsewhere, with presales in particular, offering one opportunity to make outsized gains in a short space of time.
One of the most promising meme tokens at the moment is Wall Street Memes (WSM), an ERC-20 token that has raised more than $12.9 million since opening itself to early investors last month.
Promisingly, WSM has emerged out of the meme stocks movement, which was famously responsible for the GameStop and AMC rallies/short squeezes in 2021.
This association has already helped it raise close to $13 million in around a month, while its Twitter account now accounts for more than 256,000 followers, providing a very strong indication that it has a sizable community ready to support it.
Such a community is key if a meme token is to succeed, not only in the short term, but in the medium- and even long-term, with a thriving group of followers necessary to support a coin's price, while also attracting further investors.
WSM will have a maximum supply of 2 billion, with 50% of this being allocated to the presale and 30% being reserved for community rewards.
Its currently selling at $0.031 in its presale, which will push its price up to $0.0337 by the time it reaches its 30th and final stage.
Investors can secure some WSM today by going to the official Wall Street Memes website and linking their crypto wallets, with WSM buyable using ETH, USDT and fiat currency.
Disclaimer: Crypto is a high-risk asset class. This article is provided for informational purposes and does not constitute investment advice. You could lose all of your capital.
---