Pepe Coin Price Prediction as PEPE Rallies Up 10% From Recent Low – Time to Buy?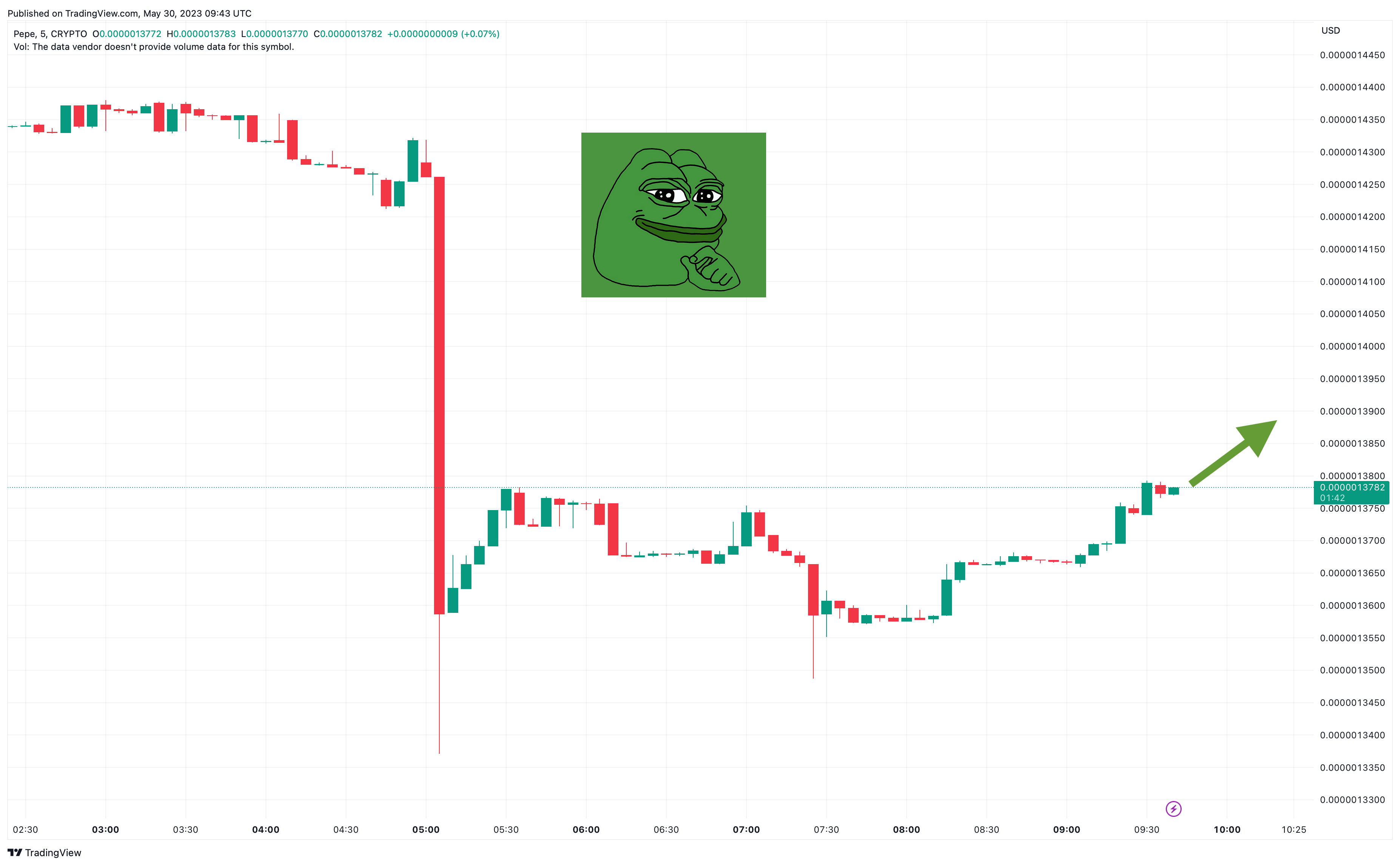 The Pepe Coin price has dropped by 5.5% in the past 24 hours, with its decline to $0.00000137 quickly erasing the ascent to $0.00000150 it recorded yesterday.
PEPE's current price means it has dropped by 13% in a week and by 19% in a fortnight, although the meme token remains up by 130% in the last 30 days.
This gain is still enough to make it one of the best-performing top 100 coins of the past month, even if it seems that it has lost a little momentum in recent weeks.
But with the possibility of further exchange listings on the horizon, PEPE could soon rally again, with its corrected price making it attractively undervalued right now.
Pepe Coin Price Prediction as PEPE Rallies Up 10% From Recent Low – Time to Buy?
PEPE's chart may look very weak right now, but it could be argued that this provides a perfect opportunity to buy the meme token on the cheap.
The altcoin's relative strength index (purple) has just dropped very close to 20, signaling that it's very oversold at the moment and should be due a rebound.
Likewise, PEPE's 30-day moving average (yellow) and its price have dropped far below its 200-day average (blue), another indicator that it has been oversold and should correct soon enough.
However, the thing with technical analysis is that its tools have generally been developed for normal stocks, which belong to companies with actual businesses and fundamentals.
PEPE, on the other hand, is a pure meme token, so even if the technicals are 'pointing' in a particular direction, its complete lack of fundamental utility could mean that its bubble has finally burst and that it's on the way out.
This fear is heightened by PEPE's support level (green), which now shows a steep decline after the altcoin fell through the $0.000001375 level earlier this morning.
That it has fallen through this level may very well indicate further declines to come in the next few days, particularly when there isn't much to support PEPE's price in the news.
In previous weeks, PEPE's price had been boosted by a variety of new exchange listings, with Binance, BitMart, KuCoin, and OKX announcing various trading options for the meme token.
Now, it seems as though such new listings have dried up, although PEPE's small community of holders and shillers have been clamoring for Coinbase to list the token.
A Coinbase listing is probably a long shot, but if the exchange did go ahead and list PEPE, the latter would undoubtedly rise very healthily.
The same goes for a hypothetical listing on Robinhood, which also belongs with Coinbase as one of the few major trading platforms that haven't yet jumped on the PEPE bandwagon.
But short of such new listings, it's hard to see how PEPE might stage another big rally.
There are no efforts to update it so that it develops an ecosystem, as with Shiba Inu, and it also seems that whales have mostly been selling the token rather than buying it in the past week or so.
As such, even if it is cheap right now, it could easily fall more.
New Meme Tokens, New Rallies
Assuming that PEPE's best rallies now belong in the past, traders may prefer to look at newer meme tokens that haven't profited from FOMO and big surges yet.
One of the most promising of these is Wall Street Memes (WSM), a meme token inspired by the infamous r/wallstreetbets sub-Reddit, which instigated the Gamestop short squeeze and rally of 2021.
Wall Street Memes has very recently launched the presale for WSM, already raising in excess of $1.1 million within a matter of days.
This stands as an encouraging indication of the interest in and popularity of Wall Street Memes, and also provides some foretaste of how strongly WSM could rally when it lists on exchanges later in the year.
Its presale will have a grand total of 30 stages, with its current stage, the third, selling WSM at $0.02560000.
This will rise to $0.03370000 by the time the sale ends, making for an increase of 31.6%, and that's even before it goes on trading platforms.
Investors can join the sale by visiting the official Wall Street Memes website and connecting their wallets, before using either BNB, ETH or USDT (or credit card).
As a meme token related to the Wall Street Bets, most of WSM's 2 billion supply will go to its community, with 50% allocated to the presale alone.
This makes it a well-distributed meme token – giving retail investors the opportunity to share in its potential gains.
---