Pepe Coin Price Prediction as PEPE Rallies 65% in a Month – Time to Buy?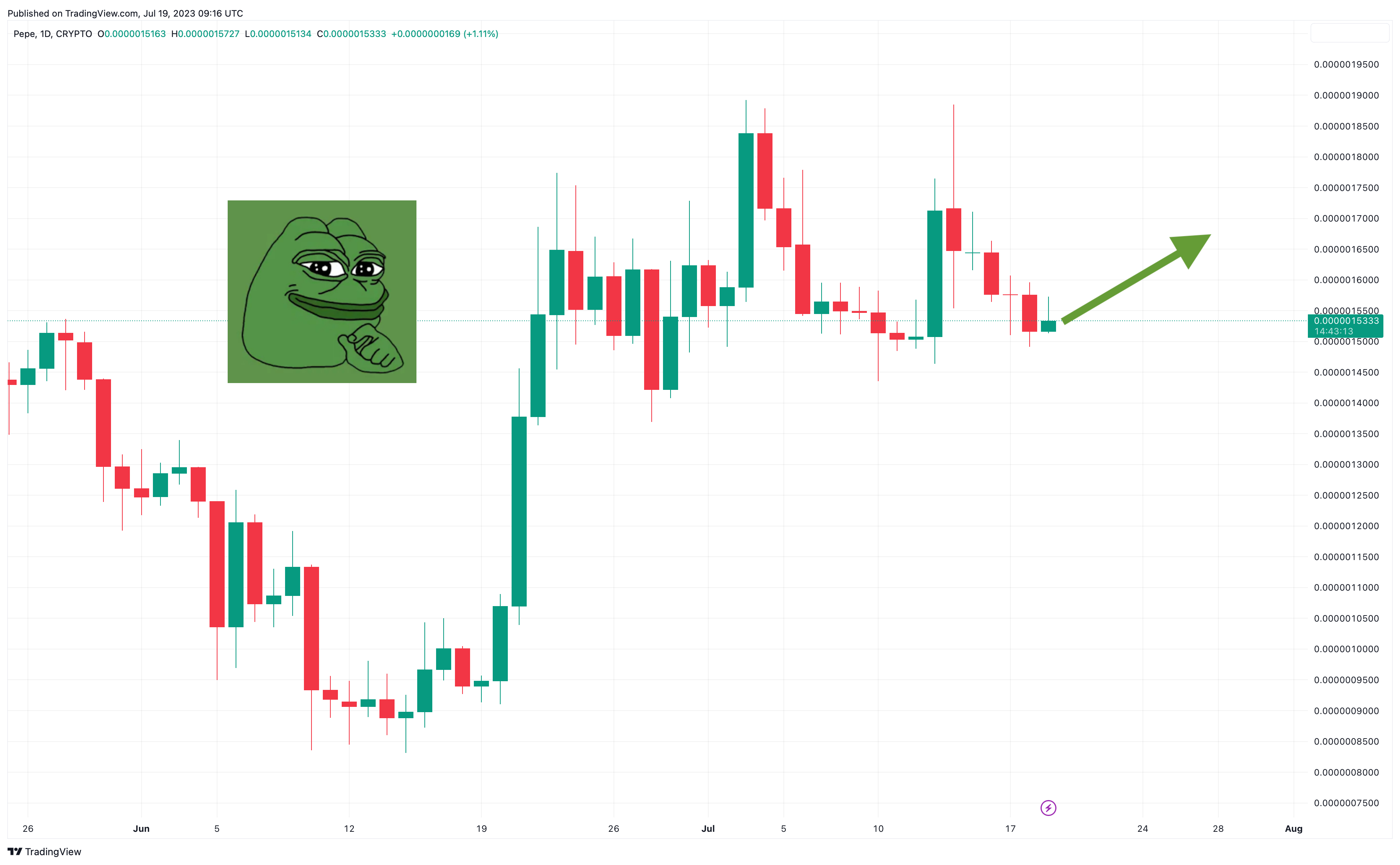 The Pepe Coin price has increased by 0.5% in the past 24 hours, with its rise to $0.00000155 marking an impressive 65% gain in the last 30 days.
PEPE is also up by more than 2,500% since CoinGecko began tracking its price on April 18, although the meme token is actually down by 64% since reaching an all-time high of $0.00000431 on May 5.
This mixed performance leaves PEPE in a slightly uncertain position, with the altcoin regaining some momentum in the past few weeks, but with it also some way off the pace it set a couple of months ago.
But with signs that whales are still interested in PEPE as a vehicle for relatively quick profits, the meme token could still witness further rallies in the near future.
Pepe Coin Price Prediction as PEPE Rallies 65% in a Month – Time to Buy?
PEPE's indicators find the meme token in a relatively weak position at the moment, although once they bottom out they could signal a rally.
The altcoin's 30-day moving average (yellow) is currently diving towards its 200-day average (blue), and in the next few days it could fall below the longer-term average, at which point a recovery would be due.
There's also PEPE's relative strength index (purple), which couldn't quite reach 50 this morning and is already slipping down again, potentially indicating that it will need to drop closer to 30 before a substantial rebound arrives.
On the other hand, the meme token's support level (green) has risen in the past week or so, meaning that PEPE should fall that much further before it begins gaining again more consistently.
While PEPE has no real fundamentals to speak of, it does seem that investors – including larger investors – remain interested in the token, something which suggests that it can continue to enjoy rallies from time to time.
For instance, transaction and blockchain data reveal that some whales are still accumulating the altcoin, presumably under the assumption that they expect it to rally again in the not-too-distant future.
As such, it would be unwise to discount PEPE, even if it's arguable that it may not beat May's all-time high until the wider cryptocurrency market enters another full-blown bull rally.
Based on this view, PEPE could be expected to reach $0.00000180 in the next couple of weeks, before possibly reaching $0.0000020 in the next few months.
Newer Altcoins With Higher Potential
Given the uncertainty surrounding just how strongly PEPE can rally in the future, it's arguable that traders may be better off looking towards newer altcoins.
One particularly promising class of new tokens is presale coins, with the best of these having the potential to rally big when they list on exchanges for the first time.
One such altcoin is BTC20, a new ERC-20 token that will provide an Ethereum-based version of Bitcoin, albeit with the added ability to earn passive income from staking.
Its presale will make 6.05 million BTC20 available at a fixed price of $1, which was a level Bitcoin famously attained back in 2011.
The idea of this is make the sale accessible to a wider pool of investors, who will be able to compensate for having missed out on buying the original BTC back when it was $1.
However, what's interesting about BTC20 is that its holders will be able to stake the token, something which obviously can't be done with Bitcoin itself.
Stakers will be rewarded in freshly mined BTC20, with new tokens being issued until there are a total of 21 million BTC20, just like with the original Bitcoin.
Given this hard cap, BTC20 will also be deflationary, something which is likely to help its price appreciate over the long-term.
Investors can participate in the presale by going to the official BTC20 website and connecting their software wallets.
The sale has already raised more $125,000 after being open for only one day, a sign that the market is interested in BTC20 and will likely help make it successful once it lists on exchanges later in the year.
Disclaimer: Crypto is a high-risk asset class. This article is provided for informational purposes and does not constitute investment advice. You could lose all of your capital.
---